Clinton Portis Shockingly Believes a Former Kansas City Chiefs Wide Receiver Would Be the GOAT If He Played In Today's NFL
The Kansas City Chiefs became very familiar with Clinton Portis during his early years with the Denver Broncos. The former running back enjoyed some big games against his then-AFC West foes.
In a recent interview, Portis gave credit to a former Chiefs player, who some may have forgotten about. He believes the Kansas City playmaker would've dominated in today's NFL.
Clinton Portis played against the Kansas City Chiefs twice a year with the Broncos
The Denver Broncos selected Clinton Portis with the No. 51 overall pick in the second round of the 2002 NFL Draft. He spent his first two seasons in Denver and enjoyed early success, winning 2002 AP Offensive Rookie of the Year honors.
As a member of the Broncos, Portis played against the Kansas City Chiefs twice a season. The University of Miami (FL) product played well against Kansas City in both meetings during the 2002 season.
Portis rushed for 70 yards and a touchdown in his first game against the Chiefs. The rookie running back dominated in the second meeting, rushing for 130 yards and three touchdowns on 21 carries. He also caught three passes for 75 yards and another touchdown.
The Laurel, Mississippi native joined former teammate Shannon Sharpe on his Club Shay Shay podcast and reminisced on another big game against the Chiefs in 2003.
"Looking at the sideline, seeing Priest Holmes, I gotta outperform Priest," he said. "And Priest was a dog."
Portis brought a WWE championship belt to the game in hopes of wearing it at some point. He earned it, rushing for 218 yards and five touchdowns on just 22 carries. Sharpe helped Portis put the belt on during the fourth quarter of a 45-27 victory.
Clinton Portis gave former Chiefs WR Dante Hall high praise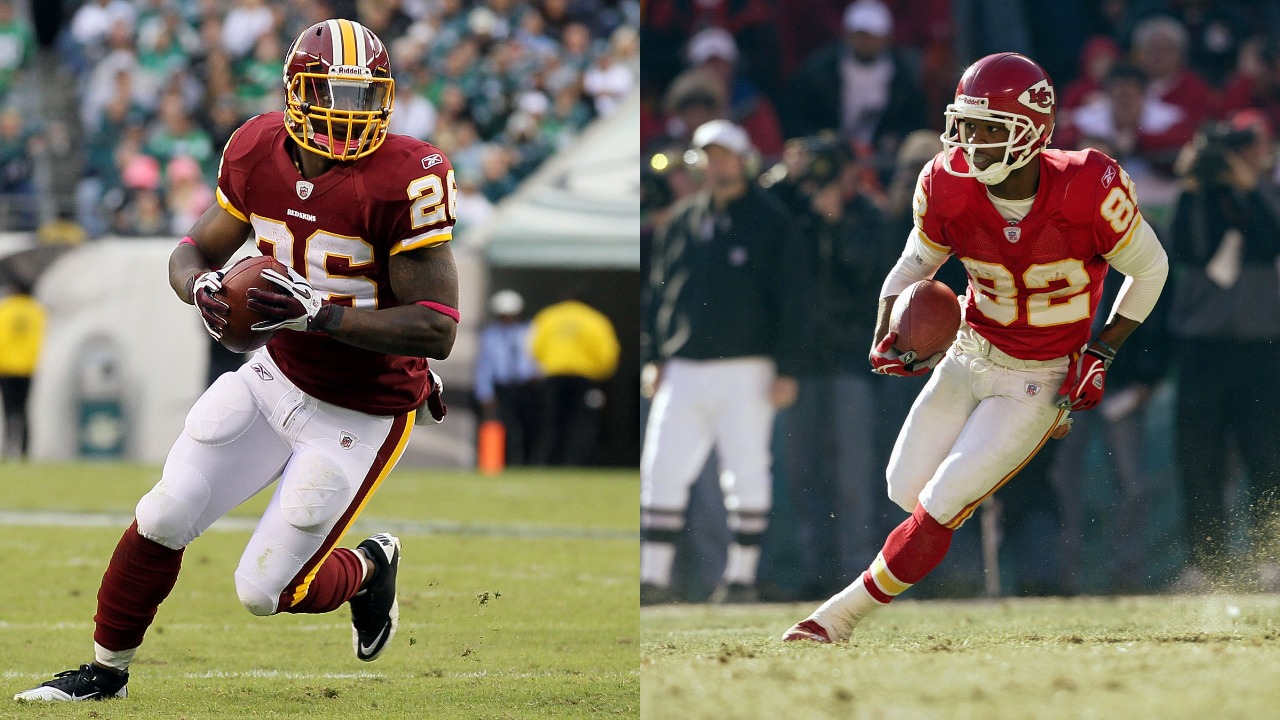 Although Clinton Portis had his way with the Kansas City Chiefs in his two seasons with the Broncos, he had a great deal of respect for them.
The Chiefs featured a talented offense, led by Trent Green, Priest Holmes, and Tony Gonzalez. Portis was impressed by another player on that offense with exceptional talent.
Portis and Shannon Sharpe recalled a game they lost to Kansas City, in which wide receiver Dante Hall returned a punt 93 yards for a touchdown. The insane play ultimately secured a victory for the Chiefs. "He shook so many people," said Portis. "Dante Hall always messed up my highlight reels."
The former Broncos star proceeded to make a bold statement about Hall's abilities. "If Dante Hall could've played in this era today, he would've been the coldest receiver of all time," he said. "The stuff that slot receivers are doing now, man, that's nothing."
Hall was affectionately known as "The Human Joystick" because of his game-breaking abilities. Some of the plays he made could only be duplicated in a video game.
Hall was an explosive player, but is not the best Chiefs WR of all-time
Dante Hall was a special player. He probably deserves more praise for how good he was in space. In seven seasons with the Kansas City Chiefs, he recorded 145 receptions for 1,615 yards and nine touchdowns.
The Texas A&M product did the majority of his damage in the return game, however. Between punt returns and kick returns, he amassed 10,526 yards and 11 touchdowns in Kansas City.
While Hall most likely would've had plenty of success in today's NFL, given the way the game is called and it being a pass-driven league. However, there have been some great playmakers at the wide receiver position in NFL history. Not to mention, he's not even the best Chiefs wideout of all time.
Eddie Kennison and Dwayne Bowe both enjoyed productive careers in Kansas City. Kennison spent six seasons with the team and put together two 1,000-yard campaigns. Bowe played in KC for eight seasons, eclipsing the 1,000-yard mark three times. His 15 touchdowns in 2010 led the NFL.
When all is said and done, though, Tyreek Hill will most likely be the greatest Chiefs wideout ever. The five-time Pro Bowler has caught 387 passes for 5,658 yards and 48 touchdowns for his career, and he's just in his sixth season with the team.
Nicknamed "Cheetah," Hill has world-class speed and surprising strength for his size. He's a big play waiting to happen. Ask Patrick Mahomes.
While Dante Hall was dynamic as a returner, Tyreek Hill is on another level as a receiver.
All stats courtesy of Pro Football Reference.
RELATED: Clyde Edwards-Helaire Remains Upbeat Despite Woeful Start by Chiefs Running Game