The Clippers Had to Bring in a Secret Weapon to Unlock Kawhi Leonard
The LA Clippers' bubble season was a big disappointment. Even owner Steve Ballmer, knowing cameras tend to linger on his face, was visibly upset watching his team implode in the playoffs. Paul George went frigid, and Kawhi Leonard's load management made it difficult for him to make up the difference. Something had to change.
The team may have found the secret weapon: Serge Ibaka. Of the NBA players associated with the Raptors' upset over the Warriors, he wasn't a headliner but in more of a support role.
Ibaka came in clutch repeatedly, showing synergy with Leonard. Yet what's most crucial might be what Ibaka provides Leonard not on the court, but in the locker room.
Serge Ibaka helped Kawhi Leonard come out of his shell in Toronto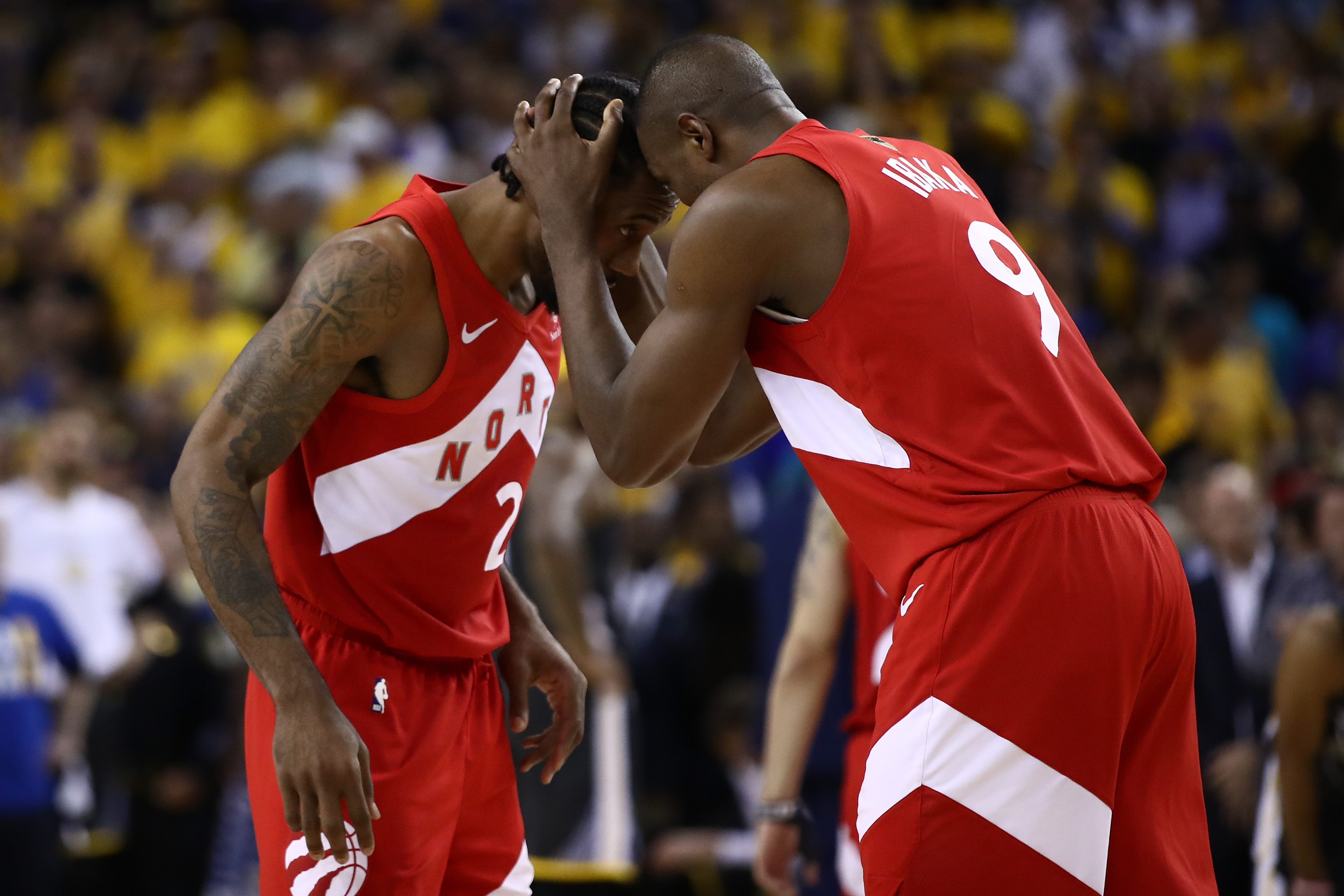 Ibaka posted a seemingly innocuous Facebook video back during the Raptors' 2019 run. Riding in a Rolls Royce Phantom, he exclaimed, "I'm here with the fun guy!" Then he turned the camera over to someone not associated with fun at all: Leonard.
Out of anybody else's mouth, the phrase "what it do, baby?" would've been innocuous. Out of Leonard's mouth, though, it sent the video viral. He was smiling, exuberant, nothing like the guy known to be so flat he played Terminator in a commercial.
Ibaka figured something out. He decoded the silent superstar and even managed to convince him to let the public have a peek at the results.
Leonard needs Ibaka to reach his potential in LA
Ibaka hit free agency in 2020 after the Raptors fell out in the bubble. He didn't have to think too hard about where to go. Neither did Leonard, who recruited his former teammate in a typically understated fashion. The day Ibaka was eligible, he simply texted his old Raptors pal, "Hey, what's up?"
ESPN reports that Ibaka signed a two-year, $19 million deal not long after the quick text exchange. The Clippers had just lost Montrezl Harrell and JaMychal Green — to Western Conference competition, no less. This made the signing about much more than Leonard's affection for his towering, defensively gifted pal.
It's about size and rim protection, patching up a major gap in the Clippers' roster. A new breed of big man is emerging in the NBA, the Anthony Davis and Nikola Jokic types who hound the rim, rebound frequently, and can still handle difficult shooting. Ibaka cuts a similar figure while being particularly attuned to Leonard as a player and as a person.
Is Serge Ibaka who the Clippers need to keep it together in the playoffs?
So far, Ibaka has emerged as the boost for Leonard that the Clippers front office hoped for. He raised the energy level of the locker room, giving Leonard the confidence to emerge as a vocal leader for the team. The OC Register reports that he's consistently turning in double-doubles, racking up rebounds just as coach Doc Rivers hoped he would.
Sports Illustrated reports that injuries have been the only cloud hanging over the Ibaka/Leonard duo. The big man smashed into Leonard at one point and needed to be taken off of the court. Back injuries have been a recurring issue, leading to stretches of missed games.
It's not an uncommon situation for a massive player like Ibaka, and so far he's returned healthy and ready to play after each recovery. Still, it'll be a tough path regardless of the Clippers' roster.
The Brooklyn Nets have become a stacked super team, with James Harden finding his flow alongside Kyrie Irving and Kevin Durant. Any hope that LeBron James' recovery from an ankle injury will help keep the other LA team down? Dashed, now that it's likely Anthony Davis will return soon, and healthy.