Clippers Governor Steve Ballmer's Recent Quote Shows the Stark Contrast Between His Team and the Lakers
It's almost July, but one thing is clear: the Los Angeles Lakers are a mess.
After rumors connected them to Kyrie Irving, the Lakers could be stuck with the same "Big Three" they had last season in LeBron James, Anthony Davis, and Russell Westbrook. I'll admit I thought this trio would do something in 2021-22, but Davis can't stay healthy longer than two-and-a-half minutes, and Westbrook is just not quite the same player he used to be.
LA's other team, on the other hand, is looking pretty darn good. While expectations around the Lakers are bleak, the Clippers seem to be excited for their chances in 2022-23.
Steve Ballmer's quote shows the true difference between the Clippers and Lakers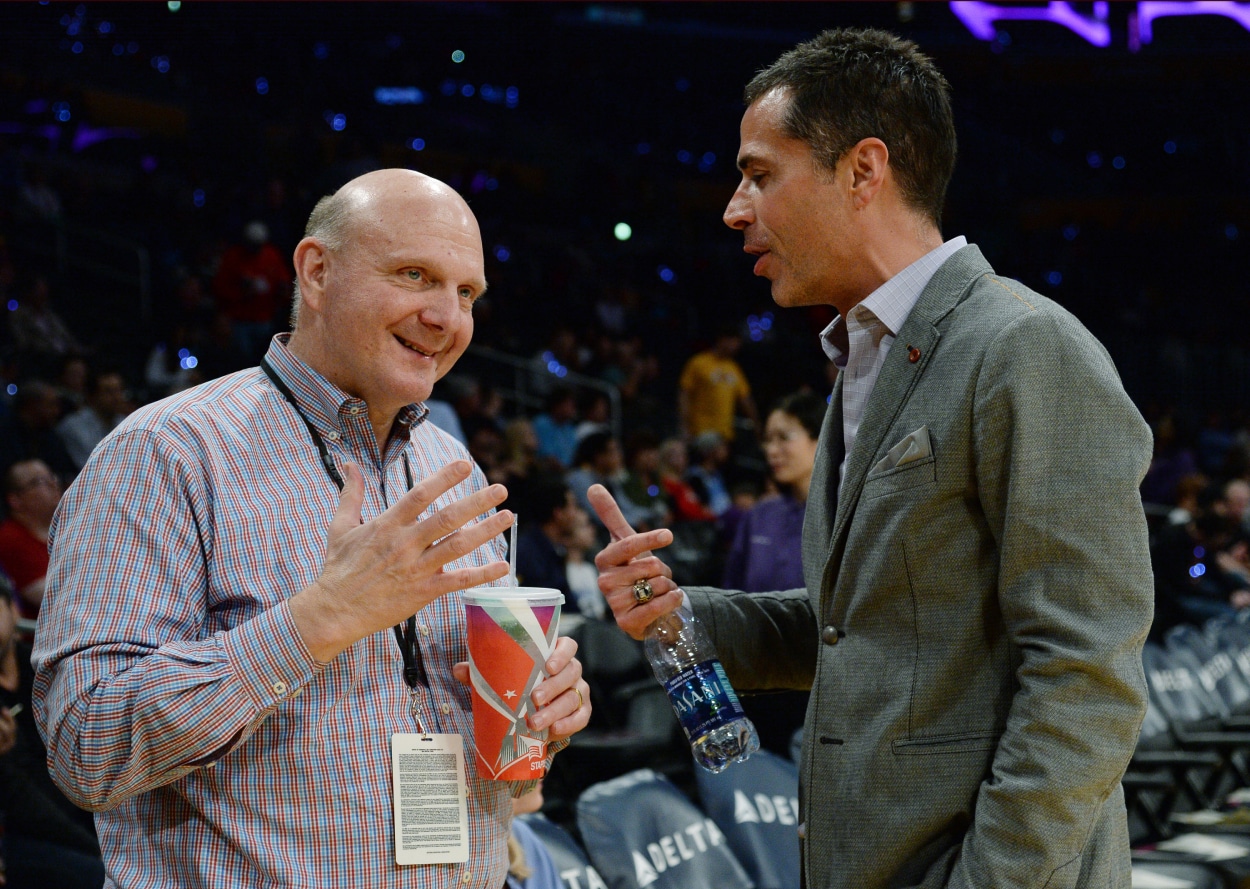 Clippers governor Steve Ballmer recently spoke to reporters, and he seemed encouraged about his team's chances for the 2022-23 season.
"I think if we stay healthy next year, we're gonna be having a chance to talk wayyy late into the spring season. How's that?" Ballmer said, per Washington Post reporter Ben Golliver.
He added: "We have a great group. I think we've got great spirit, great energy. … I think the sky's the limit for our team. … Of course you've gotta have a little bit of luck to win the Larry O'Brien Trophy, which is what we'd really like."
And that's the most significant difference between the Lakers and Clippers: excitement.
The Purple and Gold are coming off a miserable campaign in which they went a horrific 33-49 and missed the NBA Play-In Tournament. That was even with numerous future Hall of Famers in LeBron James, Russell Westbrook, Anthony Davis, Carmelo Anthony, and Dwight Howard. 
Of course, it didn't help that Davis missed more than half the season due to injury, and James only played in 56 games. But the Lakers weren't world-beaters even with their stars on the court. They went 11-10 in contests Davis, James, and Westbrook all played.
The immediate future doesn't look great, either. Davis has only played in at least 75 games twice in his career, and he has never been healthy for all 82. The odds of him staying on the court aren't too high (no matter what LeBron is saying on Instagram). Barring a miraculous trade, Westbrook will also probably be in LA all season after reportedly picking up his player option for 2022-23. And since it appears Kyrie Irving is staying in Brooklyn, nothing is keeping James in Hollywood. He hasn't committed to anything past this upcoming season.
But the Clippers have everything the Lakers don't: a future and a squad.
Kawhi Leonard was injured last season, and Paul George only played in 31 games. However, the team still made the NBA Play-In Tournament; the Clippers won without their stars. So, suppose Leonard and George are back on the court next season. In that case, a roster consisting of those two and players like Norman Powell, Reggie Jackson, Robert Covington, Marcus Morris, and others should compete with the best in the Western Conference. That's not even including five-time All-Star John Wall, whom the team is expected to sign.
This squad also has a secure future. Leonard and George will be in LA for at least the next two seasons. Powell is signed through 2025-26.
Steve Ballmer seemed genuinely excited about his team and how good it can be in 2022-23. Those positive vibes are the biggest difference between the Clippers and that other LA franchise: They have hope.
RELATED: Los Angeles Lakers: Max Christie Receives Magic Johnson's Stamp of Approval