Someone's Gotta Be Wrong: Clippers Reveal Kawhi Leonard Making Good Progress in Comeback, but Not According to Skip Bayless
According to the Los Angeles Clippers, superstar forward Kawhi Leonard is progressing well in his recovery from surgery to repair a partially torn ACL. According to Fox Sports talking head Skip Bayless, Leonard won't be back for the Clippers this season no matter what. Talk about mixed messages. Is it possible that with 71 games remaining, there's no hope of seeing The Claw this season?
Leonard injured his right knee during last season's Western Conference semifinal win over the Utah Jazz and hasn't played since June 14. The Clippers haven't issued a timetable for Leonard's return, but there haven't been any reports of pulling the plug on the two-time NBA Finals MVP, either. Either Bayless' sources are ahead of the curve, or someone will be mighty embarrassed in a few months (assuming anyone in his position is capable of that emotion).
A positive rehab report about Kawhi Leonard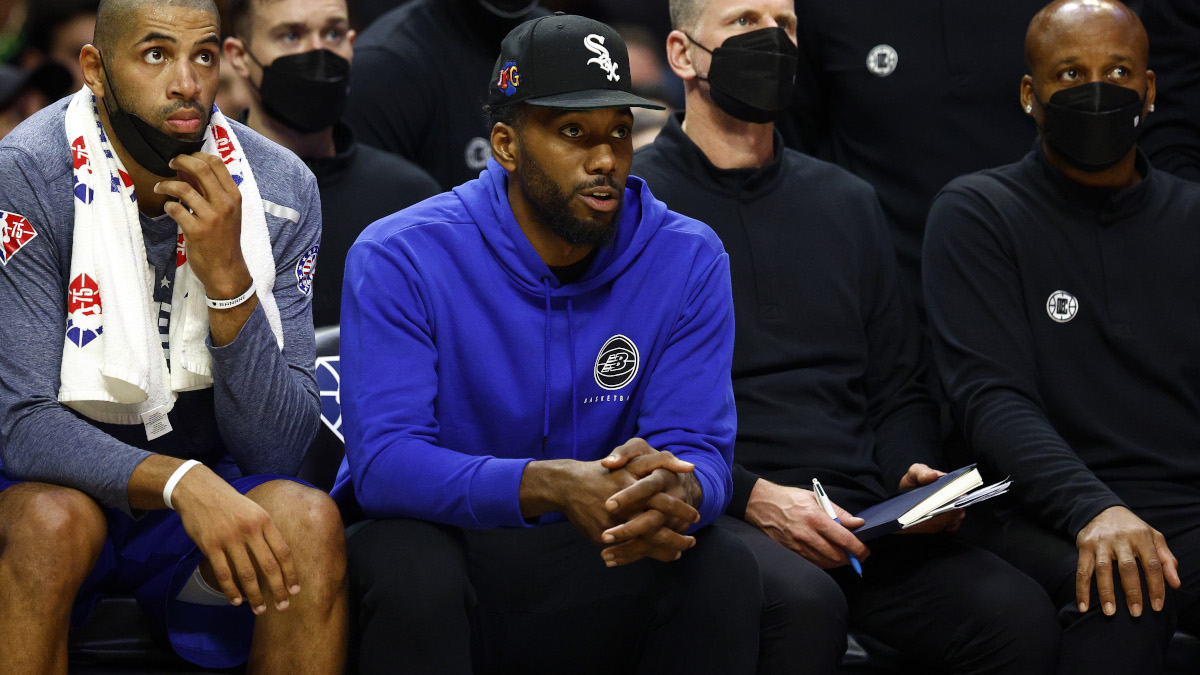 Clippers coach Tyronn Lue said on Nov. 11 that Kawhi Leonard is making considerable progress in his return from surgery. On TNT's broadcast of LA's overtime victory over the Miami Heat, Lue told sideline reporter Allie LaForce the team is hopeful Leonard will play at some point this season.
Per Mirjam Swanson of the Southern California News Group, Lue likes what he's seeing:
"Just seeing him active and being able to jump and progress in the way he is, it's just good to see."
Leonard reportedly is box jumping. He's been shooting for several weeks and regularly attends coaches' meetings.
With Paul George driving the offense and Reggie Jackson warming up after a slow start, LA has won six straight games after a 1–4 start. A healthy Leonard later this season could be a nice ace in the hole for a team that could be a sneaky-good championship contender.
George averages 26.7 points, 7.8 rebounds, 5.4 assists, and 2.5 steals in 35.3 minutes per game.
Meanwhile, Jackson has put up 22.6 points and 5.2 assists a night over his last five games, shooting 48.3% overall and 41.5% from 3-point range. That's more what the Clippers expected after rewarding Jackson last summer with a two-year, $22.6 million deal to remain in LA. Jackson shot just 31.0% overall and 29.1% from deep in his first six outings, averaging 14.2 points and 3.5 assists.
Skip Bayless dumps ice water on the Clippers' optimism
On the Nov. 9 episode of Fox Sports' Undisputed, Bayless revealed a source told him that Kawhi Leonard won't play at all this season:
"It was more of the Clippers' choice. They just said, 'Let's shut it down for the rest of the year.'"
Last summer, Leonard declined his $38.1 million option for this season and instead signed a new contract for four years and $176.3 million. The new deal includes a $48.8 million player option for 2024–25. Opting out was a vehicle for Leonard to ensure maximum earning potential. He'll be eligible for a four-year max deal in 2025 before running into the age-38 provision in the collective bargaining agreement.
LA likely would have chosen to keep Leonard for the long haul in any event. He's a five-time All-NBA honoree with seven appearances on All-Defensive teams. He's also a two-time Defensive Player of the Year and has averaged 26 points a game with the Clippers.
Leonard also fell just short of the 50/40/90 club last season, shooting 51.2% overall, 39.8% from long range, and 88.5% at the line.
Does Bayless know something the team isn't telling the rest of us? Since his business is hot takes (and, man, is business good), it's easy to question the accuracy of the rumor he reported.
Positive reports for the Clippers on more than just Kawhi Leonard
Not only have the Clippers been hot, but they're also getting healthier. Lue said Marcus Morris, who hurt his knee in LA's second game of the season, could be back in a couple of weeks.
Veteran Serge Ibaka, who underwent back surgery during the offseason and hasn't played since the second game of last season's playoffs, returned on Nov. 7 and played 14 minutes over two games.
He missed the win over Miami for a reason unheard of for a 12-year veteran. Ibaka requested an assignment to the NBA G League. He played for the Clippers on Nov. 11. But it was the Agua Caliente Clippers rather than the parent version at Staples Center.
Lue praised Ibaka for his willingness to go to the affiliate to get back into game shape.
"That just shows you the professional he is, and that just shows you about our team and how we want to sacrifice to get to where we're trying to get to."
Ibaka tested himself against some very young legs, playing 25 minutes against the G League Ignite in Agua Caliente's 101–93 victory. He finished with 14 points on 4-of-12 shooting with eight rebounds, two blocks, and a steal.
A healthy Ibaka helps the Clippers big-man rotation at both ends of the floor, though it likely takes minutes away from young Isaiah Hartenstein, who has played well in limited time.
With Ibaka going 100 percent and a healthy Kawhi Leonard, the Clippers are a sleeper title contender come spring. Unless what Bayless says is accurate. In that case, LA's chances get a lot dimmer.
Statistics courtesy of Basketball Reference. Contract information courtesy of Spotrac.