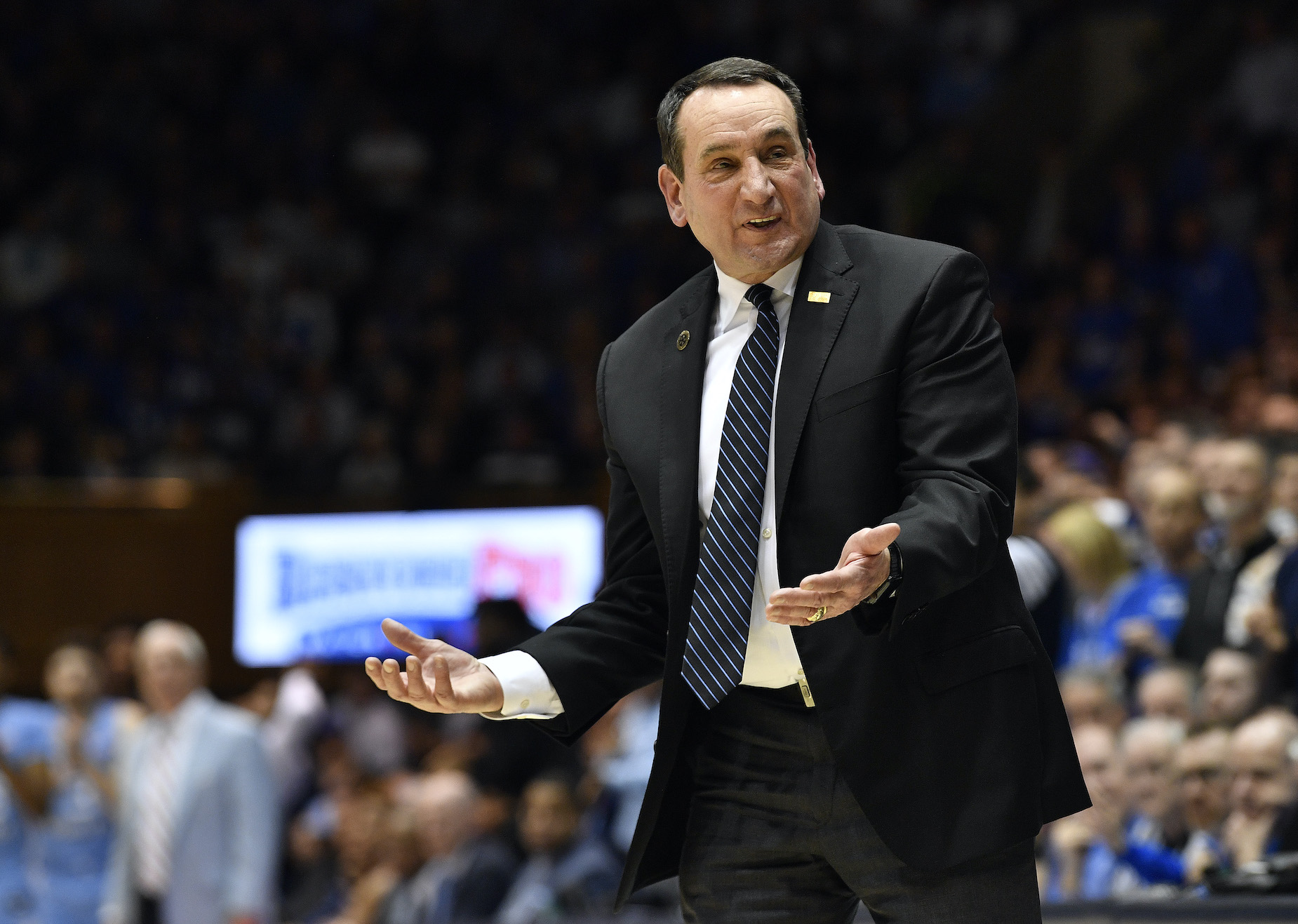 Coach K's Nightmare Season Just Got Worse After an Unexpected Change to Duke's Roster
While things haven't been easy for Coach K and his Duke Blue Devils this season, things just became even tougher for those in Durham.
For the past several decades, Coach K and his Duke Blue Devils men's basketball team have been a major NCAA power. While every program has its ups and downs, Krzyzewski's squad has been remarkably consistent; even if they fall short in March Madness, they're usually a fixture at the top of the weekly rankings. The 2020-21 season, however, has been quite a bit different.
For the first time in what feels like forever, Coach K and his Blue Devils are struggling; they're unranked, sitting at .500, and uncomfortably close to the bottom of the ACC standings. Unfortunately for all the Cameron Crazies, though, things just got even worse thanks to an unplanned roster move.
Coach K has become a basketball legend during his time at Duke
Over the years, Coach K has become a pretty unpopular guy with opposing fanbases. Even the biggest Duke hater, however, has to admit that he's put together a pretty impressive resume during his time in Durham.
Krzyzewski played his college basketball at West Point and, after his military service, took a job at the University of Indiana as an assistant. After that season on Bob Knight's staff, Coach K was ready to strike out on his own; he returned to New York state and took charge of the Army Black Knights.
In March 1980, though, Coach K moved south and took over as the head coach of Duke University's Blue Devils. While he struggled through a few tough seasons, his hiring changed the course of NCAA basketball history.
More than 40 years later, Krzyzewski is still prowling the sidelines in Durham. Along the way, he's won almost 1,100 NCAA basketball games at Duke alone, taken home five NCAA titles, and taken his Blue Devils to 12 Finals Fours. Coach K has also earned three Coach of the Year nods and led the US Men's Basketball Team to three Olympic gold medals.
2020-21 hasn't gone according to plan for the Duke Blue Devils
Last season, Coach K and his Blue Devils had put together a solid season before COVID-19 canceled the NCAA Tournament. The 2020-21 campaign, however, hasn't gone according to Duke's plans.
Coming into the season, Duke was expected to pick up where they left off. As usual, Blue Devils landed a promising recruiting class and should have been able to support their talent with returning players like Wendell Moore and Matthew Hurt. Once the team actually hit the hardwood, though, things quickly went south.
This season, the Blue Devils never truly found their stride; as of February 16, they're sitting at 8-8 overall and 6-6 in the ACC. They're also sitting outside of the AP's Top 25 for the first time since 2016.
Without pointing too many fingers at the pandemic, COVID-19 has seemed to affect Duke especially hard.
"It's not so much what's 'wrong' with Duke, but more just a matter of the Blue Devils getting settled," Brendan Marks explained in The Athletic. "Adding seven new players this offseason (and losing the team's top three scorers from a year ago) was always going to make for a rocky start to the season. No exhibition games due to the pandemic only exacerbated Duke's inexperience. Then potential lottery pick Jalen Johnson went down, and Krzyzewski had to change his offense on the fly. Coach K still has great pieces, but getting them all to fit (and play well) together has been the issue."
Jalen Johnson just made Coach K's nightmare season even worse
During Marks' write-up, he mentioned Jalen Johnson suffering an injury. Unfortunately for Coach K and his Duke Blue Devils, there's been another twist in the small forward's story.
While Johnson returned to the lineup in January, his playing time has been decreasing in recent games; against NC State, for example, he only saw eight minutes of action. Even that's more than he'll be seeing the rest of the season, though. The freshman will be sitting out the rest of the season and leaving campus to turn pro.
"I appreciate everything about my time at Duke," Johnson explained in a statement. "Coach, my teammates, and the program have been nothing but supportive throughout this season, especially during the rehab of my foot injury. My family, coach, and I have made the decision that I should not play the remainder of this season so I can be 100 percent healthy in preparation for the NBA Draft."
Although Johnson hasn't exactly set the NCAA on fire this season, his decision will rob Coach K of a key player down the stretch. When push comes to shove, you want to have as much talent at your disposal as possible, especially in a single-elimination scenario; Johnson, even if he's not 100%, is certainly talented.
During his time with the Duke Blue Devils, Coach K has put together an impeccable resume. Salvaging the 2020-21 campaign, however, is proving to be a test of his talents. Losing Jalen Johnson won't make things any easier.