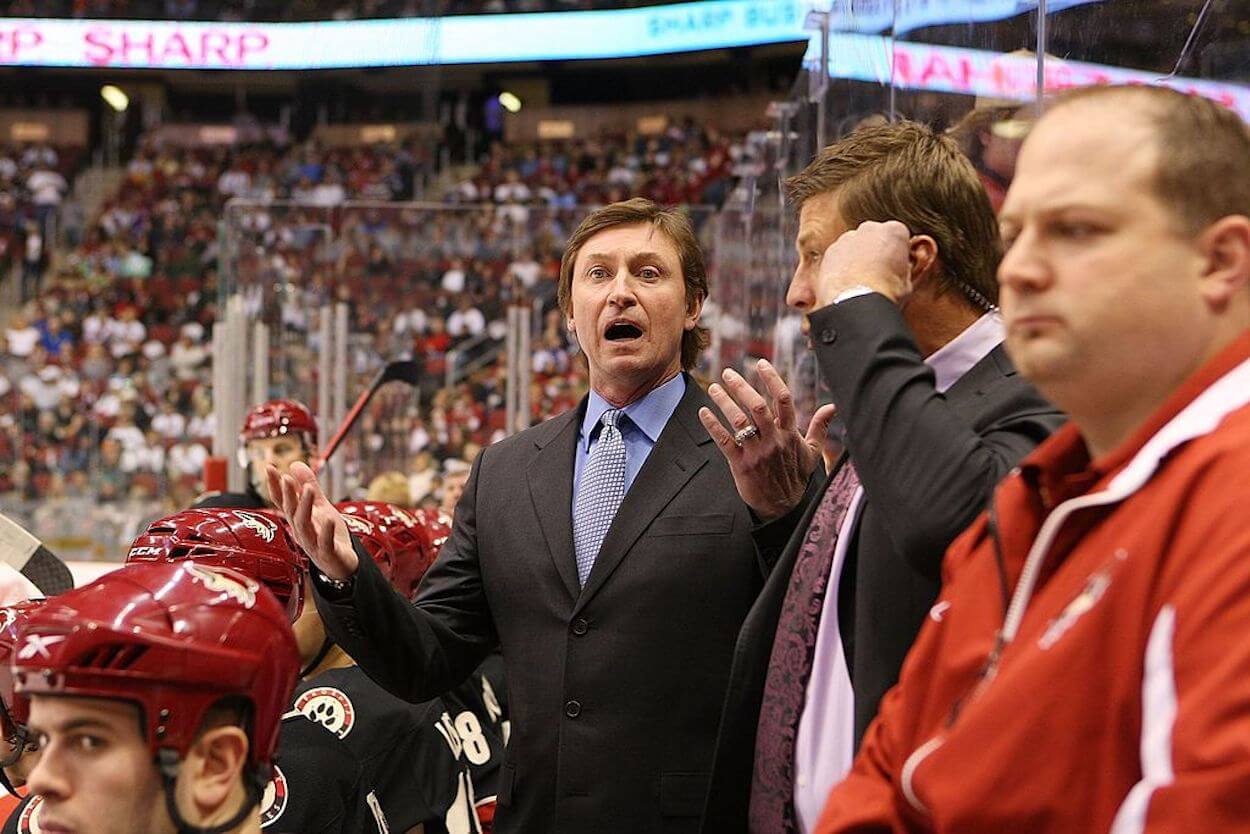 Coach Wayne Gretzky Once Chirped a Healthy Scratch for Refusing to Pass Him the Puck
While Keith Yandle eventually developed into a pretty good player, he still had an early encounter with Wayne Gretzky.
From afar, NHL players can seem kind of boring. Hockey culture, for better or worse, values collective sacrifice and being part of a group. That can be seen in postgame interviews — the more cliche answers you can provide, the better — the way the game is marketed, and virtually everything in between. When you get a bit more up close and personal, though, there is some personality on display. Just consider Wayne Gretzky as an example of that.
While the living legend may seem like the perfect hockey player, he was known to make some mischief back in his day. In fact, he was even known to chirp some of his Phoenix Coyotes players during his time coaching the team.
Let's hop in the time machine and check it out.
Keith Yandle didn't pass Wayne Gretzky the puck in practice, and he heard about it
In some ways, skating alongside someone like Wayne Gretzky can be tricky. While you'd think his talent would take a lot of the weight off — just give him the puck and let him do his thing — it's not that simple. You also have to play your own game without being overly deferential.
While Keith Yandle was too young to play with the Great One, he still encountered that situation in Arizona. The defenseman arrived in the NHL while Gretzky was coaching the Coyotes, and, on at least one occasion, didn't pass the puck to his bench boss.
"My favorite memory," Yandle explained on TNT during the 2023 NHL Playoffs. "He was getting ready for his fantasy camp, and we're out there. I was a young kid. We're out there skating, you know, the healthy scratches skating with the coaches, and me and Wayne go on a two-on-one. I get the puck, look him off, look him off, shoot it."
Given that the defenseman was a young player who showed some conviction to make a play, you might think the coach would be pleased. Gretzky, however, had tongue-in-cheek advice for Yandle.
We get into the line, he goes, "Hey kid, you have a TV when you grew up?" I go, "Yeah, why?" He goes, "Oh, you might want to slide that one over next time."

Keith Yandle
And while that's a cool story, it didn't translate into on-ice success. Yandle eventually developed into a quality offensive defenseman, but Gretzky never found much success as a coach. He failed to reach the postseason in four seasons with the Coyotes and ultimately left the organization with a sub-.500 record.
That wasn't the only time the Great One messed with someone during practice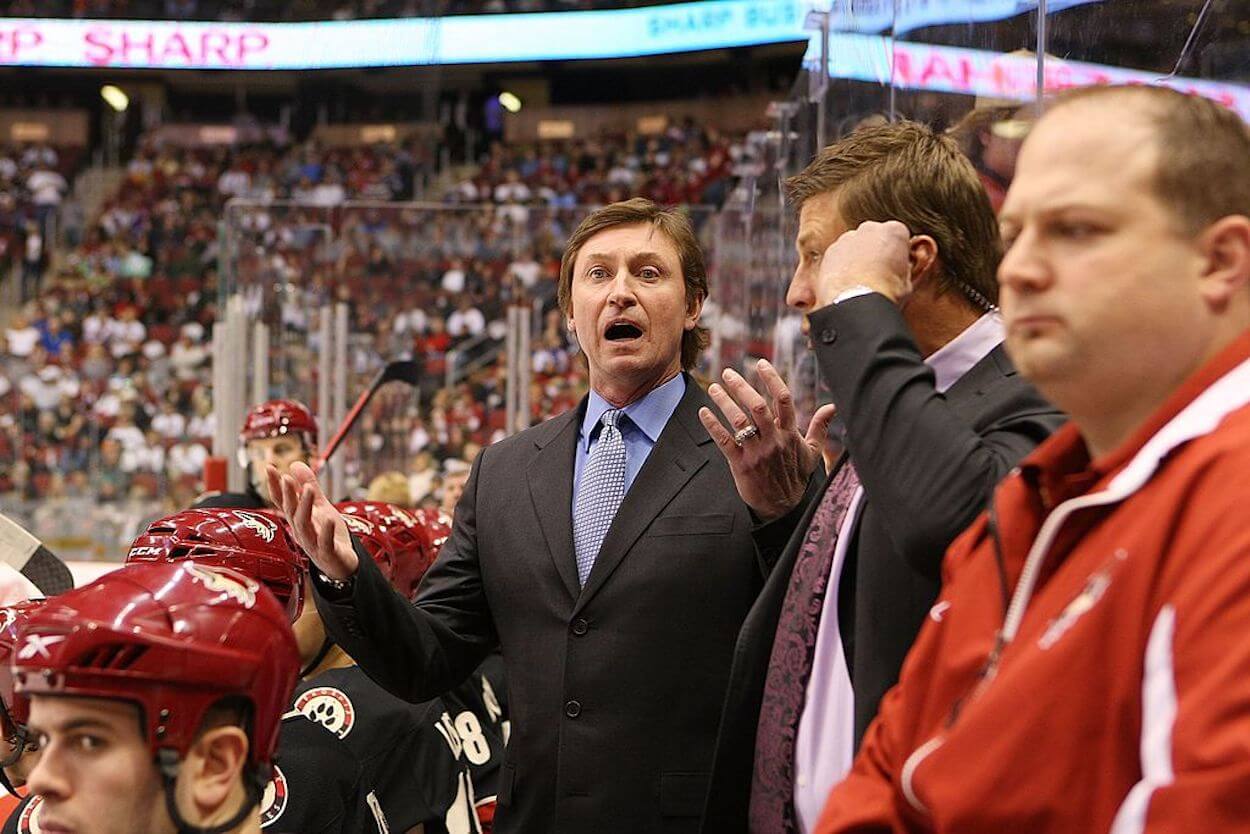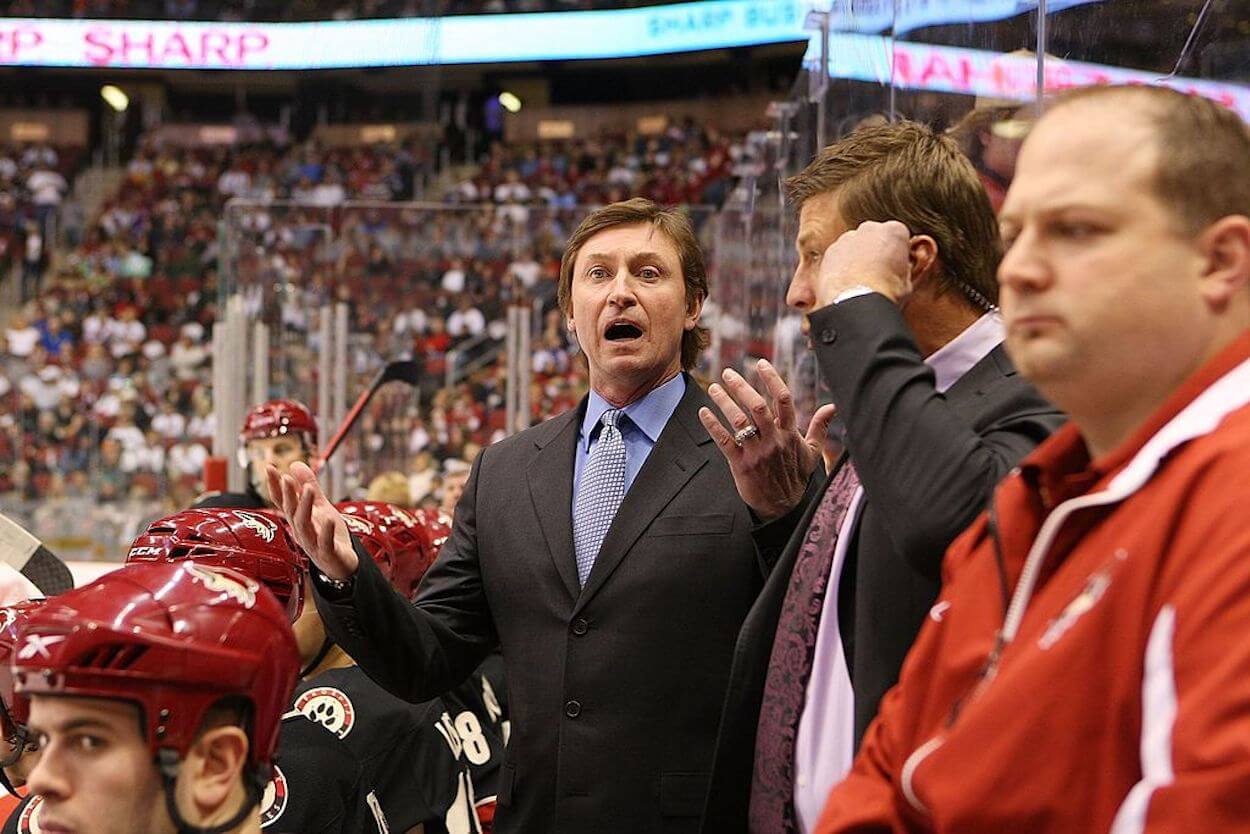 Wayne Gretzky's funnier side wasn't limited to his coaching career, though. Long before he chirped Yandle, we know of at least one instance when No. 99 spent an entire practice messing with a hungover teammate.
As Sean Pronger explained in his book, he ended up having a bit too much to drink the night before a New York Rangers practice. While that usually wouldn't be a problem — he was a bit-part player who would skate in the bottom six or even fill in as a spare defenseman — this session was different. Kevin Stevens was sick, so Pronger was skating on the first line with Gretzky and Adam Graves.
Faced with the reality of embarrassing himself in front of the living legend, Pronger came clean, told Gretzky that he wasn't at his best, and asked if the puck could go elsewhere when they were on the ice. The star forward said that he completely understood and that it wouldn't be a problem.
When the Rangers hit the ice, though, it was a different story.
"Every single pass Gretz made was to yours truly," Pronger wrote. "And I'm not talking about those beautiful saucer passes you see in his video Hockey My Way. I'm talking about wobbly hand grenades that would blow up as soon as they hit my stick."
On one occasion, the puck even bounced off Pronger's stick and flew over the glass into the stands. That prompted an apology from the hungover forward and a pledge from Gretzky to send some smoother passes his way.
Those never materialized, though.
"And he delivered the line [about better passes] with a wink," Pronger recalled. "Turns out Wayne thought it would be fun to mess with me from the get-go. How awesome is that? The greatest player ever to lace them up went out of his way to thoroughly embarrass a hungover grinder. And you know what? That made me feel more included than if he had played it straight."
A hardcore coach would tell you that you practice how you play. Wayne Gretzky, however, was good enough that he could have a bit of fun and still be at his best when the bright lights came on.
He is, after all, the Great One.