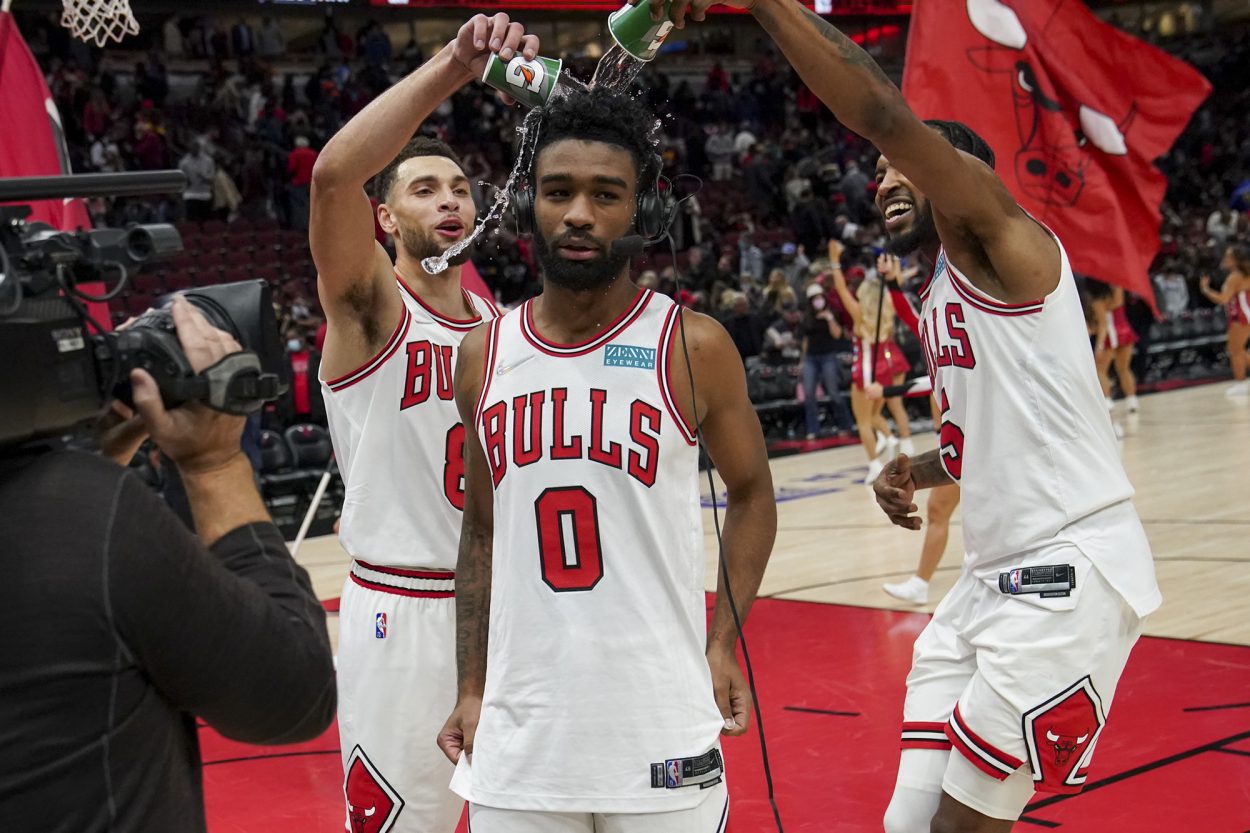 Coby White's Trade Stock Rises to the Forefront for Bulls Amid Zach LaVine's Injury
Coby White can boost his trade stock amid Zach LaVine's injury, but he might prove himself indispensable to the Chicago Bulls.
The Chicago Bulls will almost certainly do whatever they can to upgrade the current roster in the next few weeks before the NBA trade deadline. With Zach LaVine currently out due to injury, Coby White is suddenly one of the most intriguing trade chips to watch.
White has made himself a staple of the rotation since coming back from health and safety protocols on Dec. 19. However, recent rumors suggest the Bulls would consider trading the former North Carolina star for the "right upgrade."
On the one hand, White can further boost his trade stock with a string of strong performances in LaVine's absence. But he might also force Chicago's front office to consider whether he's more valuable to the current roster than any piece the team could get back in a trade.
Coby White replaces Zach LaVine in the starting rotation after LaVine suffered a knee injury
All of Chicago seemingly held its collective breath when Zach LaVine clutched at his knee with an apparent injury during a Jan. 14 showdown with the Golden State Warriors.
To that point, LaVine had partnered with DeMar DeRozan to form one of the most lethal scoring duos in the NBA. In the process, he'd also silenced all the critics who wondered whether he could be a leader on a winning team. A serious setback would all but ruin the Bulls' title hopes.
K.C. Johnson of NBC Sports reported that LaVine avoided structural damage and is not expected to miss significant time. Still, the team has yet to establish a timeline for its star 2-guard. That means Coby White figures to get an extended run in the starting lineup. He should still get starts even when Alex Caruso returns, given Chicago's tendency to play smaller.
White previously filled in at point guard when Lonzo Ball entered health and safety protocols. In filling in for LaVine, White figures to play more of a combo guard role. That's probably more beneficial to the 21-year-old as a volume scorer.
The next handful of games could amount to something of a litmus test for White and the Bulls.
White can boost his trade stock …
It appeared as though Coby White would struggle to carve out meaningful minutes for the Bulls early in the season. After missing a large part of offseason work in his recovery from shoulder surgery, White struggled to score the ball efficiently and make a true impact on the floor.
In nine November appearances, he shot a pitiful 34.9% from the floor and 22.6% from beyond the arc. Aside from the individual struggles, White watched rookie Ayo Dosunmu provide value on both ends and make significant strides as a transition playmaker. The confluence of factors seemed to hint at the Bulls likely taking inquiries on the No. 7 pick in the 2019 NBA Draft.
Still, he stayed the course. In his last 14 games, White is averaging 16.4 points, 3.0 assists, and 2.4 rebounds on 50.9% shooting, including 44% from deep. He's showing a higher level of commitment on the defensive end while displaying the blazing speed and explosiveness in transition that made him such a highly-coveted prospect in the first place.
White has an even greater opportunity with LaVine injured. He should get more minutes next to the starting unit and is almost a perfect complement to the pass-first Lonzo Ball, whose all-around excellence puts him on a historic pace. This gives rival executives more chances to see White in an elevated role.
Having found his rhythm, White can further bolster his trade value with a run of good games. His rise might even open up trade avenues the Bulls previously thought impossible. Teams are sure to ask about his availability if he continues to thrive.
… but he still has value to the Bulls even when LaVine returns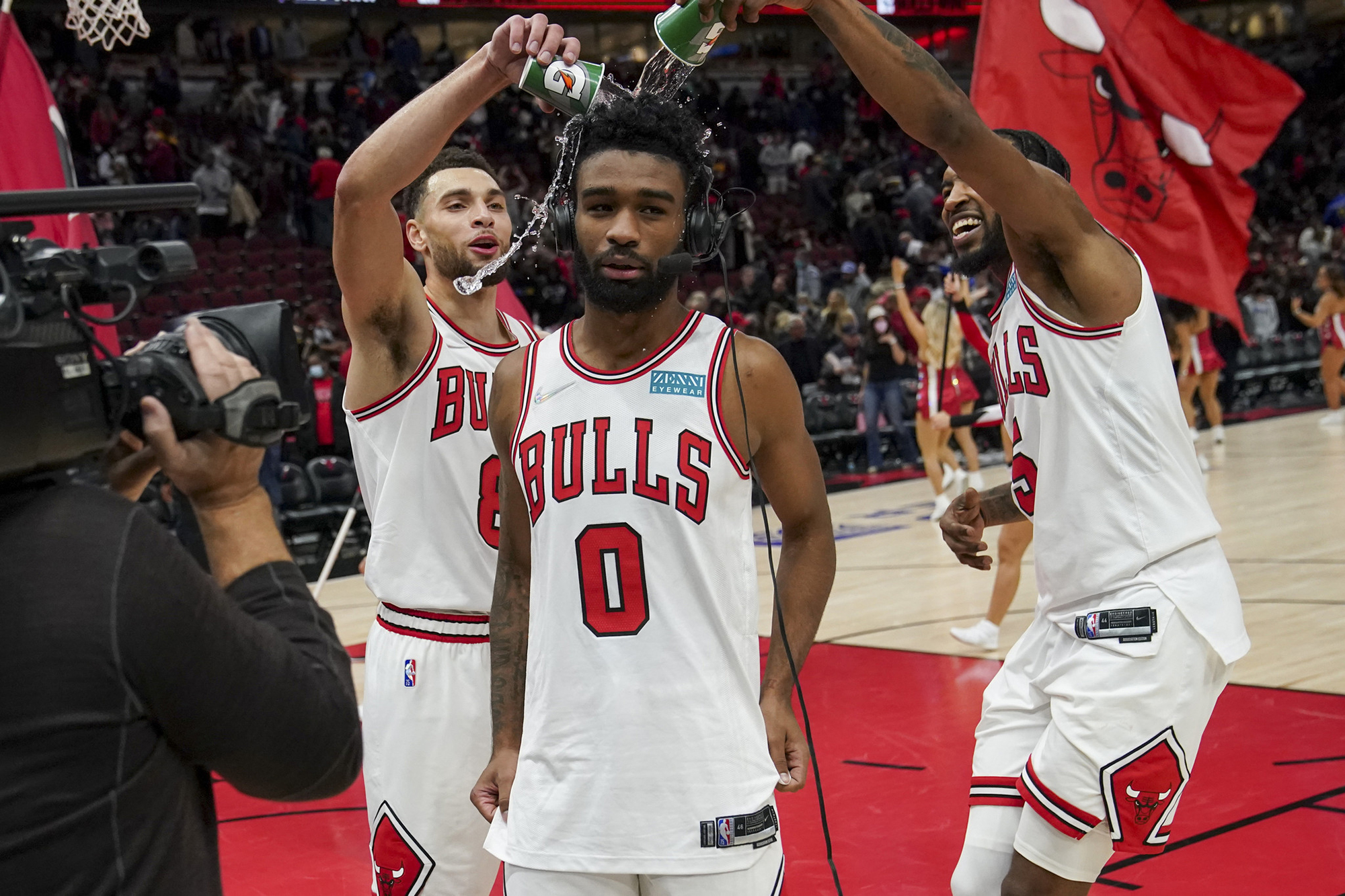 Although White could generate more interest in the trade market, he might also show just how crucial he is to Chicago going forward.
The Bulls don't have a ton of bench scoring and playmaking. White infuses the second unit with both. He shows more aggressiveness in getting to the rim off the dribble and can create space off the bounce. Defense is still a weakness, but it's not as glaring as in past years.
As good as they've been early in the season, Chicago cannot rely on LaVine and DeRozan to score the ball so efficiently on such a regular basis. The floor shrinks come playoff team, and opposing teams will demand that other guys beat them. White could become invaluable in that regard as someone who can score and spell the stars minutes or play alongside them.
Ultimately, White's future in the Windy City could depend largely on what the Bulls could get in a potential trade package. Veteran players such as Larry Nance Jr. and Robert Covington might appeal to Chicago. Then again, the Bulls could insist on acquiring those guys without including White.
Alternatively, if trading White somehow meant Chicago becomes a player for a Myles Turner or Harrison Barnes, it might be worth exploring. The Bulls have Ball and Caruso under contract for the next three seasons, and White is eligible for a rookie extension this upcoming offseason.
In any event, the Bulls should have a lot to evaluate with White filling in for LaVine in these next several games.
Stats courtesy of Basketball Reference.