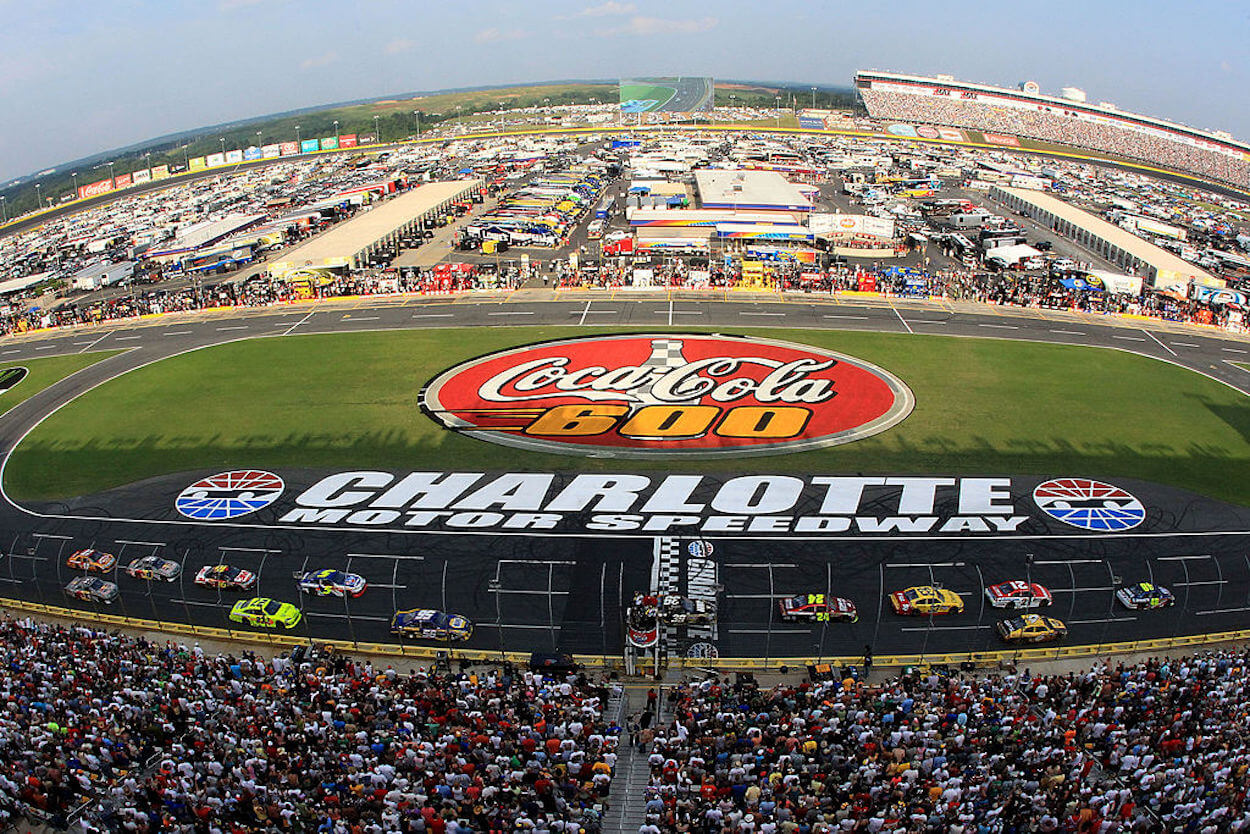 The Coke 600 at Charlotte Motor Speedway Could Be 7th Heaven For These 7 Drivers
The NASCAR All-Star Race is in the rearview mirror, and the Cup Series is heading to Charlotte. Let's look at the favorites to claim the checkered flag.
Welcome to Charlotte Motor Speedway and home to the Coca-Cola 600, the longest race on the NASCAR Cup Series schedule.
Before Sunday night's grueling 600-mile test of man and machine at one of the sport's most beloved race tracks, it's worth taking a look at the drivers who boast a realistic shot of coming out on top in NASCAR's Memorial Day weekend classic.
Here are the rankings — in descending order — of the guys with the best chance of finishing P1 at the 1.5-mile quad-oval just outside of Charlotte, North Carolina.
7. William Byron
With a Cup Series-high three wins in the first 13 points races of 2023, William Byron has proven more than capable of putting his Hendrick Motorsports Chevrolet in Victory Lane this season.
Byron has yet to score a win at Charlotte, however, going 0-for-6 in points-paying trips to the CMS quad-oval where he's recorded just one top-five — a fourth-place finish in the 2021 Coca-Cola 600.
6. Kevin Harvick
A two-time winner of the Coca-Cola 600 and three-time winner on the Charlotte quad-oval, Kevin Harvick is no stranger to Victory Lane at the fabled venue located just down the road from where most Cup Series teams are headquartered.
It's worth noting, however, that Harvick hasn't celebrated a win at Charlotte since 2014 — his first season with Stewart-Haas Racing — and that came in the fall, not in the 600. Harvick is currently hunting his first triumph of 2023, which he announced prior to the season would be his final season as a driver in NASCAR's premier series.
5. Chase Elliott
No one needs a win right now more than Chase Elliott, who, in all probability, will miss the Cup Series playoffs for the first time in his career, barring a breakthrough in the second half of the regular season.
That's because Elliott — NASCAR's perennial most popular driver — sat out six races earlier in the year while nursing a fractured tibia. Missing so much action put Elliott in a deep points hole that will make it exceedingly difficult for him to qualify for the playoffs based on his point total at the end of the regular season.
Elliott, therefore, needs to win, and he needs to win soon. Thankfully for the Hendrick Motorsports driver, one track where he's capable of winning is the Charlotte Motor Speedway quad-oval, where he picked up a victory in 2020 at the height of the COVID-19 pandemic. Aside from a 33rd-place finish in last year's Coke 600, Elliott's last half-dozen finishes in points races on the Charlotte quad-oval are as follows: 2nd, 1st, 2nd, 4th, 11th, and 2nd.
4. Brad Keselowski
It's been just over two years since Brad Keselowski last won a Cup Series race, but the 2012 Cup champion is seemingly inching ever closer to a return to Victory Lane. Now in his second season as a driver and co-owner for Roush Fenway Keselowski Racing, Keselowski has upped his game considerably from the struggle bus he rode all of last year.
One facility that certainly plays to Keselowski's advantage, at least historically speaking, is the Charlotte quad-oval, where he won two points races during his days with Team Penske — the organization he competed full-time with in the Cup Series from 2010 through 2021.
Keselowski's most recent Charlotte win came in the 2020 Coca-Cola 600.
3. Denny Hamlin
The most recent winner of the Coca-Cola 600, Denny Hamlin played the survival game to perfection one year ago at Charlotte and prevailed despite not having the fastest car. This weekend, the Joe Gibbs Racing driver will be looking to join an elusive club of drivers who've captured NASCAR's longest race in back-to-back seasons.
Hamlin seems to stand a reasonably good chance of doing exactly that based on his recent performances, which include three top-five finishes — highlighted by a win at Kansas — in the last five points races.
2. Kyle Larson
No one is hotter at the moment than Kyle Larson, who whipped the field into submission in this past weekend's All-Star Race at North Wilkesboro, where he led over half the laps and cruised to a commanding victory.
Each of Larson's three wins this season has come at a short track, but he's traditionally been his best at the mile-and-a-half and 2-mile intermediate tracks, and Charlotte has been no exception. Case in point: the 2021 Coca-Cola 600, a race that Larson won in a total romp by leading 327 of 400 laps from the pole in his No. 5 Hendrick Motorsports Chevrolet.
Based on the speed Larson has carried as of late, Sunday night has the potential to be a sequel to that dominant performance from two years ago.
1. Martin Truex Jr.
Nobody has been a bigger force at the Charlotte quad-oval in recent years than Martin Truex Jr., who since 2016 has won the Coca-Cola not once but twice in convincing fashion.
Sandwiched in between those victories was a win by Truex on the Charlotte quad-oval in the fall of 2017.
Given all this — and his recent hot streak highlighted by four finishes of eighth or better, including a win, in the last six points races — Truex is the favorite on this Memorial Day weekend.