Former UFC Champion Colby Covington Doubles Down on His Beef With LeBron James: 'He's a Chinese Puppet Master'
UFC fighter Colby Covington embraced the heel role years ago. So, it was perfectly on-brand when he renewed his frequent criticism of NBA star LeBron James during a recent interview with conservative media outlet the Daily Wire.
Colby Covington is the No. 1-ranked welterweight in UFC. He also has an extended beef with Los Angeles Lakers star LeBron James. Covington has criticized James in the past for his stances on social issues and politics and during a recent interview, he turned up the heat on some of his rhetoric.
A scheduled rematch between Covington and Kamaru Usman for the UFC Welterweight Championship is on the horizon. Making the media rounds in advance of the Nov. 6 bout, Covington renewed his attacks on James. But the former world champion grappler has a history of controversy.
Colby Covington brands himself as a heel
It's hard to tell how much of Colby Covington's schtick is legitimate and how much is for show. In 2014, Covington said he modeled his career after controversial fighters such as Conor McGregor and Chael Sonnen, per Reddit.
"I think it speaks for itself. It sells and makes guys superstars, so if that's what it takes, then I'm willing to do it, but you have to back it up, and I can do that."

Colby Covington in 2014
At UFC 223 in Brooklyn in 2018, a behind-the-scenes dust-up between Covington and Usman made waves, if for no other reason than Covington's complete lack of anything interesting to say.
Covington is also an outspoken supporter of former President Donald Trump, explaining some of the fascinations with LeBron James. Trump has frequently targeted James in his stump speeches, including some rather odd thoughts.   
It was a pattern Covington followed during a recent interview.
Colby Covington again puts LeBron James on blast
During an interview with Daily Wire reporter Joe Morgan, Colby Covington turned to one of his favorite topics, LeBron James.
"Just a big hypocrite. He talks about his two biggest things he loves to talk about: equality and justice. Where's the equality of employing women in Chinese sweatshops to make your merchandise for millions of dollars while they're making pennies, where's the equality in that?

"Where's the justice in critiquing the greatest country on God's green Earth — America — but not talking about Hong Kong, not talking about the Uyghurs in China? He stays silent on everything in China because he's a Chinese puppet master."

Colby Covington
Covington did not elaborate on which Chinese puppets James controls.
During his 2018 war of words in Brooklyn, Usman called Covington a "Twitter tough guy." Covington has taken to tweets to criticize James on a couple of occasions. Once, he tweeted he could take James in a fight, which is an odd flex for a professional fighter talking about a basketball player.
Covington continued his rant about James, claiming the NBA star's charity work is nothing more than "a tax write-off."
LeBron James has a long history of social and political activism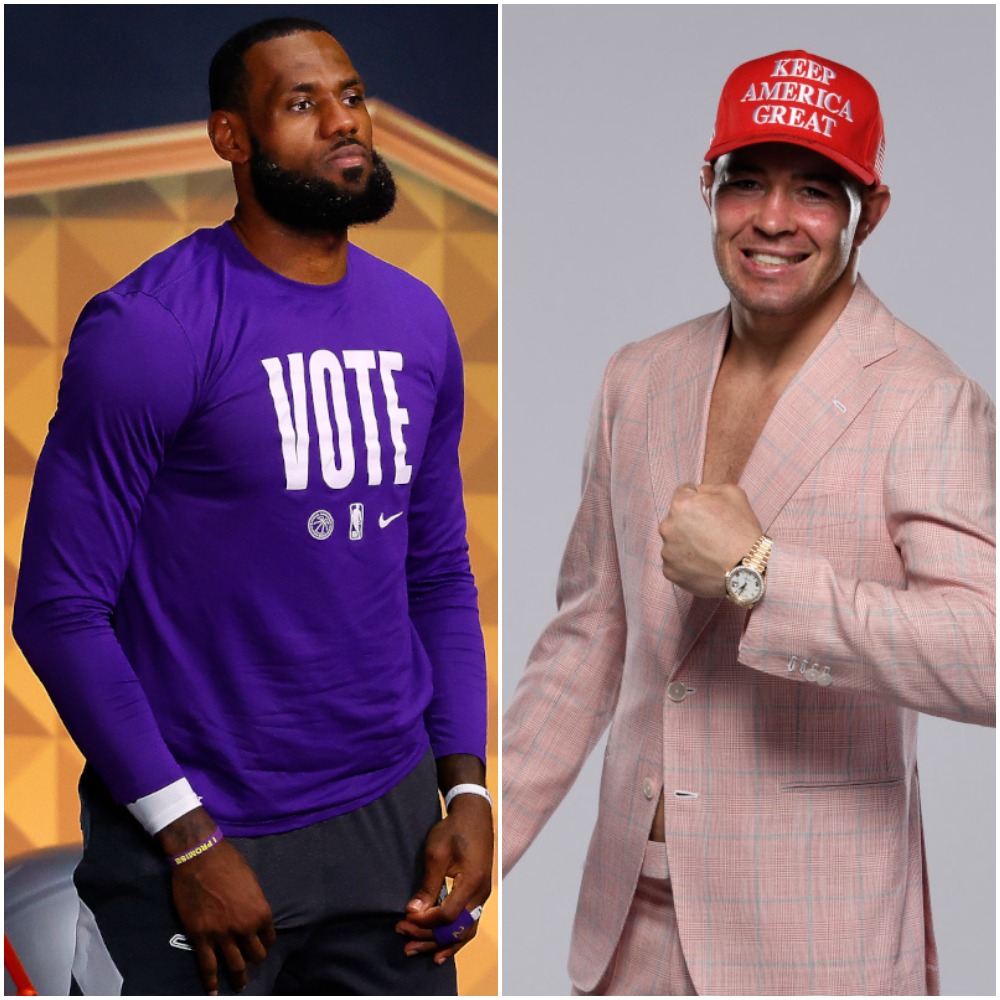 For much of his NBA career, LeBron James has focused on things other than basketball. His political stance on social issues had sparked the ire of the political right on multiple occasions, most notably when a conservative pundit said James should "shut up and dribble."
James opened the I Promise School in his hometown of Akron in 2019. In 2020, he launched More Than a Vote. Formed in the wake of the murder of George Floyd by former Minneapolis police offer Derek Chauvin and the death of Breonna Taylor, who local police officers fatally shot in her Louisville, Kentucky, apartment, More Than a Vote's focus is clear, per its website.
"We are focused on systemic, targeted voter suppression in our community and have a specific mission: educate, energize and protect Black voters."

More Than a Vote
James has clapped back at critics before, though he has never addressed Covington directly. In February 2021, Swedish soccer star Zlatan Ibrahimovic suggested James and other athletes not get involved in politics, per The Associated Press. Ibrahimovic said athletes should "just do what you do best because it doesn't look good."
James responded by reminding Ibrahimovic about his activism in his home country. In 2018, the soccer star talked about "undercover racism" because of his heritage. His father is Bosnian, and his mother is from Croatia.
Covington's recent comments are on-brand for him. He embraces the heel role, and nothing says "bad guy" more than taking on cultural icons with different points of view.
Colby Covington isn't going to change his mind about LeBron James. But it's just as clear that James isn't going to change his approach to duck criticism.