Colby Covington Is Itching for a Rematch vs. Kamaru Usman
Colby Covington is probably one of the most controversial fighters in the UFC. While he is a great wrestler, he's recently developed a reputation for trash-talking as well as affiliating with Donald Trump. This controversial status eventually led him to a title fight against the welterweight champion, Kamaru Usman, a title fight Covington lost.
How Colby Covington finally got a title fight
Covington, like many UFC wrestlers, had a hard time making a name for himself. Wrestling is a powerful tool, but unlike other popular fighting styles in the UFC, it's not usually very exciting. Many wrestlers, Covington included, use a strategy called "lay and pray," where they'd wrestle their opponent to the ground but wouldn't do much damage to them afterward. 
Covington built up a good record fighting, but he wasn't getting anywhere in his career. So, when he fought one of the most popular Brazilian fighters ever at a Brazilian UFC event, he showed the world his new personality by trash-talking Brazilians. This personality became the Trump-loving, loud-mouthed personality Covington is known for today. 
After winning the fight, the UFC knew Covington needed a title shot. And that's exactly what happened. However, this title shot was for the interim welterweight belt — not the real belt. Covington won that fight, but it took him a year and a lot of antics before he got a shot at the real champion.
Colby Covington vs. Kamaru Usman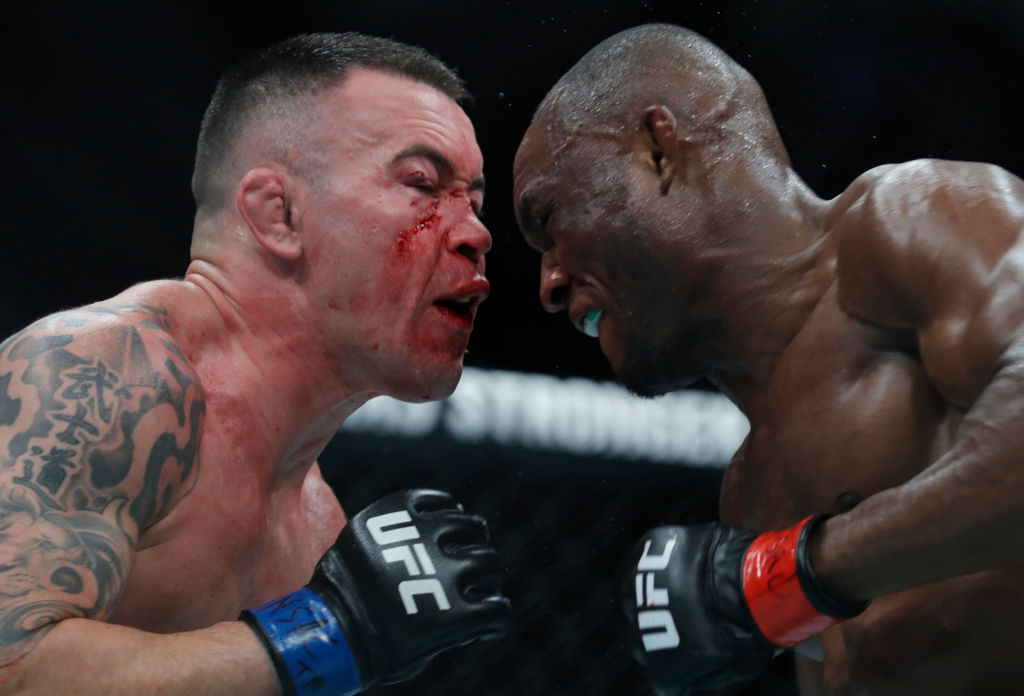 Usman had feuded with Covington for a long time now, as both talked trash to each other on social media before either one won a title. That said, before both men finally got their hands on each other, everyone expected their fight to be boring. Why? Usman is also a great wrestler, just like Covington.
Most fans expected the two men to try to wrestle one another for five rounds, but the exact opposite happened. In one of the best fights in 2019, both men kept the fight on the feet. Neither tried to take the other one down. Both just kept swinging and trying to knock each other out. The five rounds of nonstop action weren't one-sided. 
Both men landed hard shots, and it was a hard fight to judge. However, by the fifth and final round, Usman gained the advantage. He was able to knock out Covington with less than a minute on the clock. 
Why Covington wants a rematch
Because of how close the fight was, Covington, according to MMAjunkie, wants not just one rematch but two. Covington claims he won three rounds and that the fight was exciting. He also claims the UFC likes the idea of a rematch. He also disagrees with the referee's decision to stop the fight and thinks Usman cheated by claiming Covington hit him with a low blow.
These factors all mean, in Covington's mind, he could've won the fight if things went differently. And that's exactly why he wants a rematch against Usman. If it happens and it's as exciting as the first fight, then it would only make sense to finish the trilogy with a third fight. 
That said, other welterweight fighters, like Jorge Masvidal and Conor McGregor, are gunning for a title shot against Usman. So, while Covington wants a rematch, it may not happen for some time.