Formula 1 Cold War: Red Bull Racing Adviser Helmut Marko is 'On the Case' in Proving Lewis Hamilton's Team is Breaking Some Regulations; Mercedes' Toto Wolff is 'Asking A Lot of Questions'
Red Bull Racing adviser Helmut Marko is not concerned with the public threats delivered by his Formula 1 rival, Mercedes Principal Toto Wolff.
A Cold War is brewing between F1's top two world championship contenders. Spy vs. Spy.
Team members from both sides will have to keep looking over their shoulders. Their enemy is always watching.
Red Bull Racing adviser Helmut Marko on guard for next move by Mercedes' Toto Wolff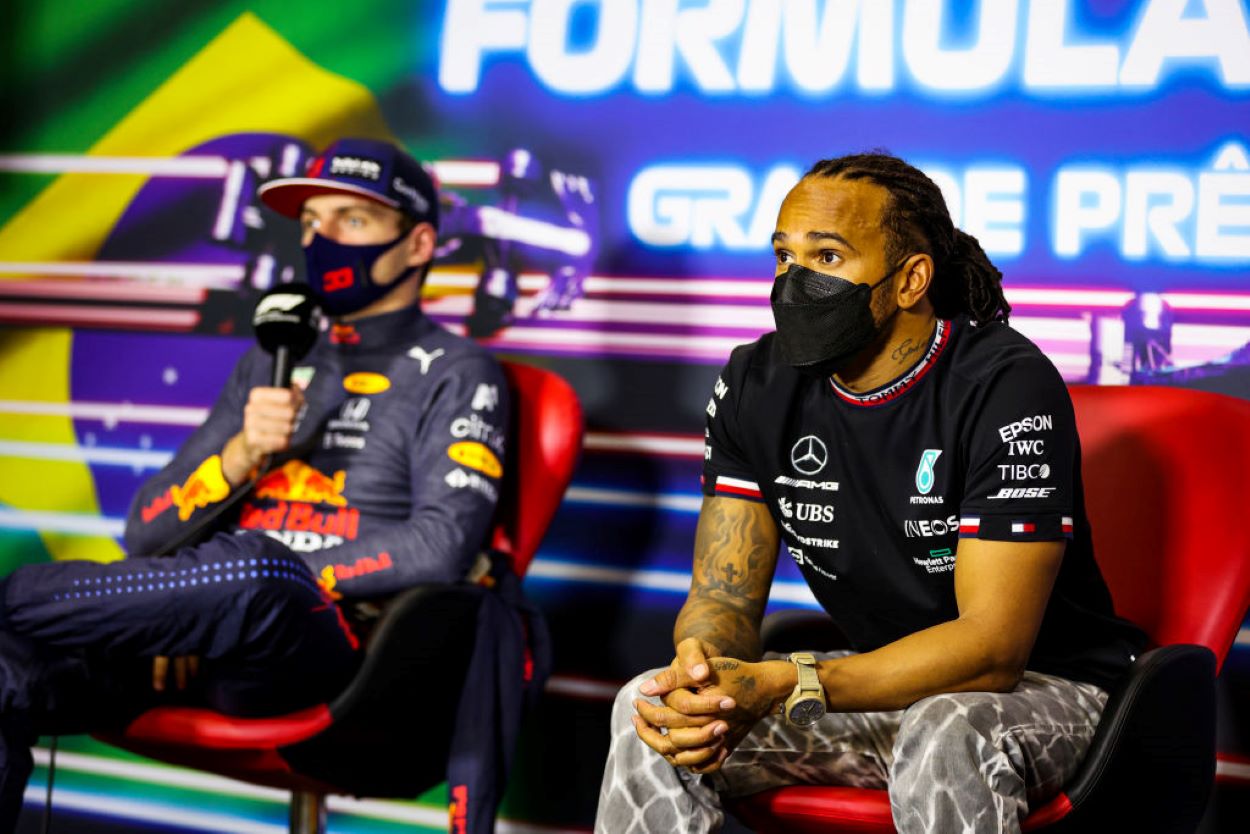 The Max Verstappen and Lewis Hamilton's camps are divided and seeking to strike the other. The latest flap centers on a fan video, which captures Verstappen illegally touching Hamilton's rear wing in parc ferme following a practice run on Nov. 12, preparing for the Brazilian Grand Prix in Sao Paulo.
Following a hearing the next day, Verstappen faced a fine of 50,000 euros (approximately USD 57,000).
According to planetf1.com, Verstappen explained his intentions, suggesting he was "just looking at how much the rear wing was flexing at that point."
In the meantime, Red Bull Technical Director Adrian Newey and Chief Engineer Paul Monaghan reportedly visited the FIA office with stacks of papers and videos, allegedly documenting ways Mercedes has been breaking the circuit rules.
Red Bull's Marko not shying away from eye-in-the-sky threats by Mercedes' Wolff
Newey and Monaghan centered their complaints on how Mercedes mustered its extreme straight-line speed at the Brazilian GP events. Hamilton utilized the straightaways at the Autódromo José Carlos Pace, moving up from the back of the Sprint and his GP starting grid of 10th. He dominated the Brazilian GP field following a harrowing Lap 48 dual with Verstappen.
Wolff fired back at Red Bull's claims.
He indicated he will be watching everything his rival does, saying he "will look at every single bit of tape that falls off" the rival machine during the circuit's last three events. F1's next stop, the Qatar GP, is scheduled for Nov. 21.
"We will be asking a lot of questions in the next races," Wolff threatened.
Marko did not shy away.
"Mr. Wolff talks a lot when the day is long," Marko told F1 Insider. "Our cars were always legal in the technical scrutineering. In any case, we are not worried. And he has been watching closely all year anyway."
Marko will not file a Brazilian GP protest but still seeks additional evidence
Hamilton initially captured P1, edging Verstappen during qualifying. But FIA officials' ran tests and deemed Hamilton's DRS flap opened too wide on the right-hand side.
Hamilton was designated to the rear for the Sprint Race. His straight-line speed aided the four-time defending champion to pass 15 cars in just 24 laps.
"Our (inquiry) on Friday (Nov. 12) was not about the DRS mechanism but about another area of the Mercedes rear wing," Marko said. "The fact one followed the other was pure coincidence."
Sky Germany reported Marko had no plans on Nov. 15 to file a protest of Hamilton's Brazilian GP victory but has deployed his team's spies.
"We are on the case," Marko said.