Cole Beasley Continues His Controversial COVID-19 Stance by Strongly Bashing Buffalo Bills Fans: 'I Thought Bills Fans Were the Best in the World'
When looking at the on-field product, it seems that everything is going great for the Buffalo Bills. They're winning, and they've been dominating while doing it. One player, though, seems a little unhappy with his current situation: Cole Beasley
Beasley became a leading voice for unvaccinated NFL players this offseason, and he recently took to Twitter to reiterate his controversial COVID-19 vaccine stance. But he didn't stop there; Beasley also called out Bills fans.
Cole Beasley has had strong opinions about the COVID-19 vaccine
Beasley made headlines this offseason when he shared his strong feelings about the COVID-19 vaccine.
"I will be outside doing what I do," he posted on Twitter, per ESPN. "I'll be out in public. If your scared of me then steer clear, or get vaccinated. … I may die of covid, but I'd rather die actually living."
He continued later on in the statement: "I'm not going to take meds for a leg that isn't broken. I'd rather take my chances with Covid and build up my immunity that way. … I'll play for free this year to live life how I've lived it from day one. If I'm forced into retirement, so be it."
Beasley, who has been critical of the NFL's various COVID-19 policies, also shared at the start of Bills training camp that he's neither for nor against getting the vaccine. He says he's "pro-choice."
For the most part, though, things have essentially been pretty quiet for the wide receiver since the start of the season. That was until after his team's Week 4 game against the Houston Texans.
The wide receiver called out Buffalo Bills fans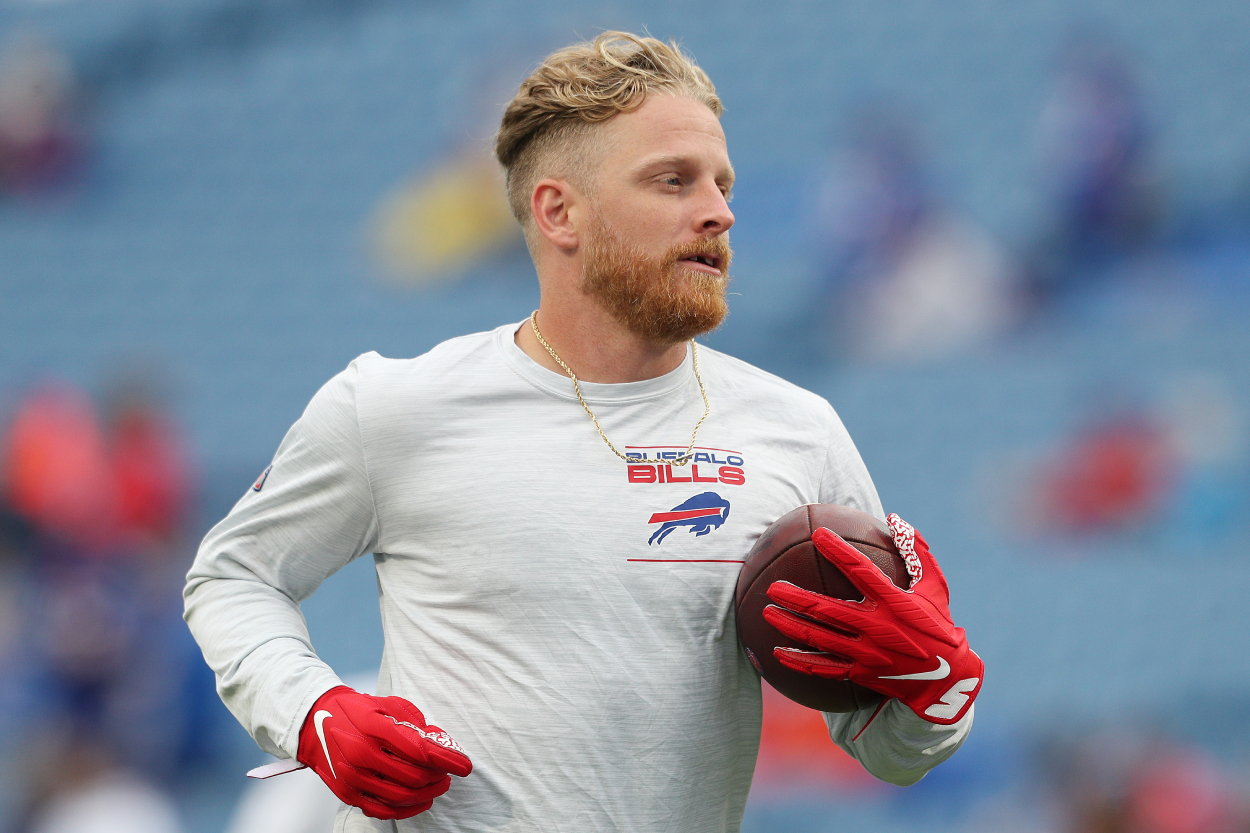 Other than a weird Week 1 loss to the Pittsburgh Steelers, the Bills have looked like one of the best teams in football, as they are 3-1 through four games. Beasley has played well at times, too, catching eight passes for 60 yards in Week 1 and 11 for 98 in Week 3.
But after Buffalo's 40-0 win over the Texans in Week 4, the 32-year-old took to Twitter to reveal his frustration with his team's fans.
"Only place I get boo'd is at our home stadium," he tweeted. "Then some of the same people want me to take pictures and sign autographs. I thought bills fans were the best in the world? Where'd they go? If the vaccine works then why do vaxxed people need to be protected from unvaxxed? #letemin"
Someone then asked if they were just saying "Bease" in a drawn-out way so that it sounded like "boo." But the SMU product tweeted, "Some are. Then I got some right behind the bench yelling at me to get vaccinated and talking s***."
As Bills Wire of USA Today noted, fans must have at least one of the vaccination shots to get into Buffalo's games. So, that likely means many people in the stadium don't share Beasley's views on the vaccine.
No matter the reasoning, though, Beasley should have expected backlash after being so vocal on social media about his stance. Now, his standing with Bills Mafia is likely shaky after his decision to call the team's fans out.
They aren't the only one's frustrated with him, either.
Cole Beasley also had a Twitter exchange with Dallas Mavericks owner Mark Cuban
It hasn't just been Bills fans who have been critical of Beasley. Dallas Mavericks owner Mark Cuban, who encouraged Beasley to get vaccinated in the past, replied to the receiver's recent post and said, "the examples" that Beasley give "as the basis for" his choice to remain unvaccinated "are questionable."
Beasley then replied: "I didn't get it cause I do not need it. What other explanation do you need? The fact that I need to explain any reason for my own choice is the problem. That's the whole point. The risks are not the same for everyone."
Cuban then said that it's 100% his choice, "just as it is 100% the decision of business owners to determine how they want to [assess] the risks Covid brings to their businesses and set the guidelines they think work best."
But Beasley responded by saying he wishes businesses would just say that.
"I wish they would just call it that instead of pretending it's for safety. Then maybe the narrative that unvaxxed are selfish a**holes will go away and we can be United again instead of divided," he tweeted.
Cuban additionally noted that his healthcare costs have gone up, but "when you protect your employees and customers, it's good for business." He also stated that he requires vaccinations; if employees or customers choose to "go elsewhere" because they disagree, it's their choice.
"There is no choice if it is mandated," Beasley tweeted in response. "You're taking the choice out of their hands. Yes they can make a choice to not work there but there is no guarantee that another job is waiting for them elsewhere. You saying they have a choice makes you feel better but not them."
All in all, Beasley and Cuban seem to be on opposite sides of the issue. But not everyone has been against the wideout. In fact, Bills guard Jonathan Feliciano took to Twitter to stand up for his teammate after seeing the fans yell at him about his vaccination status.
However, if the veteran pass-catcher wants to put his feelings out there for everyone to read, he must be ready for fans or people like Cuban to send criticism his way. It's a heated debate, and he has voluntarily put himself right in the middle of it.
Stats courtesy of Pro Football Reference
RELATED: The Buffalo Bills Have Suddenly Lost 762 Season Ticket Holders