Colin Cowherd Is Worth a Lot of Money After Working at ESPN and FOX
When thinking about talking heads that debate sports, the main ones that probably come to mind are Skip Bayless, Stephen A. Smith, Max Kellerman – and Colin Cowherd. Throughout the years, Cowherd has had a ton of hot takes about anything and everything to do with sports. His work on radio and television (on both ESPN and FOX) has ultimately allowed Cowherd to rack up a pretty large net worth.
Colin Cowherd joined ESPN Radio in 2004
Colin Cowherd, who hosted The Herd with Colin Cowherd for ESPN, joined ESPN Radio in 2004, according to Fox Sports, and he had an hour-long broadcast on the West Coast. He was then later one of the original co-hosts of the TV show, SportsNation, which ultimately had a pretty good run, and was also the host of Colin's New Football Show in 2013 and 2014, which aired on ESPN2.
Additionally, Cowherd wrote a book titled, "You HERD Me!" and it was a New York Times bestseller in 2013, according to FOX Sports. It spent five weeks on the list.
In 2015, however, Cowherd and ESPN parted ways.
"We've enjoyed a mutually beneficial run with Colin for over a decade," said former ESPN president John Skipper in a statement, according to ESPN Press Room. "He came to national prominence on ESPN with his unique perspective on sports and society. Endings also bring new beginnings, for ESPN and Colin, and we thank him and wish him the best."
Cowherd then joined FOX Sports.
Joining FOX Sports
In September 2015, Cowherd joined FOX Sports. He hosts The Herd with Colin Cowherd on television on FS1 and on FOX Sports Radio, which runs for three hours during the week.
While Cowherd has had hot takes for years, they have gotten more and more notice since he has been on FOX. This is probably also because of social media growing in popularity, but he has been in the headlines for his takes quite a bit the last few years.
This one about John Wall was prior to his time at FOX but he later apologized to him during his show on FOX. "Before the game started, he spent 34 seconds doing the Dougie," Cowherd said, according to NBC Sports Washington. "That tells me all I need to know about J-Wow. Then he opened his mouth later and confirmed it: not a sharp guy."
He also recently said this about Green Bay Packers fans and Aaron Rodgers.
"Whoever criticizes Aaron Rodgers, that's who the Packer fans attack," Cowherd said on The Herd with Colin Cowherd. "His brother criticized Aaron Rodgers, 'Hey, he's a loser.' His dad criticized him, 'he's sponging off him.' … It's always blame the messenger … Why doesn't this criticism happen to other quarterbacks? Why? Are we just picking on Aaron? Russell Wilson had one article written about him, that's it. Everybody else likes him. Everybody likes Tom [Brady], everybody likes Matt Ryan, everybody likes [Drew] Brees."

Colin Cowherd
Because of Cowherd's strong opinions and no-fear when it comes to saying whatever he is thinking, he has racked up a pretty significant net worth.
Cowherd is worth a lot of money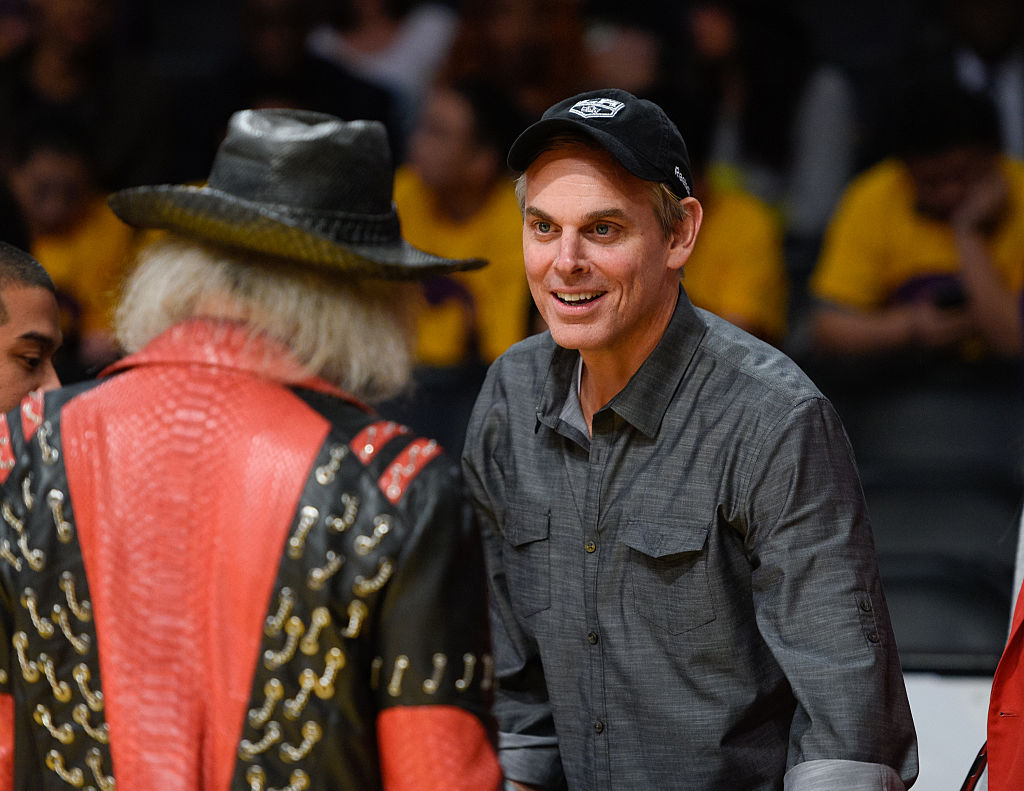 For more than 15 years, Colin Cowherd has played a big role in sports talk, whether it is on television or just on the radio. He has made a lot of money while doing this too, which has helped him rack up a significant net worth.
Celebrity Net Worth reports that Cowherd has an estimated $14 million net worth. That is a lot for someone who just gives his opinions on radio and television.
Whether it has been on ESPN or on FOX, Colin Cowherd has been one of the most recognizable faces and voices in sports talk radio and television for years. His work has ultimately helped him make a lot of money and rack up a substantial net worth. With how his career trajectory has been going, his net worth will, most likely, continue to grow too.