Colin Cowherd Thinks Odell Beckham Jr. Signing With the Rams Is More Than Just a Football Move: 'Don't Undersell the LeBron James Connection'
Odell Beckham Jr. is taking his talents to Los Angeles. The Los Angeles Rams have officially picked OBJ up as a free agent after he was released from the Cleveland Browns last week.
Undoubtedly talented, Beckham joins a Rams offense that is high-flying and now has the potential to be elite. Matthew Stafford has been slinging the ball all over the yard in Sean McVay's offense, and at 7-2, LA has solidified itself as a top contender in the NFC.
Though he underwhelmed in Cleveland, OBJ still has talent. At least one media personality seems to think this move is about more than just football for the star wide receiver, though.
The Los Angeles Rams made it official: Odell Beckham Jr. is their newest wide receiver
The Rams announced the move themselves on Twitter. Beckham joins the team on a one-year deal, according to Ian Rapoport.
Notably, the Rams were able to snag OBJ despite the receiver having a heavy interest in the Green Bay Packers. Both teams have Super Bowl hopes, and both reportedly made the wideout similar offers.
One has to wonder if the allure of the LA lifestyle made a bit more sense for the flashy receiver. Remember, he started his career with the New York Giants, where he was elevated to superstar status. Cleveland never really seemed to be a good fit for him, so it's interesting that he chose LA over the small-town vibes of Green Bay, Wisconsin.
Including his two and a half seasons in Cleveland, OBJ has secured 504 receptions for 7,062 yards and 51 touchdowns. With that said, his time with the Browns was largely underwhelming. He could never get on the same page as quarterback Baker Mayfield, and he did leave the team under dramatic circumstances.
Colin Cowherd believes LeBron James played a role in OBJ choosing LA
LA's resident superstar, LeBron James, was excited about the Rams' newest wide receiver. James and Beckham have a connection from their respective stints playing in Cleveland, and James, an Ohio native, is a Browns fan. Notably, the Los Angeles Lakers star had been pulling for Beckham to get his "freedom" from the Browns, and now that he got it and cleared waivers, the two will reunite in LA.
For football reasons, this move makes sense for both OBJ and the Rams, but sports radio personality Colin Cowherd took a stance on the matter that actually connected Beckham and his NBA counterpart.
Cowherd reported, or at least highlighted, that Beckham is "very close" with LeBron and the circle he runs in. James is famous for having an impressive group of friends, including his business partner, Maverick Carter, and agent, Rich Paul. Both talented in their own right, Carter and Paul rose to fame in part because of their connection to King James.
The way Cowherd sees it, OBJ has more than football on his mind with the move to LA.
"Don't undersell the LeBron James connection. LeBron has a massive entertainment company [and is] very successful in Los Angeles. OBJ has an interest beyond football, clearly," Cowherd said, breaking down the signing. "That connection matters. LeBron stumped for him. LeBron went on social media when OBJ wanted to get out of Cleveland. That's a real connection, and I'm sure LeBron [and] OBJ had conversations [about] what to do beyond football. Maybe there's an idea or five for a show."
OBJ seems like a role player for the Rams rather than a superstar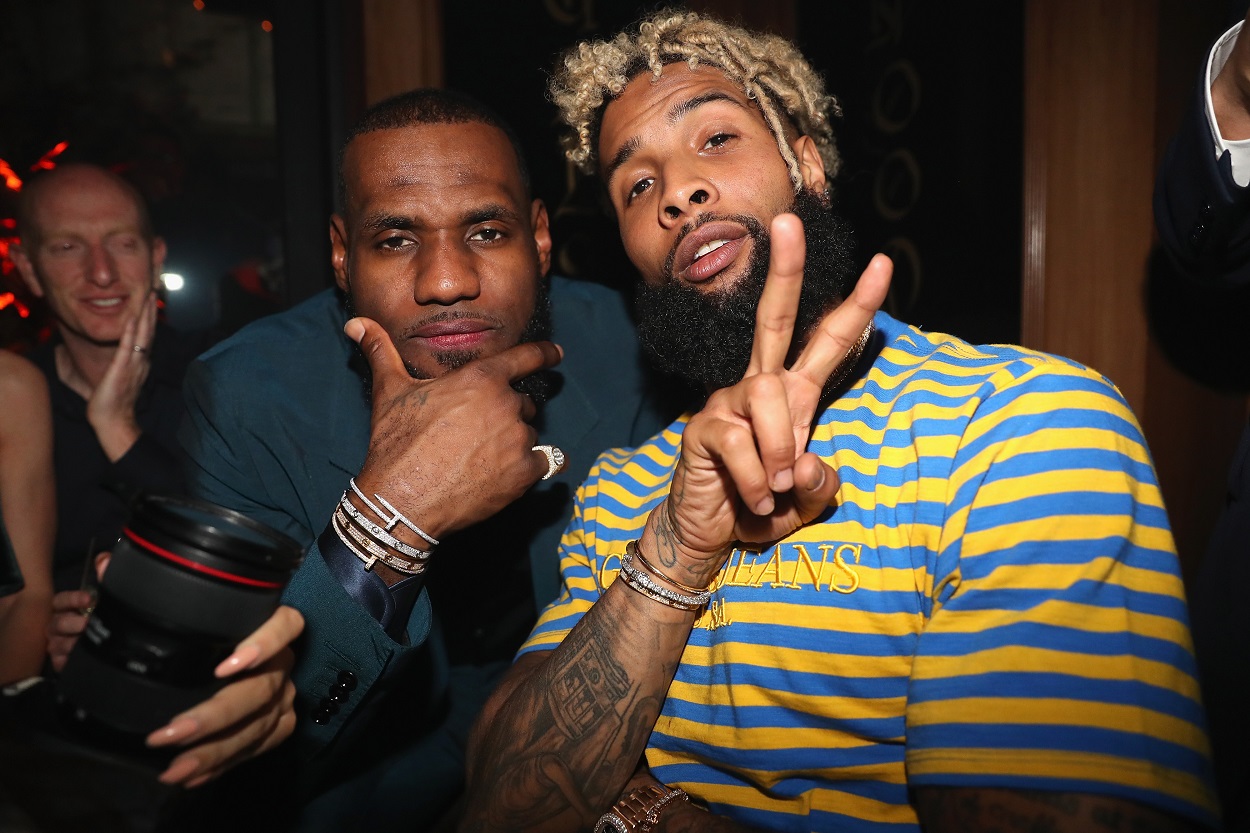 One of the more intriguing aspects about Beckham signing with the Rams is that even though it looks like a blockbuster move on paper, the Rams are taking somewhat of a chance on the receiver.
He was recently described as a malcontent by an anonymous ex-teammate in Cleveland, and his diva persona has been highlighted throughout his career.
Beckham isn't known for responding well when he isn't getting the football, but he's now entering a situation in LA where he's going to play second fiddle for Cooper Kupp — and likely even third fiddle behind Robert Woods.
Kupp has been a superstar for the Rams this season, and he's become Stafford's go-to option. He's been targeted 103 times this season, compared to Woods, who's been targeted 69 times. Kupp has 74 catches for 1,019 yards and 10 touchdowns. He leads the NFL in all three categories, and his place in McVay's offense will not be sacrificed for Beckham.
Beckham has a slightly better chance of moving ahead of Woods on the depth chart, but even he has 556 yards and four touchdowns under his belt. OBJ hasn't caught a touchdown this season, and he's only notched 232 yards.
Heck, even Van Jefferson and Tyler Higbee have both been more productive than OBJ this season, so there's really no guarantee he'll be able to find consistent targets in an offense that has done an excellent job spreading the wealth.
OBJ may never be a star receiver again, and it seems likely that he's headed for role-player status in LA. Who knows whether he'll be able to handle that emotionally.
With that in mind, perhaps Cowherd is right. This move makes the most sense if OBJ is hoping to become another kind of star in LA, which made King James such an integral part of this signing.
Stats courtesy of ESPN and Pro Football Reference.