Colin Cowherd Takes a Shot at Cleveland Browns Quarterback Baker Mayfield Once Again, but This Time It Makes Sense
Radio host Colin Cowherd and Baker Mayfield have somewhat of a complicated relationship. Cowherd has been a harsh critic of Mayfield ever since the Cleveland Browns drafted him with the first overall pick of the 2018 NFL Draft.
The two have gone back and forth against each other online and even in person on The Herd. Cowherd, while never denying that Mayfield can play in the NFL, has been clear about not thinking Mayfield was not worth the No. 1 pick or the investment the Browns have made in him as their starting quarterback.
The next chapter of their rivalry has Cowherd calling for the Browns to consider moving off of Mayfield, though he actually doesn't make a terrible point.
Colin Cowherd thinks Baker Mayfield is an average quarterback and the Cleveland Browns should start looking elsewhere
Mayfield is currently struggling with a shoulder injury that has him listed as out for the Browns Thursday Night Football matchup with the Denver Broncos. He's also expected to get offseason surgery on the shoulder while trying to gut it out for the rest of the season. The Thursday night matchup just proved to be too quick of a turnaround for him, so Case Keenum will get the start instead.
Cowherd believes the Browns should be open to a future without Mayfield. He said that he doesn't understand people who close doors and options in their lives and that the smarter thing to do is consider every option.
That was his segway into opining that the Browns would be smart to keep their options open at quarterback. If the quarterback wants to play, Cleveland should let him, especially if the Browns don't plan on signing him long-term. At that point, there's no risk for the franchise. Another option the Browns could look at is shutting Mayfield down for the year to get completely healthy, and then give him one more shot at things next season.
There's also a third option, according to the controversial radio host.
"You also have to consider – I know it's going to hurt your feelings, [but] put the pom-poms down – moving off him. Shutting him down, moving off him," Cowherd said. "Talk radio, newspaper columnist, bloggers in Cleveland, they're split on Baker now. You're not going to get a ton of pushback."
Cowherd doesn't think Mayfield can compete with Lamar Jackson, Joe Burrow, and…Aaron Rodgers?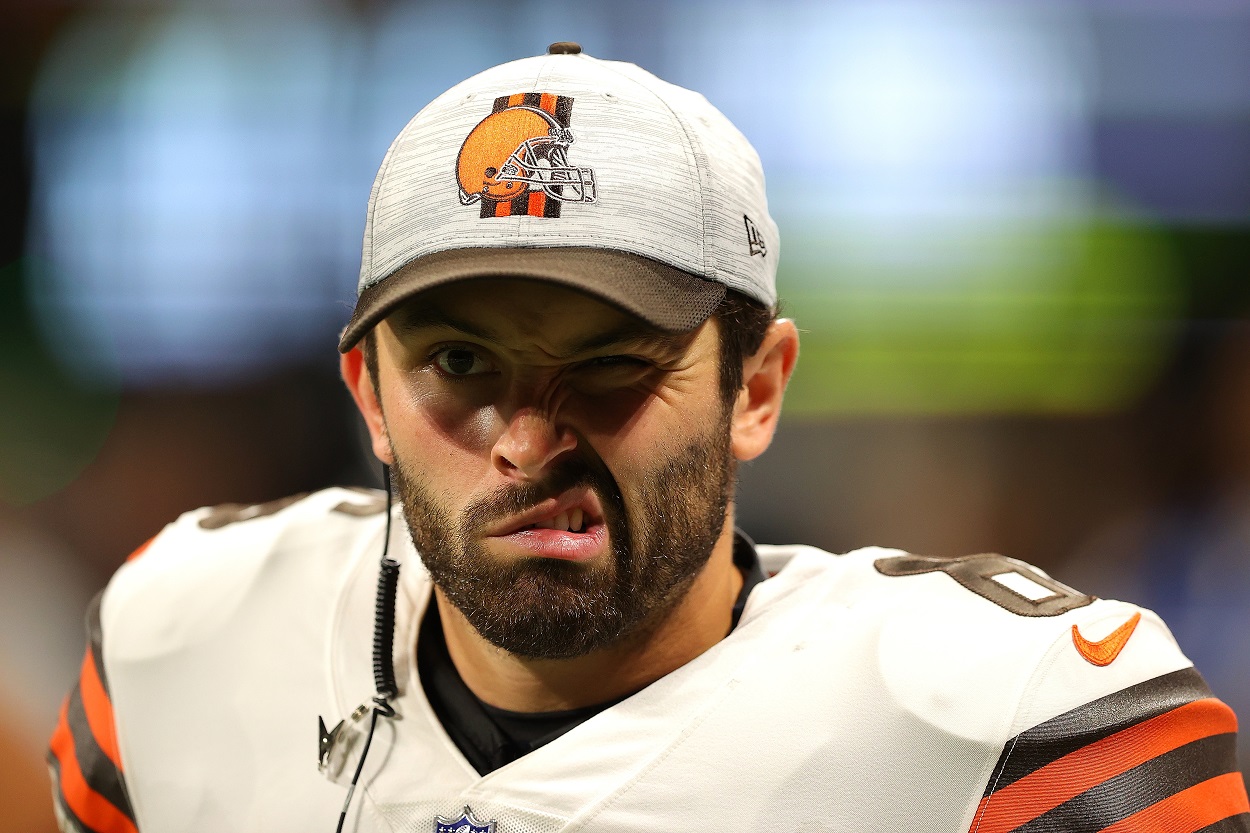 Cowherd's big justification for suggesting the Browns move on from Mayfield is that the AFC North is stacked with elite quarterbacks.
Lamar Jackson obviously plays at an MVP level for the Baltimore Ravens, and Joe Burrow is proving to be an upper-echelon quarterback for the Cincinnati Bengals. Aaron Rodgers was brought into the conversation because of the speculation that the three-time MVP could end up with the Pittsburgh Steelers next season.
"You have an injured, average quarterback in a division with Lamar Jackson and Joe Burrow both getting better by the minute, and it should be noted in March the Pittsburgh Steelers will be first in line to make a run at Aaron Rodgers," Cowherd said.
In that hypothetical, Cowherd is right that Mayfield would likely be the lesser of the quarterbacks in the division. Even if Rodgers stays with the Green Bay Packers, which seems likely all of a sudden, Pittsburgh is still going to do everything it can to find an upgrade at quarterback once the Ben Roethlisberger era is mercifully over.
Even if that quarterback isn't better than Mayfield, Cleveland would still be going to work with the third-best quarterback in their division, and that's never a winning formula.
Mayfield has been statistically average, and average quarterbacks don't often win Super Bowls in the NFL.
If Cleveland's ultimate goal is to win Super Bowls, which it is, then Cowherd's advice does make statistical sense.
While it does happen from time to time, Super Bowl teams in this era are usually led by elite quarterbacks. The last two Super Bowl-winning teams featured Tom Brady and Patrick Mahomes at quarterback respectively. Current Super Bowl favorites in 2021 include Brady's Tampa Bay Buccaneers, the Packers with Rodgers, Josh Allen's Buffalo Bills, Matthew Stafford and the Los Angeles Rams, and Jackson's Ravens.
Those are all elite quarterbacks. Meanwhile, Cowherd made a convincing argument that Mayfield has simply been average for the Browns over his career.
The stats are stone-cold and hard to argue. Cowherd pointed out that Mayfield is 26-25 over his career with the Browns, and that he has a 62.4% completion percentage, an 81-46 touchdown to interception ratio, and a career passer rating of 90.0.
Those numbers are decisively average, though Cowherd's rant on Mayfield getting injured because he thinks himself as above-average was probably just rubbing salt in the wound.
"Even the way Baker got hurt was classic Baker. He threw an interception and as he always does, overvalued his athletic ability and tried to square up a safety and got hurt," Cowherd said. "Go look it up, it was classic Baker. He always thinks he's a little more athletic than he is. Tried to square up a safety. Bang. And that's where we are today."
"Does he always have to be the cockiest guy in the room?", Cowherd lamented with obvious snark.
The personal comments took it too far because Cowherd actually made a logical argument before he got into his feelings.
Mayfield has proven to be average, and an average quarterback likely won't win the Super Bowl for the Cleveland Browns.
RELATED: Marshall Faulk Gets Candid About Kyler Murray, Baker Mayfield and Why Their Biggest Difference Proves They're Not on the Same Level