Colin Cowherd's Shocking Take on Dak Prescott Actually Makes Sense: 'The Dallas Cowboys Are Better When They Don't Use Dak Much'
Controversial sports radio host Colin Cowherd is known as somewhat of a hot-take artist, but that doesn't mean every thought he has is wrong and "just for clicks." To his credit, Cowherd does know the NFL like the back of his hand, and that lends a ton of credibility to his latest thoughts on Dak Prescott and the Dallas Cowboys (4-1).
The Cowboys are playing like one of the top teams in the NFC at the moment, and much of that success has to do with their offense. Prescott is in charge of a unit that ranks No. 2 overall, behind only Tom Brady and the Tampa Bay Buccaneers (4-1).
While not trying to criticize Prescott, Cowherd recently said on his radio show that the Cowboys need to pump the breaks when it comes to their quarterback and instead rely on running back Ezekiel Elliott to carry the load.
Colin Cowherd says the truth about Dak Prescott does not have to be a criticism
Cowherd is known to have the spiciest of takes on NFL quarterbacks, and they're not always right. He once had an issue with Carson Wentz for wearing a hat backward, if that gives you an indication of where his mind can go at times.
With that said, Cowherd's take on Prescott in relation to his value to the Cowboys' offense is actually based on numbers rather than wacky opinions. He also said he didn't mean it as a criticism, but more so just as an acknowledgment of fact.
"Don't confuse the truth with hate. In fact, don't even confuse data and the truth for criticism," he said. "Here's something that you can not argue: The Dallas Cowboys are better when they don't use Dak much."
Cowherd then laid out a pretty compelling argument regarding Prescott's passing statistics in relation to the Cowboys' win-loss record:
The Cowboys are 4-11 when Prescott throws the ball over 40 times
The Cowboys are 4-4 when Prescott throws for over 400 yards
The Cowboys are an impressive 34-7 when Prescott attempts fewer than 32 throws
"His intangibles — leadership, smarts, moxie, and toughness — have always been better than his tangibles: arm and athletic ability," Cowherd said. "And it's playing out."
Cowherd points out that the more Ezekiel Elliott plays, the more Dallas wins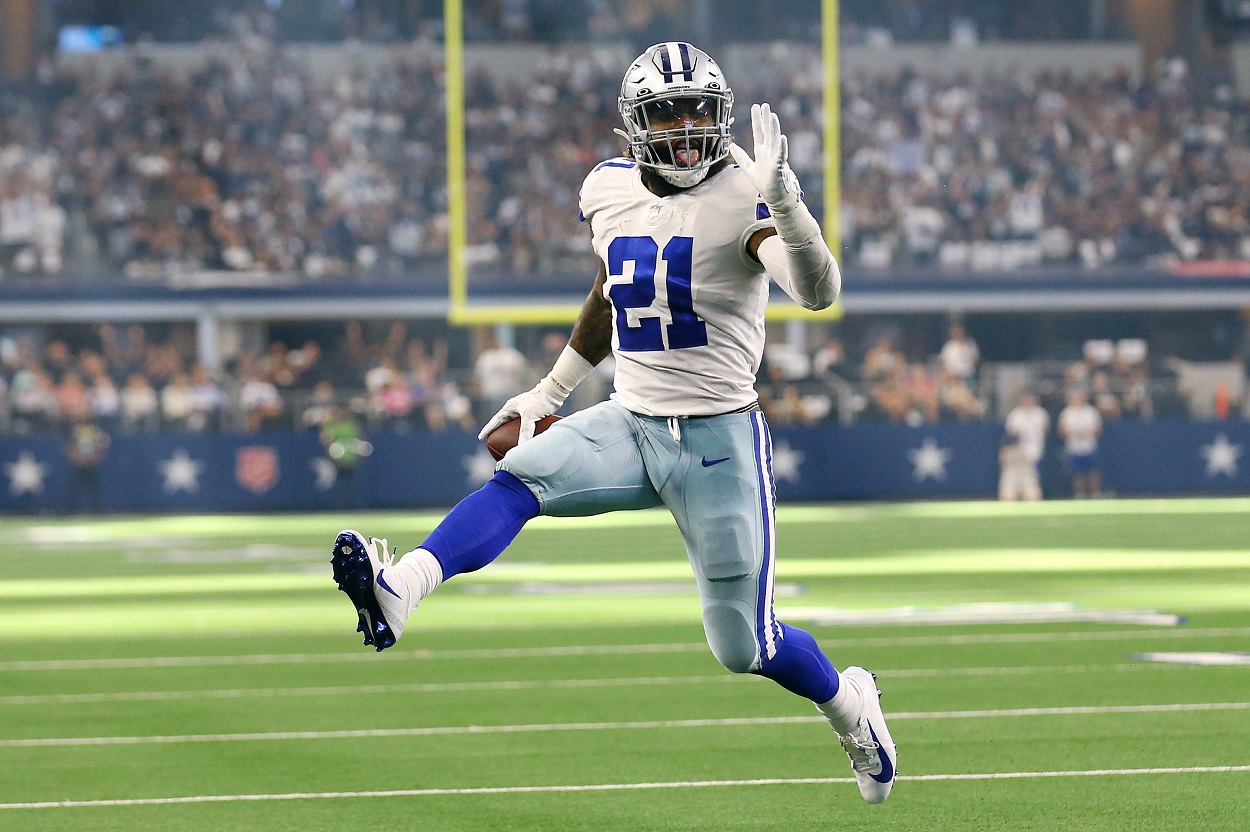 Cowherd made it clear that his comments weren't as much an indictment of Prescott as they were an indication that Elliott really makes the Cowboys' offense tick. That fact has actually played out over Dallas' first five games.
Elliott has at least a touchdown in each of the Cowboys' four wins this season. Dallas' only loss so far was at the hands of the Buccaneers in the NFL's opening game of the season.
Though it was a 31-29 barnburner, Elliott was held to just 33 yards on 11 carries. Prescott, on the other hand, had to sling the ball 58 times to keep up with Brady and the Buccaneers. His interception with 8:44 to go in the third allowed Tampa Bay to go up 28-19 on the next possession, and Dallas had to unsuccessfully play catch-up for the rest of the game.
Compare that game to the Cowboys' most convincing win of the early season: a 36-28 win over the then-3-0 Carolina Panthers (now 3-2).
Elliott rushed the ball 21 times for 110 yards and a score, averaging 5.2 yards per carry. Prescott had to throw only 32 passes in that game, completing 22 for 302 yards and three touchdowns compared to one interception. The Cowboys won the time-of-possession battle in that game, which is often an indicator of a win. In their loss to the Buccaneers, the Cowboys lost the time-of-possession battle by nearly nine minutes.
Cowherd's points make sense in general football terms
A strong running game is usually a predictor of a strong football team in the NFL.
A team that runs the football with any level of consistent success has an opportunity to physically control the pace and tempo of the game. As mentioned earlier, time of possession is also a huge statistic for most successful teams. Especially when an elite quarterback or offense is on the other sideline, time of possession can be a team's best friend. It keeps the defense fresh while allowing the offense to get into a rhythm.
In general football terms, nothing Cowherd had to say about Prescott is untrue. Any team is better when the quarterback throws less and the team runs more.
Even quarterbacks like Aaron Rodgers and Patrick Mahomes have greatly benefited from strong running games. The Chiefs took Clyde Edwards-Helaire in the first round of the 2020 NFL Draft just months after they won the Super Bowl. Some may forget, but Rodgers' Super Bowl team, coached by Mike McCarthy, may not have even been in the playoffs if not for the late-season running of James Starks.
Running the football may not be "sexy" in 2021, but it's still the most effective way a team can take control over multiple facets of a game.
Dallas, and likely Prescott himself, knows that, so look for the Cowboys to continue to push the run game in favor of preserving Prescott's arm.
Stats courtesy of Pro Football Reference
RELATED: Nick Saban's Tear-Inspiring Suggestion Set the Stage for the Dallas Cowboys to Secure a Franchise-Altering Superstar