Colin Kaepernick Could Soon Challenge Derek Carr's Job on the Raiders
Colin Kaepernick signing with an NFL team is starting to look more and more like an actual possibility. The former star for the San Francisco 49ers has not played since the 2016 season, but rumors have been swirling about teams potentially being interested in signing him. Could one of those teams be the Las Vegas Raiders? Could Kaepernick soon be in a quarterback competition with Derek Carr?
Colin Kaepernick had success in his career with the San Francisco 49ers
After being selected in the second round of the 2011 NFL draft, Kaepernick threw only five total passes in his rookie year. He, however, became a star in 2012.
Kaepernick started in seven games and played in 13 total in the 2012 regular season. He threw for 1,814 yards, 10 touchdowns, and three interceptions while also running for 415 yards and five touchdowns. 
It was what he did in the postseason that people really remember, though. Kaepernick started in three playoff games in 2012 and ultimately led the 49ers to the Super Bowl. The 49ers lost to the Baltimore Ravens in the Super Bowl, but Kaepernick had a good game as he threw for 302 yards and a touchdown, and ran for 62 yards and a touchdown. 
In 2013, Kaepernick threw for 3,197 yards, 21 touchdowns, and eight interceptions. He and the 49ers went back to the NFC Championship Game that year too. 
However, the 49ers missed the playoffs the next three seasons, even though Kaepernick threw for a career-high 3,369 yards in 2014, and ran for a career-high 639 yards. 
Kaepernick has not played since the 2016 season as that was the year he began kneeling during the national anthem to protest police brutality and racism in America. Kaepernick threw for 2,241 yards, 16 touchdowns, and only four interceptions in 11 starts and 12 total games in 2016. 
Derek Carr has only had one winning season with the Raiders
Derek Carr has started in at least 15 games for the Raiders each season since 2014. The Raiders have only had one winning season in that time, though, and that was in 2016.
Carr threw for 32 touchdowns in 2015, and 28 in 2016. He also earned three straight Pro Bowl selections from 2015 through 2017. However, Carr's touchdown passes have not been nearly as high the last three seasons. He threw for 22 in 2017, 19 in 2018, and 21 last season. 
Last season, in addition to the 21 touchdown passes, Carr threw for 4,054 yards, only the second time he has thrown for over 4,000 yards in his career. He also only threw eight interceptions, his lowest total since 2016. 
In the team's final game in Oakland, though, Carr was booed off the field as the team missed the playoffs again, as reported by NBC Sports. The Raiders also signed Marcus Mariota this offseason to bring in some competition.
Could they, however, bring in even more competition? 
The Raiders' owner is OK with the team signing Kaepernick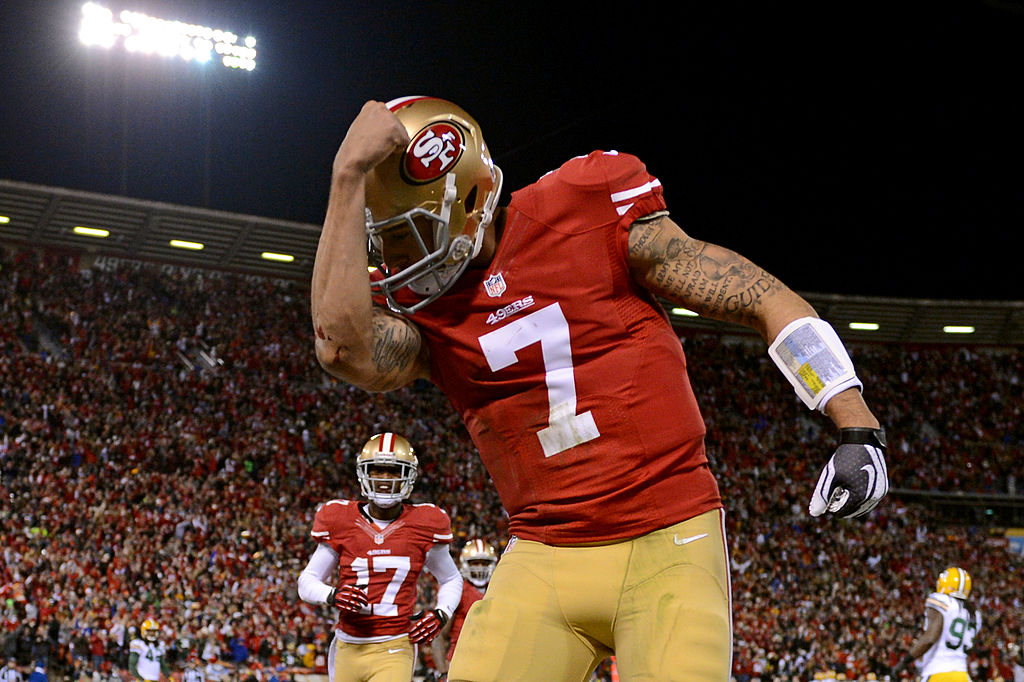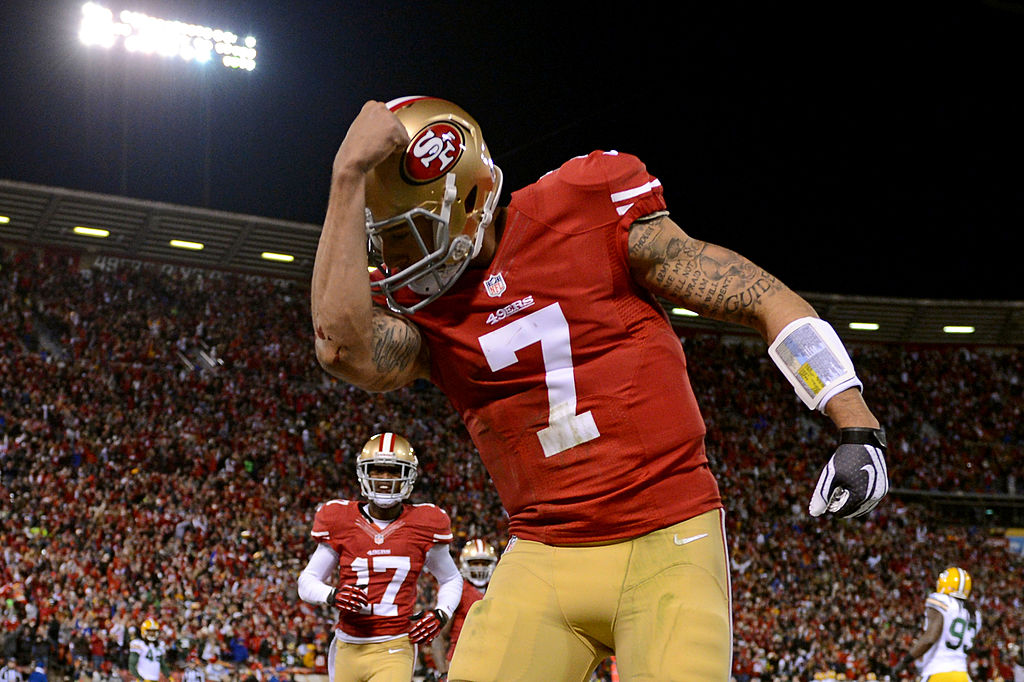 Mark Davis, the owner of the Raiders, is OK with his team signing Kaepernick. He has apparently been OK with it since 2017. 
"Since 2017, I've told the coaches and general managers that if they want to hire Colin Kaepernick, they have my blessing," Davis said, according to Paul Gutierrez of ESPN. 
So, if Kaepernick signed with the Raiders, could he compete with Carr and Mariota? Based on his past performances, he would undoubtedly have a chance to win over the starting job. 
Carr has put up the better passing numbers of the three, but Kaepernick is the better runner of the three. He has 2,300 career rushing yards while Carr only 495 and Mariota has 1,399. 
Additionally, Kaepernick has had more success in the playoffs. He has played in two NFC Championship Games and one Super Bowl. Mariota has started in just two playoff games in his career as has a 1-1 record in them while Carr has not even played in a playoff game yet.
It is unclear if Mike Mayock and Jon Gruden are interested in bringing Kaepernick to the Raiders. If they do, though, the team's quarterback competition could be interesting.
Stats courtesy of Pro Football Reference