Colin Kaepernick Deserves a Spot in the Pro Football Hall of Fame Even Without Playing Again
Colin Kaepernick has built an excellent legacy for himself, even if he never plays again.
The 2020 season is four years since Kaepernick's last NFL down with the San Francisco 49ers. Even if Kaepernick never plays in the NFL, his off-field impact and legacy should earn him a spot in the Pro Football Hall of Fame.
Colin Kaepernick had a memorable NFL career
A dynamic dual-threat quarterback at Nevada, Colin Kaepernick entered the NFL as a second-round pick of the San Francisco 49ers in 2011. He got his chance at starting when Alex Smith went down with a concussion midway through the 2012 season.
Kaepernick went 25-14 and completed 60.1% of his passes for 8,380 yards, 50 touchdowns, and 21 interceptions from 2012-14. He also totaled 1,578 rushing yards and 10 touchdowns on 6.1 yards per carry in that span.
More importantly, Kaepernick won four playoff games and scored 11 all-purpose touchdowns in six postseason outings.
San Francisco lost the Super Bowl in February 2013 and reached the NFC Championship Game a year later.
A combination of injuries, coaching changes, and a decrease in talent around him contributed to the 49ers quickly regressing. Kaepernick last played in 2016, when he threw 16 touchdowns to four interceptions.
Kaepernick opted out of his contract after the 2016 season. He has not played so much as a practice down since then.
Kaepernick's biggest contributions came off the field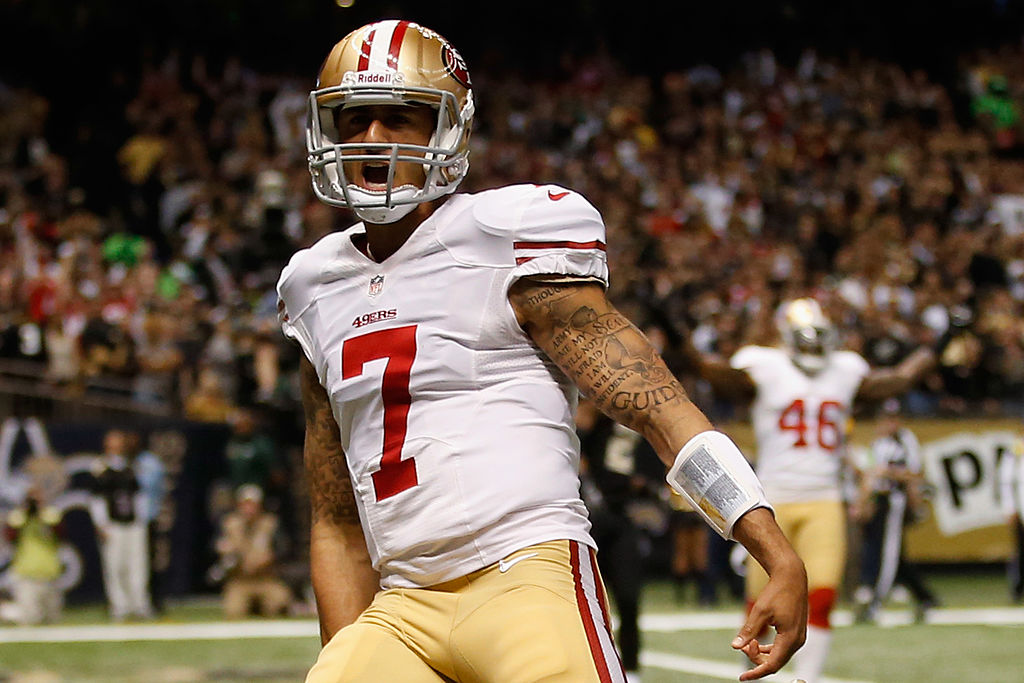 Colin Kaepernick is best known not for his on-field play, but his global impact on racial inequality and social justice.
Kaepernick knelt for the national anthem in 2016 as a way of protesting police brutality. He has spent the last few years working closely with the Black Lives Matter movement and raising awareness about how people of color are treated in America.
Kaepernick hosted a "Know Your Rights camp" in October 2016, an event which taught children about "situations with police, their rights, holistic health, financial literacy, and understanding both community and self," according to ESPN.
Kaepernick also stepped up during the coronavirus pandemic. He donated $100,000 to help communities of color with food, shelter relief, and other essentials.
Colin Kaepernick's impact should merit him Hall of Fame consideration
By his stats alone, Colin Kaepernick won't come close to earning a Hall of Fame bust. Still, that doesn't mean the Hall can't honor him and his work another way.
The Hall of Fame, regardless of the sport, is there to celebrate the respective characters who contributed to the sport's history. Kaepernick certainly has created a lasting impact on the NFL and the world.
It is impossible to tell the NFL's story without Colin Kaepernick, much like how Major League Baseball's stories can't be told without players who crossed the color barrier and, later, those who used steroids.
No one is saying Kaepernick deserves a bronze bust next to the Manning brothers or Dan Marino. But it is a smart move to eventually consider either adding a Kaepernick exhibit or at least something that tells his story.
Colin Kaepernick fought for what he believed in. Multiple NFL players, including Adrian Peterson, have already said they plan to take a knee during the anthem this season.
Kaepernick's legacy is more than what he accomplished in six NFL seasons. If the league itself never fully realizes that, then the Pro Football Hall of Fame should do so instead.