Colin Kaepernick Hasn't Played in Over 4 Years but Reportedly Has a Higher Madden 22 Rating Than a Big Young Star
Despite his past success, it has been quite a while since NFL fans got to watch Colin Kaepernick play football. In fact, it has been since Jan. 1, 2017, to be exact.
However, although no teams have given him a chance to play following his decision to take a knee during the national anthem in 2016, the Madden video game franchise still put him on its roster of players in 2021.
Now, it appears he's back for Madden 22, and Kaepernick's overall is reportedly higher than the ratings of several starting quarterbacks in the league. He's also rated higher than a big young star.
Madden 21 brought Colin Kaepernick back
Kaepernick hasn't played in the NFL since the 2016 season, but many people are aware he's talented enough to still be an NFL quarterback. The Nevada product led the San Francisco 49ers to back-to-back NFC Championship Games in 2012 and 2013, and he also took them to a Super Bowl during that time.
Following his decision to protest social injustice during the national anthem in 2016, though, every team has essentially refused to give him a chance since — even when Madden has.
The video game announced in September 2020 that Kaepernick would be back on Madden 21, saying he's "one of the top free agents in football and a starting-caliber quarterback." It also treated him like a starting QB by giving him an 81 overall.
Kaepernick appears to still be getting that starter treatment on Madden 22 as well.
Colin Kaepernick's Madden 22 rating is reportedly higher than Justin Herbert's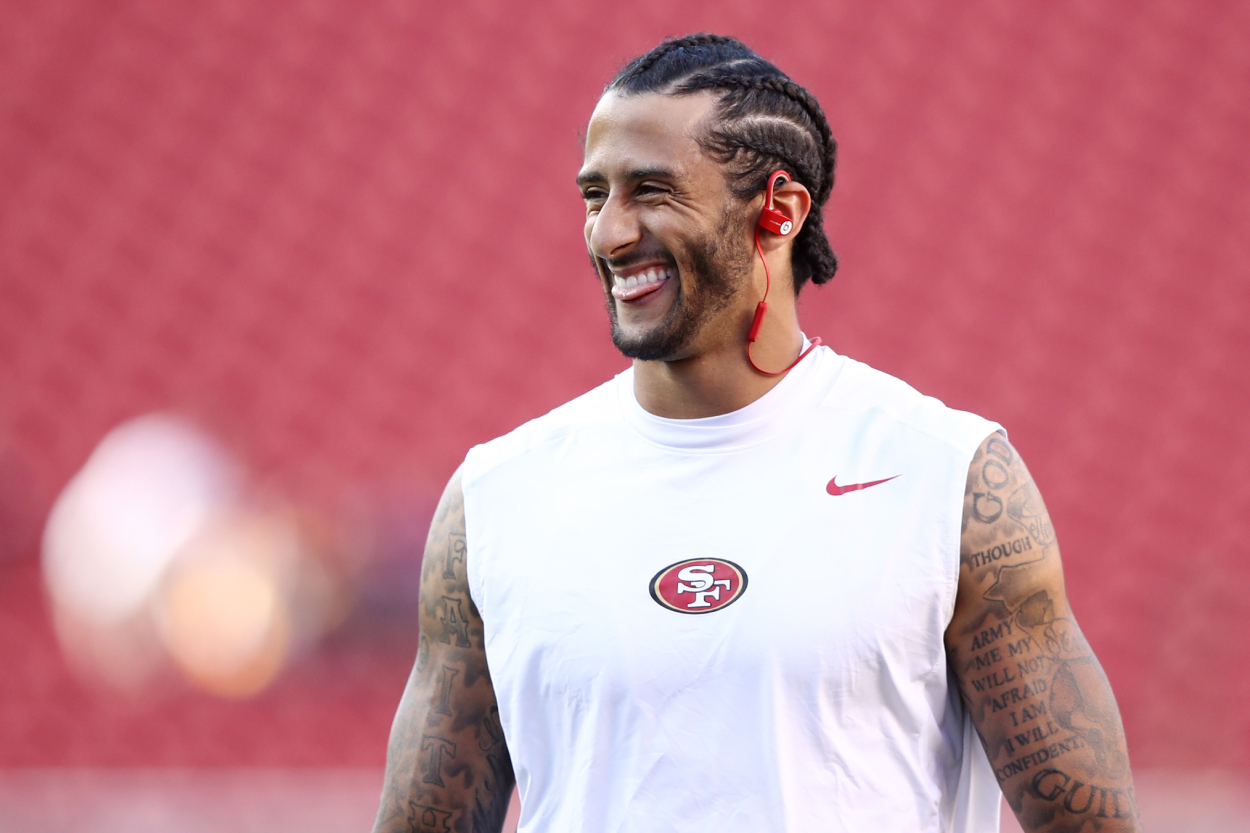 Madden 22 became available to the world on Aug. 20, but anyone who pre-ordered the game could play it on Aug. 17, and those gamers noticed something whenever they looked at the quarterbacks and their new ratings on this year's Madden. They noticed that Colin Kaepernick has a higher overall than several starting QBs, including last year's Offensive Rookie of the Year, Justin Herbert.
According to CBS Sports, Kaepernick has an 81 overall rating on Madden 22, the same as what he had last year.
But take a look at who has a lower overall than he does.
Justin Herbert, 80 overall
Kirk Cousins, 79 overall
Ben Roethlisberger, 78 overall
Trevor Lawrence, 78 overall
Joe Burrow, 77 overall
Jared Goff, 77 overall
OK, let's not forget that Kaepernick was an extremely talented quarterback; many fans let the protests cloud their judgment of him as a talent. There was a reason he played in back-to-back NFC Championship Games and beat out Alex Smith for the 49ers' starting job, as the 2011 second-round pick had a strong arm and could make plays with his legs.
His talent alone can justify rating him higher than Cousins (a middle-of-the-pack QB), Roethlisberger (an aging quarterback), Lawrence (a rookie), Burrow (a young player coming off a big injury), and Goff (someone who has struggled in recent years). But putting him over Herbert is a major stretch.
Herbert had a breakout rookie season for the Los Angeles Chargers in 2020, throwing for 4,336 yards, 31 touchdowns, and 10 interceptions. He ended up winning the AP Offensive Rookie of the Year award and proved to everyone that he has the talent to become the next great NFL QB.
Kaepernick, though, didn't even come close to ever having a season like Herbert did last year; he threw for 21 TDs in what was arguably his best season in 2013. The fact that his rating is the higher one of the two is very inaccurate.
However, at the end of the day, there are more important things to worry about than these ratings; all of this just means one thing: It's Madden season.
What are the other QB ratings on Madden 22?
So, what about the other QBs who received higher ratings than Kaepernick on Madden 22? Who should you be playing with this year?
According to the game's player database, Patrick Mahomes is the top guy with a 99 overall. Behind him in the top 10 are Tom Brady (97), Aaron Rodgers (96), Russell Wilson (94), Lamar Jackson (91), Deshaun Watson (90), Josh Allen (88), Dak Prescott (87), Ryan Tannehill (87), and Matt Ryan (85).
You should have a good chance to win with any of those guys.
No matter who you play with, though, we should all be excited that it's finally time to play the newest version of Madden, as it's really just a more interesting way of saying that it's almost football season.
The wait is almost over.
Stats courtesy of Pro Football Reference