Colin Kaepernick Is Tied With Tom Brady for This NFL Record
Many NFL fans would agree that Tom Brady is the best quarterback of all time. At the very least, he's one of the most accomplished. The 44-year-old has won seven Super Bowls while playing multiple decades at an extremely high level. 
In terms of performance, salary, endorsements, and championships, Brady is unparalleled. After retiring and then unretiring, he's returning to presumably continue his run of success. That said, one quarterback hasn't been nearly as successful, Colin Kaepernick, but he ties with Brady in one important statistical category.
In what category are Tom Brady and Colin Kaepernick tied?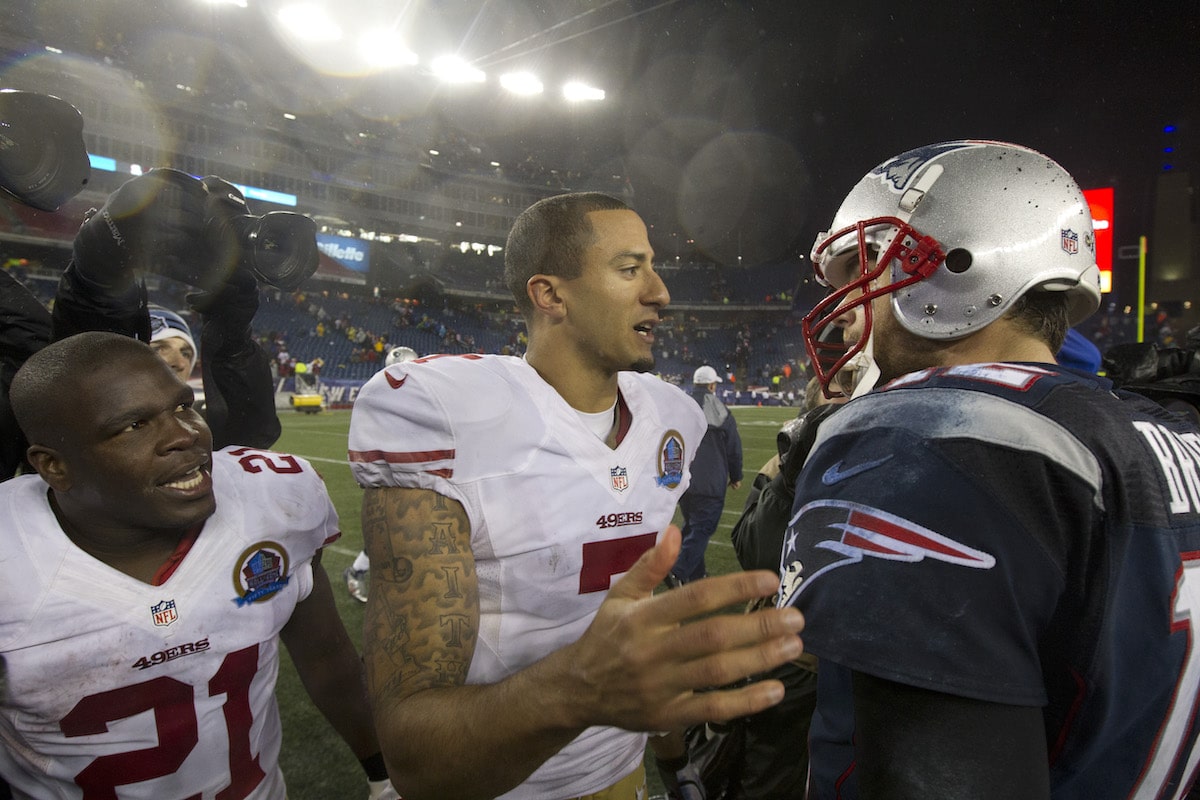 Colin Kaepernick hasn't played in the NFL in several years. Brady continues to play at a high level. While it's true Kaepernick never won a Super Bowl during his career, and Brady won seven, there's one area in which they're equals.
According to Pro Football Reference, Brady and Kaepernick are tied in the least percentage of interceptions. Each QB has an interception percentage of 1.8%. The threshold for qualifying for the record is 1,500 passing attempts. 
The number is a reflection of both quarterbacks' styles. Brady is an accurate, effective passer who rarely makes mistakes. Kaepernick was a passer with limited mistakes. While his play later in his NFL career wasn't as impressive, he was never a turnover machine. Kaepernick knew how to take care of the ball, and this stat highlights that. 
How does Colin Kaepernick stack up against Tom Brady in other areas?
Kaepernick and Brady are equals in one category. In every other way, the Buccaneers QB has been more successful than Kaepernick. According to Stathead Football, Brady leads in completion percentage: 64.2 to 59.8. He also has a better win-loss record. Brady's is 243-73 while Kaepernick's is 28-30. 
While Brady will continue to compile stats, Kaepernick doesn't seem likely to get another opportunity in the NFL any time soon. As long as he stays off the field, Kaepernick's numbers won't change, which means his interception percentage won't get any worse. 
Brady's may worsen, however. He's likely to throw interceptions next year (as great as he is, he is not perfect). Those interceptions may not be enough to move his interception percentage, but a dip there is possible as long as he's on the field. 
Quarterbacks with a lower interception percentage than Tom Brady and Colin Kaepernick
So which quarterbacks are ahead of Kap and TB12? Some impressive ones. Here's the list: 
Aaron Rodgers of the Green Bay Packers has a 1.3% interception percentage. This should come as no surprise; Rodgers has had one of the best careers as a passer. The 38-year-old is a shoo-in for Canton one day. 
Tied for second with 1.6% are Patrick Mahomes and Tyrod Taylor. Mahomes isn't a shock; he's evolved into one of the best QBs in the NFL. Taylor is a bit more perplexing, as he's been a fringe starter and backup since entering the league. While Taylor isn't an elite QB, he has avoided turnovers for the most part. 
Coming in at fourth is Dallas Cowboys quarterback Dak Prescott with 1.7%. 
Brady may be able to leap to the top four. Kaepernick could conceivably as well, though he'll have to get back into the league first to have a shot. Either way, they're in solid company with that group. 
RELATED: Colin Kaepernick Appears to Have a Potentially Important Las Vegas Raiders Ally in Derek Carr