Colin Kaepernick Just Earned a Prestigious Award With Dr. Anthony Fauci
Colin Kaepernick has become an iconic activist since kneeling during the national anthem while on the San Francisco 49ers. Now, Kaepernick is receiving a prestigious award for everything he has done to stand up against social injustice, racism, and police brutality in America. In fact, he is receiving the award with Dr. Anthony Fauci, the director of the National Institute of Allergy and Infectious Diseases. Fauci has also been extremely important to the country recently as it fights the COVID-19 pandemic.
Colin Kaepernick was extremely successful on the San Francisco 49ers
RELATED: Colin Kaepernick's Girlfriend Nessa Reacts to His New Deal
Before becoming known for his activism, Kaepernick was a successful quarterback for the 49ers.
After throwing just five total passes in his rookie season, Kaepernick became a star in his second year in 2012. He threw for 1,814 yards, 10 touchdowns, and only three interceptions in 13 games and seven starts. However, Kaepernick also ultimately led the 49ers to the Super Bowl that season. 
The 49ers lost to the Baltimore Ravens in the Super Bowl. Kaepernick, however, played really well in the game, throwing for 302 yards and a touchdown. He also ran for 62 yards and a touchdown.
Kaepernick then took the 49ers back to the NFC Championship Game during the 2013 season. In 2014, though, despite throwing for a career-high 3,369 yards, and running for a career-high 639 yards, the 49ers went 8-8 and missed the playoffs. The 49ers then also missed the playoffs the next two seasons.
Kaepernick last played in the NFL during the 2016 season. He threw for 2,241 yards, 16 touchdowns, and four interceptions in 11 starts and 12 total games that season.
He has become an iconic activist
RELATED: Colin Kaepernick's Girlfriend Nessa Reminds People on Social Media Why He Took a Knee in 2016
During the 2016 season, Kaepernick started a movement, and a national debate, when he began kneeling during the national anthem.
"I am not going to stand up to show pride in a flag for a country that oppresses Black people and people of color," Kaepernick said in 2016, according to NFL.com. "To me, this is bigger than football and it would be selfish on my part to look the other way. There are bodies in the street and people getting paid leave and getting away with murder."
Kaepernick has not played in the NFL since the 2016 season, and it is widely believed that it is because of his protests. Many people, including President Donald Trump, have been critical of the protests, saying they are a sign of disrespect toward the country and the people that have fought for it.
His activism, however, did not just begin with kneeling during the anthem. Nearly a year before Kaepernick took a knee, he and his girlfriend Nessa made a plan, according to Paper Magazine. They then ultimately launched the Know Your Rights Camp.
The organization's goal is to "advance the liberation and well-being of Black and Brown communities through education, self-empowerment, mass-mobilization and the creation of new systems that elevate the next generation of change leaders," according to its site.
Colin Kaepernick and Dr. Anthony Fauci are receiving a prestigious award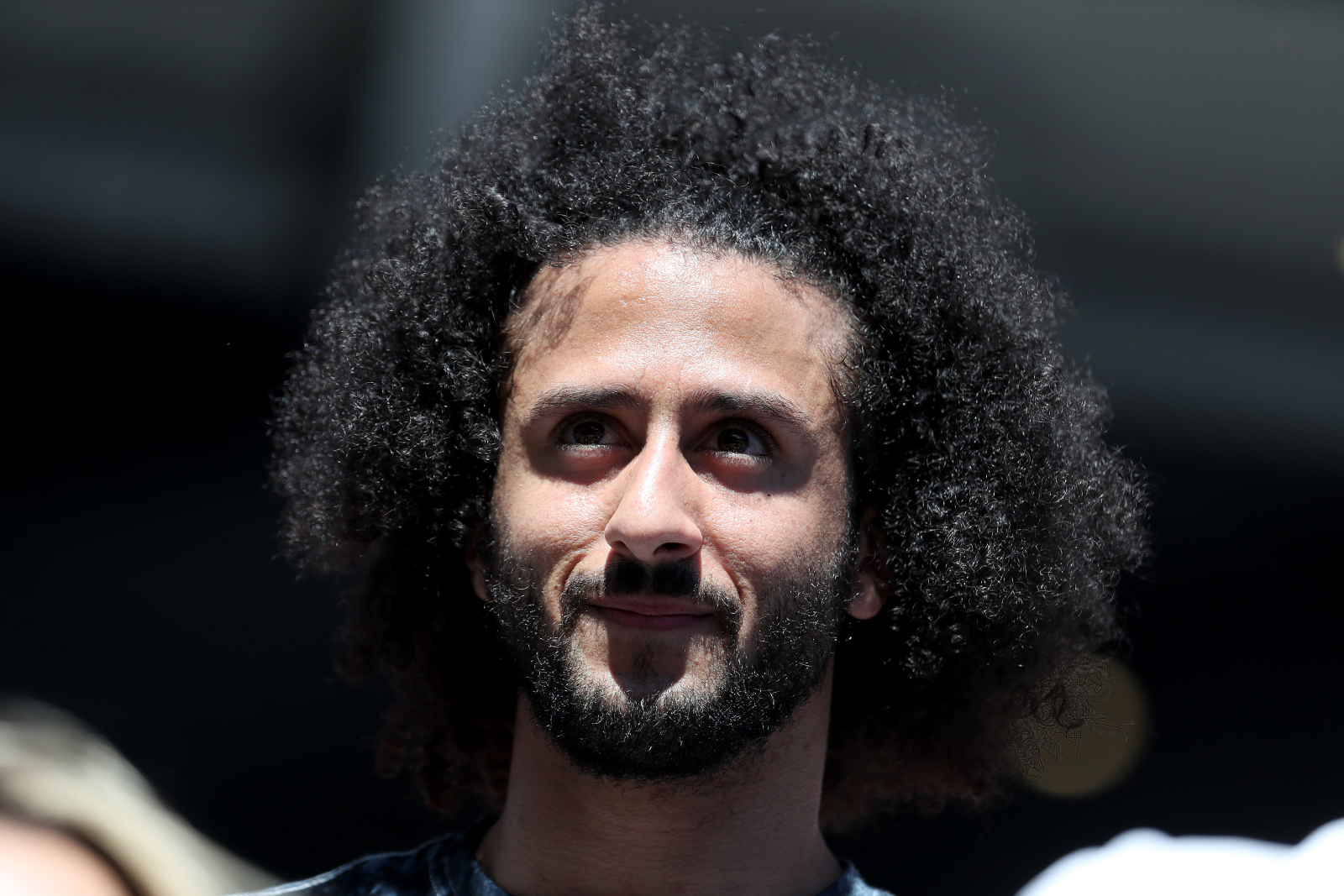 RELATED: Colin Kaepernick's Girlfriend Nessa Just Called out an NFL Head Coach for Not Signing Kaepernick
Robert F. Kennedy Human Rights recently announced that Kaepernick, Anthony Fauci, and three others are the recipients of this year's Ripple of Hope award. 
According to the organization's site, the award is given to leaders who have demonstrated a commitment to social change and have a passion for equality, justice, basic human rights, and a belief that anyone can make a difference.
Kaepernick's protests during the anthem have become a hot topic of conversation again recently following George Floyd's killing. Additionally, Kaepernick has impacted many lives with his Know Your Rights Camp.
According to Bleacher Report, his organization has recently donated $1.75 million to various causes including, COVID-19 relief, legal defense for people arrested while protesting, and assistance with essential living costs and rent relief in various cities.
Fauci, on the other hand, has been the director of the National Institute of Allergy and Infectious Diseases since 1984, according to Forbes. He has also been very important in recent months while America fights the COVID-19 pandemic.
In addition to Kaepernick and Fauci, the other recipients include Dolores Huerta, the co-founder of United Farm Workers of America; Dan Schulman, the president of PayPal, and Dan Springer, the chief executive officer of DocuSign.
Colin Kaepernick has meant a lot to the fight against racism in America. While he is still not in the NFL, he is finally getting recognized for his work.
Stats courtesy of Pro Football Reference