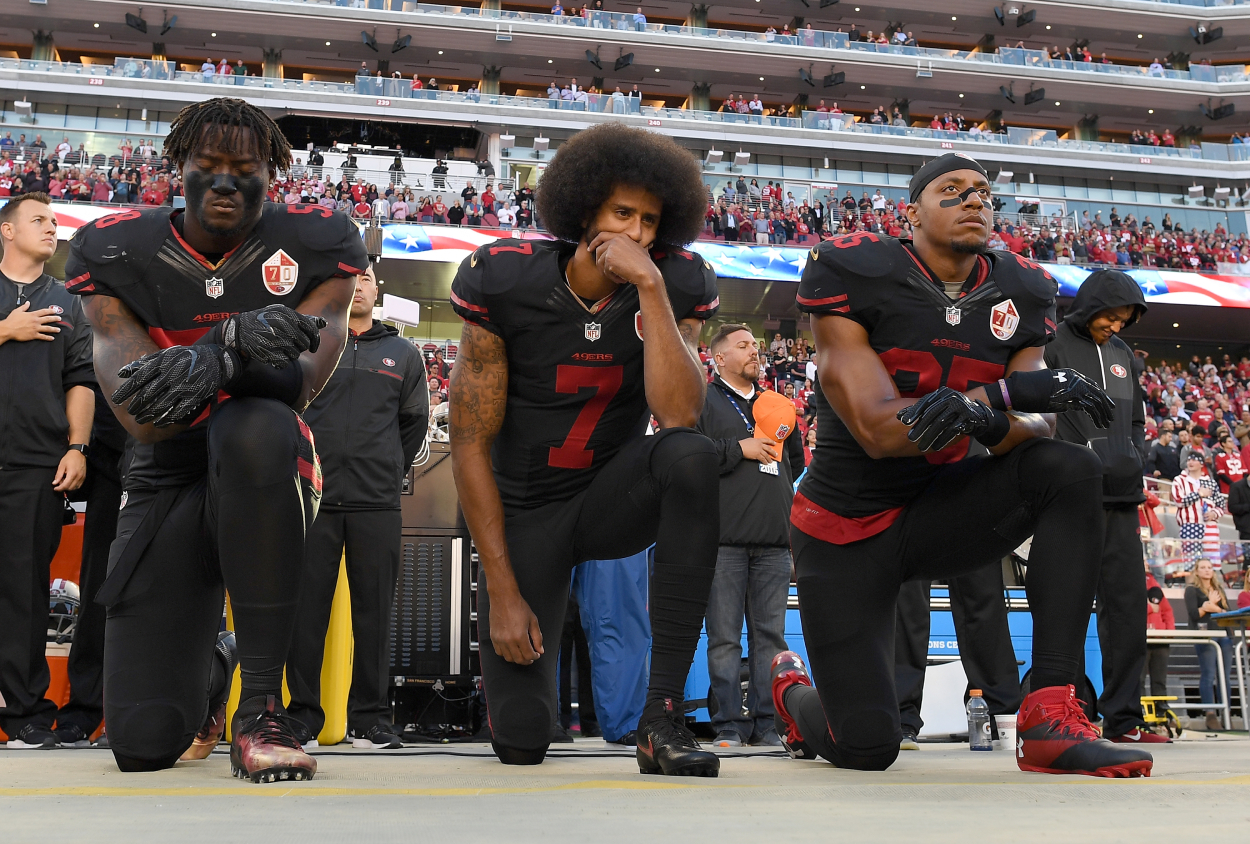 Colin Kaepernick Just Received a Strong Endorsement From a Guy He Got Fired
Some people dislike Colin Kaepernick for choosing to kneel during the national anthem with the 49ers. A guy he got fired, though, loves him.
Former 49ers quarterback Colin Kaepernick's decision to kneel during the national anthem ultimately made him a pretty polarizing figure throughout the country. Despite the fact that Kaepernick was standing up against racism and social injustice in America, many people have missed the point, which has sadly left Kaepernick without an NFL job. He does, though, have the support of many of his fellow players. This even includes a player he got fired — former San Francisco 49ers quarterback Alex Smith.
Colin Kaepernick got Alex Smith fired as the 49ers' quarterback
Alex Smith was supposed to be the San Francisco 49ers' franchise quarterback when the team selected him with the No. 1 overall pick in the 2005 NFL draft. He struggled in his first four seasons, though, as Smith only played in seven games in 2007 and missed the entire 2008 season. He also only threw for 19 touchdowns and 31 interceptions in those years. 
However, after playing better in 2009 and 2010, Smith had a pretty nice year in 2011 and ultimately led the 49ers all the way to the NFC Championship Game.
Smith then continued to play well through nine starts in 2012 but got hurt during Week 10, per Bleacher Report. This then led to Kaepernick stepping in, and in his first start in Week 11, he went off. He threw for 243 yards and two touchdowns and led the 49ers to a 32-7 win.
His play essentially got Smith fired as the 49ers' quarterback. Colin Kaepernick then started the rest of the season and ultimately led the 49ers all the way to the Super Bowl. He played well in the Super Bowl, too, throwing for 302 yards and a touchdown while also running for 62 yards and a touchdown.
The 49ers then chose Kapernick for their future and traded Smith to the Kansas City Chiefs that offseason. Despite losing his job to Kaepernick, though, Alex Smith still has nothing but praise for the former 49ers quarterback.
Alex Smith praised his former 49ers teammate
Alex Smith recently appeared on the 10 Questions With Kyle Brandt podcast, and he had nothing but great things to say about Kaepernick.
"Just a really, really good dude … a guy that worked crazy, crazy hard," Smith said on the Feb. 17 episode. "The run that he went on, at the end of that last year when we were together and then went to the Super Bowl … was so crazy to watch. Truly one of the historic runs in football to see what he was doing."
Although he has unreal talent, Kaepernick has not played in the league since 2016. That season was the year he began to kneel during the national anthem to protest social injustice. While many people praise the stance he took, his critics believe that the move was disrespectful toward veterans and people in the military.
Should that be enough to keep him out of the league, though?
"It's so tragic looking at it," Smith said. "I think he was ahead of his time trying to call out social injustice, especially around police reform. The country wasn't ready; nobody was ready for it. And, he's sitting there trying to tell everybody through a completely peaceful manner about some of the things going on in this country and that have been going on for a long time. To see the backlash that happened — it hurts; it hurts looking back at it. The country wasn't ready for it and he suffered the repercussions with his job. … He lost his livelihood."
Alex Smith made some great points, and even said that Colin Kaepernick's absence from the league "still doesn't make sense," as he doesn't seem to think that Kaepernick's decision to kneel should be what keeps him out of the sport he loves.
Colin Kaepernick's decision to kneel has kept him out of the NFL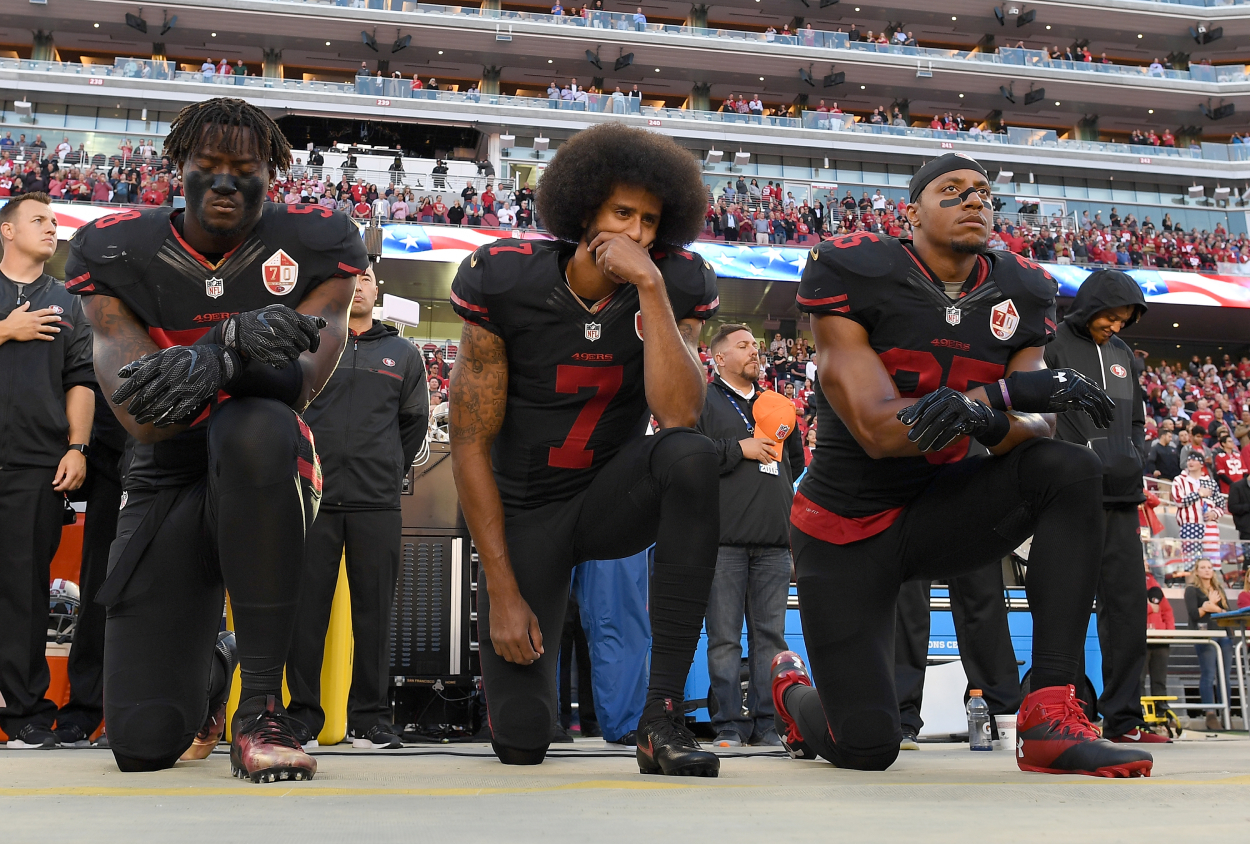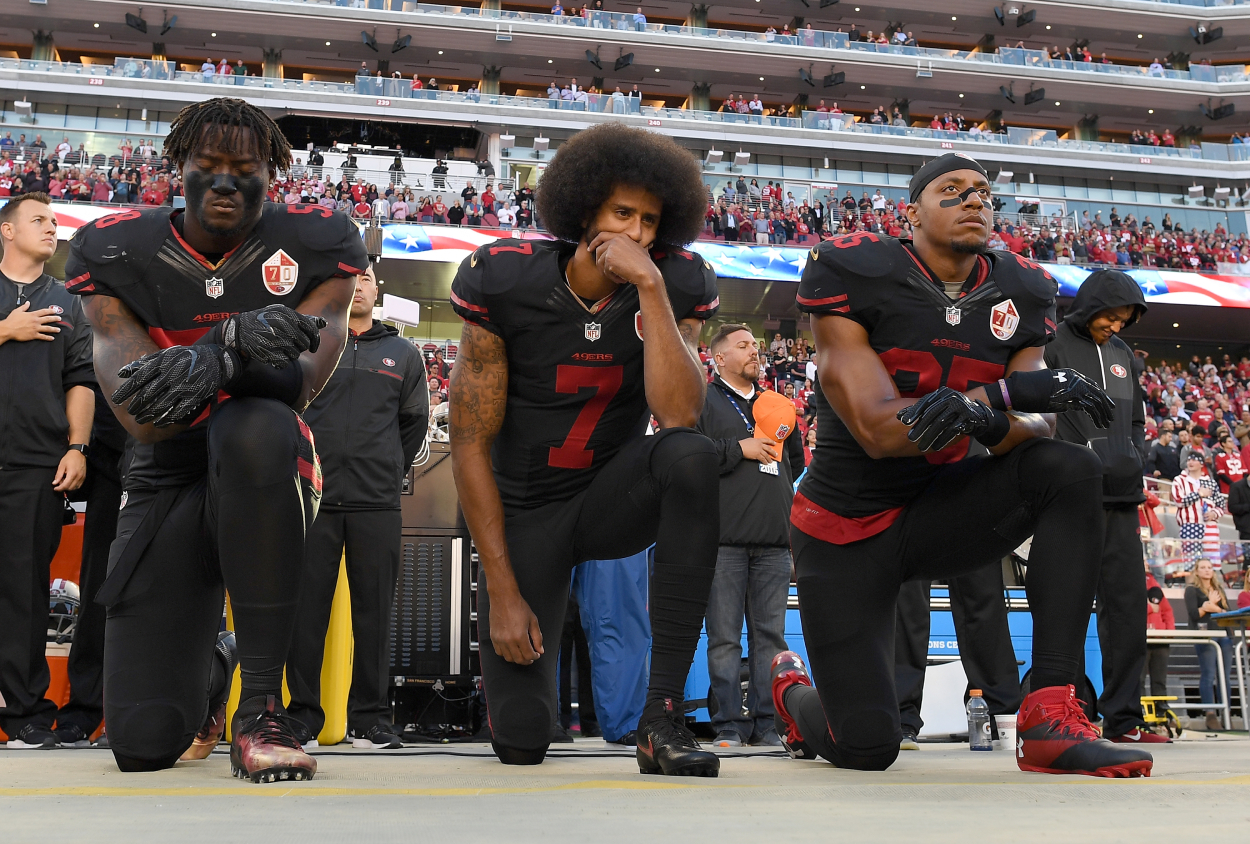 After leading the 49ers to the Super Bowl in 2012, Colin Kaepernick had a nice year in 2013. He threw for 3,197 yards, 21 touchdowns, and eight interceptions, and also ran for 524 yards. Kaepernick led the 49ers back to the NFC Championship Game that year, too. He then had career-highs in passing yards and rushing yards in 2014 before only playing in nine games in 2015.
However, in 2016 Colin Kaepernick began to kneel during the national anthem to stand up against social injustice.
"I am not going to stand up to show pride in a flag for a country that oppresses Black people and people of color," he said in 2016, according to NFL.com.
Kaepernick threw for 16 touchdowns and only four interceptions that year and ran for 468 yards. He hasn't played since that season, though.
Colin Kaepernick proved to be an excellent quarterback in the NFL, but, sadly, NFL teams have decided to keep him out of the league. Maybe, one day he will make his long-awaited return.
Stats courtesy of Pro Football Reference