Colin Kaepernick Just Sent His Strongest Message Yet for the Abolition of Police
Colin Kaepernick has proven that he will always stand up against social injustice, racism, and police brutality in America. Since he first protested during the national anthem while playing for the San Francisco 49ers, Kaepernick has been one of the most influential activists in the country.
Over the years, Kaepernick has been very critical of police and the systemic racism within its institution. He even went as far as to call for it to be abolished. Recently, Kaepernick sent out his strongest message yet for the abolition of the police.
Colin Kaepernick protested during the national anthem in 2016
RELATED: Colin Kaepernick and His Girlfriend Nessa Began Fighting Racial Inequality Way Before He Took a Knee
Kaepernick had become a pretty successful quarterback for the San Francisco 49ers. In his first two years as the starter, he led them to a Super Bowl and two consecutive NFC Championship Games. However, he risked everything when he chose to protest during the national anthem in 2016.
His protests initially sparked a national debate, but they have since become an iconic symbol for standing up against police brutality and systemic racism in America.
This was Kaepernick's explanation for his protests in August 2016.
"I am not going to stand up to show pride in a flag for a country that oppresses Black people and people of color," Kaepernick said, according to NFL.com. "To me, this is bigger than football and it would be selfish on my part to look the other way. There are bodies in the street and people getting paid leave and getting away with murder."
Kaepernick has not played in the NFL since 2016. It is widely believed that this is because of his protests.
He called for the abolition of police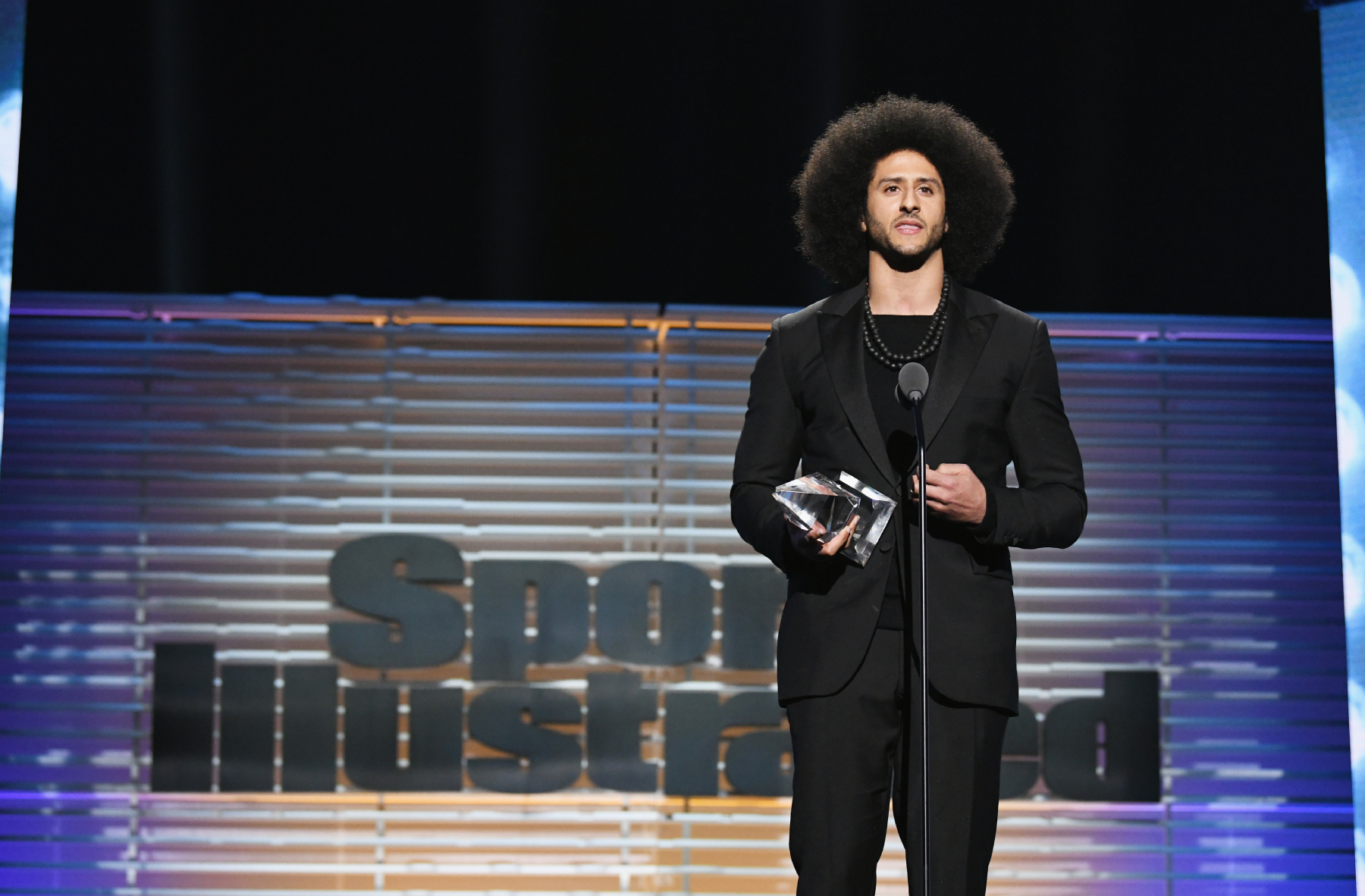 RELATED: Colin Kaepernick Receives Pro Football Hall of Fame Nomination
Black men and women have had to deal with racism in America for decades and decades. This is ultimately why there have been so many protests in 2020 so far. Two significant instances this year, though, really made many people feel the same unified feeling: enough is enough. Those two instances were the wrongful killings of George Floyd and Breonna Taylor.
Taylor died in March at the hands of Louisville police during a botched raid on her apartment. Louisville officials later announced that the city agreed to pay Taylor's family $12 million in a wrongful-death lawsuit. However, in September, a grand jury indicted a former Louisville police officer for wanton endangerment during the raid. There were no other charges announced against the other two officers who fired shots, and no one received charges for Taylor's death.
This led to Kaepernick posting this on Twitter.
"The white supremacist institution of policing that stole Breonna Taylor's life from us must be abolished for the safety and well being of our people. #BreonnaTaylor #SayHerName #AbolishThePolice."
Now, he is continuing his work to abolish the police.
Kaepernick is releasing essays and conversations called 'Abolition for the People'
RELATED: Colin Kaepernick and His Girlfriend Nessa Send the NFL a Strong Message
According to The Hill, Colin Kaepernick's publishing company and LEVEL, a publication for men on sex, culture, race, and identity, have teamed up for a new project called Abolition for the People.
The project is a series of 30 essays and conversations from various authors. They touch on almost all of the subjects above while exploring a future without police and prisons.
"Not only do police and prisons fail to make us safer, but reform has only strengthened their most toxic ingrained practices. The only answer is abolition, a full dismantling of the carceral state and the institutions that support it," the introduction says, according to The Hill. An essay by Kaepernick then follows the intro, which is one of eight installations published so far.
"It's been four years since I first protested during 'The Star-Spangled Banner,'" Kaepernick wrote in his "The Demand for Abolition" essay. "At the time, my protest was tethered to my understanding that something was not right. I saw the bodies of Black people left dead in the streets. I saw them left dead in their cars. I saw them left dead in their backyards. I saw Black death all around me at the hands of the police. I saw little to no accountability for police officers who had murdered them. It is not a matter of bad apples spoiling the bunch but interlocking systems that are rotten to their core."
They will continue to release other installations similar to Kaepernick's throughout October.
Like Sportscasting on Facebook. Follow us on Twitter @sportscasting19.