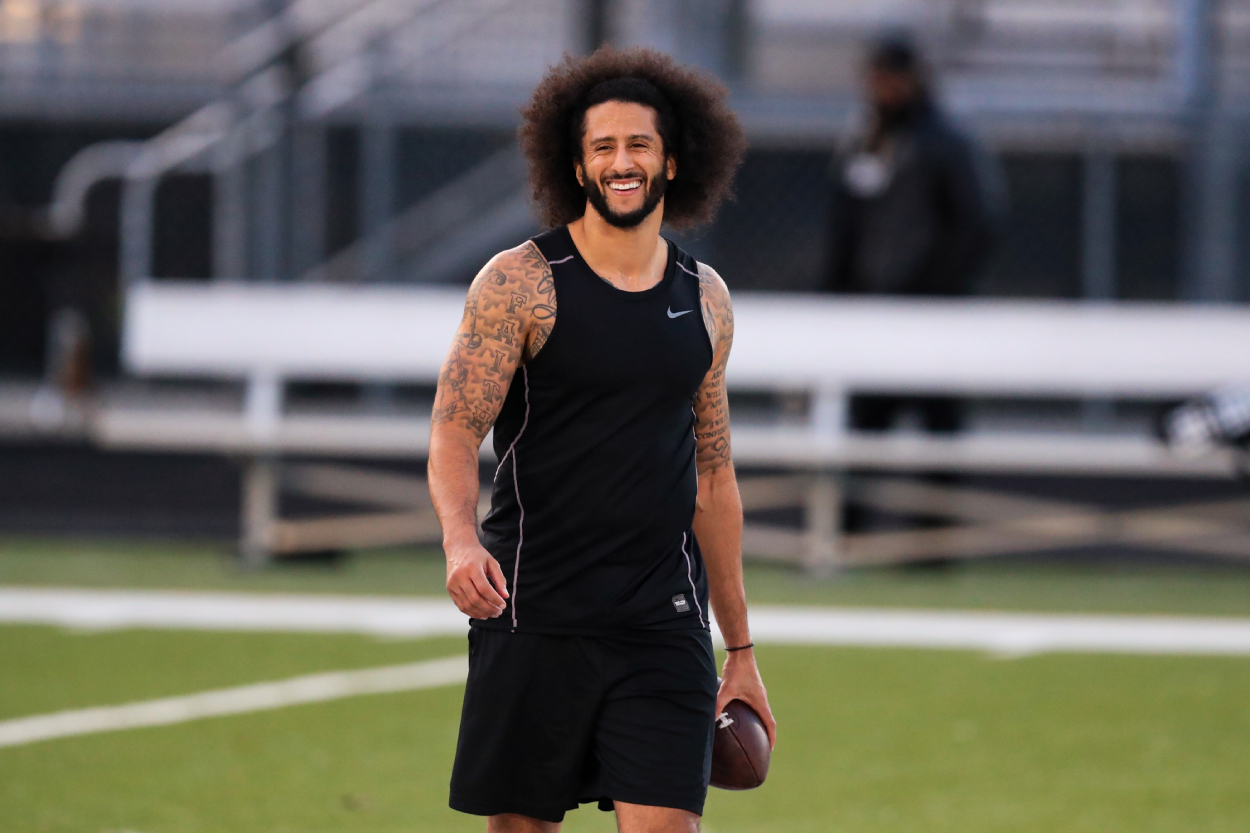 Colin Kaepernick Is Likely Still 'on the Field Somewhere Right Now Working on His Game,' According to His Former 49ers Teammate: 'He's Wired That Way'
Colin Kaepernick hasn't played in the NFL since the 2016 season, as no team has given him a chance following his choice to kneel during the national anthem to stand against social injustice in America. But Kaepernick's former San Francisco 49ers teammate thinks he's still likely working on his game somewhere.
We are heading into a fifth season without Colin Kaepernick on an NFL roster. Despite the fact that the former San Francisco 49ers quarterback had a great deal of success in the pros, no team has been willing to give him a chance following his decision to stand against racial inequality and social injustices by kneeling during the national anthem before games.
If given the opportunity, though, would Kaepernick still be able to find success on the field? His former 49ers teammate Vernon Davis recently spoke to Sportscasting and gave us his thoughts.
Vernon Davis and Colin Kaepernick played together on the 49ers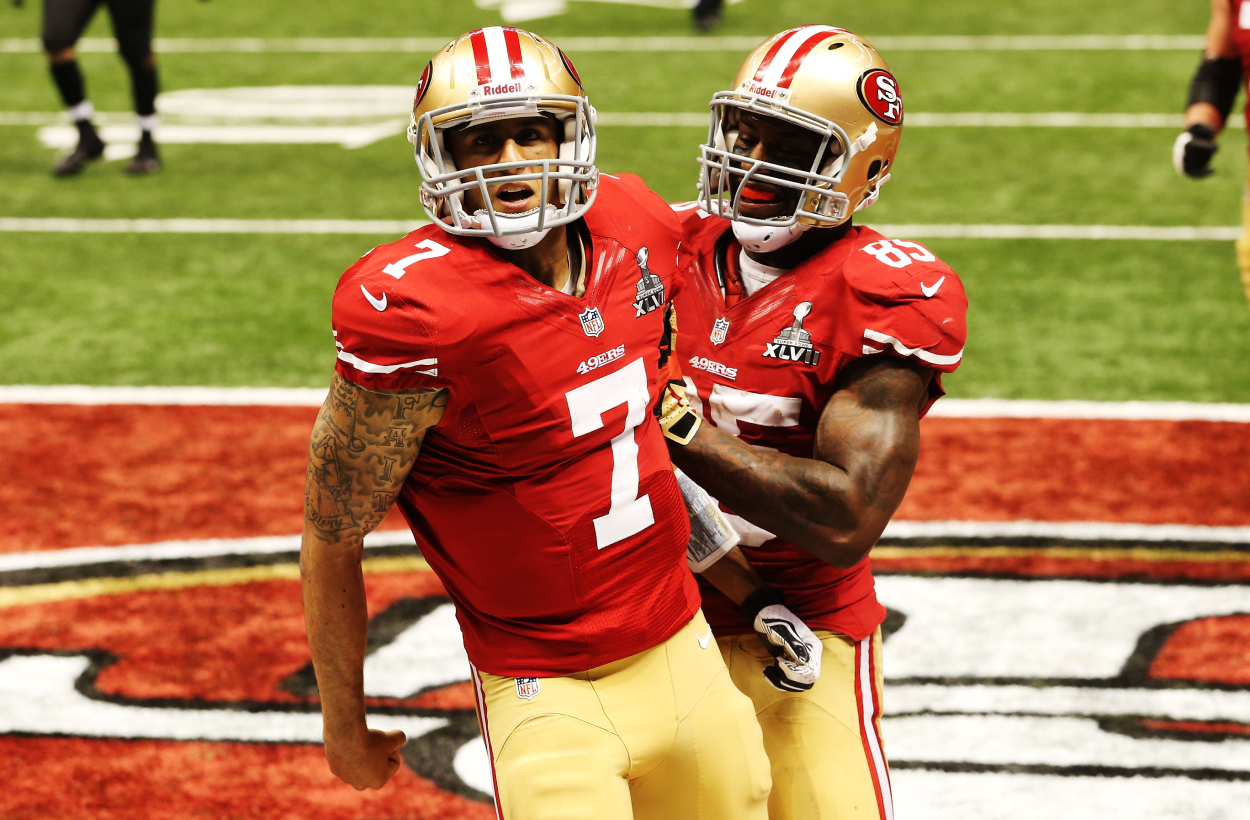 Vernon Davis was already in his sixth NFL season by the time Colin Kaepernick entered the league with the 49ers as a rookie in 2011.
Kaepernick didn't play much in his first year, but in 2012, he appeared in 13 games and started in seven. The Nevada product threw for 1,814 yards, 10 touchdowns, and three interceptions that season, while also gaining 415 yards and five touchdowns on the ground. He then took his play to another level in the postseason that year, though, throwing for 798 yards, four touchdowns, and two interceptions, and he helped lead the 49ers to the Super Bowl.
San Francisco lost to the Baltimore Ravens in the big game (despite Kaepernick throwing for over 300 yards). But he led them back to the NFC Championship Game the next season after throwing for 3,197 yards, 21 touchdowns, and eight interceptions during that 2013 campaign.
So, what was it like playing with Kaepernick during that run?
"Colin Kaepernick was a great teammate," Davis said to Sportscasting while also discussing his recent film endeavors. Davis earned one of his two career Pro Bowl selections with Kaepernick as his quarterback in 2013. "He was a leader; he was very talented. I remember when he first took over that position after Alex Smith — I think Alex Smith had a concussion during that time — and Colin stepped up. He showed the world that he could play at a high level, and he just continued to do it."
Davis added: "As far as being a great locker room guy, a good teammate, he was that. And now, everything that he's doing to make a difference in the world, he's being recognized for that as well."
Vernon Davis thinks his former 49ers quarterback is still 'working on his game'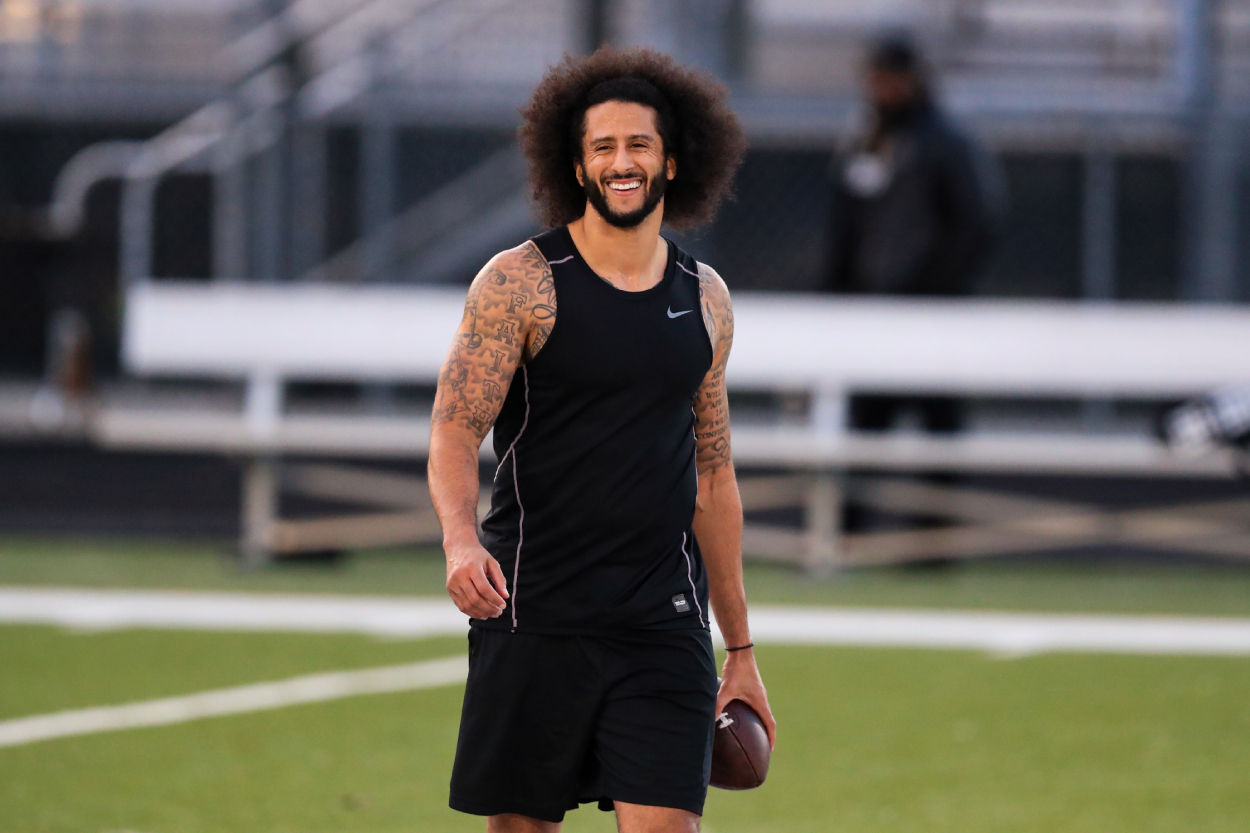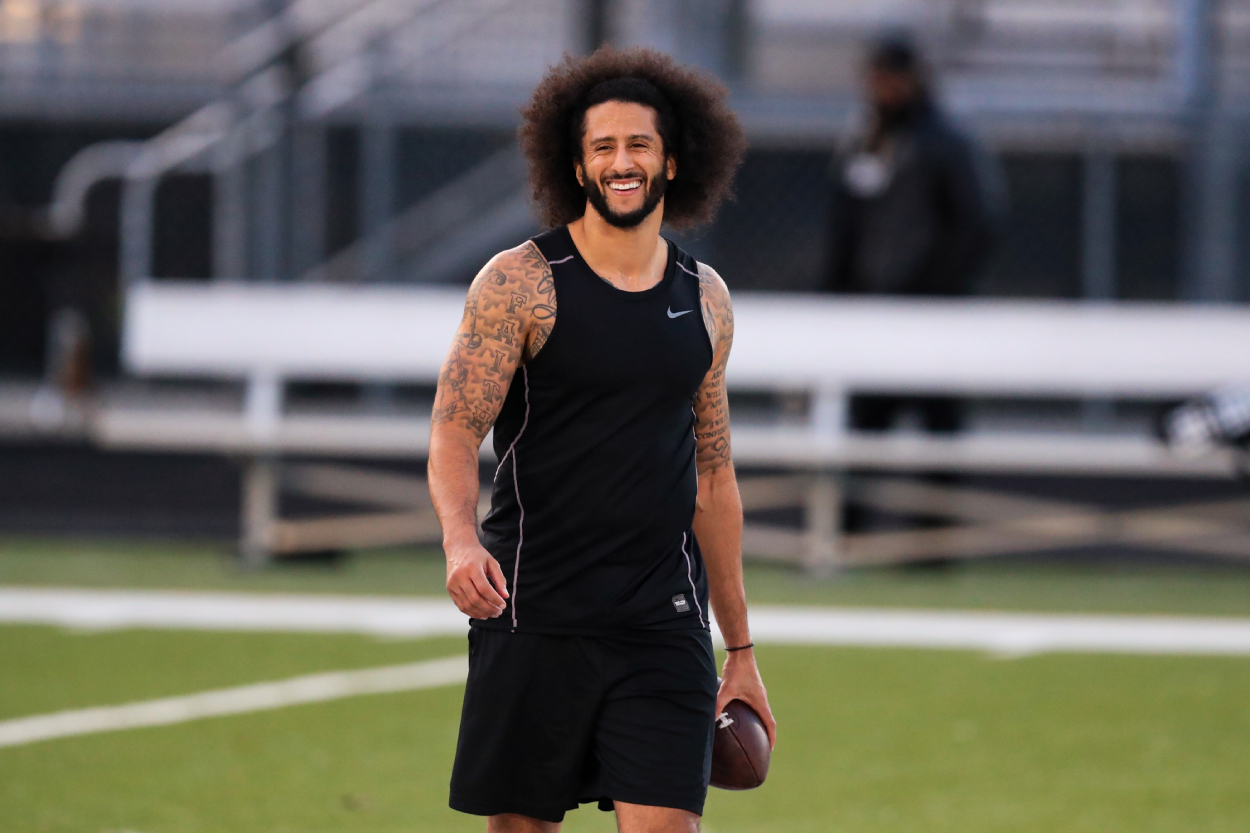 Kaepernick last played in 2016, as that was the season he began kneeling during the national anthem to stand up against social injustice and systemic racism. He has since become a notable activist and is now known for much more than football.
Although he hasn't played throughout the past four seasons, Davis thinks he would still be ready to go if given the opportunity.
"I think Colin Kaepernick could definitely come back and be a successful quarterback," Davis said to Sportscasting. "If I can imagine, he's probably on the field somewhere right now working on his game. He's one of those guys that's always gonna be prepared, he's wired that way. He's gonna be prepared even if he don't think he's getting an opportunity."
Obviously, Davis doesn't know 100% whether Kaepernick is out there on a field or not. But does he think his former Niners QB can still play at a high level if a team were to sign him?
"It wouldn't surprise me if he went out and had a crazy year given the opportunity," Davis added.
Colin Kaepernick's NFL numbers speak for themselves
In addition to leading the 49ers to two NFC Championship Games, Colin Kaepernick proved he was a special talent throughout his NFL career. He threw for 12,271 yards and 72 touchdowns in 69 games and 58 career starts, and he only tossed 30 interceptions. Kaepernick also ran for 2,300 yards and 13 touchdowns, including a career-best 639 rushing yards in 2014.
During his final season in 2016, the second-round pick in the 2011 NFL Draft threw for 2,241 yards, 16 touchdowns, and four interceptions in 12 games and 11 starts. He also ran for 468 yards and two TDs.
Sure, it's hard to say just how effective Kaepernick would be, given that he hasn't played since the 2016 season. But he showed during his career that he has the arm strength to make requisite throws and the athleticism to use his feet when needed, which are two attributes NFL teams spend years trying to find in a quarterback.
There's a chance Kaepernick may never play again, but if he does get an opportunity, he will likely be ready to ball for whatever team he's on.
Stats courtesy of Pro Football Reference