Colin Kaepernick or Baker Mayfield: Who Would Have Been Better for the Cleveland Browns?
Colin Kaepernick has sadly not played in the NFL since the 2016 season. However, former Cleveland Browns head coach Hue Jackson recently said that he wanted to bring Kaepernick to the Browns for the 2017 season. That, obviously, did not happen. If it had, though, would Kaepernick have been better for the Browns the past couple of seasons than Baker Mayfield has been?
Colin Kaepernick had a good NFL career
RELATED: Colin Kaepernick's Girlfriend Nessa Just Called out an NFL Head Coach for Not Signing Kaepernick
Colin Kaepernick actually had a lot of success during his NFL career for the San Francisco 49ers. 
After throwing just five total passes in his rookie season in 2011, Kaepernick was excellent in 2012. He ultimately led the 49ers to the Super Bowl that season before eventually losing to the Baltimore Ravens. Despite losing to the Ravens, Kaepernick threw for 302 yards and a touchdown in the Super Bowl. He also ran for 62 yards and a touchdown.
Kaepernick then took the 49ers back to the NFC Championship Game during the 2013 season. He threw for 3,197 yards that season, in addition to 21 touchdowns and only eight interceptions.
The 49ers then missed the playoffs the next three seasons, but Kaepernick still had success. He threw for a career-high 3,369 yards in 2014 and ran for a career-high 639 yards. In 2016, Kaepernick threw for 2,241 yards, 16 touchdowns, and four interceptions in 11 starts and 12 total games.
The 2016 season, however, was when Kaepernick started a movement by kneeling during the national anthem. Despite having good reasoning behind his protests, Kaepernick has not played in the NFL since the 2016 season. Many people believe that his protests are the reason why. 
Hue Jackson said he wanted the former 49er
RELATED: Hue Jackson Believes 1 NFL Team is A Good Fit For Colin Kaepernick
The Cleveland Browns went 1-15 during the 2016 season. The team ultimately started three different quarterbacks that season in Robert Griffin III, Josh McCown, and Cody Kessler.
However, former Browns head coach Hue Jackson recently said that he wanted to bring Kaepernick to the Browns after the 2016 season.
"I wanted him," Jackson said on The Really Big Show, according to Sports Illustrated. "It just didn't work out. Obviously, those things do have to work from a finance, draft, whatever all that is. And that wasn't my decision."
The Browns ultimately drafted DeShone Kizer in the second round of the 2017 NFL draft. They then went 0-16 in 2017. In 2018, though, the Browns selected Baker Mayfield with the No. 1 overall pick. 
Would Kaepernick have been better than Baker Mayfield?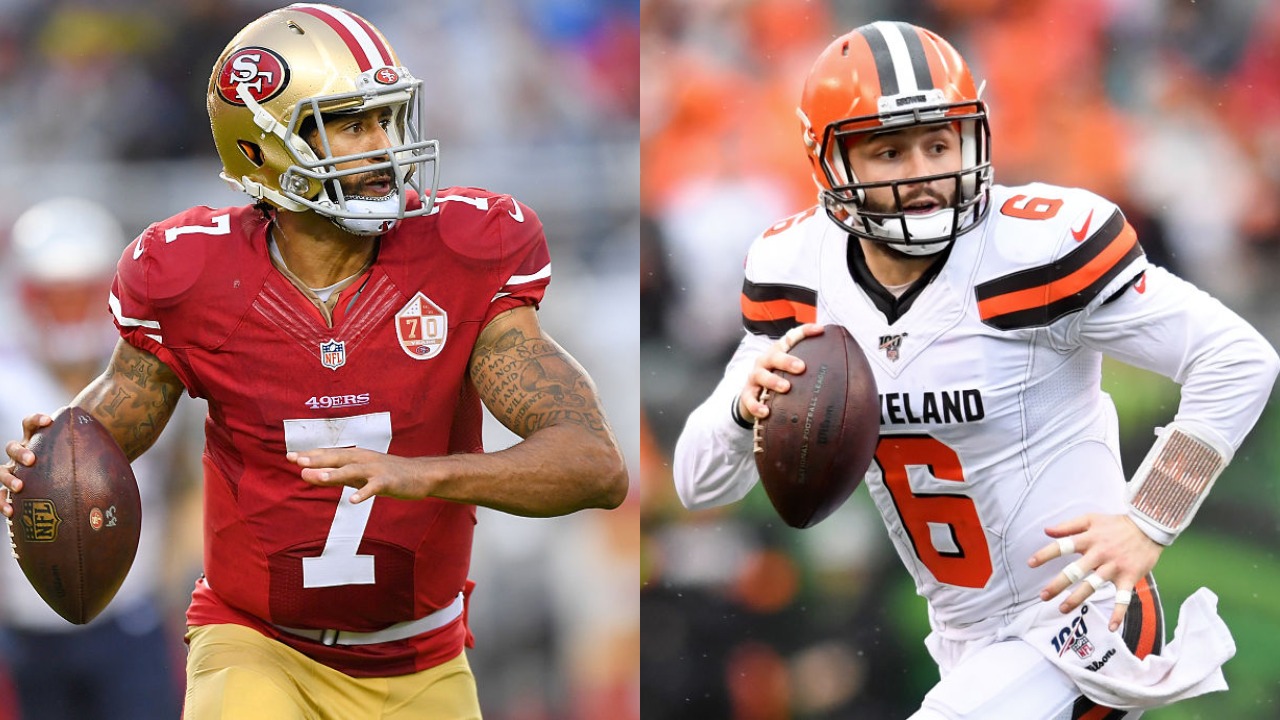 RELATED: The Browns Have the Worst Backup Plan If Things With Baker Mayfield Go South
After going No. 1 to the Browns in the 2018 draft, Baker Mayfield had a decent rookie season. He threw for 3,725 yards in 14 games to go with 27 touchdowns and 14 interceptions. The Browns went from 0-16 in 2017 to 7-8-1 in 2018.
The team then had massive expectations in 2019, but Mayfield took a step back. He threw for 3,827 yards, 22 touchdowns, and 21 interceptions last season. That is a lot of interceptions. Would Kaepernick have been better for them the past two seasons?
The answer is hard to say. Mayfield has proven that he has a lot of potential to be a great quarterback in the NFL. That is why he was selected No. 1 overall. However, he had trouble taking care of the ball last year. 
Kaepernick, on the other hand, never threw over 10 interceptions in one season his entire career. He also, however, never had more than 21 passing touchdowns in a season, which Mayfield has surpassed each of his first two seasons. 
So, with Mayfield having more potential, but Kaepernick being more careful with the ball, the arguments for either QB are pretty even. However, what swings the pendulum more in Kaepernick's favor is that he is a proven winner. 
Mayfield has not shown that he can win in the NFL yet. Kaepernick has reached the Super Bowl. His ceiling might not be as high as Mayfield's, but he would have done what it took to win games the past couple of seasons. That's especially with the roster the Browns had in 2019.
So, Colin Kaepernick or Baker Mayfield? If you are looking to the future, Mayfield is the answer. If you are wondering which QB would have led the Cleveland Browns to greater heights during the last two seasons, though, Kaepernick is your guy.
Stats courtesy of Pro Football Reference