Colin Kaepernick's Organization Sends NFL Fans a Strong Reminder With 1 Powerful Instagram Post
The 2021 NFL draft was a moment to celebrate the league's future stars. Former San Francisco 49ers quarterback Colin Kaepernick, though, saw his organization use the annual event to remind people about how he still doesn't have an NFL job, despite the immense talent he proved to have during his career.
As quarterback for the 49ers, Kaepernick had a significant amount of success, but he hasn't played since 2016. So, with Kaepernick still jobless nearly five years later, his organization recently sent out a strong message via social media to remind people of how good he really was.
Colin Kaepernick hasn't played in the NFL since 2016
RELATED: The 49ers Just Gambled Their Future on the Next Colin Kaepernick
Kaepernick started a movement in 2016 when he chose to kneel during the national anthem to stand up against racial injustice and police brutality.
"I am not going to stand up to show pride in a flag for a country that oppresses Black people and people of color," Kaepernick said back in 2016, per NFL.com. "To me, this is bigger than football and it would be selfish on my part to look the other way. There are bodies in the street and people getting paid leave and getting away with murder."
While Kaepernick has gained a ton of supporters over the years, he maybe has just as many — if not more — critics, and most of them, including former U.S. President Donald Trump, have made their feelings about Kaepernick known.
Kaepernick played for the 49ers during that 2016 season but hasn't played since then. It's widely believed to be because of his protests and the controversy that surrounded them.
His organization sent out a strong reminder about his talent
RELATED: Colin Kaepernick and Nessa: Who Has a Higher Net Worth?
The 49ers selected Kaepernick in the second round of the 2011 NFL draft, meaning the 2021 draft was the 10th anniversary of the former QB entering the league.
During this year's draft, Kaepernick's organization, Know Your Rights Camp, sent out an Instagram post featuring a highlight reel of the QB, as well as a caption that discussed his achievements.
"10 Years ago, [Kaepernick] was drafted by the San Francisco 49ers," the post, which the organization also shared to Twitter, read. "He went on to throw 12,271 yards along with 72 touchdown passes. He also rushed for 2,300 yards and 13 touchdowns. His 2016 stats were: 16 TDs, 4 INTs, 90.7 passer rating, 69 rush attempts, 468 yards, 2 TDs. These stats are better than other QBs who continued to get hired, while Colin was still being denied employment in the prime of his career."
It continued: "Colin realized his dream of playing professional football, but has made an even bigger impact off the field. He continues to fight against police terrorism and systemic oppression, and works to uplift Black and Brown communities. We are THANKFUL for our co-founder. #ImWithKap."
The highlight reel also ended with a dark screen that said, "denied work for 1,580 days."
He may never get a chance to play in the NFL again, but Kaepernick's organization wants to make sure people remember how talented he really was throughout his career.
Colin Kaepernick had significant NFL success with the 49ers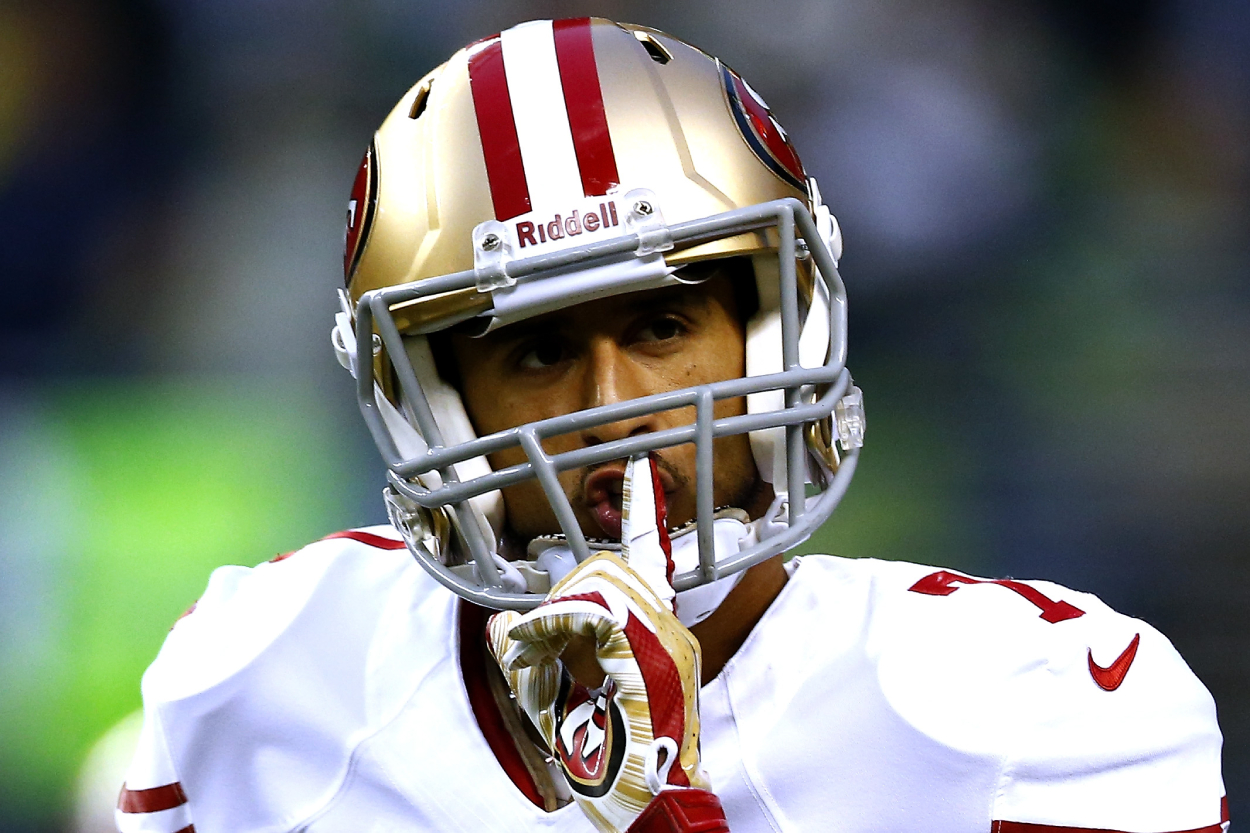 RELATED: Colin Kaepernick and His Girlfriend Nessa Began Fighting Racial Inequality Way Before He Took a Knee
His critics may not want to admit it, but Kaepernick was a talented quarterback. In just his second season, he threw for 1,814 yards in 13 games and seven starts. He also had 10 touchdown passes and three interceptions.
However, Kaepernick became a legend in the postseason that year, as he led the 49ers to the Super Bowl. San Francisco ultimately lost in the big game, but Kaepernick threw for 302 yards and a touchdown and ran for 62 yards and a TD.
He then had more success the next two years. The 49ers went back to the NFC Championship Game during the 2013 season. Kaepernick then followed that up by recording career-highs in passing yards (3,369) and rushing yards (639) in 2014.
In 2016, though, after only playing in nine games the previous year, Kaepernick recorded 2,241 passing yards, 16 touchdowns, and four picks in 11 starts and 12 games. Although he had success statistically that season, it was sadly his final one in the NFL.
Kaepernick has essentially been without an NFL job for nearly five years, even with the success he had in his final season. It seems his organization just wants people to remember that.
Stats courtesy of Pro Football Reference