Colin Kaepernick Sets Social Media Ablaze After Comparing NFL Training Camps to Purchasing Slaves in New Netflix Special: 'What's Being Established Is a Power Dynamic'
Article Highlights:
Former San Francisco 49ers quarterback Colin Kaepernick compared participating in NFL training camps to slavery in a recent Netflix special
Kaepernick said players don't understand that the league establishes a "power dynamic"
Social media blasted the 2012 NFC champion for his comments
As we rapidly approach the five-year anniversary of former San Francisco 49ers quarterback Colin Kaepernick's most recent NFL game, it appears the league has officially moved on from the Nevada product.
Kaepernick, however, isn't letting bygones be bygones or putting the NFL behind him. Conversely, his new Netflix special, Colin in Black & White, made his current and retrospective opinions on professional football quite evident.
Colin Kaepernick compared NFL training camps to the slave trade
Warning: The above video features sensitive content. Viewer discretion is advised.
Colin in Black & White, as one might expect given the man in question, primarily focuses on Kaepernick's upbringing and journey from adopted child to NFL quarterback and social justice activist.
The documentary officially premiered on Netflix on Friday, Oct. 29, and it quickly went viral. Although many on social media praised Kaepernick and the film's direction, others took extreme issue with comments he made regarding the NFL.
While discussing league events such as combines and training camp, Kaepernick, who spent six seasons in the NFL, compared the process to slavery.
"What they don't want you to understand is what's being established is a power dynamic. Before they put you on the field, teams poke, prod, and examine you. Searching for any defect that might affect your performance. No boundary respected. No dignity left intact."

Colin Kaepernick
The documentary shows a group of actors portraying NFL prospects, all of whom are Black, walking by Kaepernick before morphing into slaves at an auction. League owners, all of whom are white, are shown bidding on them, using racially-charged language, and, at one point, whipping players.
As of publication, the NFL had not commented on Kaepernick's film or comments.
Social media widely criticized Kaepernick for his comments
Burgess Owens can relate to Kaepernick beyond their shared background as Black men. Owens spent 10 seasons in the NFL and later founded Second Chance 4 Youth, a nonprofit dedicated to helping at-risk and incarcerated young men and women.
However, the Super Bowl 15 champion was among those who ripped Kaepernick on social media. Owens, who is in his first year serving as the U.S. Representative for Utah's 4th congressional district, criticized the 2011 second-round pick for his comparison.
"How dare [Kaepernick] compare the evil endured by so many of our ancestors to a bunch of millionaires who CHOSE to play [the] game," Owens wrote.
Tommy Vext, a rock artist who served as the lead singer of Bad Wolves and Snot, echoed Owens' comments in a separate tweet.
"Colin Kaepernick forgot to mention that our ancestors weren't given tens of millions of dollars, corporate sponsorships, private property, and security, but that's cool."

Tommy Vext
Former New York Congresswoman Nan Hayworth criticized Kaepernick and the education system. Outkick founder Clay Travis, a Fox Sports contributor, called Kaepernick an "imbecile" and mocked those who still defend the former quarterback.
Not all feedback was negative, however. SNY anchor Chris Williamson praised Colin in Black & White and said it does "an excellent job of showing the seeds he planted back in [high school]."
California-based politician Shahid Buttar, a devout Kaepernick supporter, called the documentary "phenomenal" on Twitter.
"You helped force a long-overdue conversation on race, policing, AND labor," Buttar wrote. "Congress needs to show up."
The NFL's response to Kaepernick's comments, if there is one, will be worth monitoring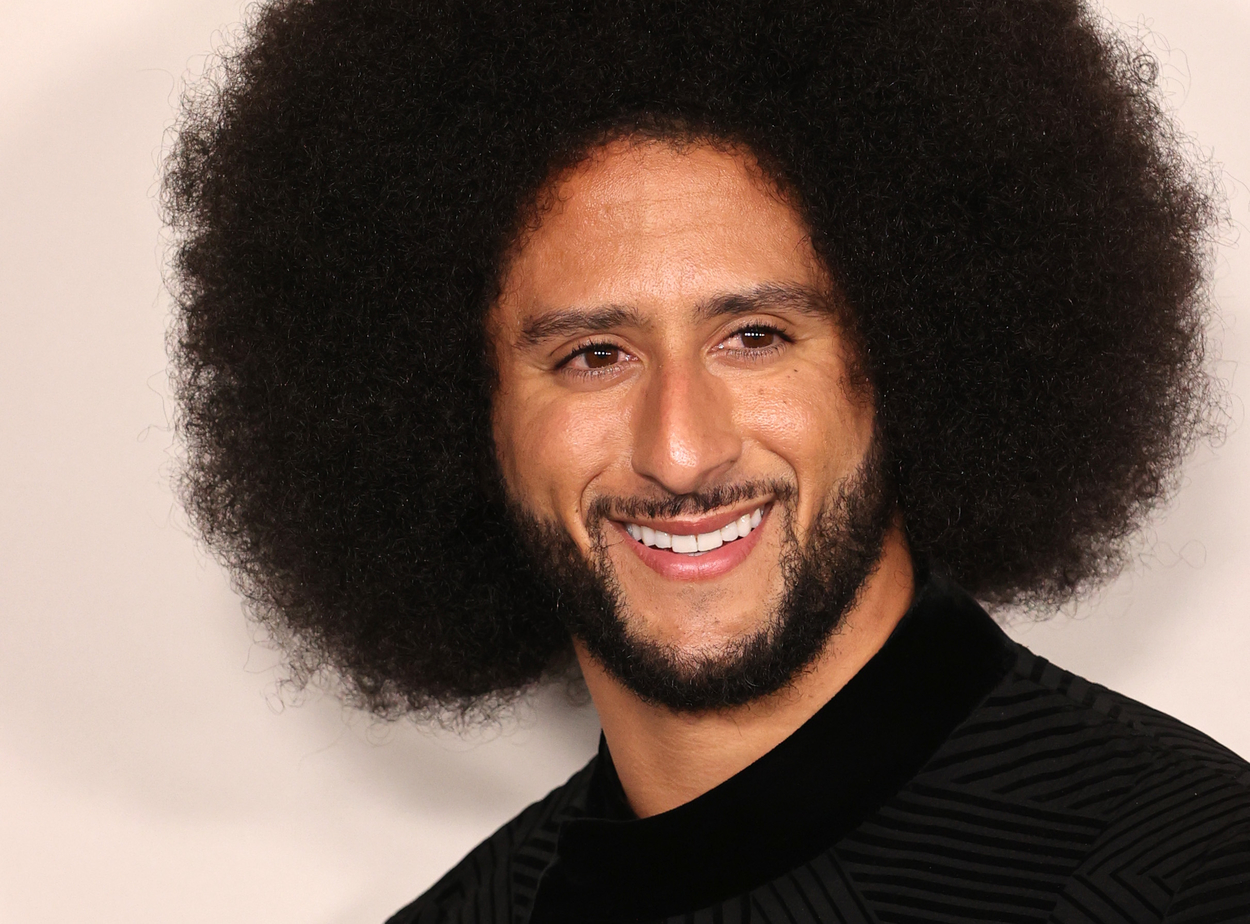 In August 2020, NFL Commissioner Roger Goodell said, in hindsight, he believed the league should have listened to Kaepernick when the quarterback first took a knee in 2016.
Over 14 months later, it will be interesting to see if the league addresses Kaepernick's comments and slavery comparison. It's worth noting the Associated Press reported earlier this year that the NFL is considering making changes to the NFL combine process.
According to the AP, proposed alterations include:
Calling players by their name instead of a number
Limiting the number of medical personnel who examine prospects
Ensuring prospects aren't asked humiliating questions
It's one thing to read or hear the AP or ESPN discuss those changes or reports of a scout asking a controversial question. It's another to watch Kaepernick's documentary and see how a former player visualizes the entire process.
RELATED: Mike Florio Is Extremely Displeased the Seattle Seahawks Still Haven't Called Colin Kaepernick