Colin Kaepernick Just Received Support From a Pro Football Hall of Famer Who Says 'He Should Have an Opportunity' in the NFL
It's been over four years since Colin Kaepernick last played in the NFL, but there are many people who think he still deserves a chance. Kaepernick had a lot of success with the San Francisco 49ers, and even took them to two consecutive NFC Championship Games and a Super Bowl. However, following his decision to take a knee during the national anthem in 2016, Kaepernick hasn't received a fair shot, as the QB has been out of the league ever since. A Pro Football Hall of Famer, though, thinks he deserves a chance to play.
That Hall of Famer is Kurt Warner.
Colin Kaepernick hasn't played in the NFL since 2016
The 49ers selected Kaepernick in the second round of the 2011 NFL draft. After he barely played in his rookie season, the former Nevada quarterback became a star in 2012.
He not only threw for 1,814 yards, 10 touchdowns, and three interceptions in 13 games and seven starts that year, but Kaepernick also led San Francisco to the Super Bowl. The Niners lost to the Baltimore Ravens in the game, but he still threw for 302 yards and a touchdown, and ran for 62 yards and a TD.
The dual-threat QB continued to succeed after that. He ultimately led San Francisco back to the NFC Championship Game in 2013 before having a career year in 2014 by recording career-highs in passing yards with 3,369 and rushing yards with 639.
However, after only playing in nine games in 2015, Kaepernick began protesting racial injustice in 2016. His decision to take a knee during the national anthem that year became one of the most talked-about issues in America.
Despite still playing well that season (2,241 passing yards, 16 touchdowns, and four interceptions in 12 games and 11 starts), Kaepernick has not played in the league since.
It's widely believed to be because of his protests.
Kurt Warner thinks Colin Kaepernick deserves a chance in the NFL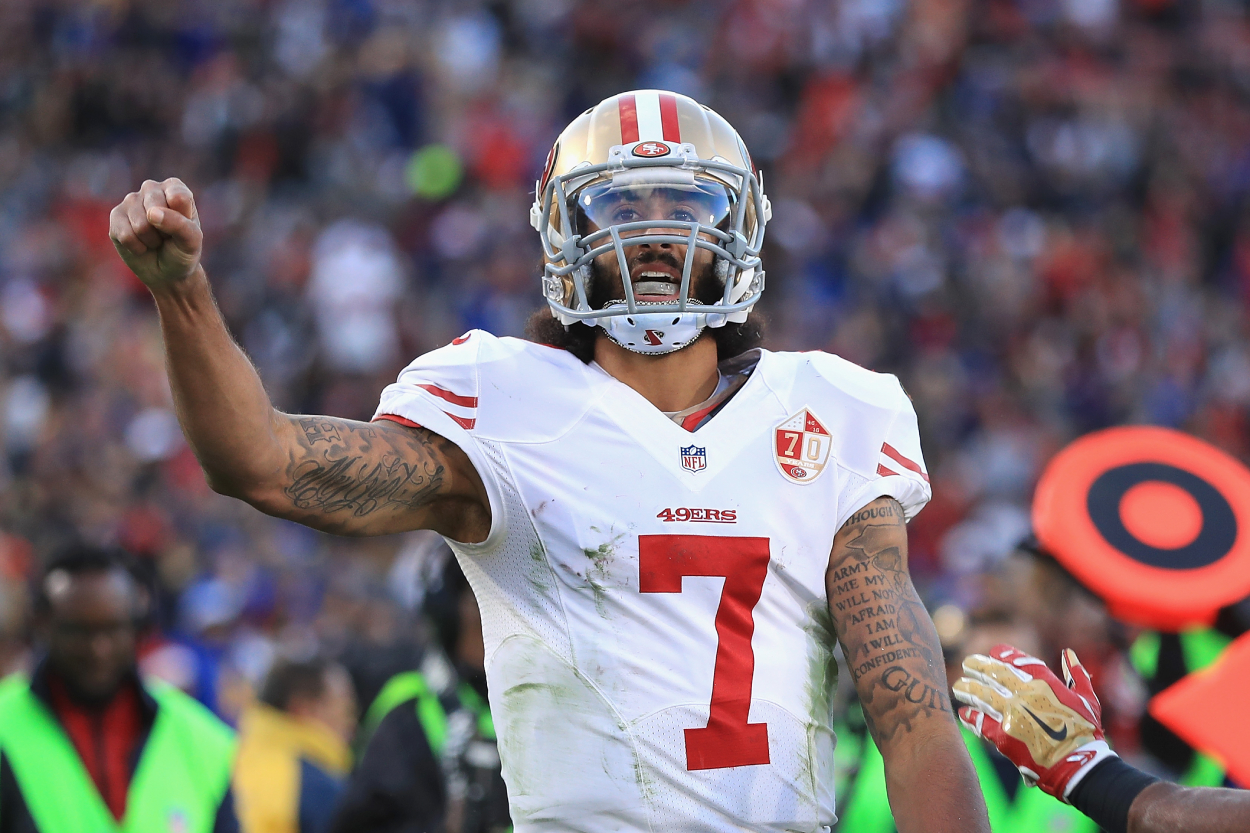 Kurt Warner had a tremendous amount of success as an NFL quarterback, ultimately becoming a Pro Football Hall of Famer. When recently asked by TMZ, he said he believes Kaepernick deserves a shot in the NFL.
"I believe Colin should have had opportunities a long time ago to get another chance and play in the league," Warner said, per TMZ. "Why that hasn't happened? I don't know; everybody can speculate."
Warner even said he thinks there's still time for Kaepernick to get his chance.
"I do," he said, per TMZ. "… I think that he should have an opportunity. … I think when he got out of the game, he was as good as a lot of quarterbacks in this league, and that's the bottom line."
Like many other former players and fans, Warner seemingly believes Kaepernick can still find success in the NFL if given the opportunity. 
He's a person who would know best, too.
Kurt Warner knows a thing or two about successful QB play
He had an interesting path to becoming an NFL star, but Warner ended up having a Hall of Fame career.
After spending time in arena football and NFL Europe, Warner became the starting QB for the St. Louis Rams in 1999. From the 1999 season through 2001, he ultimately earned three consecutive Pro Bowl selections and won two NFL MVP awards.
Also during that 1999 campaign, Warner and the Rams won the Super Bowl and he earned the Super Bowl MVP award. He then took them back to the big game during the 2001 season.
Warner was with the Rams until 2003 before playing for the New York Giants in 2004 and then finding more success with the Arizona Cardinals from 2005 through 2009. He earned one other Pro Bowl selection during his time in Arizona and helped lead the Cardinals to the Super Bowl during the 2008 season.
Overall, Warner threw for 32,344 yards in his career and 208 touchdowns. His achievements later helped him become a Pro Football Hall of Famer.
Kaepernick may not be in the NFL right now, but if Warner thinks he should get a chance, we should definitely listen to him.
Stats courtesy of Pro Football Reference