Colin Kaepernick's Organization Sends Strong Reminder About Why He Should Still Be in the NFL
Colin Kaepernick has not played in the NFL since the 2016 season. It has nothing to do with a lack of ability, though, and Kaepernick's organization wants people to remember that. On the anniversary of Kaepernick's first NFL start with the San Francisco 49ers, Kaepernick's organization, the Know Your Rights Camp, sent out a reminder about why Kaepernick should still be playing in the NFL.
Colin Kaepernick hasn't played in the NFL since the 2016 season
The San Francisco 49ers selected Kaepernick in the second round of the 2011 NFL draft, and he ultimately had a great career with the 49ers.
In his second season in the NFL in 2012, Kaepernick threw for 1,814 yards, 10 touchdowns, and three interceptions in 13 games and seven starts. He became a legend in the playoffs, though, as he helped lead the 49ers to the Super Bowl that season. San Francisco ultimately lost to the Baltimore Ravens, but Kaepernick threw for 302 yards and a touchdown in the game. He also ran for 62 yards and a touchdown.
That isn't all that Kaepernick did with the 49ers, though, as he led them back to the NFC Championship Game in his third season, too.
Over the next few seasons, Kaepernick continued to play well. He threw for a career-high in passing yards in 2014 with 3,369. He also ran for a career-high 639 yards that season.
However, Kaepernick began kneeling during the national anthem in 2016 to stand up against racism and social injustice in America.
"I am not going to stand up to show pride in a flag for a country that oppresses Black people and people of color," Kaepernick explained in 2016, according to NFL.com. "To me, this is bigger than football and it would be selfish on my part to look the other way. There are bodies in the street and people getting paid leave and getting away with murder."
Kaepernick still played well in 2016. He threw for 2,241 yards, 16 touchdowns, and four interceptions in 12 total games. He has not played in the league since that season, though, which is widely believed to be because of his protests.
Colin Kaepernick's organization reminded people about Kaepernick's talent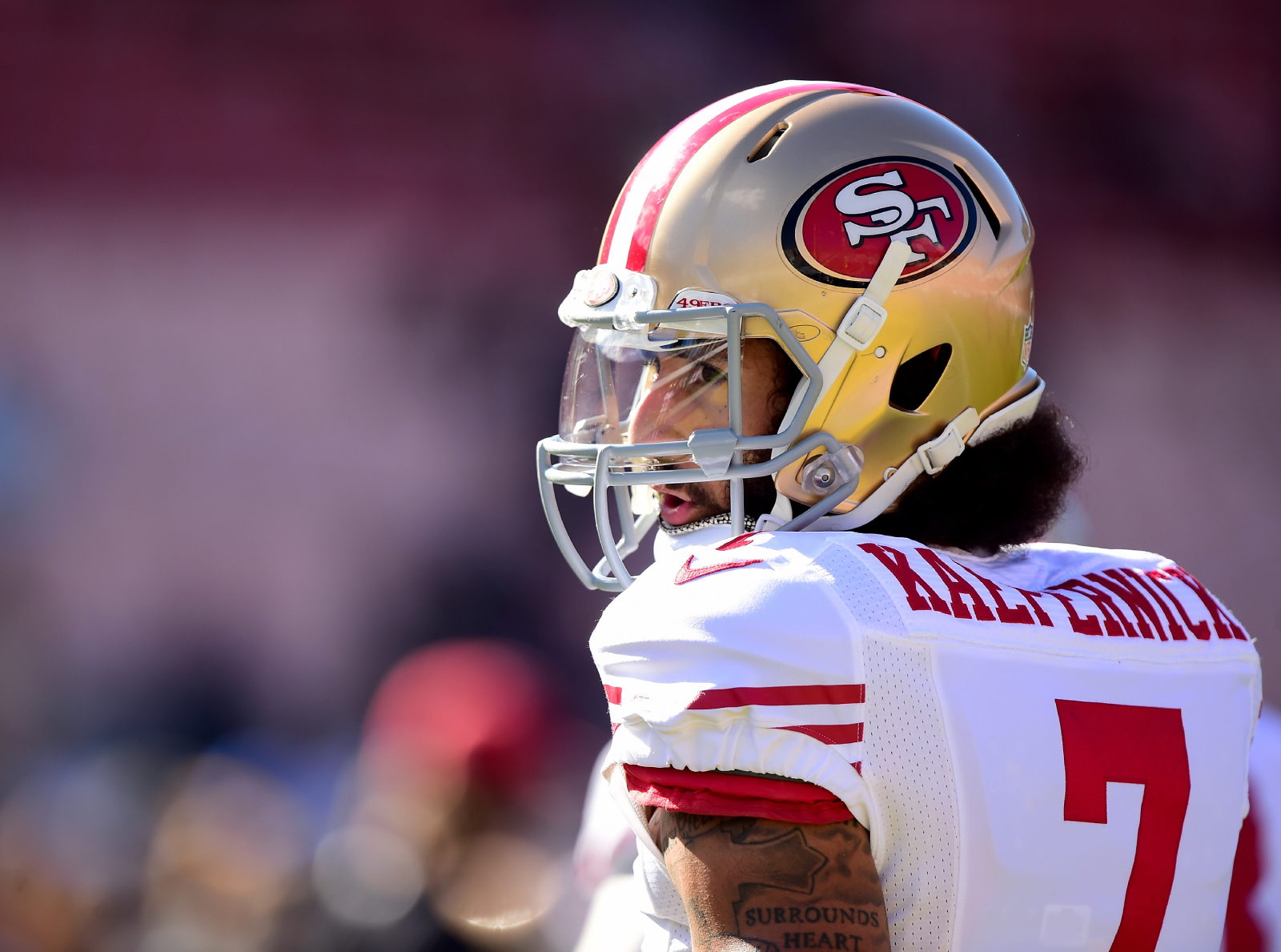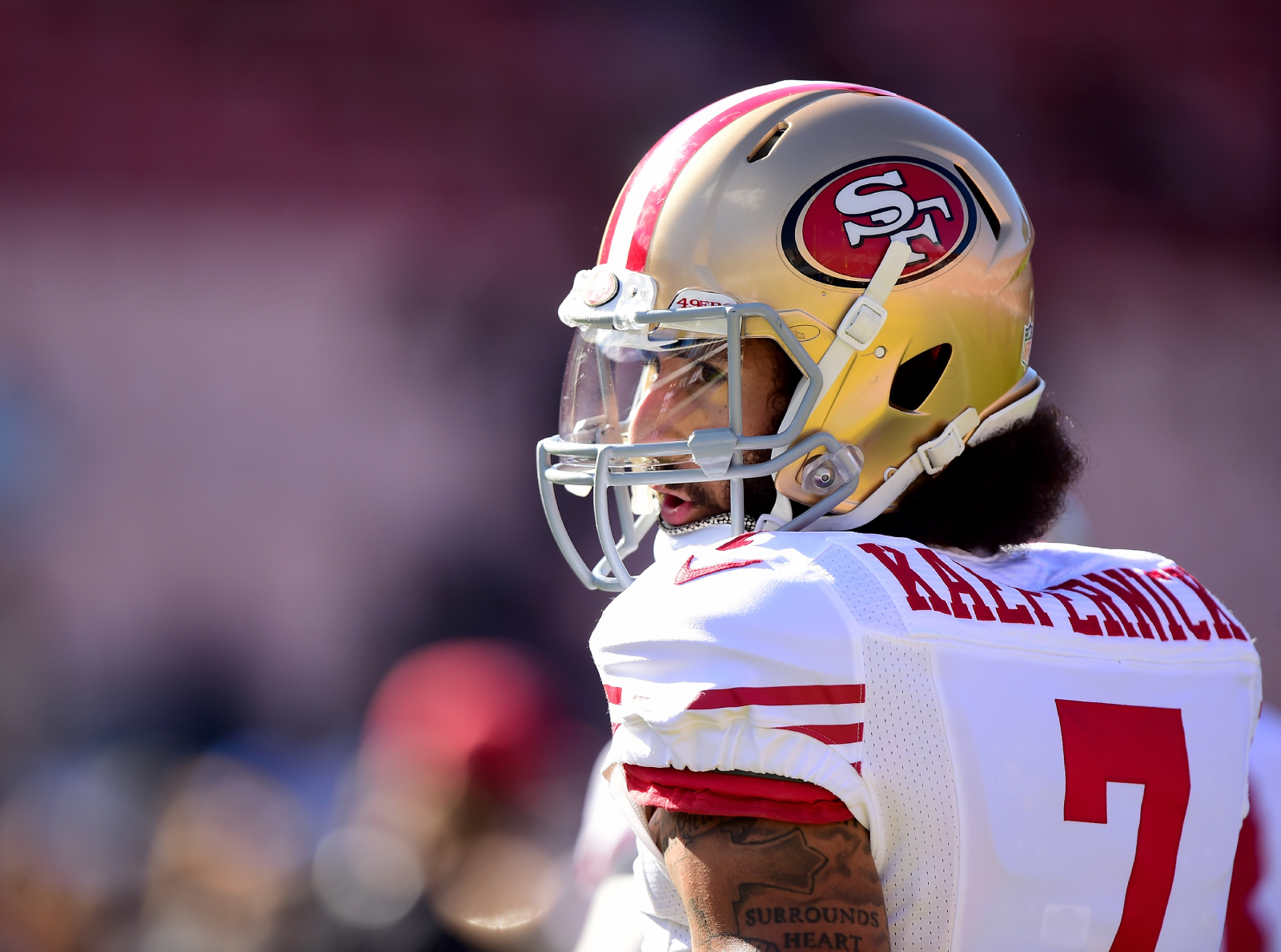 Kaepernick's organization, the Know Your Rights Camp that advances "the liberation and well-being of Black & Brown communities and [elevates] the next generation of change leaders," according to its Instagram bio, recently reminded people about why Kaepernick deserves to be in the league.
In a Nov. 19 Instagram post, the organization posted a highlight video of Kapernick's first NFL start against the Chicago Bears.
It also had this caption.
"[Colin Kaepernick] is still training every day while the NFL continues to blackball him for his protest against systemic racism. In the meantime enjoy this clip of Kap's first start, obviously talent has never been the issue. #BringBackKap #ImWithKap #StillWithKap," the caption reads.
Not only did this post remind people about the wrongful reasoning behind Kaepernick being left out of the league, but it also helped them remember how much talent Kaepernick has. He had an incredible performance in that first start, which fans got to relive with that highlight clip.
He played great during his first NFL start with the 49ers
Kaepernick filled in for Alex Smith in his first NFL start, and he went on to play so well that he kept the starting QB role for the rest of the season. In a 32-7 win over the Chicago Bears, Kaepernick was accurate and hard to stop. He went 16-of-23 through the air for 243 yards and two touchdowns.
Kaepernick proved in that game that he had the talent to play in the NFL. He continued to do so for the rest of the season and the years that followed, too.
During his NFL career, Colin Kaepernick maybe wasn't a top-five quarterback, but he was still very talented and led the 49ers to a lot of success. Maybe one day he will get another chance to show off that talent again.
Stats courtesy of Pro Football Reference