Colin Kaepernick's Path Back to the NFL Is Now Being Blocked by the Coronavirus
Colin Kaepernick has not played in the NFL since he played for the San Francisco 49ers during the 2016 season. Many people believe that it is because of his protests during the national anthem. So, now that more and more people around the league understand why he took a knee, rumors continue to come out about teams having an interest in signing him. However, there could now be something else blocking his path back into the NFL — the coronavirus.
Colin Kaepernick has not played in the NFL since the 2016 season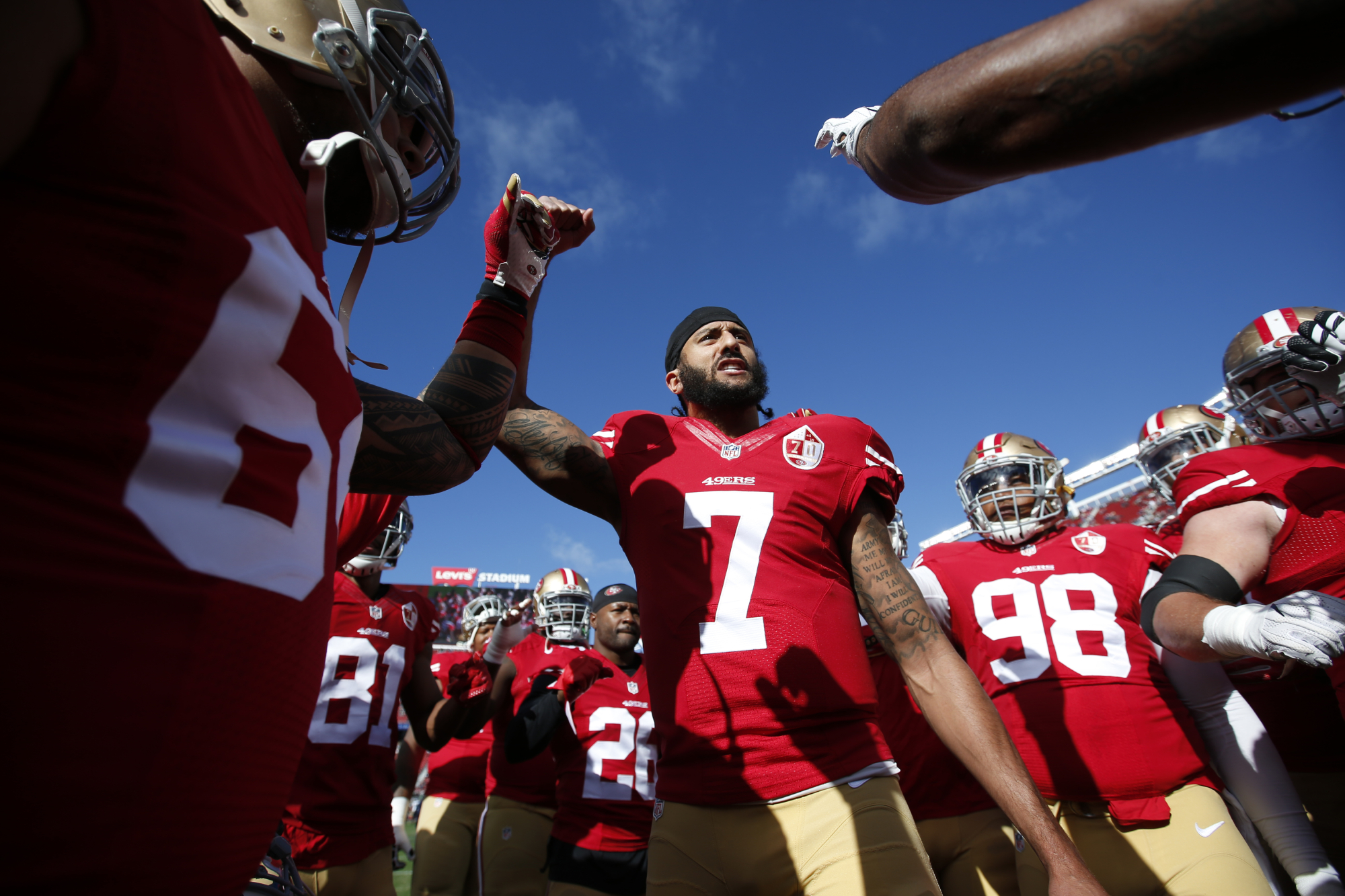 RELATED: Colin Kaepernick and Nessa: Who Has a Higher Net Worth?
No matter what some people say, Kaepernick did find a lot of success as an NFL quarterback. After only throwing five total passes during his rookie year in 2011, he became a star for the 49ers in 2012. 
Kaepernick started in seven games and played in 13 total during the 2012 regular season. He threw for 1,814 yards, 10 touchdowns, and three interceptions that season. Kaepernick also ran for 415 yards and five touchdowns. His play in the postseason really stood out, though, as he helped lead the 49ers to the Super Bowl.
The 49ers ultimately lost to the Baltimore Ravens in the Super Bowl, but Kaepernick had a nice game. He ultimately threw for 302 yards and a touchdown, in addition to running for 62 yards and a touchdown.
In 2013, Kaepernick threw for 3,197 yards, 21 touchdowns, and eight interceptions. He even helped lead the 49ers back to the NFC Championship game that season too. They, however, missed the playoffs each of the next three seasons. This was even though he threw for a career-high 3,369 yards in 2014, and ran for a career-high 639 yards. 
He has not played since the 2016 season, which was the year he began kneeling during the national anthem to protest brutality and racism in America. However, Kaepernick threw for 2,241 yards, 16 touchdowns, and only four interceptions in 11 starts and 12 games in 2016.
The coronavirus is making it hard for teams that have an interest in Kaepernick
RELATED: Colin Kaepernick's Girlfriend Nessa Just Called out an NFL Head Coach for Not Signing Kaepernick
NFL Network reporter Michael Silver recently reported that multiple teams are interested in signing Kaepernick. However, a roadblock for those teams is that Kaepernick cannot work out for them due to the COVID-19 pandemic.
"Colin Kaepernick, who has not played since 2016, finds himself in the same situation that Cam Newton and Jadeveon Clowney do, which is a team that would be ready to sign him would want to work him out," Silver said, according to Complex. "There could be a chance that something happens when teams are able to get that part of it done."
Teams cannot work players out right now, Silver went on to say, because of league rules, so Kapernick is, essentially, in a holding pattern.
Teams have reportedly not reached out to him
RELATED: Colin Kaepernick Could Soon Challenge Derek Carr's Job on the Raiders
Despite the fact that Silver said multiple teams have interest in signing Kaepernick, Mike Florio of ProFootballTalk reported on Friday that no teams have reached out to his camp.
"It's possible teams are interested. It's possible they're waiting until training camp approaches before making a move. It's possible," Florio wrote.
Florio went on to write that it is also possible the interest won't be acted upon if the effort to get Kaepernick back into the league is no longer as strong as it is now.
He also wrote that it is one thing to express interest to a reporter. It is another thing to actually express interest to Kaepernick, which has not happened yet.
So, will Colin Kaepernick play in the NFL in 2020? It is hard to say for sure. However, based on reports, it looks like teams will at least wait until their coronavirus restrictions are lifted so that they can work out the former 49er star.
Stats courtesy of Pro Football Reference