College Basketball: Who Wins the ACC?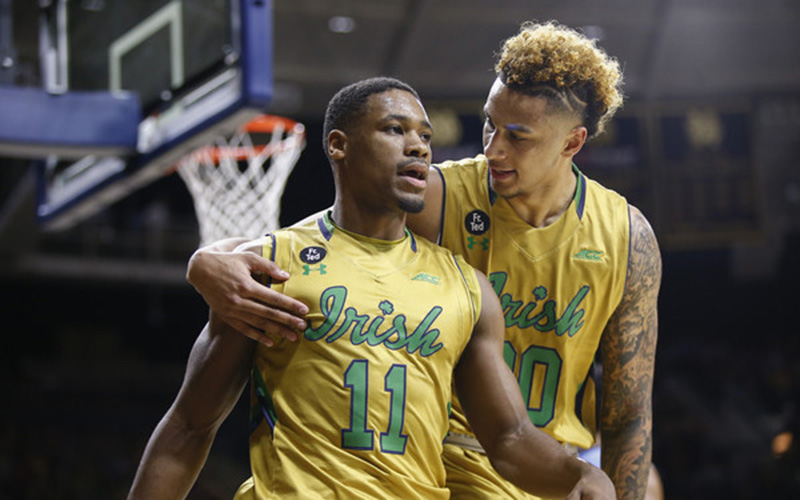 When it comes to men's college basketball, there may not be a stronger collection of title-worthy teams than there are in the Atlantic Coast Conference (more popularly known as the ACC). Whether you reference the historically great teams in the history of the sport and some of the more recent teams (Duke won the championship last season), you'll find that schools from the ACC always come up in the conversation among the nation's best.
This season, the ACC story is similar to the one we've heard many times. Yet again, a handful of teams appear to have at least a fair shot of putting together a run and reaching the Final Four. Of course, that also means that several schools are still in contention for the conference's regular season crown, despite the fact that less than a handful of games remain before conference tournament season gets underway. With the intense competition in the ACC, we broke down the top contenders within two games of the conference lead to figure out who will wind up on top when all is said and done.
Notre Dame
The Fighting Irish have managed to stay alive in the ACC despite a somewhat up-and-down season in 2015-16. They lost early on to Monmouth (a thorn in the side of several notable schools this season), but also managed to knock off  a strong Iowa team. They lost twice more in non-conference action before losing two of their first three in ACC play (including a loss to Virginia). Since that point, however, Notre Dame has rebounded to win eight of the past 11 games, including wins over North Carolina, Duke, and Louisville.
If it wasn't for a stunning defeat to Georgia Tech recently, the Irish would be on the edge of the top of the ACC, but instead they sit at 9-5 in the conference (18-8 overall), which is good for sixth place and two games behind the lead. The team's last four games are favorable, with only a home test against Miami standing out, which gives us reason to think that the Irish still have a chance at the ACC crown. However, seeing as how they'll need plenty of help, they'll require somewhat of a miracle to pull it off.
Duke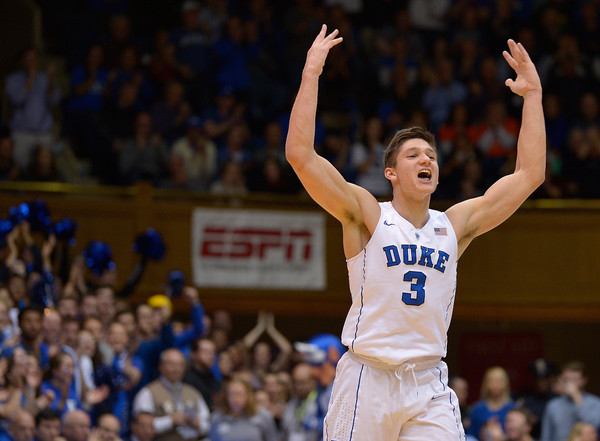 A couple of weeks ago, Duke was outside the top 25 and looking like they might slip out of the NCAA Tournament picture altogether. Today, the Blue Devils are firmly in position to make a run at the ACC regular season crown. With a 9-5 record in conference play (20-7 overall), Duke has managed to beat the likes of North Carolina (in a stunner), Virginia, and Louisville. However, earlier losses to teams like Syracuse and Clemson has the team in their current two-game hole.
A recent loss to Louisville (in the rematch) hurts, but with a final stretch that is more than favorable (before a season finale against the Tar Heels), Duke has a decent shot to make that deficit up. They certainly have the talent (i.e. Grayson Allen, Brandon Ingram, etc.) and the championship pedigree to get it done, so don't count out the Blue Devils just yet.
Virginia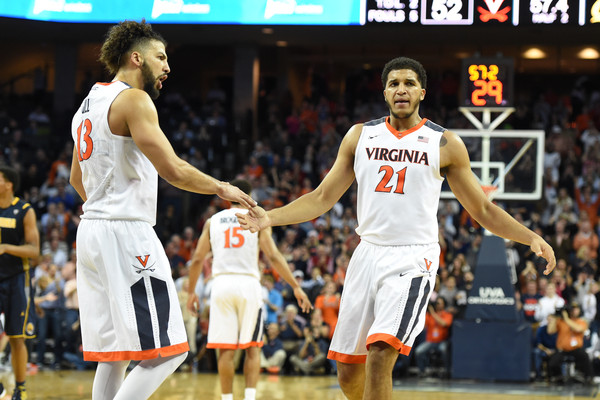 The Cavaliers have certainly had bumps in the road this season and after a huge loss against Miami on Monday night, things have fallen out of Virginia's control as they vie for a third consecutive ACC regular season championship. Aside from three or four head-scratching losses this season, Virginia has generally been a top team in the game. While they sit with a record of 21-6 overall (11-5 in conference), this mark has them two games back in the loss column behind North Carolina as of now — with only a few games left.
Virginia will host UNC this Saturday in what could be one of the biggest ACC games of the year, which is key. If the Cavaliers win that game, they could still have a fair shot in the conference. Of course, that's a big "if." With a balanced roster and one of the best defenses in the country, there's no reason that Virginia can't get it done, but they'll need plenty of help.
Louisville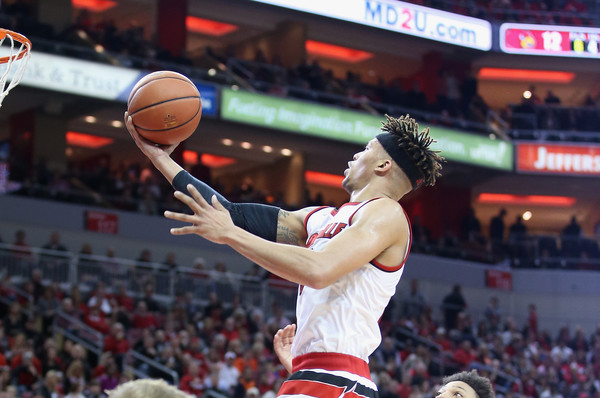 Bringing Louisville up in the context of this conversation feels a bit odd. The Cardinals self-imposed a postseason ban on themselves this season, so they can't even play in the ACC tournament next month. Yet, they are still in contention for the conference's regular season crown, which might provide some good feeling to their lost season. Louisville sits at 10-4 in conference play (21-6 overall) with significant wins over North Carolina and Duke, putting them one game behind the lead.
Their final stretch will see them play against a likely tournament team in Pittsburgh as well as two conference heavyweights in Miami and Virginia. The talent for the Cardinals is clear (just look at their No. 11 ranking), and with a pretty significant chip on their shoulder, they just might have enough to steal the ACC regular season title.
Miami (FL)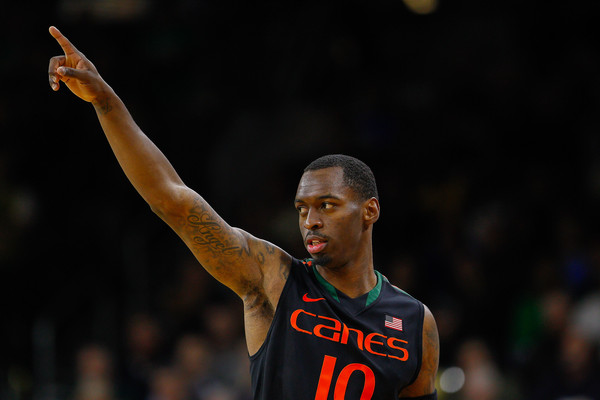 A great win for Miami against Virginia on Monday night. That game provided a big opportunity to gain ground in the conference, and the Hurricanes beat a strong team on their home floor. The win somewhat makes up for a disappointing loss against North Carolina and puts the team firmly in position to win the ACC title. The Canes' record is more than solid at 22-5 and 11-4 in conference, which puts them one game back in the loss column of UNC.
Their schedule doesn't get any easier down the stretch, however, as Miami has upcoming contests against Louisville and Notre Dame looming. A lineup with four scorers in double digits gives the Hurricanes enough to beat any team in the country and with their now proven pedigree to win big games, Miami just might win their second conference crown in four seasons.
North Carolina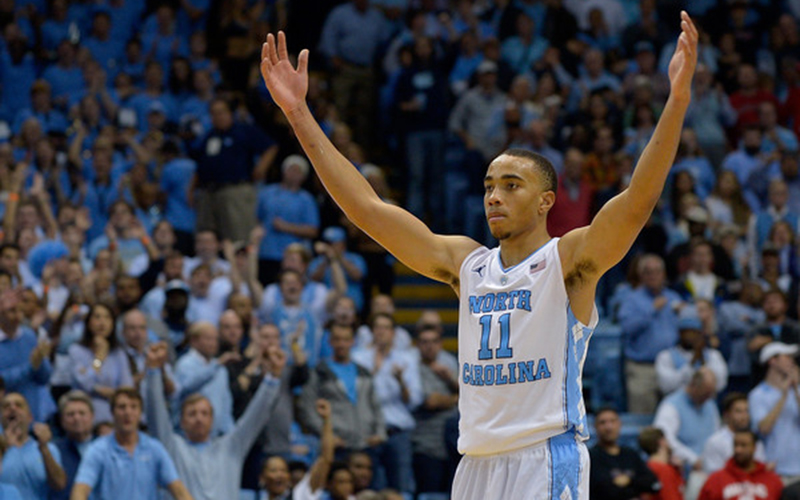 The Tar Heels find themselves sitting atop the ACC, holding a half-game advantage with a record of 22-5 (11-3 in conference). Their talent is unquestionable with star players like Brice Johnson and Marcus Paige, and for the most part, their play on the court has been as good as any team in the country this season. Their best win of the season came against Maryland in non-conference play, but a recent victory against Miami was telling as well.
Losses to Duke and Louisville, on the other hand, showed North Carolina's vulnerability. Obviously, the path to the regular-season title is in their hands, but with a couple of tough contests against Virginia and Duke on the horizon in the final stretch, the Tar Heels still have plenty of work to do if they want to capture their first ACC championship since 2011-12.
So, who wins?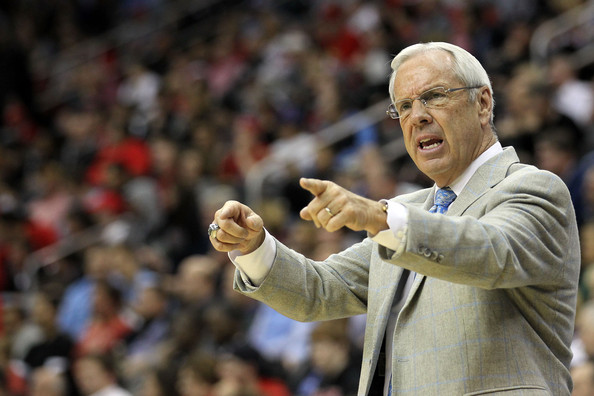 With how tight things are at the top and a final stretch that will tell us a lot about the ACC, it's difficult to project who will finish on top in less than two weeks. Duke's case is interesting because they are playing some of their best basketball of the season right now — and their final stretch is mostly favorable. They can't afford to lose even once, though, so the Blue Devils probably won't get it done. Louisville's chip is worth considering too, but the Cardinals should slip up at least once before the end of the season as well.
Really, when you look at everything, this should be North Carolina's conference for the taking, despite the presence of so many other capable teams. They've proven their ability to win big games. Seeing as they control their own destiny, they should be able to win out and take the ACC title. As for the conference tournament? With so many good teams in the ACC, any number of teams could get hot and win it.
Statistics courtesy of ESPN.com and SR/College Basketball.