College Football: 3 Teams That Just Increased Their Playoff Chances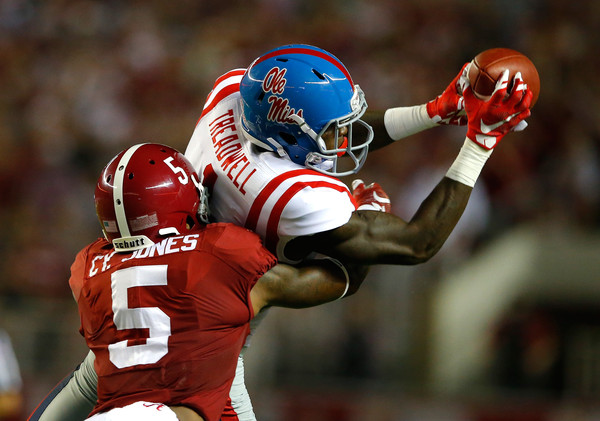 While week 3 might be a week or two early to determine who the real contenders are for the College Football Playoff, it is the first week that many teams begin to play in marquee, prime time matchups. After crushing mostly lower division (and by implication: inferior) opponents for the first couple of games, week 3 is a great opportunity to see how good some of these schools really are — and whether or not they'll be a force to be reckoned with once November rolls around.
This was definitely the case for week 3 of the 2015 college football season. We saw several top 25 contests this past weekend that had major implications for the remainder of the season.
In these huge games, at least a handful of schools dramatically enhanced their playoff odds with key victories over some upper-echelon competition. Let's review the three that made the biggest statements over the weekend:
3. LSU Tigers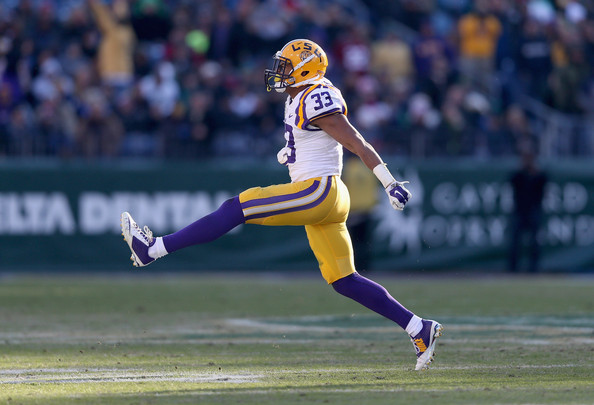 Many saw this LSU team as one that had a great chance to win the SEC West and compete for the playoff this season, but with their performance this past Saturday, you might have to rank them among the favorites for the national title. Yes, they were playing the probably overrated Auburn Tigers, but the way they dismantled Auburn was notably impressive. LSU only allowed 260 yards for the entire game and forced Auburn QB Jeremy Johnson to an average pass completion of just 5.3 yards. Essentially, this defense looks as good as ever for coach Les Miles.
Offensively, there are clear and obvious questions with the passing game. While QB Brandon Harris was efficient against Auburn, he only threw for 74 yards. Of course, when you have Leonard Fournette, you don't need a bunch of passing yards. LSU needs to become more balanced on offense if they want to make a deep run, but few teams have a better two wins than these Tigers, so their playoff odds at this point are looking solid. In fact, only three teams have better odds, according to those guys in Vegas.
2. Notre Dame Irish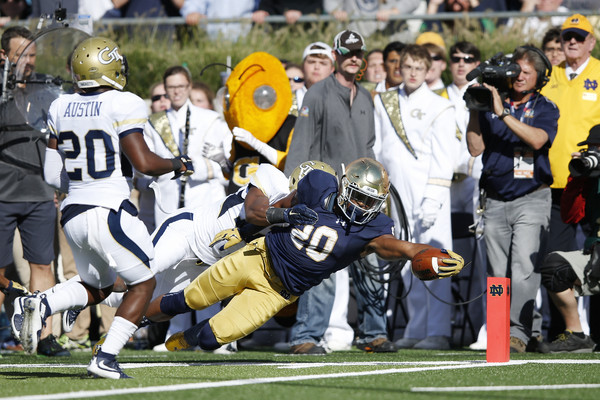 A week ago, some (including the author of this article) believed Notre Dame to be one of the most overrated teams in the nation. After a very impressive performance against a good Georgia Tech team in week 3, the Irish are now on the rise, and we're not shy about admitting our mistake. This is clearly a well-coached team by Brian Kelly that knows how to get it done in the clutch. In week 2 against Virginia, they held on down the stretch to secure the victory. Same in week 3. It's not pretty all the time, but the Irish are proving to be tough-minded and unfazed by the pressure.
Losing QB Malik Zaire for the season hurts, but Notre Dame has a lot of winnable games remaining on their schedule. If they keep building confidence and if C.J. Prosise keeps running like he did last weekend, this is a team that can run the table in 2015. Hard to believe with all of the injuries, yes, but there is some magic swirling in South Bend. This was a big-time win in week 3 and even Vegas seem to have taken notice, with only 11 teams having better odds than the Irish.
1. Ole Miss Rebels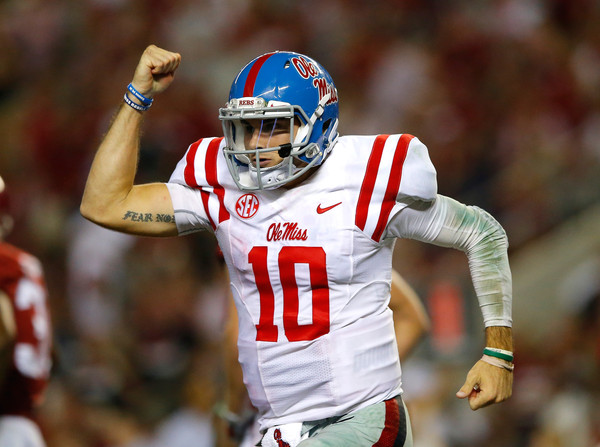 Nobody beats Alabama twice in a row. Nobody (at least very few) take down the Crimson Tide in Bryant Denny Stadium. That's what Ole Miss had to deal with going into their much anticipated rematch with the modern day powerhouse of college football. The Rebels not only found themselves victorious, but they looked nearly dominant in the effort. Sure, the final margin of victory was only 6, but it took a dramatic comeback by the Tide to make it that close. Ole Miss felt confident they could win in Tuscaloosa and it showed.
The receiving corps is explosive, the defense makes clutch plays, and QB Chad Kelly looks like much more than just a game manager. Really, this team has looked so good so far this season that you have to wonder if anyone can stop them. Yes, they play in the SEC West and have several tough contests remaining, but they already got the annual giant out of the way. If they can avoid a let down and realize that beating the Crimson Tide was only a step in achieving the ultimate prize, their chances at making the playoff seem well above average.
Few teams have made such a huge leap in the polls, as the Rebels are now ranked third in the nation. Few teams have ever improved their standing with Vegas as much as them either, as only three teams have better odds than the Rebels at this point.