College Football: 3 Unranked Teams That May Make the Playoffs
We've played a month's worth of college football in 2015, and it appears we have a strong crop of teams in firm contention for the College Football Playoff. With big wins and strong performance, teams like Ole Miss, Utah, and Michigan State have set themselves up for success going forward. In reality, almost every single team in the top 25 still has a realistic shot at the postseason tournament.
What about those teams currently ranked outside of the top 25? While it might seem hard to swallow right now, not being ranked after four does not mean your season is over. Several schools not included in the current rankings are still undefeated and have performed admirably. With conference play heating up as October makes its debut, we are about to learn a lot about who the best teams really are. One of these overlooked teams could be in that conversation at seasons end.
So, you're probably wondering who the unranked teams with the best shot at making the playoff are? Well, we've gone ahead and put that answer together for you. Here they are, the top 3 unranked schools in college football.
3. Indiana Hoosiers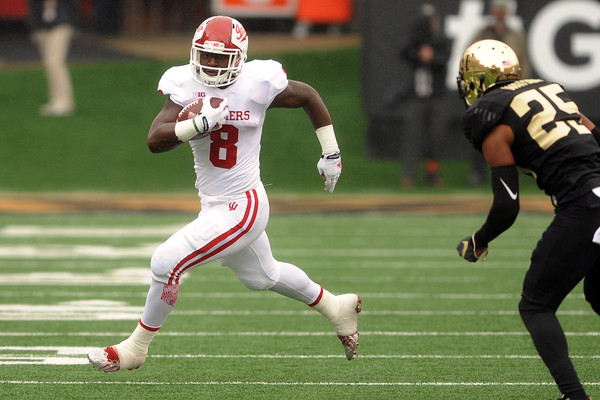 When you think of a basketball school with a bad football program, Indiana University has always been one of the first names to come up in that discussion. It's a program that has only made 9 bowl games in their entire history (none since 2007). They are consistently marked as an easy win in the Big 10 and haven't given anybody any real fits in several seasons. In 2015, things look like they could be different.
Led by a strong running back in Jordan Howard, the Hoosiers have jetted out to a 4-0 record (which is made more impressive by the fact that they won just 4 games all of last season). Of course, they haven't really played anybody yet, with their most impressive victory probably coming against Western Kentucky.  Still, the team has displayed a dynamic offense that can put up points in bunches, which is always a dangerous thing for an opponent to deal with.
Things are about to get immensely more difficult in a hurry for the Hoosiers, as the defending champion Ohio State Buckeyes are coming into town. If they can somehow manage to beat the top team in the nation, Indiana's status will become much more legit. They have their best chance to beat Ohio State maybe ever this season, so we will see how it turns out on Saturday. Regardless, you have to appreciate the improvement of the Hoosiers.
2. Miami Hurricanes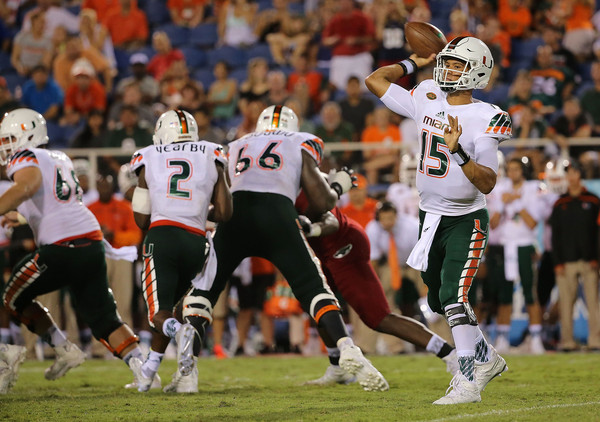 Miami Hurricane football is back! Well, maybe. This is a program so rich in history, as they used to put a dominant team on the field year in and year out while producing some of the NFL's top talent. Yet, for a long time, the Hurricanes have been mediocre at best. With an undefeated start to the season (including a nice win over Nebraska), Miami might be ready to make some noise in 2015.
Something the Hurricanes have going for them is an efficient QB in Brad Kaaya. He's made limited mistakes so far this season and kept his team in every one of their three wins. The defense has been decent as well, although maybe not tested like they will be once ACC play starts. Speaking of the ACC, the fact that Miami plays in this conference gives them a chance to win a lot of games and build momentum towards a possible playoff berth.
If they can manage two big wins against Clemson and Florida State and go undefeated, the Hurricanes will be right in the conversation. That's no easy task, but this is a team that has at least positioned itself for that opportunity. That's a lot more than can be said of recent seasons in Miami.
1. Kansas State Wildcats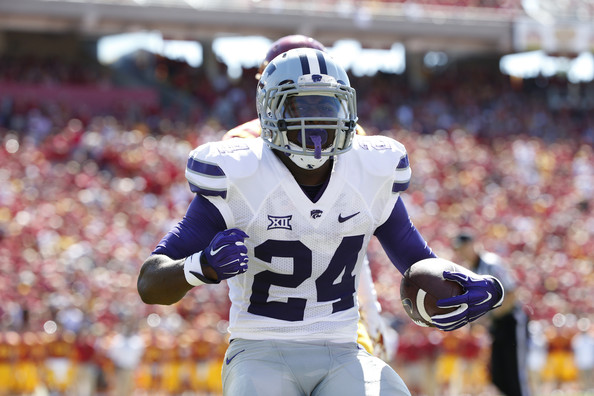 Kansas State has really turned into a consistent football program over the past few seasons. After a 6-6 campaign in 2009, the Wildcats have managed 5 straight bowl game appearances to go along with two 10 win seasons in that time span. In 2015, here they are again, 3-0 and looking to propel up the rankings. They might have a better shot at doing it than any other team in the nation.
OK, none of the Wildcats wins have been against notable opponents so far this season. They did pitch a shutout in their first game, however, and only gave up 3 points in their 2nd. They had more of a battle in their most recent game against Louisiana Tech (a 3 overtime contest), but this team has still played just about as well as you can ask. They've only given up 36 points, averaging out to 12 per game. If they can keep up that level of defensive intensity in Big 12 play, this team is going to be tough to beat.
Of course, those Big 12 offenses (like TCU, Baylor, Oklahoma) are explosive, so it will be tough for the Wildcats to continue their defensive output. We will learn a lot about how good Kansas State is over the next three weeks, as they play Oklahoma State, TCU, and Oklahoma (all teams ranked in the top 20). If they survive that gauntlet, this team will be right in the running for the postseason.