4 Big Ten Football Teams Everyone Will Be Watching in 2015
When the college football season kicks off on September 3, the Big Ten will have a bevy of new faces on the sideline. Obviously this means players, but the amount of new coaches will be the biggest shake up. First, there's Jim Harbaugh at Michigan. If you haven't seen or heard anything about Harbaugh and his offseason in the recent months, congratulations. Every week it seems like he's making news, whether it's playing shirtless football in Alabama or shaking hands with the United States Supreme Court.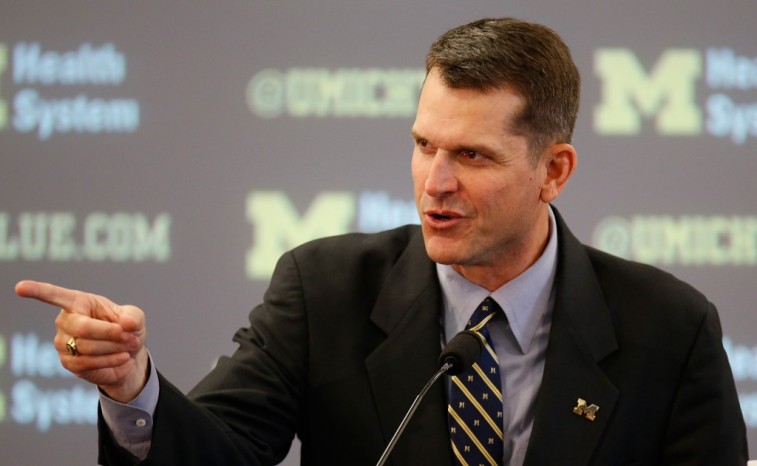 But while Harbaugh has been the most noticeable addition, two other traditional powerhouses also have new coaches—two teams that could vie for a spot in the conference championship. They are Paul Chryst at Wisconsin, who inherits a team that made the Big Ten Championship game a year ago only to fall to Ohio State. And there's also Mike Riley at Nebraska, who takes over a Cornhuskers' squad that finished 2014 with a 9-4 record. With the players these two teams have coming back, barring epically terrible transitions from the former coach to the new coach, either Wisconsin or Nebraska could contend late in the season.
The problem is that if Wisconsin or Nebraska plays extremely well under their new coaches, it won't really be a surprise. The real surprise would be if they're terrible…or even subpar. This season the surprise, or more likely surprises, will develop from the unexpected. For example, a team that finished in the bottom half of the conference a year ago (cough…Penn State) could readily move up, despite having a difficult road in the stronger Big Ten West division.
Either way, when Ohio State won the National Championship a year ago, the Big Ten got a surprising boost. Every team, whether it's the Buckeyes themselves or last year's last-place finishers (Purdue and Indiana), has ultimately gained national respect. So as we prepare for college football, and what's likely to be another solid year of play, here are four teams to watch for that could make some noise.
1. Iowa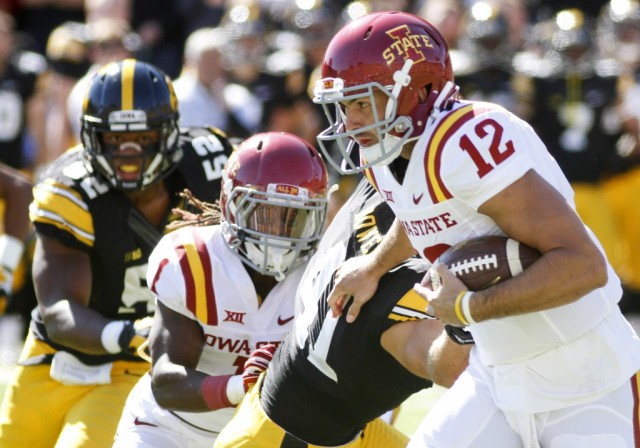 The Hawkeyes finished 2014 with a 7-6 overall record and a 4-4 Big Ten record. Despite starting out the season winning five of its first six games, Iowa stumbled late, a fall highlighted by a devastating loss to Maryland. But head coach Kirk Ferentz runs a tight ship, and the Hawkeyes have the talent to turn a few of those losses into victories this year, and in turn, maybe make a run at the West division crown—it is after all much more up for grabs than the East.
Iowa has enough of a returning core from a year ago where it should be comfortable with its starting rotation. Take the defense, which returns seven of the 11 starters. And while the offense only brings back five players, it wasn't an offense that blew teams out of the water, so maybe that's a good thing. Who the offense does bring back, though, is quarterback C.J. Beathard who took over the role in the middle of the season and showed quite a bit of promise. Coupling his arm with an offensive line that returns three starters from a solid group, the Hawkeyes could end up with one of the conference's top-producing offenses. 7-6 wasn't bad last year, but Iowa's a good team in a division for the taking, and given the right recipe, could find itself dethroning Wisconsin atop the West.
2. Minnesota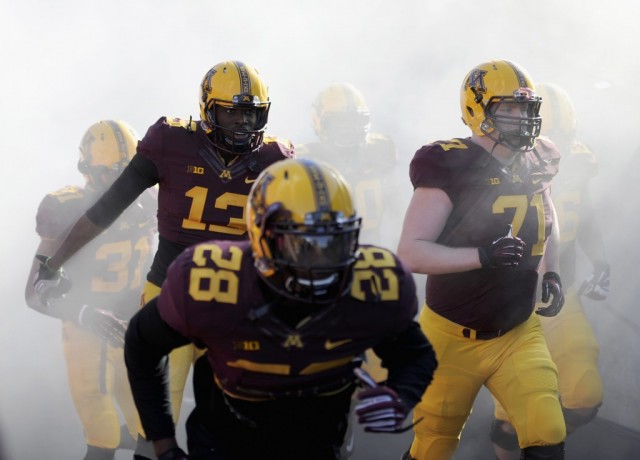 Another team with aspirations to make it to the conference championship game, the Golden Gophers finished 2014 tied for second in the West with a 5-3 Big Ten record. Other than a surprising 28-24 loss to bottom-dwelling Illinois in 2014, Minnesota didn't have another bad loss. They lost to TCU—a team that many thought should have been in the College Football Playoff—and then against Ohio State and Wisconsin. Head coach Jerry Kill has done an excellent job of turning the program around, even to the extent that at one point last season the Golden Gophers were a top-25 team. They also are coming off of two consecutive eight-win seasons. Building on that momentum, if Minnesota can get a few upsets against divisional foes, a top-25 ranking will be the lesser of their aspirations.
3. Michigan
While this is the easy pick for this list due to Harbaugh's national presence this spring and summer, it's also a noteworthy one. Yes, Harbaugh's a terrific coach—not just at making news and being ridiculously passionate—but also when he's actually coaching players. Just look at his track record at Stanford. All of his accolades and antics are beside the point, though. Michigan's not as bad off as perceived. For starters, they have one of the most veteran rosters in the country, and return almost an entire offense. And furthermore, when Brady Hoke took over for Rich Rodriguez in 2011, his first season ended up being his most successful. The team had a core group of players, and Hoke successfully implemented his system: not an uncommon event for a new coach at a successful program.
With Michigan's current roster, the addition of quarterback Jake Rudock from Iowa as a graduate transfer, and Harbaugh's talent as a coach, the Wolverines certainly should be better than their 5-7 overall record a year ago. Just as Harbaugh has proven he's quite the wildcard this summer, what's to come for Michigan in 2015 is anybody's guess.
4. Penn State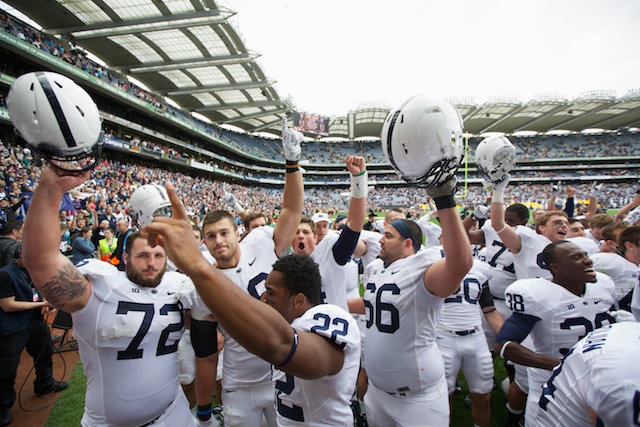 When head coach James Franklin took over for Penn State, the school's bowl eligibility was still in question following the NCAA's reprimand over the Jerry Sandusky scandal. The Nittany Lions went 7-6 overall in his first season a year ago, all despite a lackluster 2-6 Big Ten record. Franklin, though, has had two very strong recruiting classes, and barring a lack of development, those players should be primed to compete this season. Penn State also has an excellent quarterback in junior Christian Hackenberg—assuming he can keep his interceptions down.
Similar to Michigan, though, Penn State has a difficult path ahead despite the talent on its current roster. In order to get to the Big Ten Championship game, the Nittany Lions will have to dethrone Ohio State, beat out Michigan State, and top Michigan (who's also on this list). So while it's a road less traveled, Penn State has what it takes and it's just a matter of getting the right results.
All Statstics Courtesy of College Football Reference.