College Football: 4 Games to Watch Out for this Weekend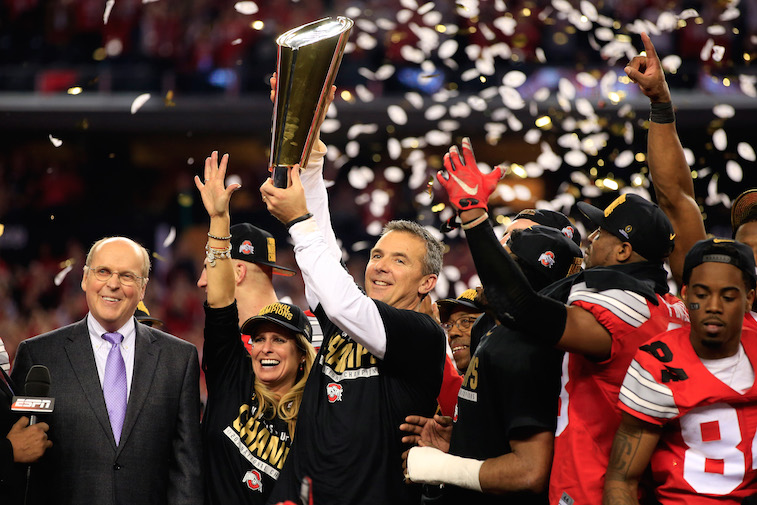 Opening day is finally upon us. Almost. Come Thursday night and the commencement of the college football season, we can finally stop depending on the NFL preseason and news from training camp to occupy our football needs. While there are certainly not any marquee matchups this opening weekend — the big games tend to be conference bouts that won't take place until the non-conference schedule has concluded — there are some rather interesting games nonetheless.
Even some of the non-conference contests could end up having far-reaching effects later in the season. While it's very difficult to say what team will do what solely based on a one-week performance, any squad with national title hopes can't really afford an early loss. Just look at Ohio State last year — a team clearly worthy of making the playoff since they went on to win it—who lost to Virginia Tech in the second week of the season and almost didn't make it to the Playoff because said loss.
Despite the fact that plenty of teams choose what some would consider lesser opponents early in the season (getting the six wins required for bowl eligibility does become a lot of easier when you play the Idaho's and Appalachian State's of the FBS), this weekend won't fail to disappoint. And no, not just because fans everywhere will finally get to see that new offensive scheme, or that new quarterback at work. Thus, here are five college football games you should watch this weekend even if you have nothing at stake besides watching good football.
 1. Texas vs. Notre Dame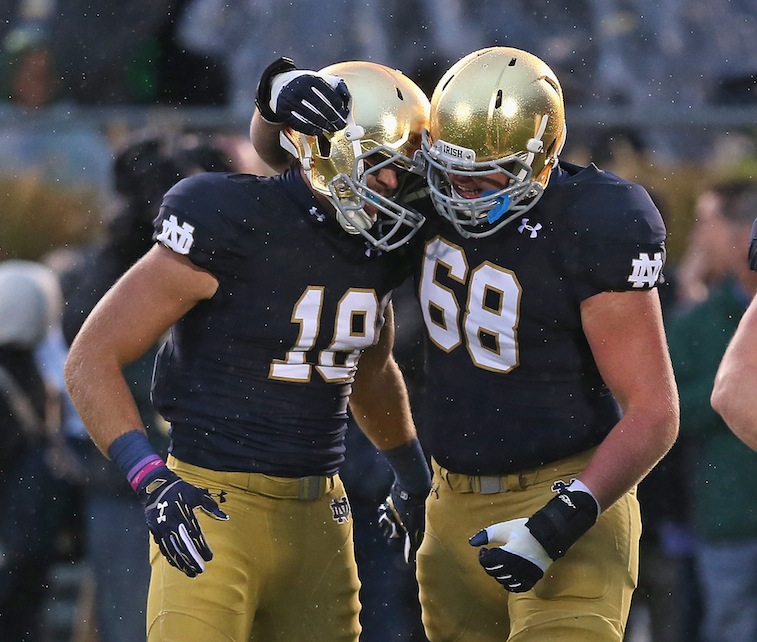 This would be a very interesting matchup even if both teams were the absolute worse CFB teams on the planet, as they haven't played each other since 1996, and including that '96 24-27 Texas loss, Notre Dame maintains an 8-2 overall record against Texas. So this game isn't about history — It's about the present and the future. Despite struggling last year in its first season under new head coach Charlie Strong, Texas has a strong returning corps of players and will look to prove that Strong's system does work in Hook'em nation.
Looking past the first-year growing pains Texas may or may not have faced in Strong's first season, Notre Dame enters the game as a ten-point favorite. It's not unprecedented, either, as The Fighting Irish retain 19 starters, boast a defense that looks like it could be one of the best in the nation and a coach who's proven his mettle over the years in Brian Kelly. As these two teams have large, national fan bases, South Bend will undoubtedly have a rivalry-type feel. And based on that, whether it's a blowout out or a barnburner, maybe a new rivalry will be born.
 2. Wisconsin vs. Alabama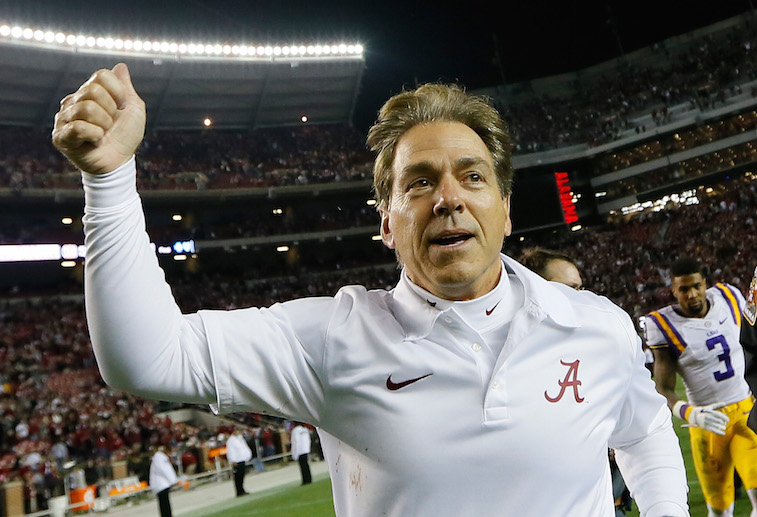 Who doesn't like pitting the SEC versus the Big Ten, especially two teams that are typically atop their respective conference standings by the end of the year. It's even less common to have two ranked teams squaring off this early—here it's the third-ranked Crimson Tide and the 20th-ranked Badgers. Despite Wisconsin having a relatively new coach, this game still should pose some relevancy issues for the nation as a whole given Ohio State's title run a year ago, and the discussion around whether the Big Ten is actually relevant again.
As we all know courtesy of Nick Saban, Alabama's always relevant, and as long as the Crimson Tide's run continues they'll be a top-ten team in the country. But if the unbeatable falls to little old No. 20 Wisconsin in the first game of the year (the same team that's only a few seasons under head coach Barry Alvarez) well, maybe that says more about the Big Ten and less about the SEC.
 3. Arizona State vs. Texas A&M
Entering this game, despite it being the former Big-12 contender turned SEC squad versus a lesser Pac-12 team (better known for its attractive girls), only one of the two teams are ranked—it's not the Aggies. Despite it being the same Kevin-Sumlin coached Texas A&M team from a few years ago that blew everybody out of the water, the Aggies are a three-point underdog versus the Sun Devils. And yeah, that was just said: Vegas predicts Arizona State beating Texas A&M in the next few days.
Thus, Arizona State is the clear favorite and it's for a reason other than Johnny Manziel not being at Texas A&M. The Sun Devils are actually a pretty darn good squad. Whether you think that the Sun Devils are a team who can likely compete for a Pac-10 Championship or even an alleged potential NCAA Playoff spot, Arizona State has proven during what many considered a rebuilding year a season ago that they're a team to beat now, not in the future. They easily match up against a middling SEC team, and that simple fact will make things interesting.
4. Michigan vs. Utah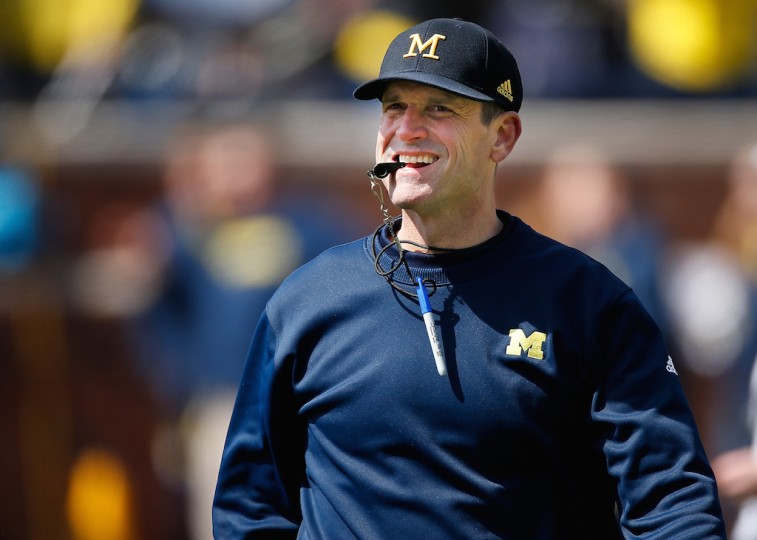 This matchup gets the nod for two reasons (albeit one reason has a little more at stake than the other for the program). The amount of Jim Harbaugh news this offseason as the Wolverines' new leader has been excessive in many regards. Whether it was Harbaugh playing shirtless in Alabama or Harbaugh blatantly recruiting/invading all of the territories typically received by SEC teams, he's persistently gone against the grain in his first season back as a college coach.
So while a matchup that meets Utah and Michigan in week one— a team that's favorited to win at home and also went into Ann Arbor last season and won on the road—the Harbaugh-dilemma still remains true. It's like why Americans refuse to watch poor-at-best reality TV. At the end of the day, Harbaugh's crazy-man antics—the same ones that allowed him to turn Stanford into a national top-five team in a matter of years—make watching football seem like reality TV. You just never know what to expect, and what the Wolverines look like this coming Thursday (especially as an underdog, i.e. Harbaugh's middle name), is as questionable as any reality TV show out there. Thus, Michigan versus Utah isn't the most exciting game this weekend, but excitement is relative and Harbaugh's presence speaks for itself.