College Football: Are the Clemson Tigers for Real?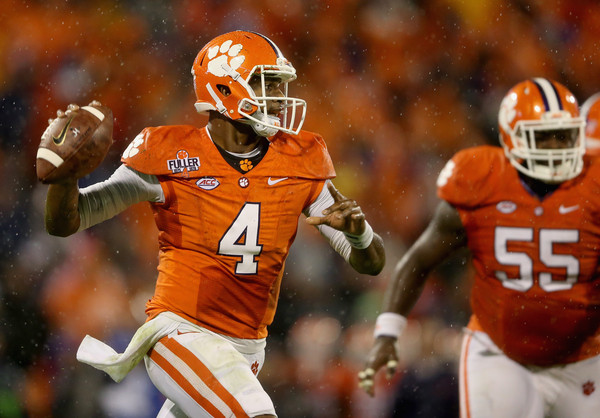 The Clemson Tigers have seemingly arrived. After a huge win over Notre Dame in their last contest, the Tigers have climbed all the way up to No. 6 in the AP Poll. Playing in an ACC conference that has been dominated in the past few season by the Florida State Seminoles, Clemson is now the favorite in the conference after their big win.
It wasn't as if the Tigers weren't supposed to be good this season, but thinking of them as a legitimate College Football Playoff contender seemed like a stretch a few weeks ago. Now, that's the case, as they truly control their own destiny. The real challenge (now) will be for Clemson to build off of the Notre Dame win instead of treating it like a huge achievement. A talented Georgia Tech team is waiting to spoil their good feelings, which could turn out to be Clemson's toughest remaining test this season.
Ignoring any expected (or unexpected) let down in the near future, let's take a look at just how good this Tiger team really is by breaking down their roster and analyzing remaining schedule to see if they are, in fact, legitimate and for real.
Offense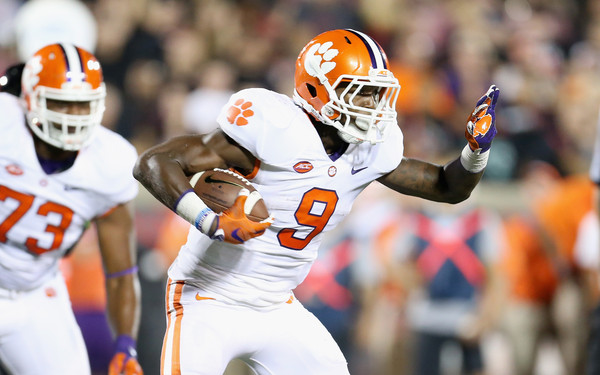 Offensively, Clemson is an efficient and effective bunch led by their solid quarterback in Deshaun Watson. Watson is the definition of their offensive efficiency, with a completion percentage near 70% and a very nice passer rating, while being ranked ninth in the country in college total QBR. On the ground, the Tigers are able to churn out tough yards with running back Wayne Gallman, who has averaged over 100 yards per game and over 5 yards per carry. Watson is also a threat on the ground, making him very difficult to deal with. The receiving corp needs to produce more, but Mike Williams and Artavis Scott are capable of assisting in that cause. Overall, this is a very solid group that can put up points and control the clock when they need to late in games.
Defense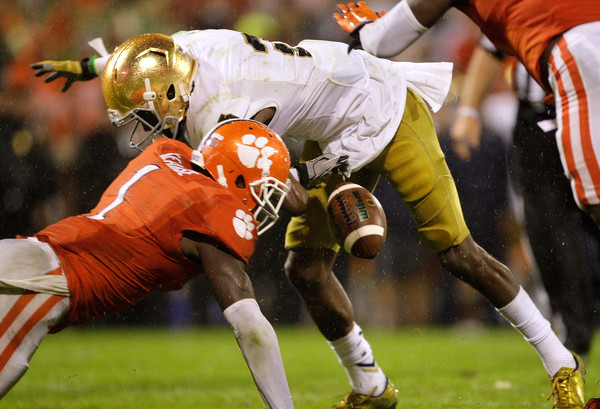 Defense is where the Tigers really get the job done. Led by guys like saftey Jayron Kearse, Clemson's defense ranks ninth in total yards in all of college football and 12th in points per game allowed. They've shown the ability to create turnovers as well, with 10 in their first four contests (including four huge ones against Notre Dame). This is one of the best groups in the country and they really give Clemson a great chance to go a long way in 2015.
Special teams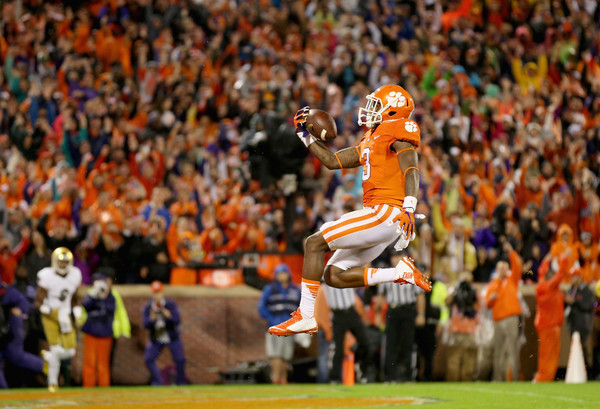 Special teams have looked pretty solid for the Tigers so far this season. Kicker Greg Huegel has missed a couple of field goals, but has connected on all of his extra points. His range has yet to be tested, only kicking a long field goal of 47 yards. The verdict is still out on who effective he will be in a clutch situation with the game on the line. The return game features the talents of receiver Artavis Scott, who is a threat every time he touches the ball. Scott has yet to break one yet, but it could be a matter of time before he does. Nothing to be ecstatic about for the Tigers' special teams unit, but nothing to complain about either.
Coaching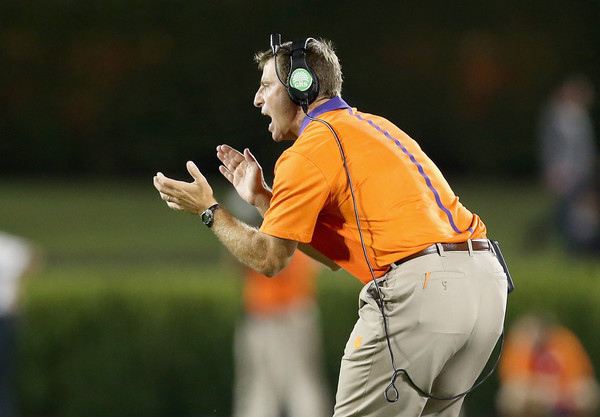 The Tigers are fortunate to have a really good coaching staff led by one of the best in the business in Dabo Swinney. In eight years as a head coach (all with Clemson), Swinney has managed a 65-26 record, good for a .714 winning percentage. He also has a winning record in bowl games at 4-3 and has led the Tigers to a bowl in each of his 7 previous seasons. In the past 4 seasons, Swinney has coached 4 10-plus win ball clubs, which is his most impressive feat thus far with the Tigers. He's looking to make it five in a row with 10 or more wins this season and with his skill as a coach and the roster he has built, 10 wins should be the minimum expectation.
The schedule
Surviving Notre Dame was a big step for Clemson in the right direction. However, hurdles still remain in their remaining eight games on their regular season schedule, mostly in the form of Florida State.
While Georgia Tech will be a challenge this upcoming Saturday, the rest of the schedule looks more than favorable for Clemson. Their toughest road game will probably be at Miami, but the verdict is still out on how good that team truly is. Their last game against in-state rival South Carolina will be tough as always, but the Gamecocks are in the midst of a down season and shouldn't be able to match up with Clemson.
That leaves the one big test against the Seminoles, which will occur on the first Saturday in November. The winner of this game is primed for the College Football Playoff and the loser will be stuck in a lower level bowl game. If there is any year that Clemson can beat Florida State, 2015 is the year. Yes, the Seminoles are undefeated as well and likely will be when this game rolls around, but the Tigers clearly have more talent and have looked stronger overall this season. It will never be easy going up against their conference rival and the Seminoles have more than earned major respect within the ACC, but in a tough battle, Clemson should be able to prevail.
When you look at everything, the Tigers have the build of a team ready to take that next step into championship contention. Their schedule coupled with their talent should allow them to go potentially unbeaten this season, which would nearly guarantee a playoff berth.
So, to answer the question posted at the beginning, yes, the Clemson Tigers are indeed for real.