College Football: Can Baylor Survive Without Its Starting QB?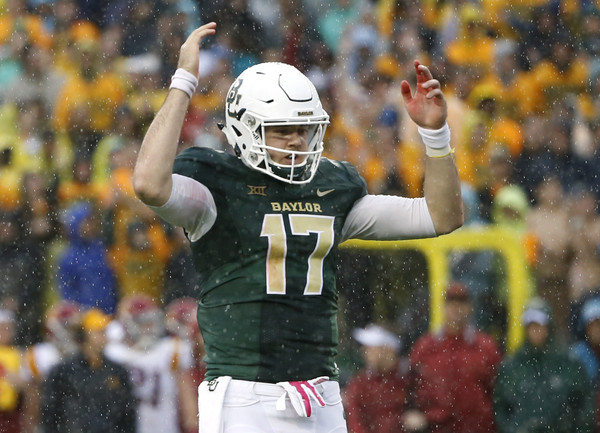 For the 7-0 Baylor Bears, everything has been going their way in 2015. A year after getting left out of the College Football Playoff despite a great season in 2014, Baylor has looked determined to show everyone that it deserves to be in the championship picture this year. Huge victories week in and week out (albeit against some less-than stellar competition) and an offense that puts about 60 points per game on the board has people thinking this team is legit. However, that high-octane offense of theirs was dealt a monumental blow during the team's off week.
Quarterback Seth Russell has been essential to the mind-blowing power of the Bears' offense. The junior replaced a pretty good signal caller in Bryce Petty, who was Baylor's starter for multiple seasons before heading to the NFL. You'd have thought the production at the position would have seen a slight decrease once Petty left. Instead, Russell has been maybe even better than his predecessor, putting up 29 touchdowns compared to just 6 interceptions while racking up over 2,000 yards in just 7 games. Sounds pretty nice for the Bears, doesn't it?
Unfortunately for Baylor, Russell sustained a season-ending neck injury, forcing him to miss the remainder of Baylor's championship run. This will obviously have some type of impact on that offense, be it on a comfort level or otherwise. Is this an injury that derails Baylor's aspirations though? Let's see just how much of a difference not having Russell will make in Waco, Texas.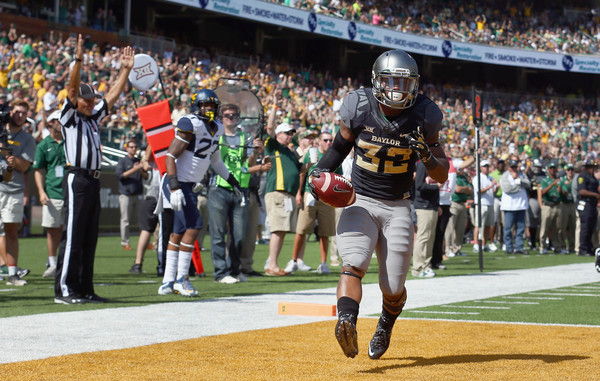 Without a doubt, Russell has been an integral part of the Bears' offense. His effectiveness stretched far beyond the passing game, as he rushed for 6 scores on the ground. This is all true. However though, this is a unit that is loaded with talent at other positions, which will ease the pain of their starting QB's absence.
First off, running back Shock Linwood provides a home run hitting threat in their backfield. He owns 974 yards (with an 8.1 yards per carry average) and 9 touchdowns on the year. A running back that can take pressure off his quarterback and make big plays is a critical part to the success of any team (just look at the Leonard Fournettes of the world). Linwood's importance increases 10-fold with Russell's injury, but he appears to be the type of player who can take on that role.
Then you have the receiving corp that has been so good for the Bears. Leading the group is Corey Coleman, who has 962 yards and 18 (not a typo) touchdowns on the year. Of course, even the most talented receivers are only effective if they have a solid QB to throw them the ball. That puts a boatload of pressure on Baylor's true freshman quarterback, who is suddenly being thrown into the fire without much warning.
Jarrett Stidham, while inexperienced, was a highly touted recruit when he choose to come play football at Baylor. Many people on Baylor's staff consider him the best QB on the roster, even over Russell. His talent is clear, but the task at hand for Stidham is a larger one than he has ever dealt with. He has to lead this offense, and team for that matter, through a brutal November stretch that will determine the Bears' fate. The talent is around him to help him succeed. Stidham just has to show that he can take advantage of that talent and prove that he was worth the hype.
We've seen inexperienced QBs do huge things for teams in contention before. Just last season, one Cardale Jones took over for the Ohio State Buckeyes after their starter was sidelined late in the year. All Jones did was play brilliantly and lead the Buckeyes to the championship. So to think Stidham can do the same for Baylor isn't a laughable thought. We'll just have to see if he's up to the task.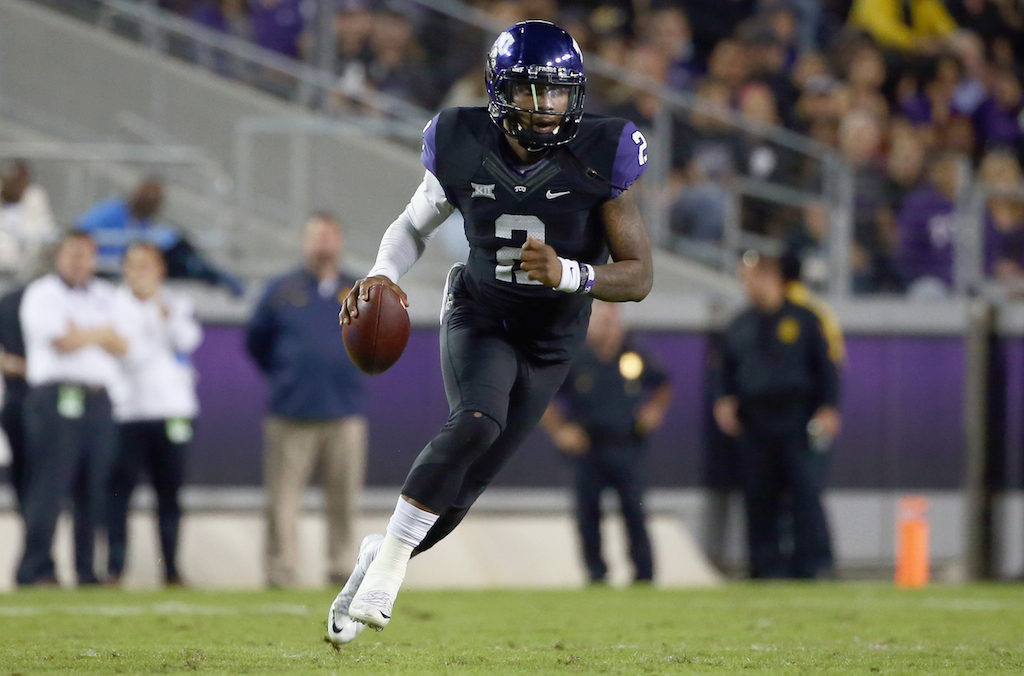 We mentioned that the Bears' remaining schedule will be brutal. That may be an understatement.
After playing 7 games against relatively easy opponents, Baylor (after playing Kansas State this upcoming weekend) will play three straight games against Big 12 rivals that are all currently ranked within the top 15. First, they'll get the Oklahoma Sooners at home. The Sooners have been playing some absolutely dominant football since losing to Texas a few weeks back, earning three straight wins of 36-plus points. Their quarterback Baker Mayfield is dynamic and their running back Samaje Perine is as good as they come in the backfield. This will be a big time game in the Big 12 and should produce a lot of points (as is the deal with most games in that conference).
The very next week, Baylor will face off against the undefeated Oklahoma State Cowboys on the road. They too have a quarterback who has been making a lot of big plays in Mason Rudolph. The thing that is likely most frightening about Oklahoma State is the fact that everyone seems to be doubting them in the Big 12. You hear about Baylor, TCU, and Oklahoma as contenders, but the Cowboys are almost left out of the discussion a lot of the time. That could put a chip on the Cowboys shoulder and make them a dangerous team down the stretch in the conference.
To end their difficult few weeks, the potential game of the year in the Big 12 will occur in the second to last weekend of the regular season, with Baylor traveling to play at TCU. These are two of the highest scoring teams in the country, so defense may be optional in this one. Last season, Baylor prevailed 61-58 after making a pretty hefty comeback. You know that has Heisman contender Trevone Boykin and the Horned Frogs are seeking revenge this season. This could be essentially a playoff game and the atmosphere will be electric.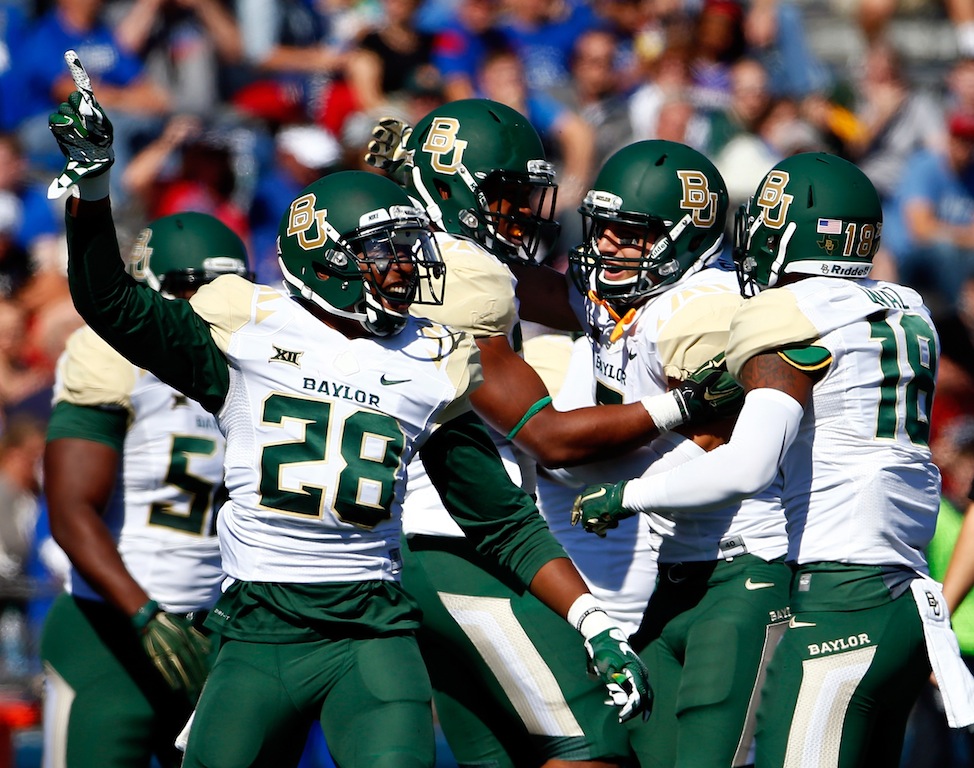 Not to take anything away from Seth Russell, the Bears' offense is (in all likelihood) more than good enough to survive the loss of the junior QB, especially with a replacement quarterback in Stidham that has the talent to decrease the drop-off in production. So to say that Baylor can't survive without Russell is absurd. What may be crazy is saying that they can survive their schedule and go undefeated.
In reality, the stretch run schedule for all of these Big 12 teams is so tough that it may leave the conference out of the College Football Playoff once again. Offensive shootouts always produce unpredictable outcomes, so Baylor (and everyone else) should get tripped up before the end of the year. This has nothing to do with the talent on that team or any injuries they have. It's simply a case of being a victim of the schedule maker's hands. It's unfortunate, but that's the way it is.