College Football: 1 Comment That Proves Tennessee Coach Jeremy Pruitt Is Delusional
Throughout its history, the University of Tennessee football program has had a pretty strong legacy, including being the alma mater of Peyton Manning, but that hasn't been the case for much of the last decade. The Volunteers have been 4-8 and 5-7 in their last two seasons, and they are off to a 1-5 start so far in 2019. Head coach Jeremy Pruitt is in his second season leading the team, but based on comments he made recently, he may not have a very realistic view of the current state of the Vols' football program as they look toward a third straight season without qualifying for a bowl game.

The Vols' 2018 season
In 2018, the Volunteers were 2-1 heading into SEC conference play. They opened SEC play with consecutive losses to Florida and Georgia before pulling off an upset at Auburn. Tennessee came into that game against the then-No. 21 Tigers 15.5-point underdogs, but they pulled off a 30-24 victory to even their record at 3-3.

Tennessee followed that up with a 58-21 loss to top-ranked Alabama, and the Volunteers got their final two wins of the season in back-to-back games against Charlotte and Kentucky in November en route to their 5-7 mark, which included going 2-6 in the conference.

A dismal start to 2019
The 2019 season got off to an even rockier start for Jeremy Pruitt and his Vols. Through their first five games, their only win came against FCS school Chattanooga. The Volunteers opened the season with losses against Georgia State and Brigham Young before picking up the win against the Mocs.

Their next contest was a 34-3 drubbing at the hands of then-No. 9 Florida, and their losses continued the following week when the Volunteers lost to No. 3 Georgia at home. Other schools Tennessee still has to face this season include top-ranked Alabama, Kentucky, Missouri, and Vanderbilt.

Jeremy Pruitt's confounding comments
As we just discussed, the 2019 season might be even worse than the forgettable 2018 campaign, but Jeremy Pruitt doesn't think so.

After the Volunteers began the season 1-3 — for the first time since 2008 — Pruitt announced that he thinks the squad is better than it was through the first four weeks of 2018. In a press conference, Pruitt said the team "is a hundred times better than it was this time last year." He continued, saying that the players are "stronger … more physical," but that the team's weakness is holding onto the ball and creating turnovers.

He's right about that last part because in their first three games against FBS opponents — sorry, Chattanooga — the Vols turned the ball over eight times, while forcing just four, and three came in the loss against Florida, despite scoring just three points in the game.

Jeremy Pruitt might see some qualities in his players that led to his 100 times better comment, but the coach comes off as delusional to the world at large.
The road ahead isn't getting easier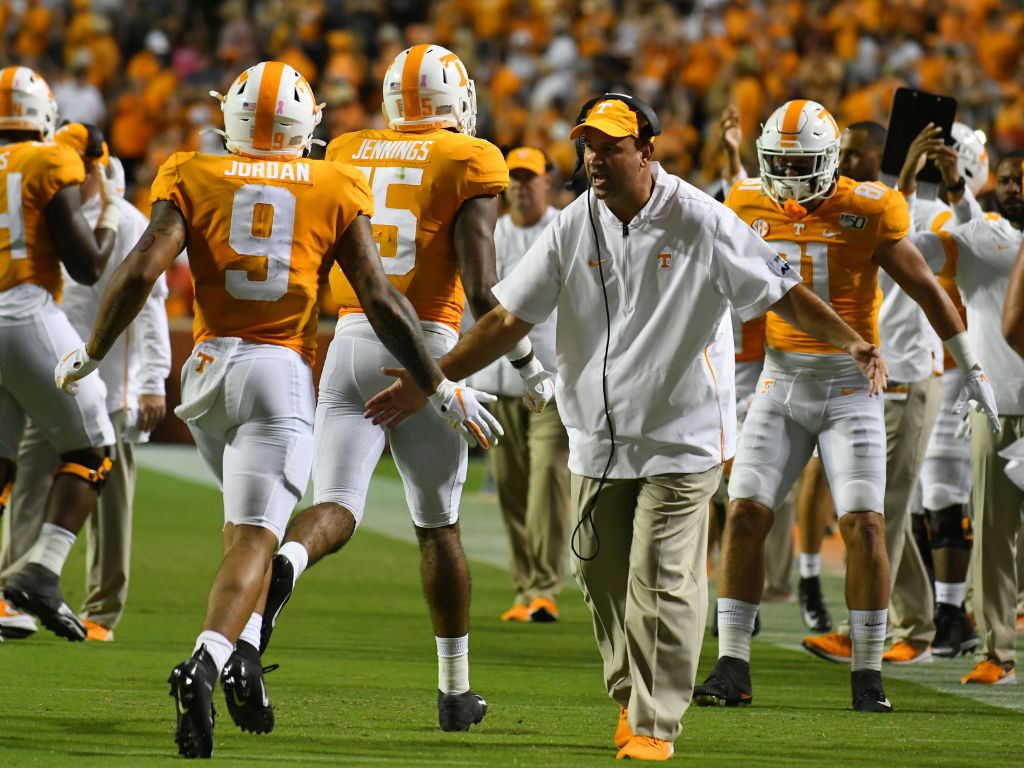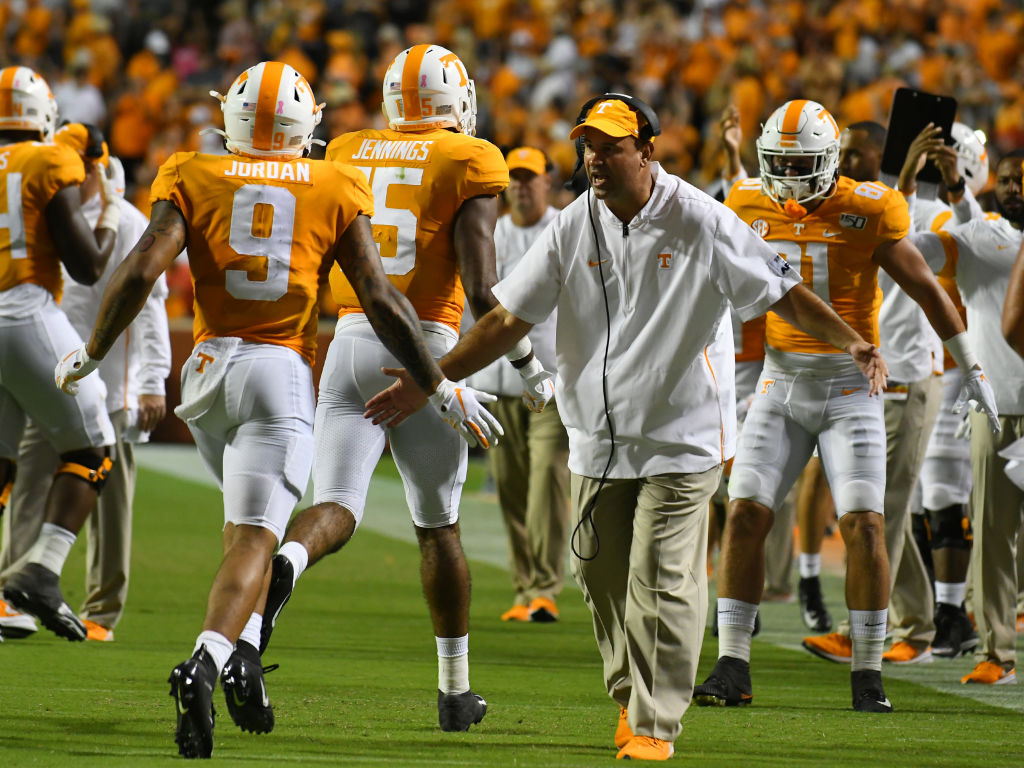 Things aren't going to get easier for the Volunteers anytime soon. Coming out of the Georgia game, the Vols host Mississippi State before traveling to Tuscaloosa to take on the Crimson Tide, who put up 58 on Tennessee in their meeting last year.

There's a distinct possibility that the Volunteers will be 1-6 after the title with Alabama. If that's the case, they would have to win their final five games to get to six wins to qualify for a bowl game. That won't be easy with two of their final three games being on the road against conference foes Kentucky and Missouri.

Is Jeremy Pruitt on the hot seat?
Even though he's in just his second season as head coach, could Jeremy Pruitt be on the hot seat if the Vols end up with only four or five wins for a third straight season? It's a possibility, especially if the school feels that Pruitt isn't recruiting well enough to be able to keep up in the competitive SEC. It's a bad sign when this season is trending worse than last year when the team was 5-7, and it can't even beat a team like Georgia State at home.