College Football: Frank Beamer's Coaching Legacy
Once in a while, an iconic figure makes his or her way through the world of sports. Whether it's a player like Jim Brown or Johnny Unitas or a coach like Vince Lombardi or Bill Parcells, these figures define an era and etch their names in the history books. In college football, one of those figures coached his final game this past Saturday, ending one of the more remarkable careers in the game's history. That figure is Virginia Tech head coach Frank Beamer.
For 29 seasons, Beamer paced the Hokies' sidelines and turned a program that wasn't known for its success on the gridiron into one of the most consistent football programs in the entire nation. To wrap up his brilliant career, Virginia Tech secured yet another bowl victory under Beamer's watch. With his retirement, it's time to place the long-tenured coach among the best coaches in the history of college football by analyzing his key stats and accolades for which he will be remembered.
Beamer's overall success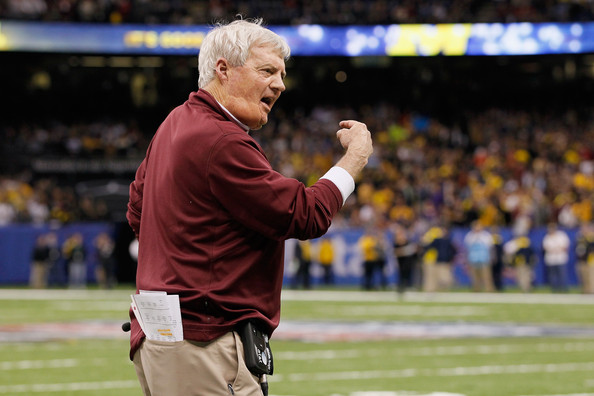 Beamer coached 29 seasons at Virginia Tech, which serves as the third longest tenure for a head coach at a single school in the history of the game (behind Bobby Bowden and Joe Paterno). That longevity speaks to his consistency and excellence in recruiting, along with his impressive development of the Virginia Tech program. In those 29 seasons, Beamer compiled a career record of 238-121-2 for a winning percentage over 66%. That win total ranks ninth all time.
Beamer also led the Hokies to 13 seasons with double-digit victories and had Virginia Tech above .500 in all but four of his 29 campaigns at the school. The fact that he ranks so highly in wins among football coaches — along with his ability to have the Hokies win so many games for so many of his seasons at the school — makes Beamer one of the best to ever walk the sidelines.
What's more impressive about Beamer's career is what he did for Virginia Tech football. Prior to the spectacular coach's arrival in 1987, the Hokies hadn't accomplished much of anything in their 85-season existence. The program had only qualified for six bowl games (winning just one) and wasn't seen as a threat at the top level of the game. Beamer brought consistency and high levels of success to Virginia Tech, creating a culture of winning and believing.
You also have to look at the players who came out of Beamer's program at Virginia Tech. Michael Vick is one of the most notable, as he was likely the most highly touted players to ever play for Beamer. Other notable players include corner-backs Brandon Flowers of the San Diego Chargers, DeAngelo Hall of the Washington Redskins, and Kyle Fuller of the Chicago Bears, as well as wide receiver Eddie Royal, also of the Chicago Bears. That impressive group of players (among many others) is a direct reflection of the success Beamer had in developing talent.
Postseason success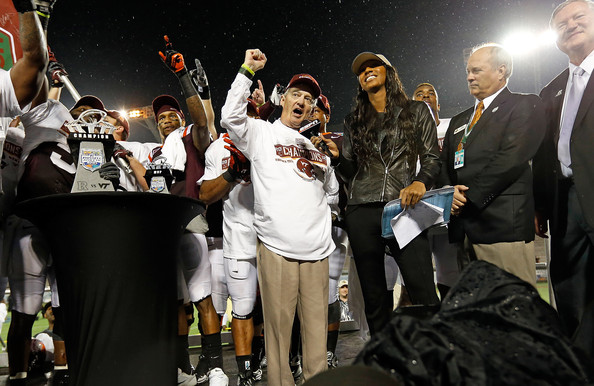 A great coach knows how to win in the postseason, and Beamer was able to do just that at Virginia Tech. First off, Beamer took the Hokies to an impressive 23 bowl games, which ties for the fifth longest streak in FBS history, and captured four ACC Championships (along with two Big East titles). Prior to that first game back in 1993, the school hadn't been to a bowl game in any of Beamer's six seasons.
It wasn't as if Beamer just got Virginia Tech to those bowl games either. While under .500, Beamer's career record of 11-12 in bowl games is more than noteworthy. His 11 bowl wins place him seventh of all time. Beamer also found success in the major bowls. In the '95 season, Virginia Tech won the Sugar Bowl over Texas. In 2008, Beamer's team found an Orange Bowl victory over Kansas.
Overall, Beamer coached in eight of those big bowl games, losing the majority of them but putting the Hokies on the map at a national level nonetheless. The Hokies finished in the top 10 teams in the country seven times during Beamer's tenure, finishing as high as No. 2 back in 1999, which further indicates the program's rise under the great coach. While Beamer never got Virginia Tech a national championship, his importance to the school spans far beyond any numerical statistic.
Career accolades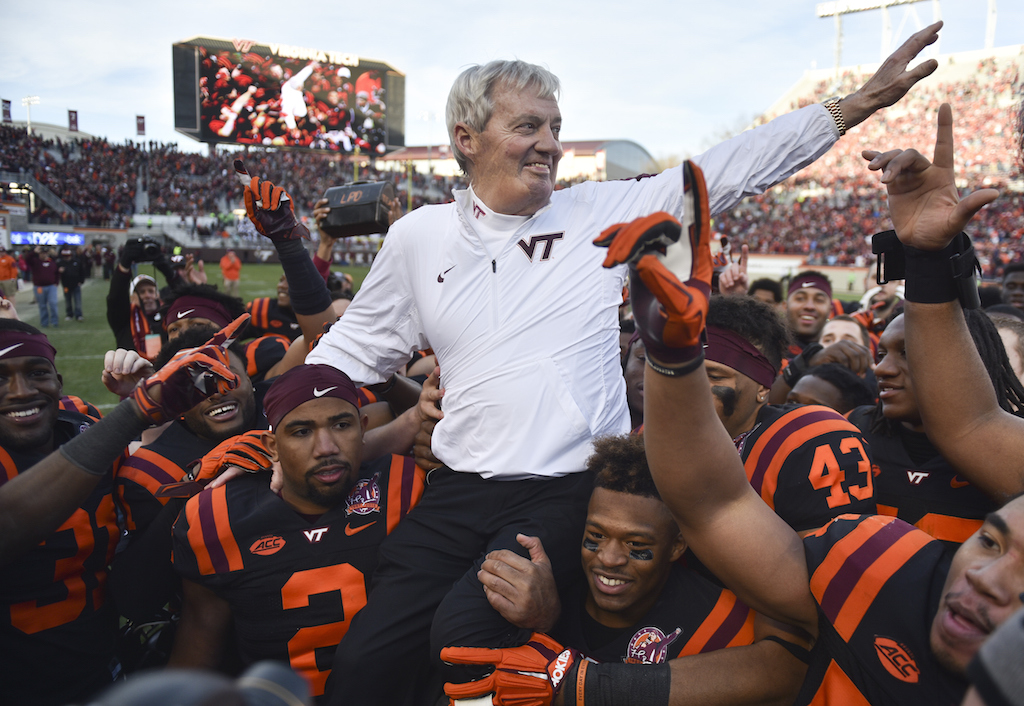 Beamer's career success didn't go unnoticed. He captured three Big East Coach of the Year awards and, after changing conferences, won two ACC Coach of the Year awards. Beamer also received the Walter Camp Coach of the Year award back in 1999 for his 11-1 season (when the Hokies finished No. 2 in the polls and played for a national title).
Another important accolade is Beamer's coaching of five consensus All-Americans during his time as a head coach, which is an indicator of the success he had in developing players in his program. While Frank Beamer didn't have as much success on the big stage as some of the top coaches in the history of college football, the work he did to build Virginia Tech into one of the premier football programs in the nation makes him a top coach.
His influence on the game of football spans well beyond Virginia Tech, and as a man who did things the right way and had an innovative way of winning ("Beamer Ball," they called it), the sport surely lost one the best minds that it has ever seen with his retirement. Whoever takes his place on the Hokies' sideline will have some gigantic shoes to fill.
Statistics courtesy of SR/College Football, unless noted otherwise.