College Football: LSU and the 6 Other Schools With the Best Locker Rooms
Locker rooms can take on many forms when it comes to college sports. At some schools with a lower emphasis on sports, the locker rooms can be little more than a place where a team changes before and after games, but for big college football schools, they can be a luxury experience worth millions of dollars.
LSU recently made headlines when it unveiled a staggering $28M renovation of its locker room that included many notable features and upgrades.

LSU's locker room
Twenty-eight million dollars may seem like an insane amount of money for a locker room. In fact, there was plenty of pushback on social media about the number, from professors on campus pointing out the needs in other facilities to former players bringing up the way that schools resist the idea of paying their players.

Remove the controversy surrounding the locker room, and it is an impressive looking space. Each stall can fold out into a nap pod where players can relax before and after every game. On top of that, there is a performance nutrition center for the athletes to consume the proper food and drinks after the game while they recover.

It is a decadent thing to behold, but it is far from the first luxury locker room in college football. LRT Sports recently compiled a list of some of the most luxurious locker rooms in college football.

University of Arkansas
The Razorbacks locker room is decked out with 113 stalls and giant, illuminated letters spelling ARKANSAS to add to the ambiance. It also connects to a luxurious players' lounge, where the team can play pool and games after the games, and a treatment center that fulfills the players' fitness and nutritional needs.

Ohio State University
With a steel ambiance, the OSU locker room immediately stands out against your average space. With a large television viewing area where players can watch on-field action during the game and other game action during off times. There's a section dedicated to former Buckeyes in the NFL, a connected athletic center, a barbershop, and a lounge for players during their off-time.

University of Oregon
It should come as no surprise that the football team most directly associated with the founder of Nike, Phil Knight, would have state of the art locker rooms. The ambiance is close to a fancy hotel, with keypad activated lockers, a lounge area, and a marble bathroom. On top of this, there's a juice bar, flat-screen televisions with video games, and a treatment and massage room, just to name a few features.

University of Texas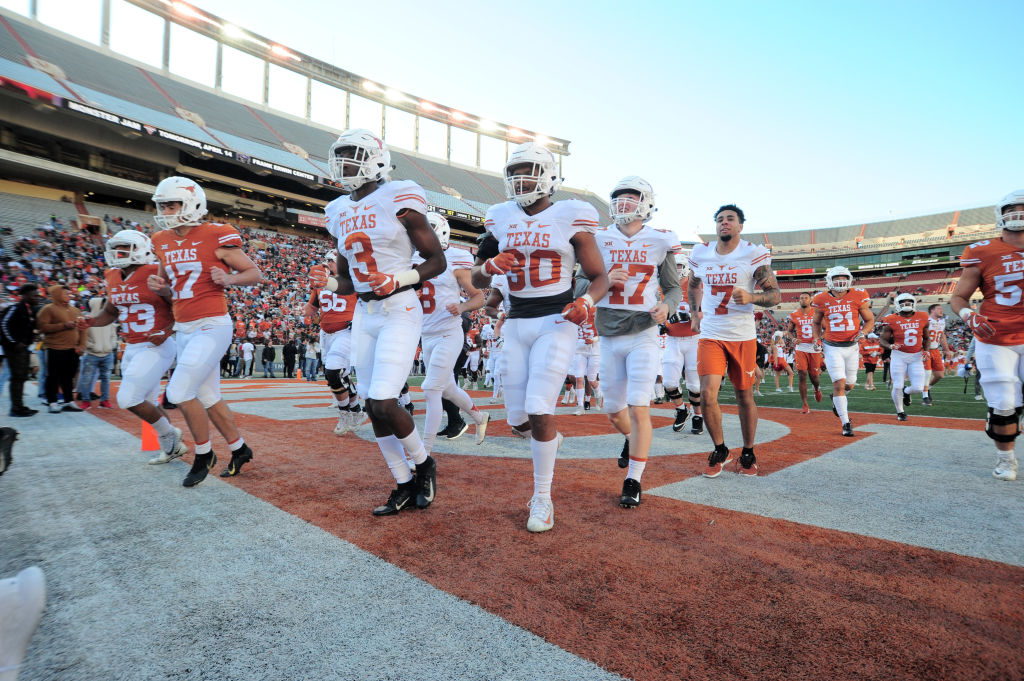 Never afraid to spend money, the Texas Longhorns' $7 million locker room spared no expense. From a wall of fame to a video board to luxury showers, the dressing room stands out almost immediately. The lockers all stand out with Longhorn logos and storage, USB ports, and monitors for videos. It may not have as many external features as the other schools, but its tech-savvy design makes it one of the top-tier locker rooms in college football.

Texas A&M
With a futuristic look, Texas A&M's locker room immediately catches the eye. The features also add to this perception, as LED lights and an endless line of screens above each locker make visitors feel like they stumbled upon the set of Star Trek. A barbershop, marble floors in the bathroom, a fitting room, a lounge, and hydrotherapy rooms complete the luxurious look.

Clemson
The Clemson locker room has a lounge area in the middle and everything else circles around it. It connects to the school's new $55 million football facility, pools, an outdoor basketball court, a mini-golf course, and a nap room. It is a lap of luxury for players and coaches, and it shows why Clemson is such a popular destination for top-tier talent.