College Football: Nick Saban, Alabama Still Can't Give Clemson the Credit it Deserves
In the world of college football, sportsmanship is typically viewed with high regard, with coaches constantly speaking of the importance of acting as professionals, even with their amateur status. However, one of the most legendary programs in football seems to have missed the memo on sportsmanship. At SEC media day, Alabama head coach Nick Saban and his team failed to give credit to Clemson for handily defeating them in the College Football Playoff National Championship game last year.

Credit where credit is due
Nick Saban has a very specific brand when it comes to talking about other teams, and that brand is to only talk about those teams in the service of his own. The Crimson Tide have had plenty of good to say about Clemson, but it is typically in the service of propping up their own team and making the conversation about them.

Rather than giving credit to Clemson and moving forward at media day, Saban and the gang spoke as a team who thought they lost due to some sort of fluke, not a team who was bested by 28 points in the National Championship game. Linebacker Dylan Moses seemed to imply that the only reason that the Alabama Crimson Tide lost the game was that they did not prepare, not because Clemson actually did anything to earn it themselves.
Nick Saban's history
That narrow mindset is a staple of all Nick Saban teams. Whether throwing old coaches under the bus, making excuses about his team's preparation, or finding another excuse regarding why his team lost, Saban has a hard time simply giving another team credit without a qualifier. The word complacency gets thrown around with regards to Saban's team, but its meaning can have more than one definition.

Following losses in 2013 and 2014, Saban famously made it about his own team's mindset, stating it did not want it enough. On the one hand, it is a solid tactic to motivate a team to strive for greatness. On the other hand, however, a team who is utterly unable to give the other side credit could be seen as sore losers, and their continued insistence that everything runs through them without wanting to give credit shows a lack of competitive spirit.

Excuses, excuses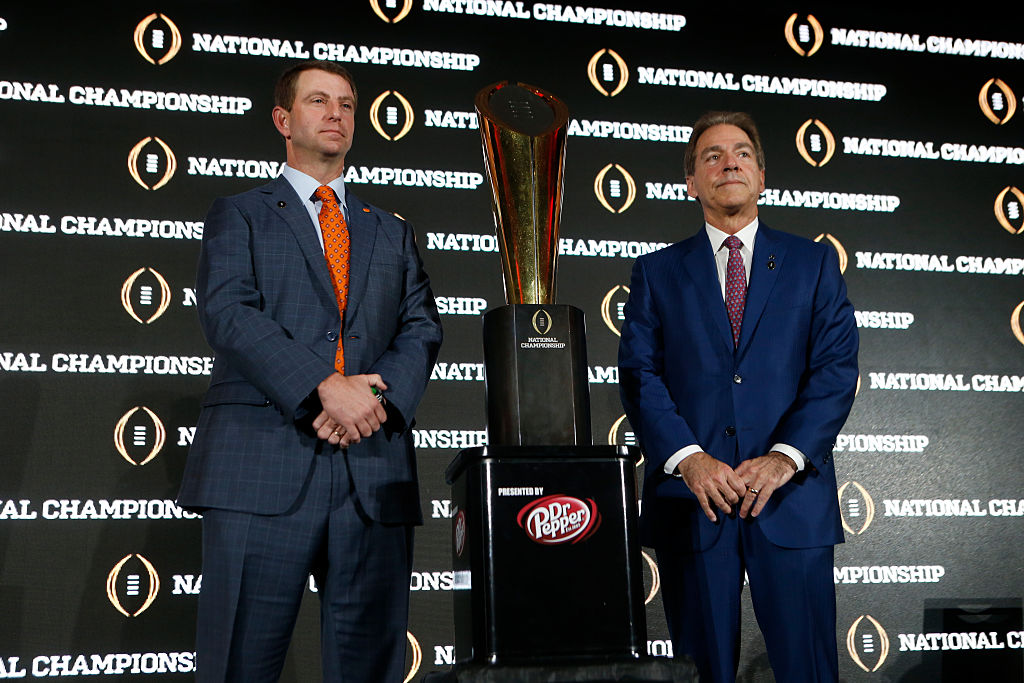 A coach's job is to rile up his team and lead them on to victory. Saban has done it time and again, but sometimes the measure of a leader shows more in times of defeat. A willingness to look inside your team and separate the good from the bad in an objective matter is a valuable tool to have for a coach, be it at the college or professional level. However, acknowledging the victor's strengths and weaknesses is also important.
Alabama would never accept another team claiming that they won a game because of the other team's faults, so why is it okay for Alabama to do so? Teams who are the better team have a knack for showing it on the field. A team that consistently tells people it was better will make people wonder whether that is the case, or if the team is simply unable to concede defeat.

Saban's legacy

Nick Saban has five championships in seven tries. He has made it to four-straight championship games, and he won two of those. His resume speaks for itself, and his Alabama football program is one of the most dominant ever constructed. With a resume like his, it is hard to understand why Saban is so quick to make excuses and give credit when things don't go his way. Everyone knows that he is one of the greats, but he speaks as though he doesn't know that himself.