College Football: 7 Players on the Shortlist to win the 2019 Heisman Trophy
With college football season right around the corner, speculation has begun over who has the best team. If the last few seasons are any indication, the entire season is just a prelude to another Alabama vs. Clemson final. Luckily, the race for the Heisman Trophy seems much more wide open. Let's take a closer look at the seven players with the best odds to win the Heisman in December 2019 (All odds are from the Westgate Sportsbook courtesy of VegasInsider.com).
Sam Ehlinger, Texas: 20/1
Baker Mayfield may not care for Sam Ehlinger, but Vegas oddsmakers do. Ehlinger has 20-1 odds to win the Heisman. Ehlinger threw for 25 touchdowns and 3,292 yards in 14 games in 2018. With Texas again looking to contend nationally, the Longhorn faithful hope Ehlinger can put it all together to move to the next level of upper-echelon QB talent.

Jonathan Taylor, Wisconsin: 18/1
Heisman Trophy winners are overwhelmingly quarterbacks, just like this list. One running back made it, however: Jonathan Taylor. He rushed for 2,194 yards last year with 16 rushing touchdowns in only 13 games. During his freshman year, he rushed for nearly 2,000 yards, finishing with 1,977. If a running back from a Power Five conference can go back to back seasons essentially running for 2,000 yards, he has to be considered a Heisman Trophy candidate.

Adrian Martinez, Nebraska: 10/1
In Scott Frost's first year at the helm after coming over from Central Florida, the Cornhuskers failed to impress with a 4-8 record. QB Adrian Martinez showed flashes of greatness, but he threw only 17 touchdowns on the season. In year two with Frost in charge, look for the Huskers and Martinez to improve by leaps and bounds.

Justin Fields, Ohio State: 10/1
Another entry on the list, another transfer. Last season Justin Fields was under center for the Georgia Bulldogs, where he didn't get a chance to play much. He scored four rushing touchdowns last season, though. Fields replaces NFL rookie Dwayne Haskins, so he'll have big shoes to fill.

Jalen Hurts, Oklahoma: 10/1
If Alabama's college football dominance isn't apparent by now, the fact that two quarterbacks who were on their roster last season made this list should make it clear. After being benched in favor of Tua Tagovailoa last season, Jalen Hurts transferred to Oklahoma, where he'll replace Kyler Murray. Hurts doubters should remember he led Alabama to a national title victory in the 2017 season (even if Tagovailoa finished the final game). Hurts passed for 2,081 yards, 17 touchdowns, and just one interception that season.

Trevor Lawrence, Clemson: 11/4
Among the elite group of frontrunners to win the 2019 Heisman Trophy, Trevor Lawrence is part of the upper echelon. Lawrence had nothing short of a dream season. His numbers weren't quite on par with Tagovailoa's — he threw for "only" 30 touchdowns and 3,282 yards — but keep in mind this was a freshman QB starting for one of the best programs in the country. In 15 games, Lawrence threw only four interceptions. Youth is on the Clemson QB's side here: with another year of experience under his belt, he's only likely to get better as a sophomore.

Tua Tagovailoa, Alabama: 11/4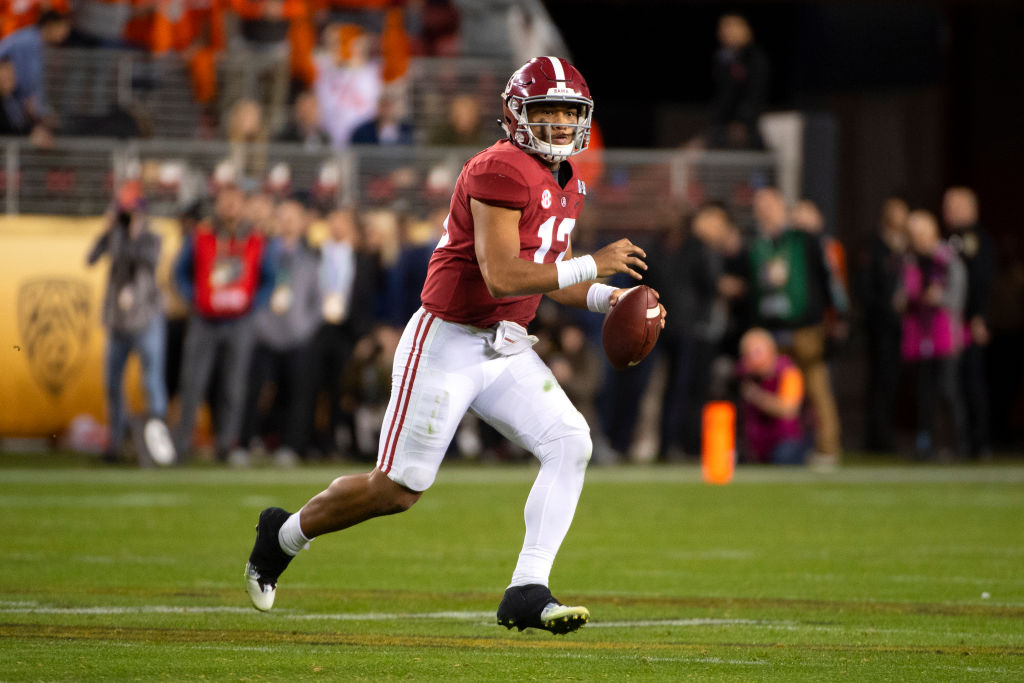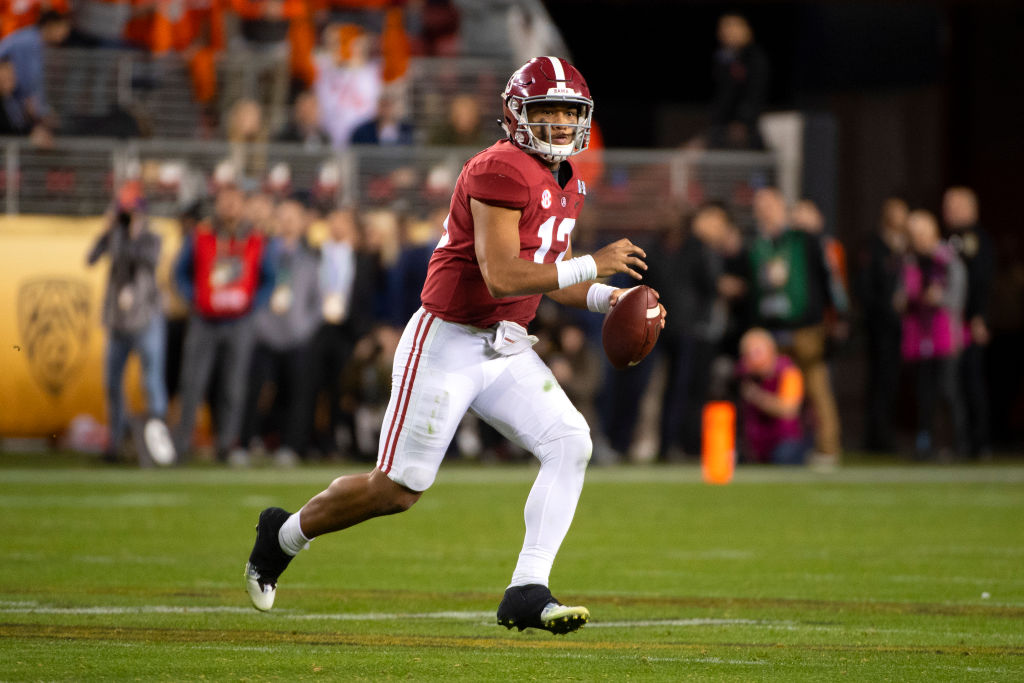 While his Alabama Crimson Tide came up well short in the National Championship game in 2019, Tagovailoa put up some remarkable statistics before that. Here's a glimpse into Tagovailoa's high-level of production in 2018:
43 touchdowns to only six interceptions
3,966 passing yards in 15 games
69% completion percentage
A jaw-dropping QB rating of 199.4.
As always, Tagovailoa's Crimson Tide are loaded once again. He'll have as good a chance as anyone to take home the Heisman Trophy.

The only person who may have a stronger claim at this point is the QB of the only team to actually beat Tagovailoa last year: Trevor Lawrence.