College Football Playoff: Former Cincinnati Stars Reveal Why the Bearcats Can Shock the World
The Cincinnati Bearcats may have made NCAA history this year by becoming the first non-Power Five team to make the College Football Playoff, but not many people outside of Cincy expect them to win.
That's because UC is facing the Alabama Crimson Tide in the CFP semifinals, and, in case you have lived under a rock for the past decade-plus, Bama has become the most dominant program in college football history. The Tide have reached the CFP in seven of eight seasons and have won six national championships since 2009.
What casual fans don't know, though, is that this Cincinnati squad is extremely talented. It has future NFL stars all over the field and has proven it can play with anyone (just ask Notre Dame).
So, ahead of the Bearcats' matchup with the Tide, we talked to a few people who know the team best and asked them why Cincinnati can shock the world in the Cotton Bowl.
These are the opinions of some former UC stars.
J.K. Schaffer, Cincinnati linebacker 2008-2011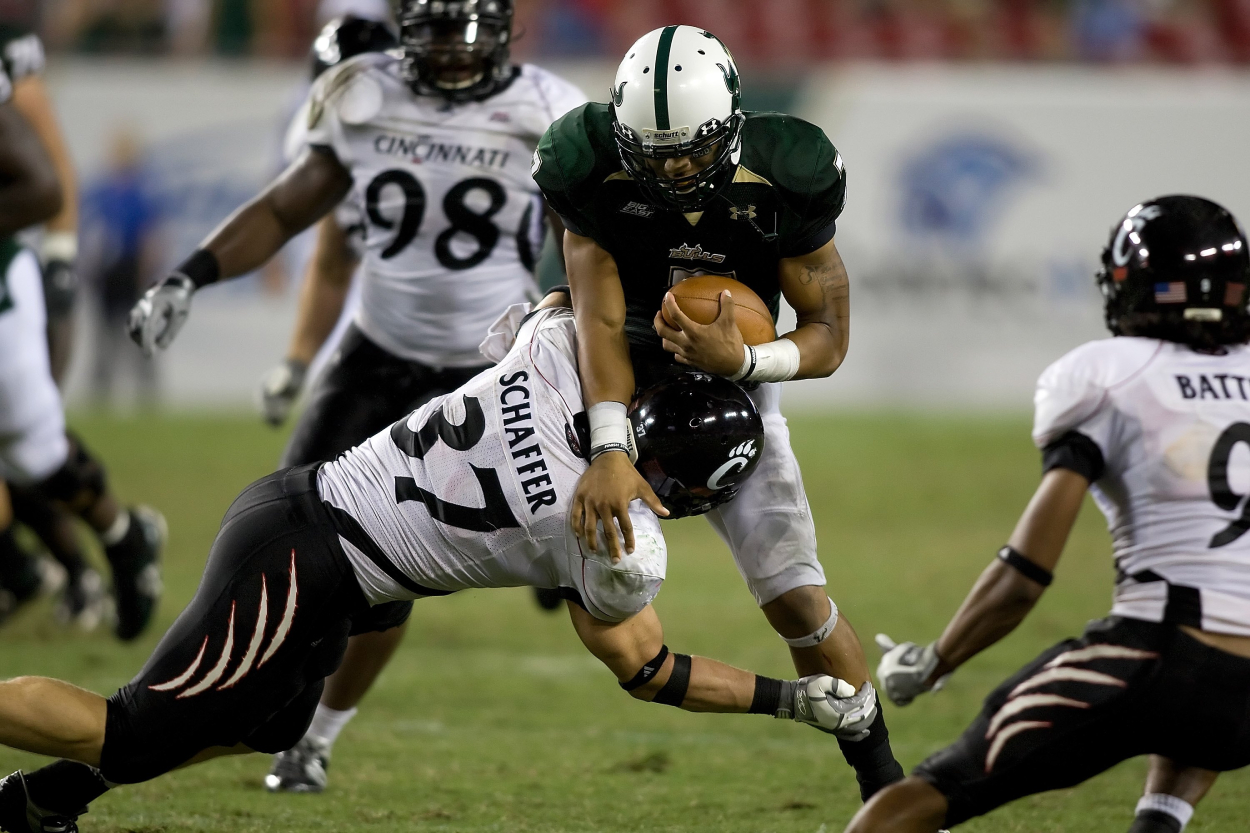 Former UC linebacker J.K. Schaffer was a big part of one of the best teams in school history: the 2009 squad. Under Brian Kelly, Cincinnati went 12-0 in the regular season that year and just missed out on playing in the national championship game. The Bearcats, instead, went up against Tim Tebow and the Florida Gators in the Sugar Bowl.
Schaffer ended up recording 100-plus tackles in three consecutive seasons for UC before later spending some time on the Cincinnati Bengals.
Ahead of the Bama-Cincy matchup, it doesn't seem that he's too afraid of the mighty Crimson Tide.
"The Cats have been putting together a two-year resume with veteran leaders on both sides of the ball, and a great head coach who actually played the game (at least in the last 50 years) and is truly in the trenches with his players and coaches," he said to Sportscasting. "Everyone says 'oh Alabama' like they are some kind of unstoppable juggernaut, but this is a team who could be 7-5 right now with the difference of a few plays this season. Cats have earned their way to this position inch-by-inch and are going to be poised and focused to dominate the ground game from both sides of the ball, let their skill players make plays, and win another ball game."
Zach Edwards, Bearcats safety 2013-2016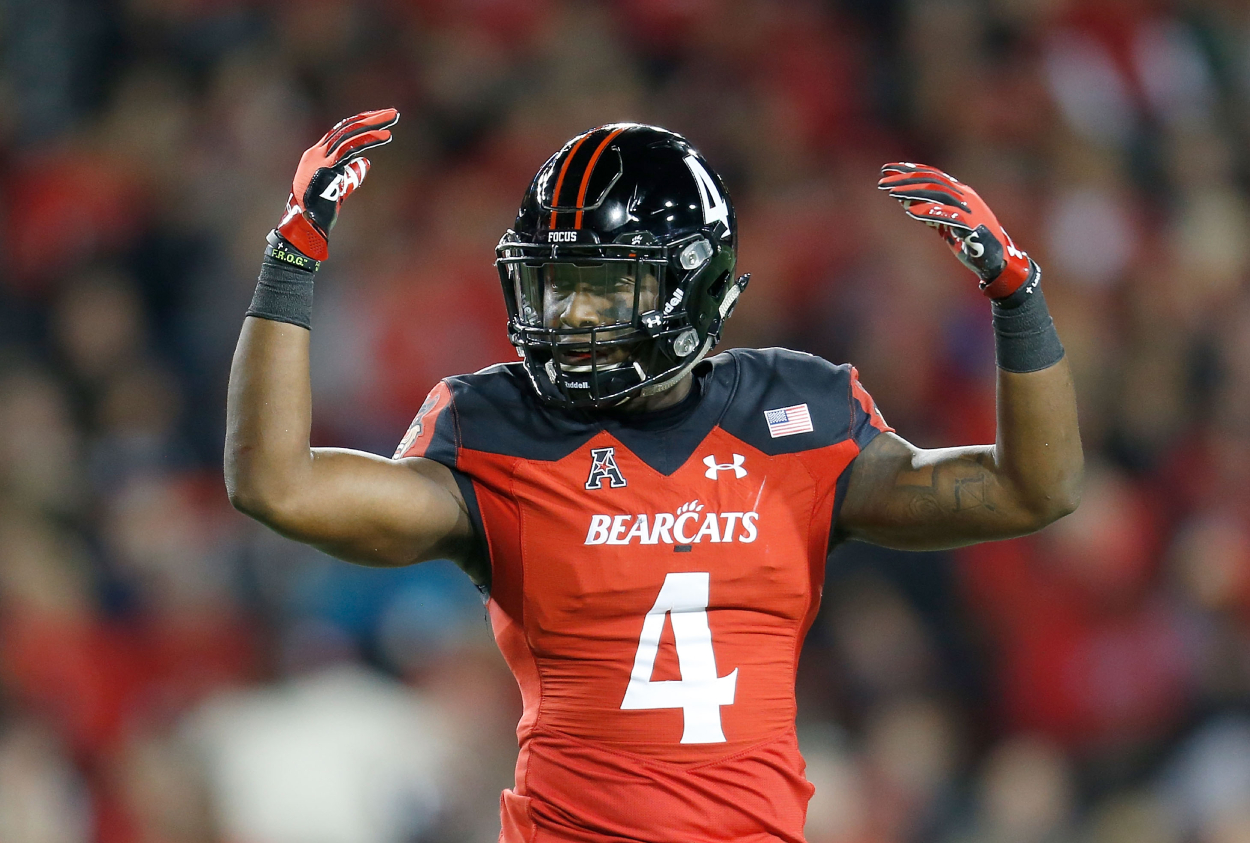 Zach Edwards was one of Cincinnati's top defensive players in his four years on campus, recording over 70 total tackles at safety in each of those seasons and racking up as many as 121 in 2014.
As expected, Edwards is looking at UC's superstar defensive backs Ahmad "Sauce" Gardner and Coby Bryant.
"I think they can win because across the board they have the best DB core UC has seen in a while," Edwards said. "I just think they are playing as one and clicking on all cylinders; hard to lose when you're doing that."
Mekale McKay, UC wide receiver 2013-2015
Mekale McKay played wide receiver at Cincinnati for three seasons after spending 2012 at Arkansas. He recorded over 1,500 receiving yards at the school and gained as many as 725 in 2014.
He thinks the opportunity will be a massive "measuring stick" for the Bearcats, who are hoping to prove they can play with the big dogs.
"Having experience in coaching, as well as players on the field, [is] huge for UC in this playoff game," he said. "I believe that this team plays well in high-stake situations and can control the game just as much as Alabama can on defense. … I think the game will depend on big plays. My favorite type of ball game. I'm taking the Bearcats."
Carter Jacobs, Cincinnati safety 2014-2017
Carter Jacobs played safety for the Bearcats from 2014 through 2017 and had a big senior season, recording 80 total tackles, one interception, and five defended passes.
Like most UC fans, Jacobs is confident in his school's defense.
"I think defensively we can stop some of the elite offenses in the country," he said. "Our offense is equipped with top-tier weapons that can compete with the best of Alabama's secondary. The game will be won on the offensive and defensive lines, in my opinion. We have shown throughout the year our respective fronts can dominate physically up front."
Nick Temple, Bearcats linebacker 2011-2014
Nick Temple was a force for Cincinnati's defense for four years, recording over 280 career tackles and as many as 113 in 2014.
He said that anyone who has watched Cincy this year knows the team is filled with special men.
"It's a lot on the line for this team, and everyone knows it was a process to get where we are now," he said. "When you think of UC, you see a bunch of blue-collar, hard-working players that have a lot of support from the university and the city of Cincinnati. UC has always been a top prestigious university, and it is disappointing that it took this long for the world to recognize it."
Hayden Moore, UC quarterback 2014-2018
Hayden Moore played quarterback at Cincinnati from 2014 through 2018 and started at the position in 2016 and 2017. In 2015, he broke the school record for passing yards in a game with 557 against Memphis.
This upcoming CFP matchup means a lot to Moore, as he grew up a Crimson Tide fan in Alabama, but he's, of course, still rooting for his Cats.
"My score prediction is 21-17, Cincy. I think that Cincinnati has the two best [cornerbacks] in all of college football, and that's going to give Bama trouble," Moore said. "If we can play man-to-man and match up with their receivers, that's going to give us an extra man in the box to help stop the run. Then, we just need a couple big plays from [Alec] Pierce and [Jerome] Ford, and we got this in the bag."
Johnny Holton, Cincinnati wide receiver 2014-2015
Johnny Holton had great success at receiver for the Bearcats in 2014 and 2015 before playing for the Oakland Raiders, Pittsburgh Steelers, and New York Giants in the NFL. He knows both UC and Bama well, too, as his brother, Josh Jobe, plays defensive back for the Crimson Tide.
"All I can say is coach Luke Fickell is doing a great job with the UC program," Holton said. "Great Talent on both sides of the ball. I've been rooting for Cincinnati and Alabama all year. Been to a couple of Bama games this year. … I've been telling him (his brother) all year [that Cincy wants] Bama. We finally got Bama. And the Bearcats about to show the world why we belong."
Stats courtesy of Cincinnati Athletics and Sports Reference