College Football Playoff: Orange Bowl Preview and Prediction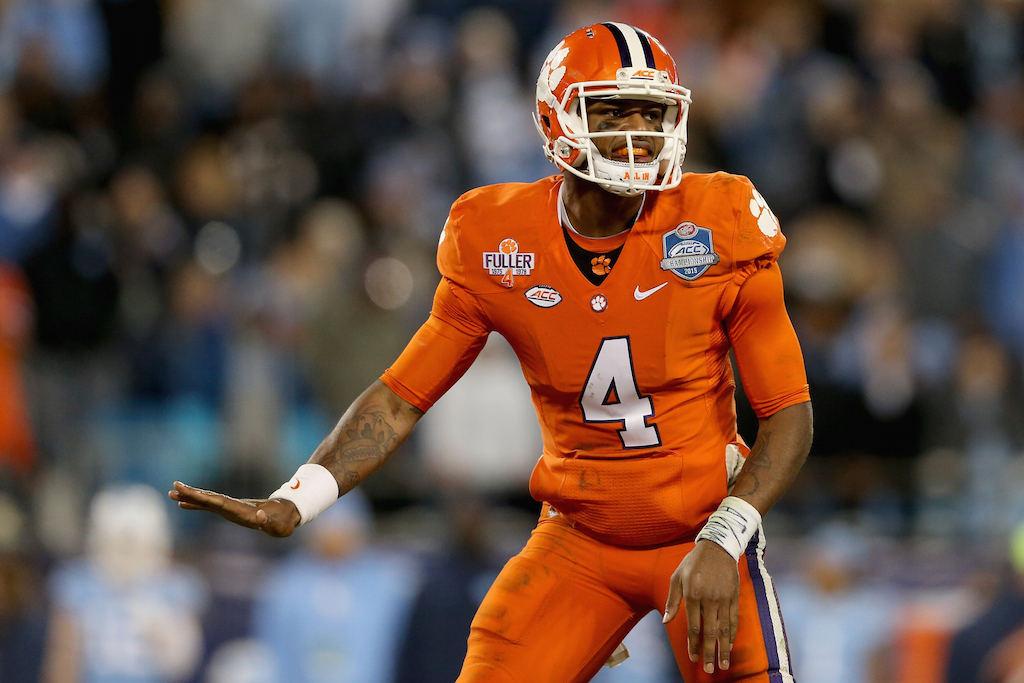 For the second consecutive year, the Clemson Tigers (13-0) and Oklahoma Sooners (11-1) are meeting in a bowl game. Only this year, the stakes are much, much higher. Last year, the two teams met in the Russell Athletic Bowl in a game that ended up being a 40-6 blowout win in Clemson's favor. This year, the two teams will meet in the Orange Bowl with a trip to the College Football Playoff (CFP) National Championship Game on the line.
Clemson will enter this matchup as the champions of the Atlantic Coast Conference and the only unbeaten team remaining in the Football Bowl Subdivision. Their head coach, Dabo Swinney, has one of the biggest personalities in all of college football and was recently named the winner of the 2015 Associated Press College Football Coach of the Year award. Swinney's team will be led by quarterback Deshaun Watson (pictured above), who was a consensus All-American and a Heisman Trophy finalist this year, and defensive end Shaq Lawson, who was also a consensus All-American and the ACC Defensive Player of the Year in 2015.
The Tigers will, however, be without speedy wide receiver Deon Cain, kicker Ammon Lakip, and tight end Jay McCullough, who were all sent home two days ago for violating team rules. Both Lakip and McCullough were minimal contributors, but losing Cain is a major blow for the Clemson offense. While we firmly believe that his absence will be felt, Swinney doesn't seem to be all that concerned that they'll be without their top deep threat in their biggest game of the season — as he explained this past Wednesday:
You don't do the right things, there's consequences. It's really that simple. It's not a complicated matter at all. We've got 115 guys and 112 did what's right and three of them didn't. They forfeit the opportunity and privilege to be a part of the game. I really hate it for them. They're the ones that have to deal with the consequences because they're missing out on a great opportunity. It doesn't affect our team, we had a great practice yesterday.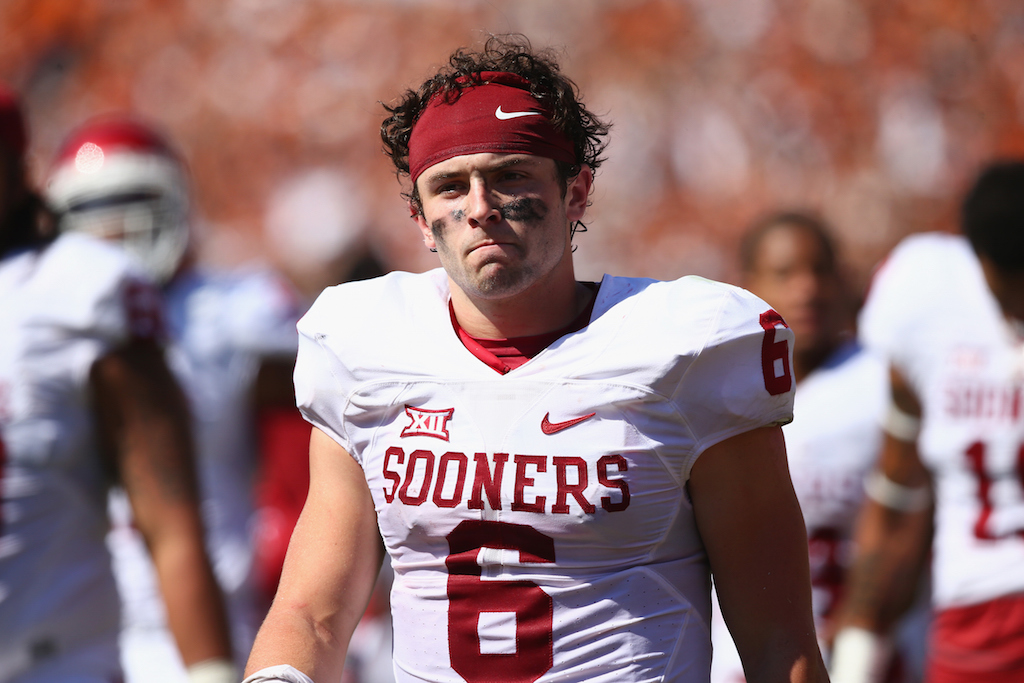 Meanwhile, Oklahoma will appear in the 19th Orange Bowl in program history, and according to Swinney, the Sooners are "probably playing the best football of anybody in the country right now." Like Clemson, Oklahoma will be led by a dynamic quarterback in junior Baker Mayfield (pictured above), who finished fourth (one spot behind Watson) in the 2015 Heisman Trophy voting.
Mayfield has an excellent supporting cast on the offensive side of the ball, led by explosive wide receiver Sterling Shepard (79 receptions, 1,201 yards, 11 touchdowns) and bull-dozing running back Samaje Perine (1,291 yards, 15 touchdowns). Defensively, the Sooners are one of the best teams in the country when it comes to forcing turnovers. They are led by cornerback Zack Sanchez, defensive end Charles Tapper, and linebackers Eric Striker and Dominique Alexander.
The Sooners will be a bit shorthanded defensively, though, as it was recently announced that defensive tackle Charles Walker will miss this game as he continues to recover from a concussion. When it comes down to it, it's safe to assume that both teams will light up the scoreboard in what could be a battle between the top two quarterbacks in college football this year. With that being said, here is a look at our final prediction for the 2015 Capital One Orange Bowl CFP Semifinal game.
Final prediction: Oklahoma 38, Clemson 35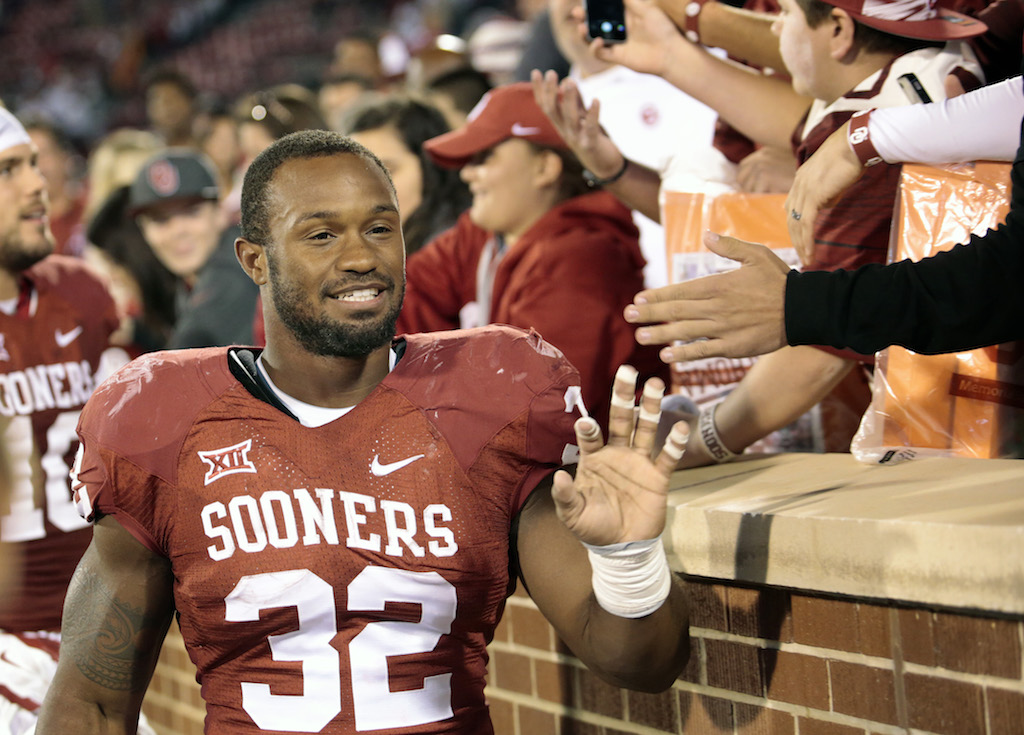 In a game that projects to be a quarterback duel between Mayfield and Watson, it will be Oklahoma running back Perine (pictured above) who steals the show and helps the Sooners get revenge for the blowout loss the Tigers handed them a year ago. We predict a huge day (150-plus yards and three touchdowns) for the 5-foot-10, 230-pound sophomore, as well as a trip to the CFP National Championship Game for Oklahoma.
Statistics courtesy of Sports-Reference.com.