College Football Playoff: Ranking Bryce Young and the 4 Best Players on the Alabama Crimson Tide
For what seems like the 125th season in a row, the Alabama Crimson Tide have made the College Football Playoff National Championship, as they play the Georgia Bulldogs in the big game on Jan. 10.
The Tide are no strangers to this position, as they have been in six of the eight championship games since the CFP came into existence in 2014 and have won three of them so far. But, just like all other college football programs, Bama's roster is different each season, so you may be wondering who the Tide's best players are on this year's squad.
Fear not, though. We took time to rank the top four players on this season's Alabama Crimson Tide. We based the rankings on the impact each player has had on Bama's 2021 success and their overall talent.
So, without further ado, here are Alabama's top four players.
Honorable mention
When looking at Alabama's best players, it's hard not to bring up running back Brian Robinson Jr. or defensive back Jordan Battle. They have both had tremendous seasons and have first-team All-SEC selections to show for it.
But these next four players have been more crucial to the Tide's success and are just simply more talented — even if it's only by slight margin.
4. Jameson Williams, wide receiver
After becoming the odd man out at Ohio State last year, Jameson Williams transferred to Alabama in the offseason and has been an absolute star for the Crimson Tide in 2021, breaking explosive plays in what seems like every game.
Williams, who has 75 receptions this year, has gained 1,507 receiving yards and caught 15 touchdown passes, which both rank in the top five in the entire country. He has also returned 10 kicks for 352 yards and two TDs, further proving his explosiveness.
It was unclear who would step up in 2020 Heisman Trophy winner DeVonta Smith's place this season, but Williams has been the man Alabama needed.
3. Evan Neal, offensive lineman
In front of every great quarterback (yes, this is foreshadowing for an upcoming ranking) is a great offensive line, and Alabama's Evan Neal has been one of the top linemen in the country for the Crimson Tide this year.
Neal has been a steady force up front for Bama for the last three years and has proven his value as one of the nation's best this season. He has earned first-team All-American honors from multiple organizations and has helped lead one of the top offenses in the country that averages over 41.0 points per game.
Neal also has a bright future at the next level, as Pro Football Focus has him ranked as the fifth overall player on its 2022 NFL Draft big board.
Sure, several players have helped Alabama this season, but the offense wouldn't be having all its success without Neal.
2. Will Anderson Jr., edge rusher
Plenty of defensive players can claim they are the best in the country, but Will Anderson Jr. actually is, as he won the Bronko Nagurski Trophy for that reason.
Anderson is No. 1 in the nation in total sacks with 17.5 and has made numerous big plays for the Crimson Tide's defense all season. In the College Football Playoff semifinals against the Cincinnati Bearcats, he took down UC quarterback Desmond Ridder twice and was a big reason Cincy's offense struggled to get points on the board.
There are great players, and there are once-in-a-lifetime players, and Will Anderson Jr. appears to be the latter.
1. Bryce Young, quarterback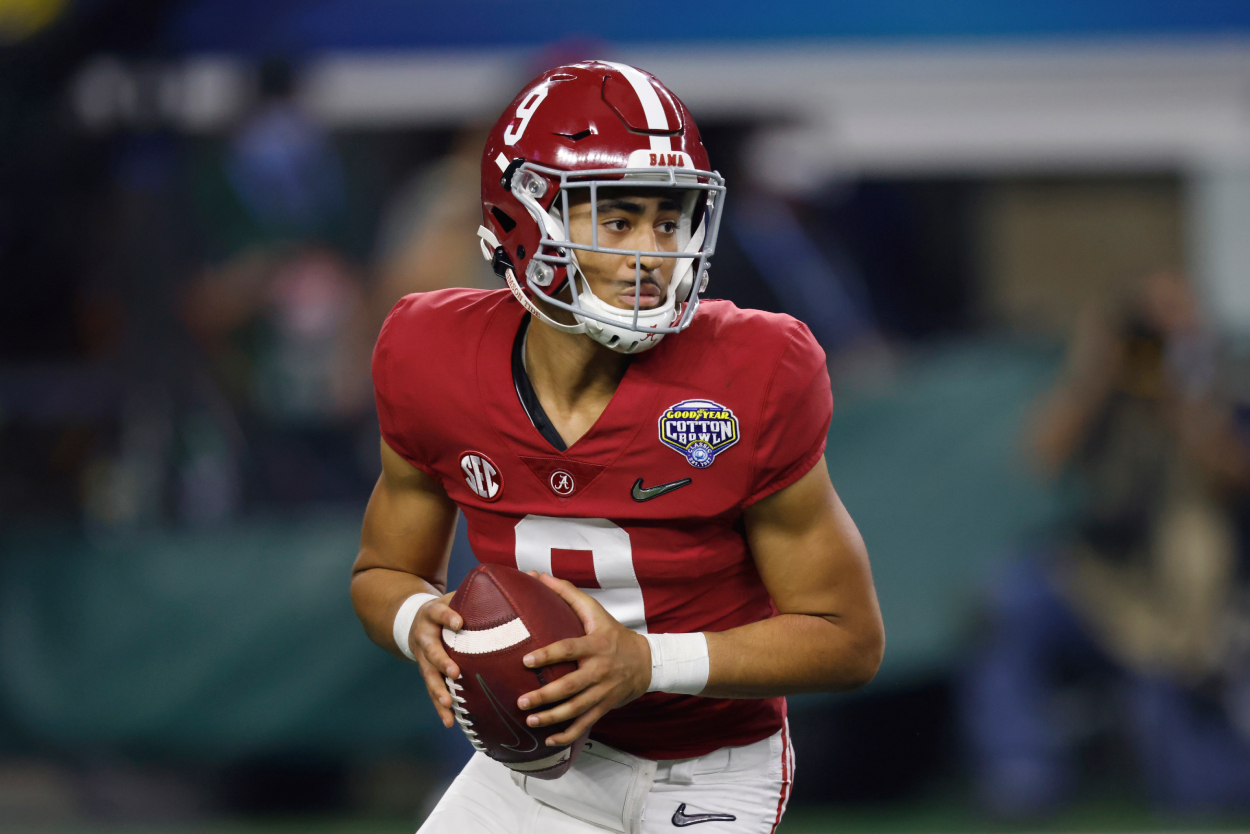 How can you not put the Heisman Trophy winner at No. 1 here? In his sophomore season and only first year as the team's starter, quarterback Bryce Young has dominated for the Crimson Tide and is truly the reason they are back in the national championship game.
Young ranks third in the country in passing yards with 4,503 and No. 2 in touchdowns with 46. He has also only thrown five interceptions this season. The star QB has been as efficient as they come and has had one of the greatest seasons at QB in Crimson Tide history.
If Alabama beats Georgia in the national championship, Young will need to be the elite player he has been all year for the top-ranked Crimson Tide.
Stats courtesy of Alabama athletics and NCAA.com