The College Football Playoff Selection Committee May Have Just Watched Its Worst Nightmare Come True Despite Also Getting Exactly What it Wanted
The 2021 college football season has been wild so far, and this past weekend's games made the future even more unclear. In fact, after the College Football Playoff Selection Committee made its standards for the top-four teams evident last week, it may have just watched its worst nightmare come true on Saturday.
But it also got exactly what it wanted.
The College Football Playoff Selection Committee made its standards clear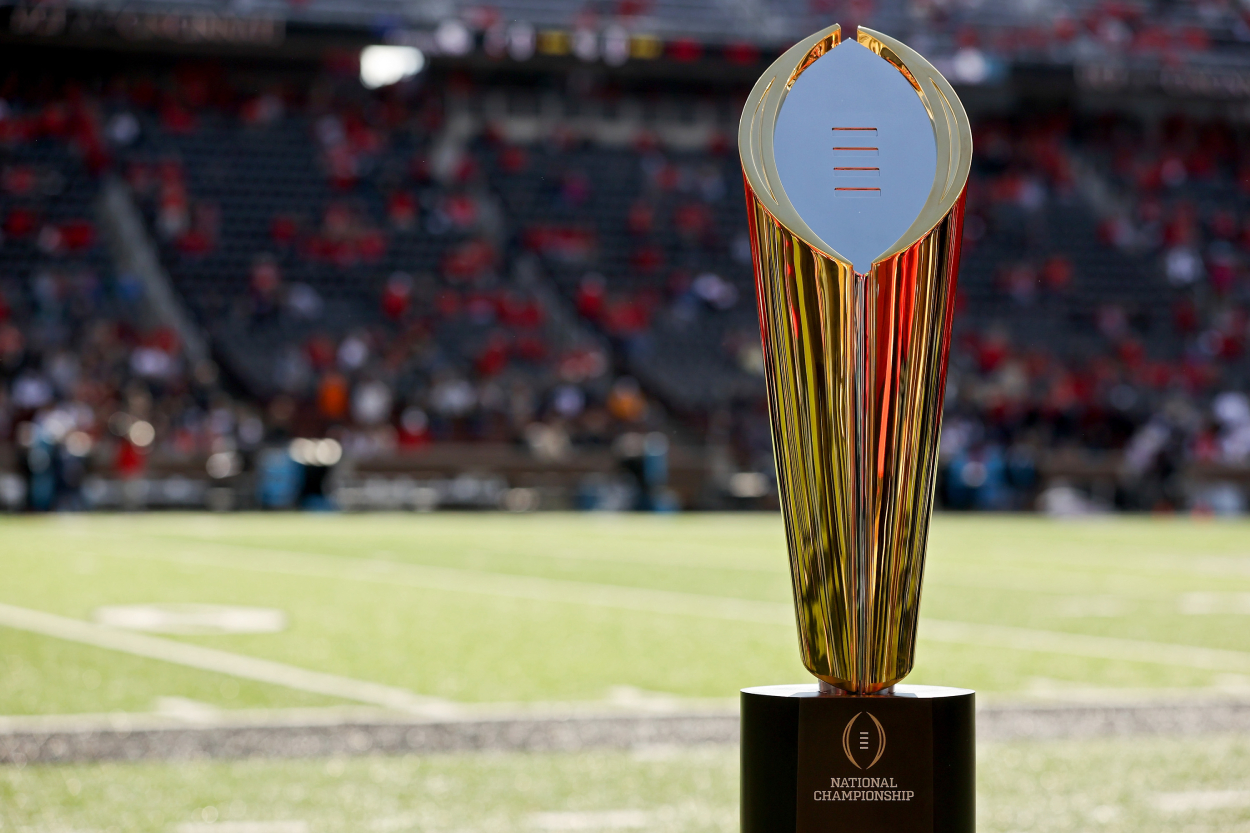 Throughout the College Football Playoff's existence, the selection committee has made one thing clear: It has no respect for non-Power Five times.
And it further proved that in last week's rankings.
Despite the Cincinnati Bearcats not losing so far this year; despite the fact they have a top-10 win over Notre Dame; despite the fact their only blemish the past two seasons was a three-point loss to this year's No. 1 team, the Georgia Bulldogs, in the Peach Bowl, and despite the fact the AP and Coaches polls both have them ranked at No. 2, the selection committee controversially ranked UC at No. 6 in its initial CFP rankings.
That means that, as of right now, the Bearcats are on the outside looking in of the playoff, which seems to be precisely what the committee wants. A non-Power Five team has never made the CFP since its inaugural season in 2014, even with teams like Central Florida going undefeated in 2017 and defeating SEC powerhouse Auburn in the Peach Bowl.
But while the committee's reasoning may just be that it lacks respect for smaller programs, cash might also play a role in the decision making. Teams like the Alabama Crimson Tide and Ohio State Buckeyes are certainly some of the biggest money-makers in college football, but conferences also make money if one of their schools get into the CFP.
According to the playoff's site, conferences "receive $6 million for each team that is selected for a playoff semifinal." That's an extra $2 million more than if their team just makes one of the non-semifinal New Year's Six bowl games.
If you're wondering, of the 13 selection committee members, five of them are athletic directors for schools within Power Five conferences, per the CFP site. There are also a couple from other conferences like the Mountain West and Sun Belt, but none from Cincinnati's conference, The American. So, no one on the committee would benefit from Cincinnati making the CFP.
But the members might have just watched their worst nightmare come true.
The CFP selection committee may have no choice but to rank Cincinnati high after seeing multiple top-five teams struggle
This past weekend in college football made the committee's job in regards to figuring out the playoff even harder.
The No. 3-ranked and previously undefeated Michigan State Spartans were embarrassed by unranked Purdue, 40-29. The No. 2 Alabama Crimson Tide also struggled against a now five-loss LSU team, barely winning 20-14, while No. 5 Ohio State almost lost to a now seven-loss Nebraska team, leaving the game with a 26-17 win.
With one of the top-five team's losing and multiple squads struggling — in addition to No. 9 and previously undefeated Wake Forest falling to four-loss North Carolina, 58-55 — the committee may have no choice but to move Cincinnati up to the top five.
If it were to base its rankings off top-10 wins, records, and how every team has looked so far this year, the Bearcats would probably be No. 2 over one-loss Bama, Oregon, and Ohio State. Unlike those teams, UC is undefeated. It also has its top-10 win over Notre Dame, while Alabama and OSU have yet to win any games over top-10 squads.
However, the committee has clearly shown that it doesn't base its rankings on logic, so there's essentially no chance Cincy finds itself above those schools this week.
The Cincinnati Bearcats gave the committee exactly what it wanted at the same time
While the committee's worst nightmare of having to rank a non-Power Five team in the top four or five of the College Football Playoff rankings might have just come true. The Bearcats may have also given them a perfect excuse to eventually rank them lower or even keep them where they are this week.
Cincinnati struggled for the third game in a row, beating a six-loss Tulsa team 28-20. The committee has made it clear that if Cincy wants any chance at making the playoff, it needs to win big week after week. So, the Bearcats' close win is likely a perfect excuse for the members to rank someone like the No. 7 Michigan Wolverines or No. 8 Oklahoma Sooners over them.
Of course, if the committee treated non-Power Five teams fairly, it would consider that No. 5 Ohio State also struggled against Tulsa, only leading by seven with under four minutes left. But, again, teams like OSU and Bama get the benefit of the doubt over programs like Cincinnati.
So, all in all, the selection committee might have watched its worst nightmare come true on Saturday, as it now essentially has no choice but to rank a non-Power Five team in the top four or five. But if it wanted to have any excuse to keep Cincinnati where it is — or even rank the team lower than No. 6 — the Bearcats gave them one on a silver platter.