College Football Playoff: The Top 8 Ranked Teams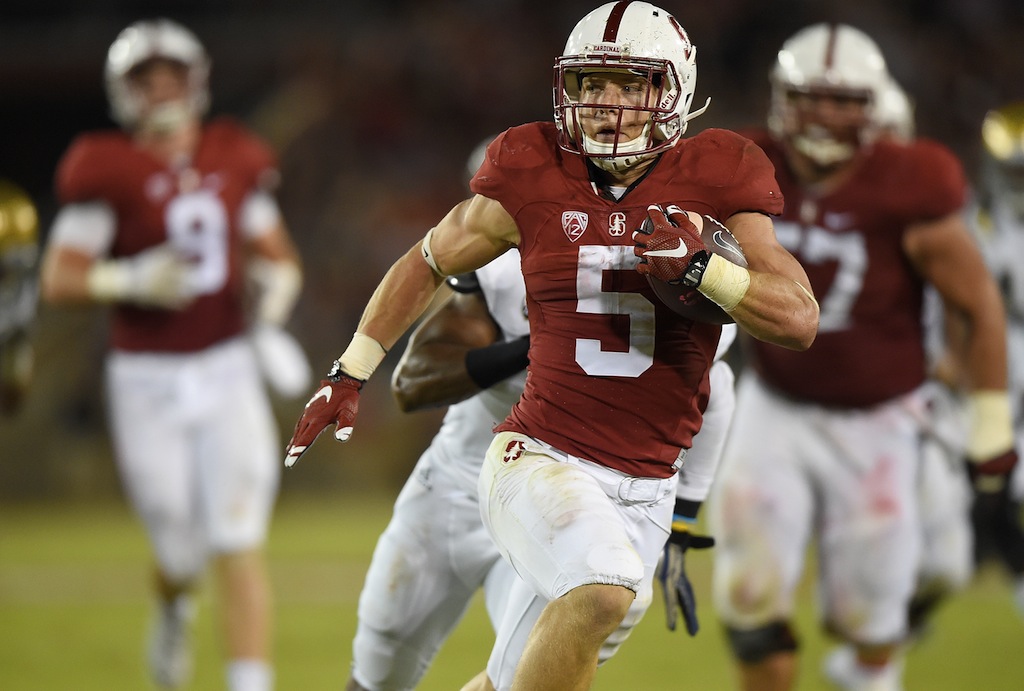 College football's regular season has concluded (for the most part), but the conference championship week looms this upcoming weekend — and a lot still needs to be decided. Only four spots are available for the annual College Football Playoff and at least eight teams have a legitimate shot at landing one. Of course, some schools have simple playoff scenarios; win and you're in. Others need serious help, but still have a fighting chance. Let's look at what each of these teams need to do in order to secure a spot in the top four.
Clemson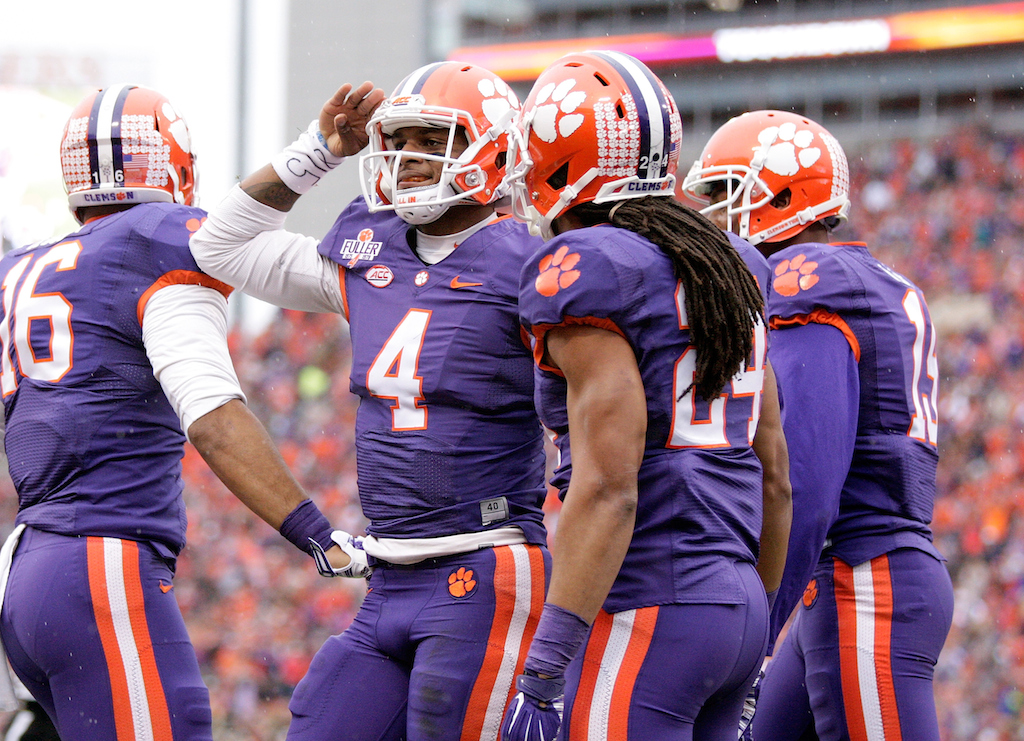 The situation for the Clemson Tigers is as good as you could ask for. They've been ranked No. 1 for every single version of the College Football Playoff rankings. Furthermore, they just completed an undefeated regular season and are one win away from an ACC title (they'll face off against North Carolina in the conference championship). It's win-and-in for Clemson, no doubt about it. The Tarheels are ranked No. 8 in this week's AP Poll, which would give yet another quality win to the Tigers. If they lose though, the gates swing wide open for several other teams (which we will discuss later).
Alabama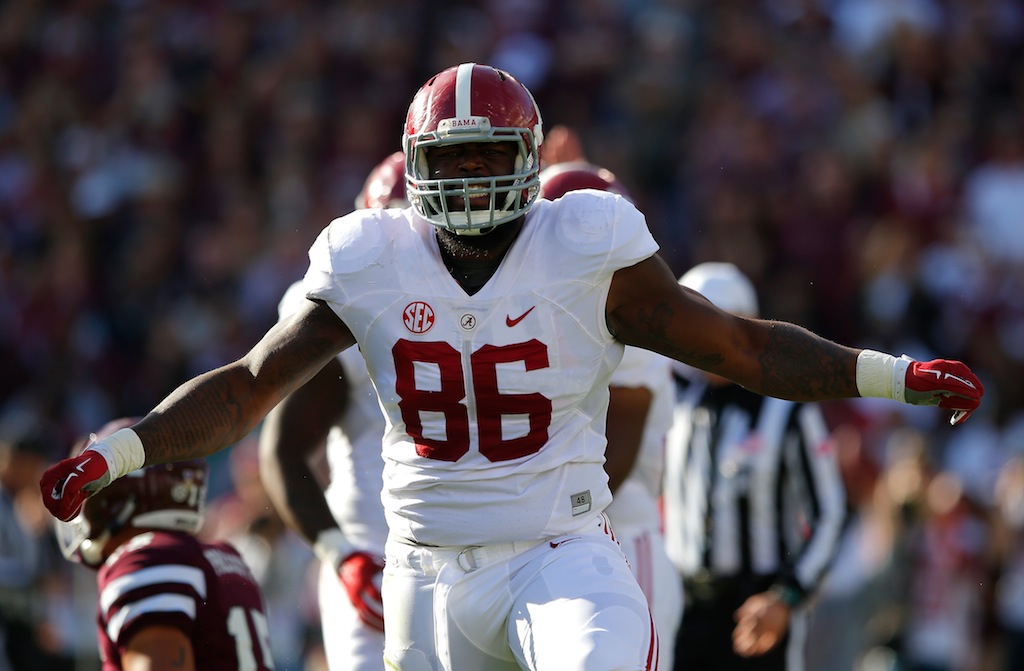 Auburn had a chance to ruin their bitter rival's season on Saturday. Through three quarters, the Tigers had Alabama in a close contest and it looked like they might pull off the upset. Instead, the Crimson Tide pulled away in the fourth quarter, keeping their playoff chances intact and finishing their regular season at 11-1. Now, Alabama (like Clemson) needs just one more win to secure their spot.
The SEC championship game will pit the Tide against the Florida Gators, a team that just got clobbered by Florida State and one that played terrible football over the past three weeks. Seems like this should be an easy win for Alabama, but Florida will put it all out there seeing as they have nothing to lose. A loss would surely end any chance the Tide has at staying in the top four.
Oklahoma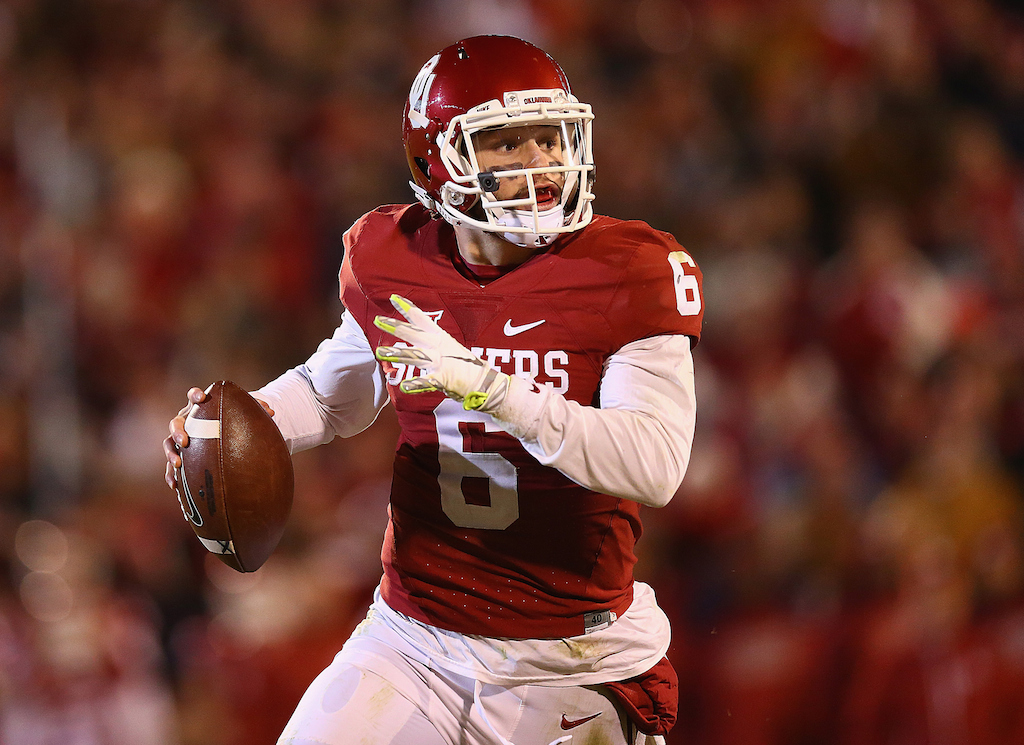 If any team is a lock for the College Football Playoff right now, it's the Oklahoma Sooners. They don't (either fortunately or unfortunately) have a conference title game to play in, seeing as they play in the Big 12. That, at least, takes away any opportunity for the Sooners to lose before the final rankings are released (on December 6). For some, however, not having that conference title game seems like a negative thing.
In our opinion, this shouldn't hurt Oklahoma though. They are simply one of the best teams in the country and deserve to be in the tournament. They won the Big 12 outright by beating the other three best teams in the conference (Baylor, TCU, and Oklahoma State), so they've really done all they can do. Unless something catastrophically weird happens, we will see the Sooners in the playoffs. That means, essentially, that only three spots are open.
Iowa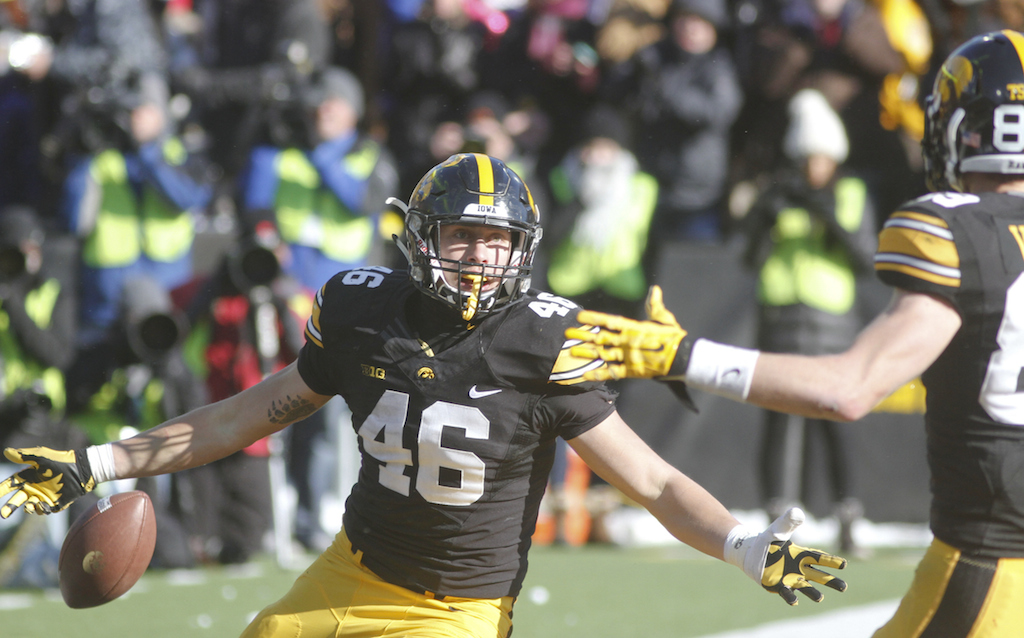 Nobody expected this Iowa team to do anything this season. But someway, somehow, the Hawkeyes are 12-0 and (despite a favorable schedule) are one win away from the College Football Playoff (probably). The Big 10 championship game will pit Iowa against Michigan State in what looks like a play-in game for the championship tournament.
Let's say Iowa wins and has a 13-0 record out of a power football conference. Is there any way they won't reach the playoffs? For any other team with that resume, the answer is definitely no. However, with the Hawkeyes' weak schedule, the case could be made. The selection committee seems to respect what Iowa has done this season, so it seems unlikely that they would leave them out. Still, it's something to consider.
Michigan State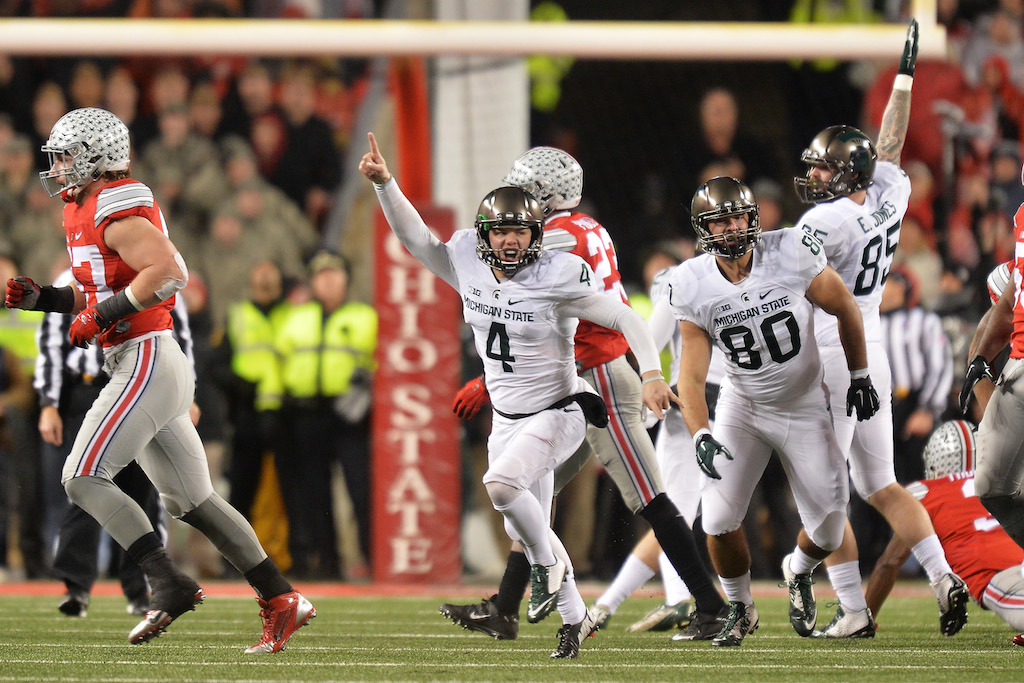 As mentioned previously, the Spartans get Iowa in the Big 10 title game. It's been a wild season for Michigan State, with multiple close wins and a controversial loss. They've survived it all though to finish 11-1, earning a spot in the conference championship game. The team is playing very well right now, so it feels like they should be in the top four. They have to take care of Iowa in order for that to happen though. If that happens, there is little to no chance that the Spartans will be left out.
North Carolina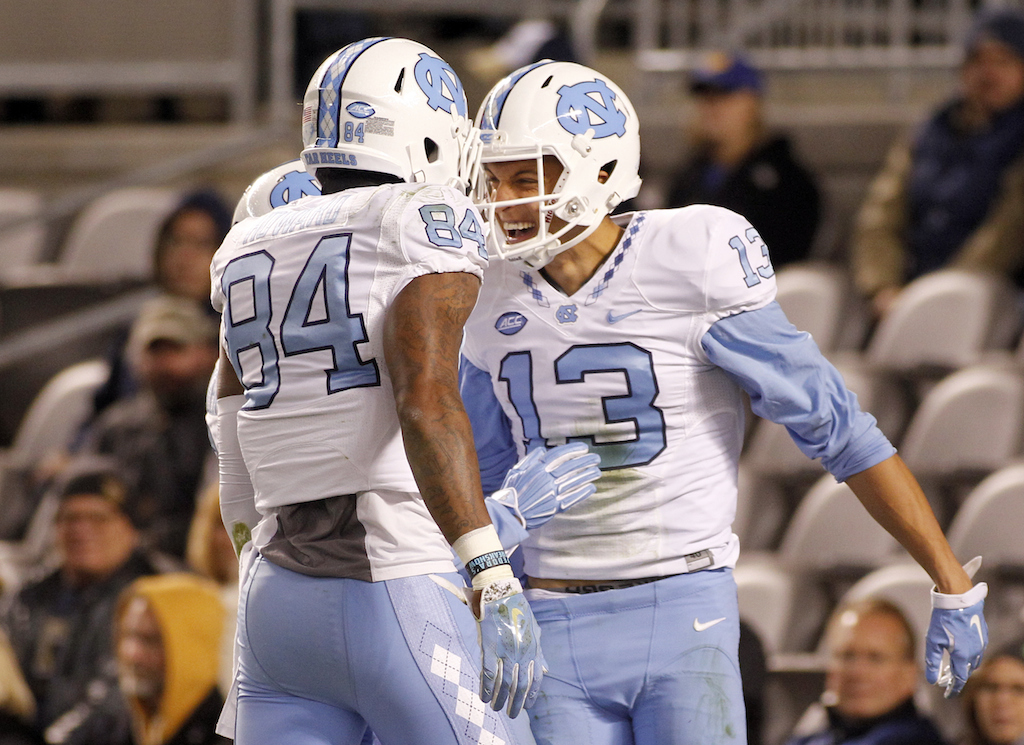 The North Carolina Tarheels have come out of nowhere to find a way into the playoff picture. An 11-1 regular season places them in the ACC title game against Clemson. A win against the top-ranked Tigers might seem like enough to propel the Tarheels to the top. However, their scenario isn't that simple. North Carolina is ranked No. 8 in the AP Poll and receive a similar place in the College Football Playoff rankings, which come out on Tuesday.
That means a lot has to happen for UNC to sneak in. They would definitely need a loss by Alabama in the SEC title game and a loss by Stanford in the PAC-12 title game, as well as an impressive impression against Clemson to sway the committee in their favor. The chances are slim, but the fact that the Tarheels even have a chance is nothing short of shocking.
Ohio State
You'd think that a team that can't even win its conference title would have no shot whatsoever at the College Football Playoff, but Ohio State is the one team that could have it. Ranked No. 6 in the AP Poll and likely in the CFP ranking, the Buckeyes need to jump (in all likelihood) just two teams to get in. With an 11-1 record and a dominating performance in their regular season finale, no team on the outside looking in has a better shot.
Just think about it: Ohio State will likely jump over the loser of the Big 10 title game between Michigan State and Iowa. Then, they would only need Alabama or Clemson to lose in their conference title game in order to get in (while overcoming a potential ACC champion in North Carolina and a potential PAC-12 champ in Stanford). This scenario isn't that far-fetched, so the Buckeyes just have to sit back and see what happens. Things are out of their hands at this point.
Stanford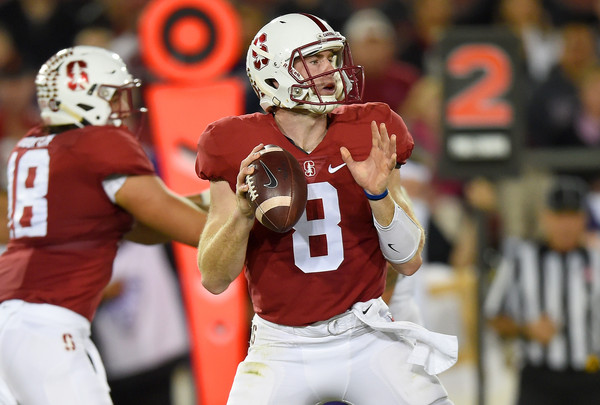 When the Cardinal lost their second game of the season to the Oregon Ducks, all hopes of a championship season in Palo Alto appeared lost. After defeating Notre Dame though, Stanford still has a fighting chance. They will face off against USC in the PAC-12 title game, and a win would add a conference championship to their resume. That alone won't get the Cardinal into the top four.
If Stanford wins, that is only the first step of this scenario. Next, they would need a loss by Clemson and Alabama in their conference title games, something that could certainly happen. Still, even then, they would have to overcome teams like North Carolina. Again, Stanford has a very slim chance at the College Football Playoff, but with two losses, the fact that the team is still alive is a testament to how wild this college football season has been.
All stats courtesy of ESPN.com.