College Football: Predicting the Winners During Week 10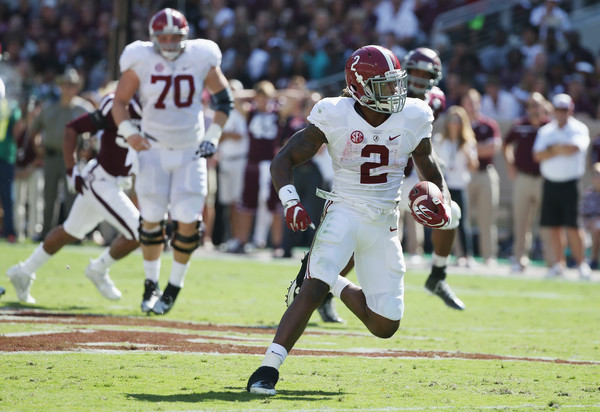 Did Week 9 of the college football season feel like it was missing big time matchups between some of the top teams in the country? Seriously, it almost felt like the sport took the week off, with very few top 25 games going on and not much drama occurring on the field (emphasis on the word "on"). Well, even if last weekend was less than enthralling, this upcoming weekend will provide plenty of action to make up for it.
All over the nation, we will see upper tier teams battle it out on Saturday in inter-conference contests that will go a long way in determining who stays in contention for the College Football Playoff. We'll see bitter rivalries, offensive shootouts, and Heisman hopefuls trying to stake their claim for the honor of top player in the game by leading their respective teams to huge victories. There's going to be drama; there's going to be action. What else would you want out of a college football Saturday?
With that, here are our predictions for the three biggest games of the weekend, starting with a showdown that could determine the winner of the Big 12.
1. TCU at Oklahoma State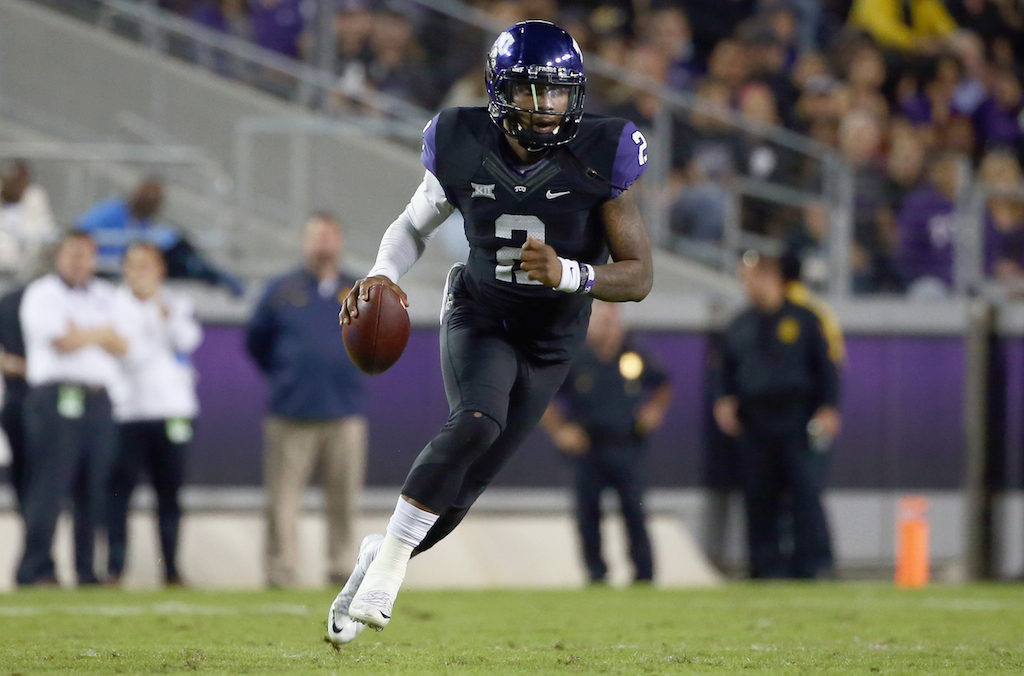 Offense will be the name of the game when the undefeated and 8th ranked (all rankings now come from the College Football Playoff ranking) TCU Horned Frogs take on the undefeated and 14th ranked Oklahoma State Cowboys on Saturday. On the season, TCU ranks 2nd in the country in points per game with 48.9; Oklahoma State ranks 8th with 44 even. Conversely, both teams believe that defense is optional at times. We could very see a score of 55-51 or something like that in this contest. Who has the edge though?
At first glance, it would seem obvious that the advantage in this one goes to TCU. They have the Heisman contender in dynamic quarterback Trevone Boykin and have had the expectations to do big things all season long. However, they can't afford to undermine this Oklahoma State time even in the slightest bit, especially on the road. Anytime an offensive shootout is on display, anything can happen and either team involved can win. We've seen TCU nearly lose these types of battles earlier this season against the likes of Texas Tech, so to say they are on "upset" alert is an understatement.
This could be the most entertaining game of the weekend, especially if you don't care for awesome defensive performances. It feels like a game in which Boykin will step up once again and lead the Horned Frogs to victory at the end of the game, further enhancing his Heisman status.
Prediction: TCU 47, Oklahoma State 41
2. Florida State at Clemson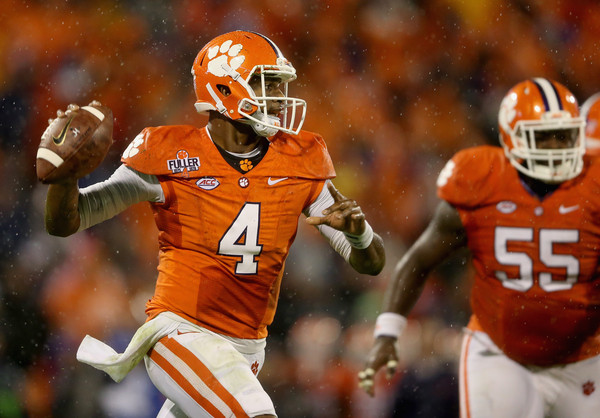 The Clemson Tigers are the No. 1 team in the nation. Just let that sink in for a minute. It's not an SEC team or some other traditional power at the top of the first CFP rankings released earlier this week; instead it's Clemson. The Tigers have definitely earned their placement at the top, earning an unbeaten record to go along with one of the strongest victories for any team over 5th ranked Notre Dame several weeks back. However, everything they've done this season won't matter if they fall to their fierce ACC rival this weekend.
Florida State isn't nearly the same team that they were 2 seasons ago when they were winning the national championship or even that they were last season when they made the College Football Playoff. While that may be true, they are still one crazy loss away from being unbeaten in 2015. When they take on Clemson on the road, you know the Seminoles are going to be pumped up. With that motivation, the talent on their roster just might pull of the upset. Dalvin Cook is a special runner in the backfield and will give the Tigers' defense fits. The Seminoles defense is also more than capable of shutting down Clemson's attack. It could be ugly, but this is going to be one of the best matchups of the entire season.
With an efficient quarterback in Deshaun Watson, talented playmakers on offense, and a defense that has shown shutout ability, we think the No. 1 team in the nation should be able to prevail in a tightly contested battle, especially since they have the home field advantage.
Prediction: Clemson 23, Florida State 14
3. LSU vs. Alabama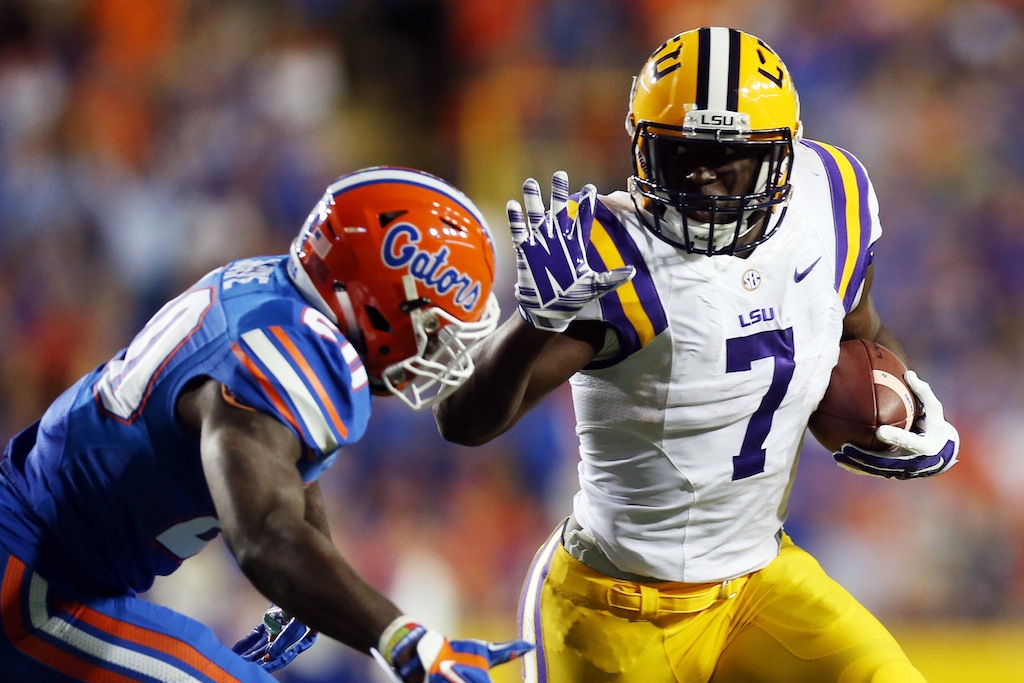 It's always one of the most anticipated games of the season, no matter where the two teams are in the rankings. This season's matchup between the LSU Tigers and the Alabama Crimson Tide couldn't get much bigger though. LSU comes in unbeaten and ranked No. 2 in the CFP rankings; Alabama is No. 4 despite one loss. A loss for Alabama would certainly derail any major aspirations they have for their season. In all reality, the Tigers can't afford a loss either. Essentially, this is a playoff game for both teams — a must win situation. Why would you want it any other way between these two historical powerhouses?
Diving into the matchup, both of theses school's defenses are superb, ranking third and fourth (respectively) in yards allowed. Alabama is a bit more dominant on that side of the ball though, giving up 16.4 points per game compared to LSU's 22.6. As for their offenses, there are again similarities, as both of these teams rely on great running backs to carry a majority of the load. Leonard Fournette is the obvious Heisman choice to this point for the Tigers, as it is clear that LSU wouldn't be where they are without his efforts. Derrick Henry's importance to the Crimson Tide's success is eerily similar. With that, this game could be determined by the defense that is able to slow down the opposing team's star in the backfield.
Going on the road into a venue in which Alabama has already stunningly lost once this season, LSU's perfect season is very much in trouble this weekend. Alabama isn't as good (maybe) as they have been in past seasons, but when they are at home they are always very tough to beat. Regardless of what happens, this is can't miss football this Saturday in Tuscaloosa.
Prediction: Alabama 21, LSU 17