Sports
The 12 College Football Teams With the Most Diehard Fans
When we think about "winning" in college football, a few things come to mind. For an individual player, it's about achieving greatness. From a team standpoint, the focus is on winning a national championship. Yet there are other ways to acknowledge victory in college football.
There are college football fans, and then there are college football fans. The latter individuals are the ones who feel a deep connection to their teams; they take the sport more seriously than most; they always refer to their squad as "we"; and they do whatever it takes to attend the games in person. This last point is a must, and some schools experience this on a completely different level than others. These 12 schools always have some of the highest attendance numbers in the nation.
12. Auburn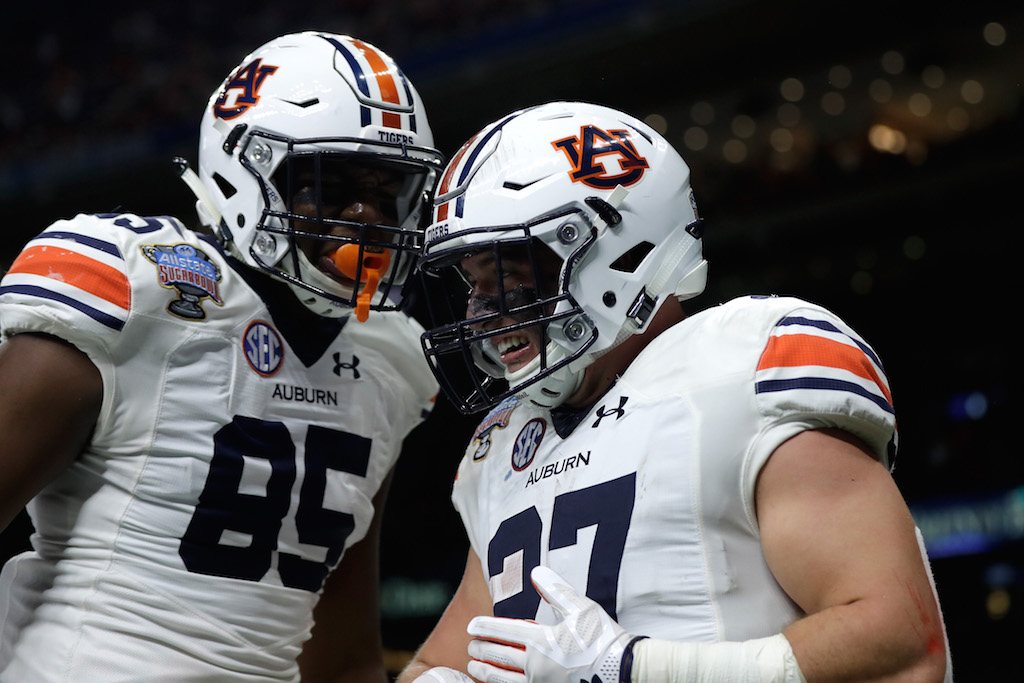 2016 average attendance: 86,937
Stadium: Jordan–Hare Stadium
Good or bad, Auburn fans still show up for the games. Although the Tigers fell 35-19 to Oklahoma in the Sugar Bowl, the 2016 season was far from a complete wash. Gus Malzahn's group finished the year with an 8-5 mark and ranked No. 24 in the final AP poll. The Tigers also continued to be blessed with an extremely devoted fan base, averaging 86,937 supporters per home game.
Next: Even with an attendance decrease, this school still packs the stadium.
11. Florida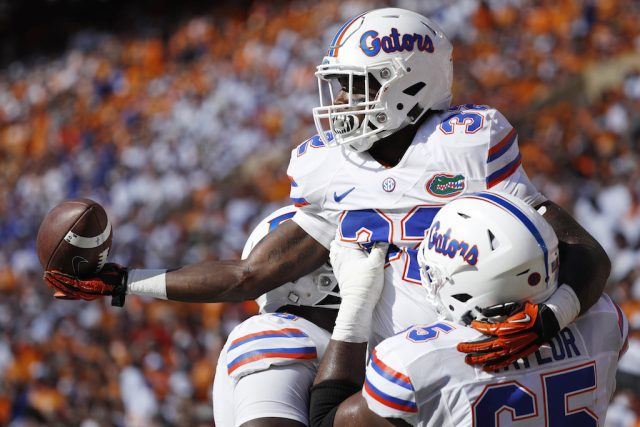 2016 average attendance: 87,846
Stadium: Ben Hill Griffin Stadium
According to the numbers, the Florida Gators experienced a 2% dip in attendance in 2016, averaging 87,846 fan per game. However, those fans at "The Swamp" still experienced a highly successful year, as coach Jim McElwain and company went 9-4, crushed the Iowa Hawkeyes 30-3 in the Outback Bowl, and ended the year as the No. 14-ranked team in the country.
Next: More than 90,000 people showed up in person for Saturday home games.
10. Nebraska
2016 average attendance: 90,200
Stadium: Memorial Stadium
The 2016 Cornhuskers weren't the best team the program has ever fielded, but that didn't stop the Nebraska faithful from showing their love. Memorial Stadium in Lincoln experienced an average attendance of 90,200 fans per game, good enough for eighth in the country. Here's to hoping that 2017 brings even more good fortune.
Next: This proves they love their college football in the South.
9. Georgia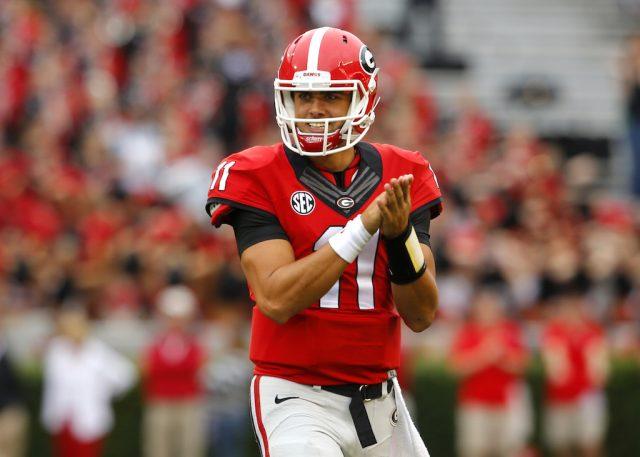 2016 average attendance: 92,746
Stadium: Sanford Stadium
The expectations are always high for the Georgia Bulldogs. And while the 2016 team wasn't as competitive as most fans would've liked, finishing 8-5 on the year and 4-4 in the SEC, it still experienced plenty of love from its supporters. Georgia averaged 92,746 fans per game; same as it was the year before.
Next: Attendance jumped even though the team finished under .500.
8. Texas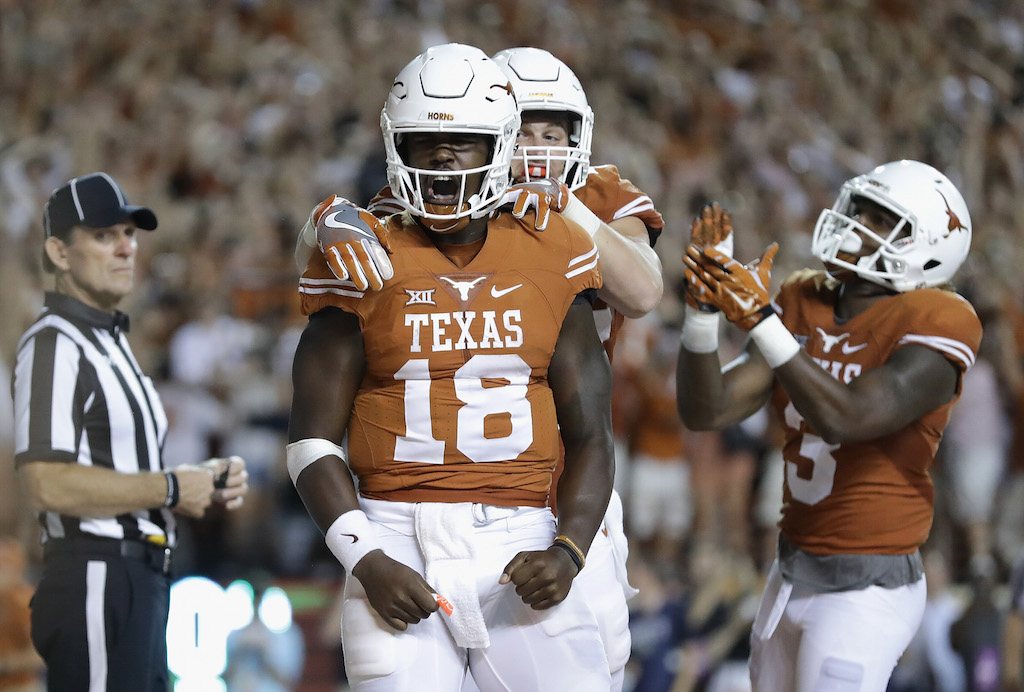 2016 average attendance: 97,881
Stadium: Darrell K Royal–Texas Memorial Stadium
The Texas Longhorns have a history of hiring all-time great coaches. Unfortunately, following another 5-7 campaign, Charlie Strong, who was fired after three seasons on the job, will not join the list. That being said, it wasn't all bad for Texas in 2016, as the program saw a 9% increase in average attendance.
Next: When 100,000 people isn' even close to a sellout.
7. Penn State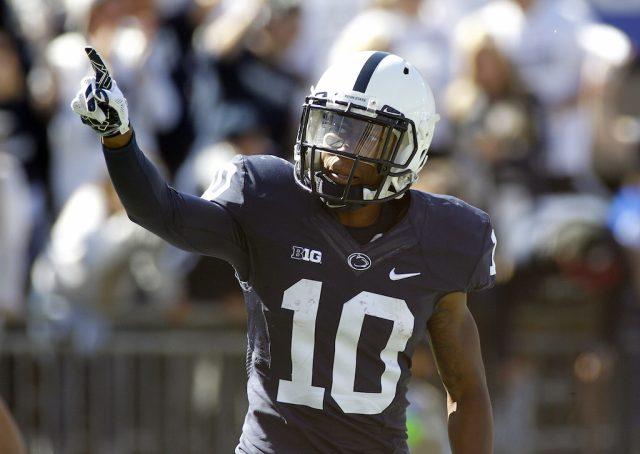 2016 average attendance: 100,257
Stadium: Beaver Stadium
Although Penn State's Beaver Stadium can seat over 107,000 people per game, the Nittany Lions didn't come close to averaging that amount in 2016.
Instead, Penn State pulled in 100,257 fans per game, an increase of less than 1% from the previous year. Of course, perhaps it's time to give the Nittany Lions their proper due. After all, James Franklin's group did win the Big Ten while going 11-3 on the season and finishing No. 7 in the final AP poll.
Next: The faithful fans always pack the stadium.
6. Tennessee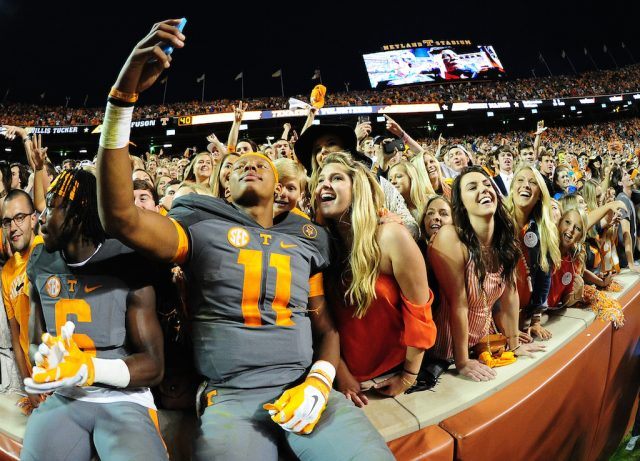 2016 average attendance: 100,968
Stadium: Neyland Stadium
For the second season in a row, the Tennessee Volunteers posted a 9-4 record. On top of that, they scored 36.4 points per game and finished the year as the No. 22-ranked team in the country. More importantly, the Knoxville faithful came out in droves to support their team.
With a less than 1% increase in attendance from the year before, Tennessee's Neyland Stadium experienced an average of 100,968 fans per game. So it's pretty clear fans come for the tailgate scene and stay for the game.
Next: This school has elite football and elite fans.
5. LSU
2016 average attendance: 101,231
Stadium: Tiger Stadium
Les Miles' time at LSU may be over, but the same cannot be said for the program's place among the college football elite. With Ed Orgeron in charge, the team with one of the best tailgates in the country went 8-4, finished 13th in the final AP poll, and experienced an 8% increase in average home attendance. Tiger Stadium remains one of the premier venues in all of college football.
Next: The stadium is the place to be.
4. Alabama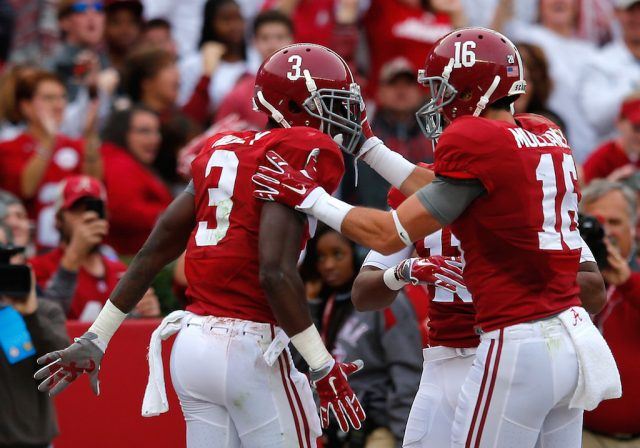 2016 average attendance: 101,821
Stadium: Bryant–Denny Stadium
Although Alabama fell short in the national championship game, Bryant-Denny Stadium was clearly the place to be in 2016. The Crimson Tide, who have a history of attracting great players to the program, saw an average home attendance of 101,821 fans per game — a 1% increase from the season before. Considering Nick Saban's crew is a perennial title contender, we expect the fans will continue to show up in droves.
Next: Just imagine what attendance would be like is the team competed for national titles.
3. Texas A&M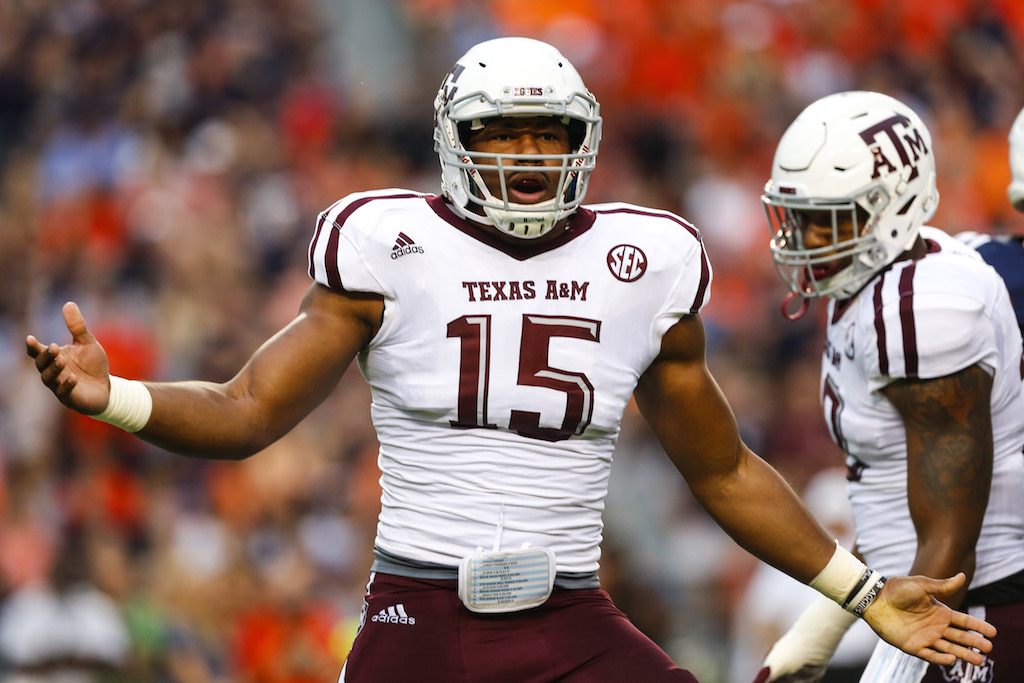 2016 average attendance: 101,917
Stadium: Kyle Field
After making a statement in the SEC back in 2012, the Texas A&M Aggies haven't been able to rediscover the same magic. With three consecutive 8-5 seasons, you better believe head coach Kevin Sumlin feels the pressure. Of course, this hasn't stopped the fans from filling up Kyle Field every chance they get.
In the 2016 season, Texas A&M saw an average attendance of 101,917 fans per contest, the third-best mark in all of college football. Imagine what would happen if this team started legitimately competing for national championships. Now that would be scary.
Next: A stadium that's a sea of red on game day.
2. Ohio State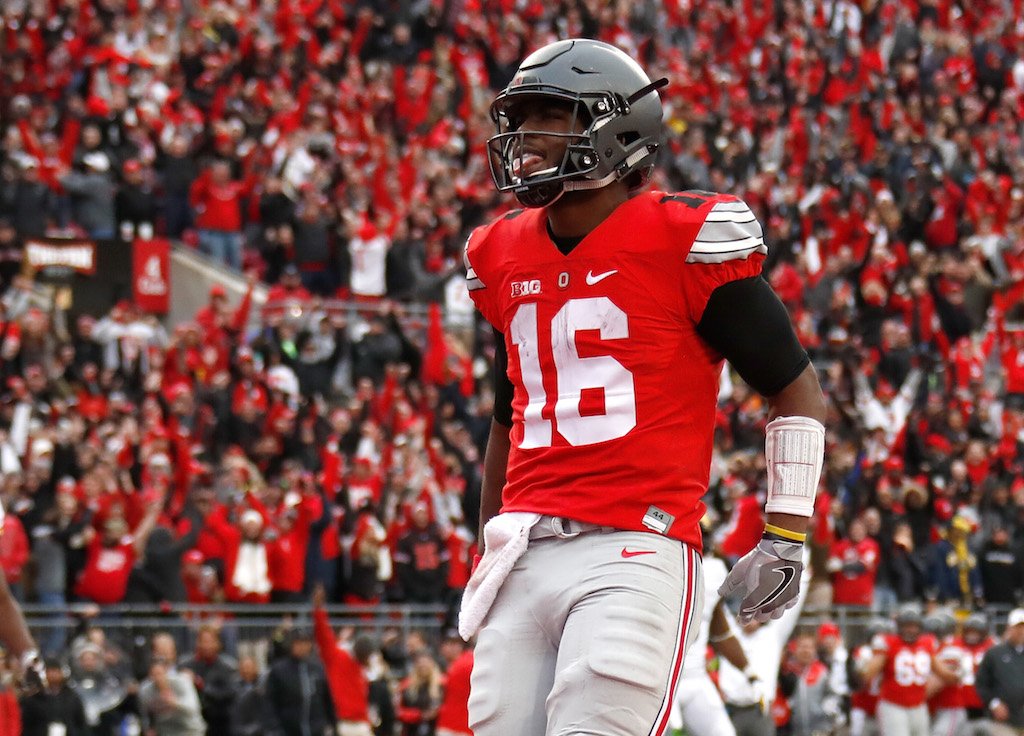 2016 average attendance: 107,278
Stadium: Ohio Stadium
Unfortunately, the Ohio State Buckeyes were unable to regain their position atop the college football mountain in 2016. Instead, Urban Meyer and company had to settle for an 11-2 record and a No. 6 ranking in the final AP poll. Of course, that being said, the Buckeyes still pulled in an average of 107,248 fans per game. There's nothing wrong with that.
Next: This stadium is like a small city during the football season.
1. Michigan
2016 average attendance: 110,468
Stadium: Michigan Stadium
Let's just call this the "Jim Harbaugh effect."
In his second season as Michigan's head coach, Harbaugh led the Wolverines to a 10-3 record, a 10th place finish in the AP poll, and most importantly, continued to help the program regain its place in the national spotlight. With Ann Arbor's favorite son at the helm, Michigan Stadium experienced an average attendance of 110,468 fans per game — the best in the nation. For reference, the population of Topeka, Kan., is a little over 126,000. At this rate, the only thing that could possibly top this mark would be a televised showdown over the future of satellite camps.
Statistics courtesy of SR/College Football and CBSSports.