College Football: The 2 Biggest Threats to Ohio State's Repeat Season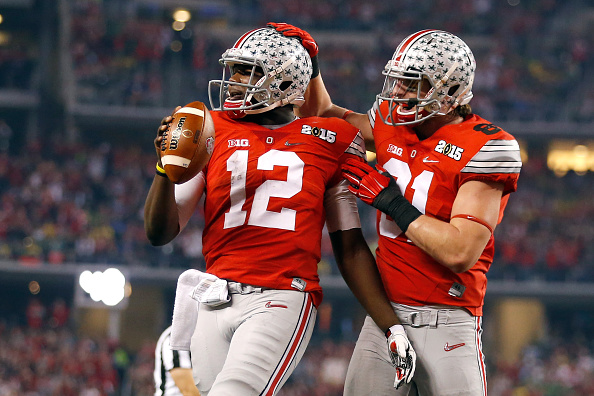 The Ohio State Buckeyes have been on a roll for well over a year now. Ever since losing to the Virginia Tech Hokies in week 2 of last season, the Buckeyes have beaten everyone in their path. After winning the national championship a season ago, everyone wondered if this team could repeat. With a 6-0 record so far in 2015, they have answered that question with a resounding yes.
No, Ohio State hasn't played a difficult schedule to this point by any measure. Yes, their play has been questionable at times. All that matters, however, is that they are still unbeaten and are in prime position to make the College Football Playoff once again.
Talent wise, few teams can stand up with Ohio State. On offense, while quarterback Cardale Jones hasn't been as good as last season, the guy still creates problem after problem for opposing defenses. Also, Ezekiel Elliot is one of the best backs in the nation. Defensively, the Buckeyes are stout, giving up just 15.7 points per game. They are difficult to deal with in all facets in the game, which makes them one of the best teams in the nation.
Seeing how the talent level is high and the record is where it is, it is worth considering when this team might slip up. Their schedule looks manageable for the most part, but even with how good they are, a couple of teams (at least) should give Ohio State major fits on their road to a repeat title. With that, here are the biggest contenders to derail the Buckeyes season. (There are really only two.)
2. Michigan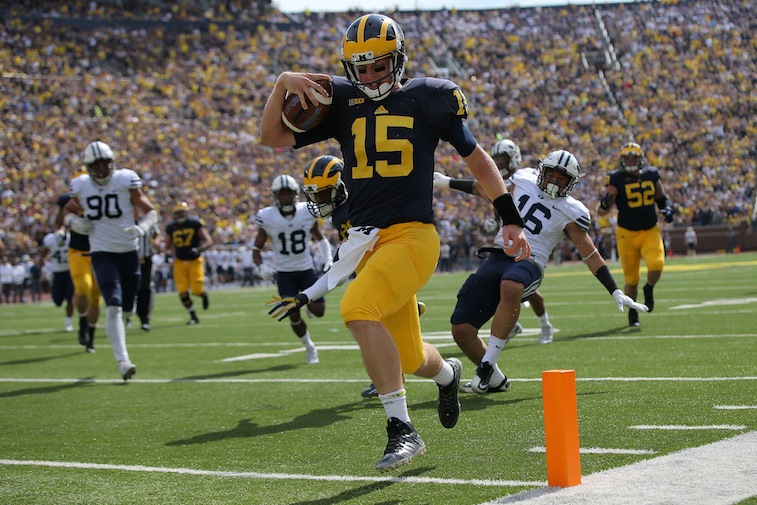 The Michigan Wolverines' football program appears to have been revived under new head coach Jim Harbaugh. After a season opening loss to the now No. 5 team nation in the Utah Utes, the Wolverines have reeled off five straight victories, including back-to-back shutout performances against then ranked BYU and Maryland. With defensive performances like that, you have to take this team seriously.
While the defense has looked great, the offense for Michigan is questionable. QB Jake Rudock has more interceptions than touchdowns and they don't have one dominant runner to depend on late in games. They have complied a bunch of rushing TDs (15), but the offense needs to improve if this team plans on giving Ohio State a challenge when they host the Buckeyes to end the season.
Still, with a defense that has given up the second fewest points in the game, Michigan poses a legitimate threat to Ohio State's undefeated season and championship aspirations. Also, when you consider the huge rivalry between these teams, you know the Wolverines would love nothing more than to beat the Buckeyes and destroy their hopes and dreams. Oh, and Michigan may be in position for a playoff spot themselves — they're currently 5-1. This will be a huge game, and Ohio State's perfect season could fall just short in Michigan.
1. Michigan State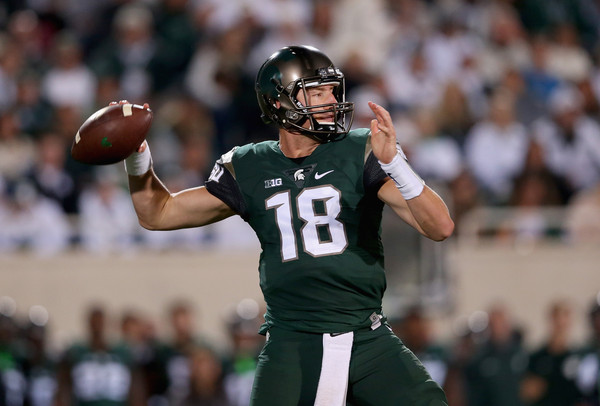 Every time Michigan State and Ohio State get together, the implications are huge. The success of the two programs (particularly as of late) is rivaled by few schools in the entire nation. With Michigan State off to an undefeated start in the same manner as OSU, their matchup in the second to last game of the season is setting up to be critical once again.
With an experienced passer in Connor Cook and a solid running duo with LJ Scott and Madre London, the Spartans' offense has more than enough firepower to give any team fits, and the Buckeyes are no different. Michigan State is also solid on defense (as they always are), although they have shown signs of weakness against some of the teams on their schedule. That is a concern when they go up against the talented offense of Ohio State.
Regardless of any stats or anything, the Spartans are one of the best teams in the nation and will likely be in a similar position as Ohio State once this game rolls around. Both teams could be unbeaten coming into the showdown, which would make it almost feel like a playoff matchup. The two schools are fierce rivals, very talented, and want nothing more than to beat each other. It will be one of the biggest games of the entire college football season and serves as Ohio State's most concerning obstacle on their path to a repeat championship.